Noise of braking all the time. A brown wound on the all-white deeper at each lap. You can feel the cold from the breathing and the unpleasant slippery-ness of the ice under the tyres. Vantornout isn't here: he fell in the last race and got injuried. Lars Van der Haar is eager to show his new jersey and super motivated to race in front of his supporters.
The start is fast but proudent because of the icy road. Lars Van der Haar is the faster again and leads with Pawels and Simunek when a rider trys to pass him in a curve and the contact makes him fall. DAMN! Now the race is all uphill for the Dutch champion but he doesn't give up.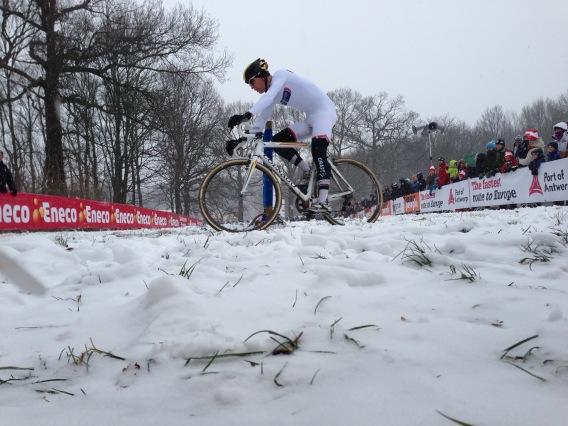 Pauwels, Nys, Simunek, Bina... at first line crossing Van der Haar is about 10th position. Albert doesn't look brilliant and is 6th. Pauwels, Bina, Simunek, Nys, Aernouts, Albert... in no time Van der Haar is 8th, then 6th and sees the back of the front group. It's snowing hard. Bina, Pauwels, Albert, Simunek, Zahner, Van der Haar: he joined! And he doesn't stop to breath: 5 laps to gohe crosses the line 1st.
There are many small crashes: commentators say: "It's Hollyday on Ice!" A mechanical problem and Albert gets dropped. It's snowing harder and harder! Bina, Van der Haar, Simunek, Pauwels and Zahner. In a crazy icy descent Simunek passes Van der Haar and immediately Bina left the company. He already won and commenators talk of an hystorical podium with a Czech duo, but Van der Haar doesn't give up: he's in a splendid shape and wants the victory.In front Bina fell but quikly back on his bike and still in the lead. Van der Haar is 2nd again. Behinde Pauwels is good at avoiding Zahner's testacoda and now it's Bina, Pauwels and Van der Haar. No time and Pauwels crash as well! he's back but falls again, he looks bad on his legs but really ice makes hard to stand. Last lap: Bina crosses the line solo, then Van der Haar and Simunek. Now Van der Haar speeds up full gaz, drops Simunek, chases Bina solo. It's simply amazing. Pushing on the pedals, running on the icy hill, flying down on the icy descent already dirty on mud he has almost caught Bina.
Almost: the Czech turns to watch, the Dutch is there but 7'' behinde. Time to rise his arms to celebrate, time for Van der Haar to wave. Not happy, exhausted. But very happy again and smiling on the podium, his second podium in the World Championship in the elite cathegory. Not the last one for sure!
RESULTS
1
Martin Bina (Cze) CEZ Cyklo Team Tabor
1:02:17
2
Lars Van Der Haar (Ned) Rabo - Giant Offroad Team.
0:00:07
3
Simon Zahner (Swi)
0:00:11
4
Sven Nys (Bel) Crelan-Euphony Cycling Team
0:00:22
5
Niels Albert (Bel) BKCP - Powerplus Cycling Team
0:00:27
6
Radomir Simunek (Cze) Kwadro-Stannah Cycling Team
7
Francis Mourey (Fra) Francaise des Jeux
0:00:33
8
Kevin Pauwels (Bel) Sunweb - Napoleon Games Cycling Team
0:00:42
9
Julien Taramarcaz (Swi) BMC Mountainbike Racing Team
0:00:46
10
Lukas Flückiger (Swi)