http://www.radioshackleopardtrek.com/news/first-race-season-and-first-attack-jensie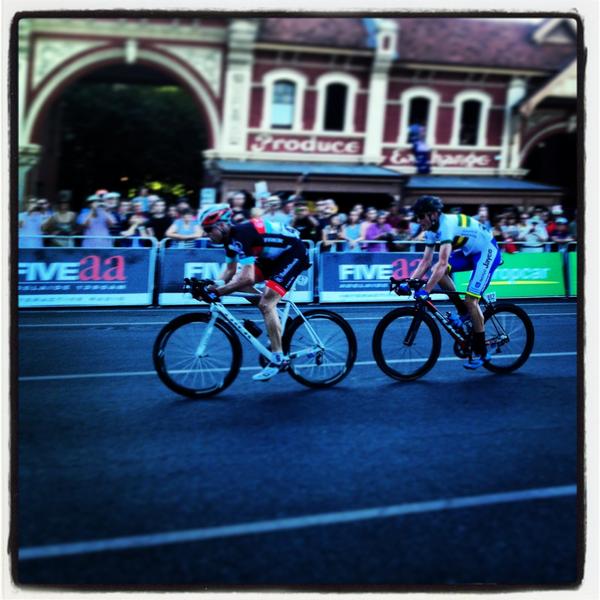 Pic by @EuroHoody
"This morning already it crossed my mind that
I might as well do something stupid.
I suggested it to the boys at the team meeting. Why not? Just go ahead.
And so I was out there with a kid that was just half my age. I didn't know him but we kept riding pretty well together.
We didn't need much communication,
we were just sharing the work.
By the way, before the start I told a few guys that if they wanted to make some money they should go to an internet site to make some
betting for who would make the first attack this year…"
"In my amateur days I won a criterium this way. With some guys we lapped the field and then I went alone and I lapped them again. So I won the criterium with one lap. That was long time ago back in the last Ice Age when the mammoths were still around… Now, I didn't believe in it. I'm in this business for so many years. You know for 99 per cent that it's not gonna work. "
"I would not say that 2013 is definitely my last season but I hate to admit that I am not getting younger. We'll see how it goes. I want to have a good last season. I don't want to hear : "Look at him, that's Jens, he was really a good rider before, but he missed the point to stop. I take it year by year."
"I am probably well known as a bit silly. I will never get smart. I will never learn to pace myself. I actually did get a nice applause from the crowd at the Teams Presentation, then at least I have to entertain the crowd. I still have to confirm when it comes to breakaways. And I like this country, their whole approach of life. People here they work to make a living. In Europe the live to work."