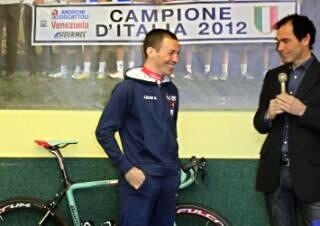 Maybe they look old-fashioned: a jersey full of sponsors - many are personal sponsors of one rider - and a traditional team manager like Gianni Savio: as experienced as familiar. Results say they are good.
Names say something more: many riders have found here their second chance after something went wrong. Ex dopers, yes, but also ex promises a bit crushed by a hard impact with the pro-cycling word.
I like team Androni. Old readers know Emanuele Sella has been one of my big cycling loves and still is so I'm happy to see he's well settled by Savio and eager to race. "Every year is always nice to be back racing" he said at the team presentation "I enjoy riding my bike and am ready to do my part in the team." Sella's goals in 2013 are modest and ambicious at once: "I won two races per years in the last two season: it would be nice to do the same this year."
A still young but already ex prmise is Fabio Felline: he turned pro very early in a foreing team skipping completely the U23 cathegory but it didn't work. He was expected to achieve more in spite of his age. Fortunately he didn't give up and has got a new start with Androni: "That is an important season for me" he said "Last year I already found an ideal milieu in this team, what I need to do well. Now it's on myself to achieve some good results."
Team Androni already scored a victory by Mattia Gavazzi in Tour de San Luis and Reda showed a good shape in Tour Med.
TEAM ANDRONI


1


ANAYA Sebastian Giannini


























2




BERTAZZO Omar




























3




CHIARINI Riccardo




























4




DI SERAFINO Matteo




























5




ERMETI Giairo




























6




FACCHINI Patrick




























7




FELLINE Fabio




























8




FRAPPORTI Marco




























9




GAVAZZI Mattia




























10




GIL MARTINEZ Tomas Aurelio




























11




GODOY Yonder




























12




MALAGUTI Alessandro




























13




OCHOA Carlos Jose




























14




PARRINELLO Antonino Casimiro




























15




PELLIZOTTI Franco




























16




REDA Francesco




























17




RODRIGUEZ ORTIZ Jackson Jesus




























18




ROSA Diego




























19




RUBIANO CHAVEZ Miguel Angel




























20




SELLA Emanuele