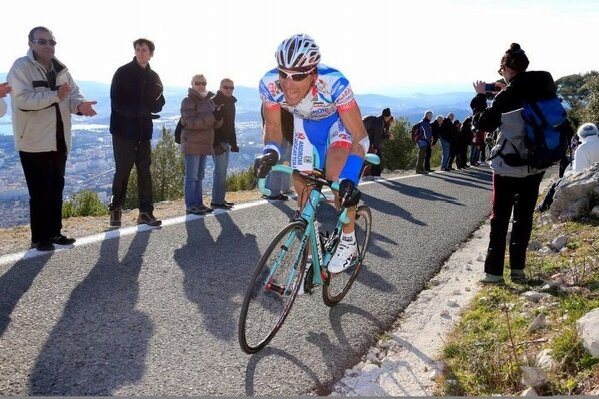 Reda: 2nd today 3rd in GC
That was the longest stage of Tour Med 2013: 192 km from Bandol to Grasse. Nervous race since the start and a messy finish. A nervous peloton didn't allow any break in spite of many attacks. The pace was very high in front and soon the peloton got splitted in three groups. The front group included: Voeckler, Malacarne Montaguti, Kadri, Molard, Hondo, Greipel, Pires, Jeandesboz, Chavez, Rubio, Chiarini and Rosa.
Pierre Rolland (Europcar) and Ben Gastauer (AG2R La Mondiale) tryed to excape but in vain, then it was the turn of Christophe Kern (Europcar) and Blel Kadri (AG2R La Mondiale). No way. The first group was already a break-away and at km 58 had gained 1'50'' on the first chasers group.
The break included: Jérôme, Kern, Kadri Roy, Pinot Zingle Wyss Jungels Greipel Petrov Izaguirre KeizerMarino Perichon Vimpère Sella Facchini. The best placed riders in GC were Roy, Pinot (FDJ) and Izaguirre (Euskatel). Roy + 1'30'' from the leader Monfort, Izaguirre +1'47'' Pinot + 2'59''. The first group was at 2', the 2nd group at 3'. It was very frustrating to ignore where in the hell Monfort was. There was a written live by DirectVelo and I must thank them but without a decent streaming is hard to cover a race.
After a long painful suspace we got that Monfort was in the 1st chasing group. GOOD! The stage was still long but already tense because Monfort couldn't allow the break to go too away and Balco must attack. Well..they were supposed to attack. Did they? I didn't see anything...
At first the 2nd group lost a lot but later it managed to join the 1st one and 112 km to go a compact peloton were compctly chasing the break. Gap was around 2'20''. At that point the situation settled down: both the break and peloton were probably breathing a bit. There were still 110 km to go. Indead the gap started decreasing.
It increased dramaticly when the race reached the côte des Tuillières, a 1st cat climb. Roy was now the virtual leader. When the break passed the KOM (1Vimpère 2 Roy 3 Pinot) gap was up to 3'20''. Pierrick Fedrigo (FDJ) and Geoffroy Lequatre (Bretagne-Séché Environnement) abandoned. The pace was high again and Emanuele Sella (Androni Giocattoli) was animating the break. Col du Tanneron was coming.
Finally RSNT went in front chasing hard. Gap was almost 4': too much for Monfort. The gap went quickly back to 2'30''. Montfort's situation was anyway risky considering that RSLT was a 6 riders team at the moment because of the retirement of two sick riders.
The break was already climbing the Tanneron, 5.5 km long and 50 km to go. Théo Vimpère (BigMat-Auber 93) and André Greipel (Lotto-Belisol) got dropped. The gap was down to1'30''. Giacomo Nizzolo (RadioShack Leopard) abandoned! RSLT was only 5 riders now. Meanwhile Thibaut Pinot (FDJ) was leading the break-away on the Tanneron.
The situation was: Jérôme Kadri Roy Pinot Zingle Wyss Jungels Petrov Izaguirre Keizer Sella and Facchini in front, at 40'' Greipel and Perichon, at 44'' Marino at 1' Kern and at 2'20'' the peloton. In the descent some riders got dropped. They were all in a long line. 24 km to go Roy, Kadri and Izaguirre attacked and gained 10'', then there was Jérôme at 35'', Zingle Sella Pinot and Keizer and at 2'50'' the peloton. Montfort was riskying again: "Speed on guys!" I was whispering to the pc screan. Many said it was snowing at the finish in Grasse.
Now the chasing group exploded! Roy Kadri and Izaguirre were giving all in front, a small group were chasing and included Pinot, Wyss, Jungels, Petrov, Keizer, Marino, Sella and Jérôme. Thibaut Pinot joined the first 3 men. The peloton was at 1': Roy no more virtual leader. I thought: "It's done". The gap was keeping decreasing: only 45''. Then... BANG! too many users at

http://

direct.directvelo.com

/

No more infos! the first one I got after a while was: "Blel Kadri solo but nobody know how many kms to the finish" COOL! Somebody was telling 5 kms, others 20! Finally we got that Roelandts had won. How? bo! and Monfort? I thought he had won the GC because according to the last infos he was in the peloton at 45''. Not so: Thomas Lovkvist won the GC. Don't ask me HOW!
Congrats to IAM cycling for its first victory, a big thanks to DirectVelo and a big BUUU! to TourMed organizers and cycling media. A cancealed stage, today stage delayed for more troubles about licences (?) and no coverage. That race deserved more!
RESULTS
STAGE
1 Jurgen Roelandts (Lotto-Belisol)
2 Francesco Reda (Androni)
3 Mikel Nieve (Euskaltel-Euskadi)
..............
6 Bauke Mollema (Blanco)
GC
1 Thomas Löfkvist (IAM Cycling)
2 Jean-Christophe Péraud (AG2R-La Mondiale)
3 Francesco Reda (Androni)
4 Maxime Monfort (RadioShack)
5 Nicolas Roche (Saxo Tinkoff)