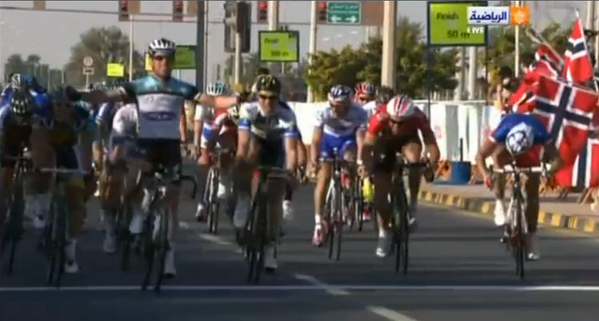 White sand, white houses like cards castels in nowhere, a light blue far in front that probably is the sea but looks just a line of a different color. Finally a light green line of palms and you see the wild wind they are talking of.
Three lines cut the desert: cars and trucks traffic on the left, team cars on the right, a hand of colored jersey in the midle, compact like a herd. OPQS is doing all the work in front, Ilijo Keisse 'eating the handlebar' as we say in Italian or 'belly down the ground'. Committed. The pace is fast.
10 km to go the pace is faster. A few riders at the back show ripped jerseys and pants from an early crash (K.Kroon fell and retired). Commentators name the sprinters: Guardini? Cavendish? Viviani? the only one you can exclude is Modolo: already in Italy with a broken hand. Roundabouts: a liquid peloton smoothly turns right and left. 6 to go: the road is so large all the trains are in front. OPQS fights for lead, Sky, Katusha, Vacansoleil, Argos, GE all in a line. BMC plays safe but trys to keep in front the yellow jersey. Cannondale plays aggresive but fails to organize a real train. I see two RSLT riders in the middle trying to reach the front, turning back looking for mates... in vain. No special B-day gift for Markel Irizar.
Last meters are a little messy, the front group goes right and left, explode, sprinters are launched. Cavendish won. That isn't suprising. But Vacansoleil Berry Markus 2nd at his 2nd year as a pro is. Bravo! GE Krupis takes 3rd. Disappointing John Degenkolb 8th. More results later.
1 Cavendish (OPQS)
2 Markus (Vacansoleil)
3 Kruopis (ORICA-GE)