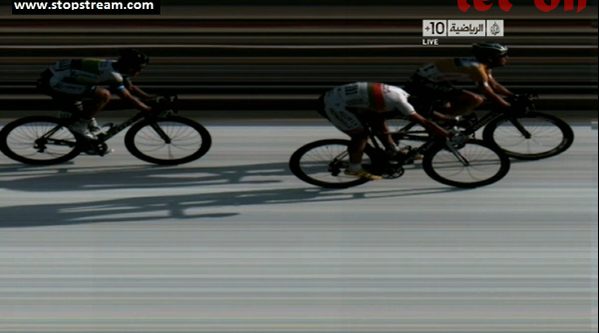 Stellar break today: Eisel, Terpstra and Phinney. A stellar sprint: Mark Cavendish is fast but suddenly gets even faster with a brutal incredible aceleration.
He knows he won and celebrate rising just a hand in the too short too fast passage on the finish line. We wait for the photofinish: astonished. He's right. He's simply amazing. He's CAV.
Today the desert looked a little different: the sand was less white, dotted by dark green bushes. No blue line ahead but the red compact line of a fort. A dangerous roundabout into the last km but no danger and no crashes because when the peloton passes the flamme rouge it's all together powerfully pulled by the OPQS's guys. Cav in yellow sits on the wheels. It's a well working machine. Many attacks in few meters but no story.
Cav keeps the leader jersey and adds a few others :P Phinney still in White.