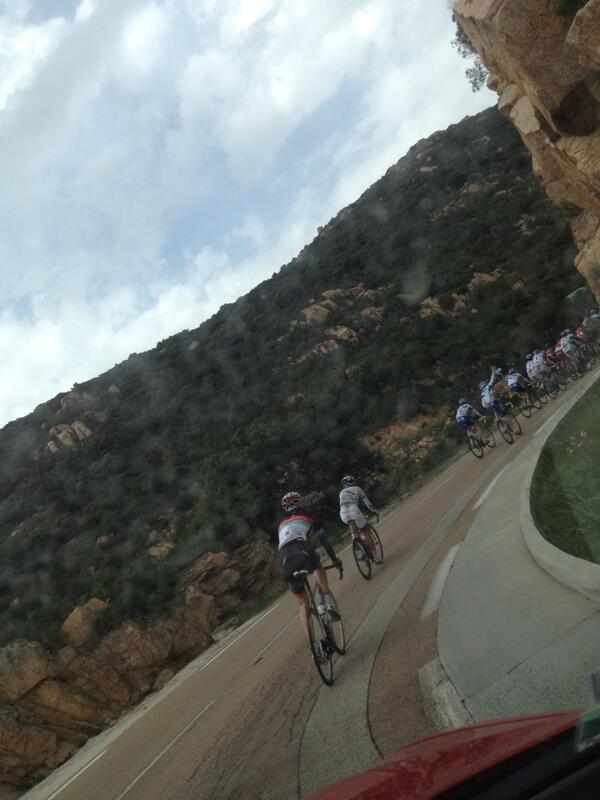 Pic by Seb Pique
The rain started at once with the race. Jens Voigt was the first one to attacked but as RSNT tweeted Sky didn't want him to go. Eventually, after 15 km, a break-away formed including Roy, Cammaerts, Poux, Huguet, Vachon and Goncalves. RSNT rider Laurent Didier joined.
Didier even won the intermediate sprint in Sartène at km 77 and few after that Voeckler attacked from the peloton followed by Gautier, Frank and Andy Schleck. YEAH! They joined the leaders on Col de Sainte-Lucie-de-Tallano forming a six men break-away.
It splitted soon: Voeckler speeded up and 3 riders got dropped, Andy included. They kept chasing for a while and got eventually caught by the peloton. The rest of the break-away passed the Col de Bacinu in the mist and the rain, descended on orrible roads and not sprinted at the second intermediate sprint. It was over.
A new race started and basicly a great Sky show: Kyrienka set the pace on the last long and steep climb to Col de l'Ospedale. Tschop's attack lighted fireworks. Péraud, then Froome: unstoppable. While the race leader and team mate Porte and van Garderen kept watching each others. When finally Porte attacked van Garderen couldn't follow. Mollema did and achieved a well deserved 3rd and 4th in the final GC.
Froome crossed the line pointing at the Sky's name on his jersey: yes, a big team victory.
A victory also for Andy Schleck who showed his jersey in the break-away. Today he was still suffering a little and we saw him often at the back but never dropped or alone. A very good signal, waiting for more and very soon!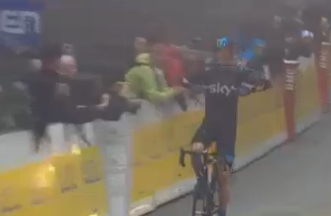 RESULTS
Source http://www.procyclingstats.com/race.php?id=118216
STAGE
| | | | | | |
| --- | --- | --- | --- | --- | --- |
| 1 | FROOME Christopher | Sky Procycling | | 30 | 4:43:38 |
| 2 | PORTE Richie | Sky Procycling | | 18 | 0:30 |
| 3 | MOLLEMA Bauke | Blanco Pro Cycling Team | | 12 | 0:45 |
| 4 | PERAUD Jean-christophe | AG2R La Mondiale | | 7 | ,, |
| 5 | VAN GARDEREN Tejay | BMC Racing Team | | 4 | ,, |
| 6 | TALANSKY Andrew | Garmin - Sharp | | 3 | 0:53 |
| 7 | TSCHOPP Johann | IAM Cycling | | 2 | 0:57 |
| 8 | GADRET John | AG2R La Mondiale | | 1 | 1:07 |
| 9 | FEDRIGO Pierrick | Equipe Cycliste FDJ | | | 1:08 |
| 10 | BOUET Maxime | AG2R La Mondiale | | | ,, |
| 11 | MALACARNE Davide | Europcar | | | 1:32 |
| 12 | BARDET Romain | AG2R La Mondiale | | | ,, |
| 13 | KLöDEN Andréas | RadioShack - Leopard | | | 1:49 |
| 14 | COPPEL Jérome | Cofidis Solutions Crédits | | | 2:14 |
| 15 | ROGERS Michael | Team Saxo-Tinkoff | | | ,, |
| 16 | MOINARD Amaël | BMC Racing Team | | | 2:46 |
| 17 | WYSS Marcel | IAM Cycling | | | 2:50 |
| 18 | JUNGELS Bob | RadioShack - Leopard | | | 3:15 |
| 19 | MONFORT Maxime | RadioShack - Leopard | | | 3:22 |
| 20 | HIVERT Jonathan | Sojasun | | | 4:07 |
| 21 | LAVIEU Antoine | La Pomme Marseille | | | 4:27 |
| 22 | PAURIOL Rémi | Sojasun | | | ,, |
| 23 | MOREIRA PAULINHO Sergio Miguel | Team Saxo-Tinkoff | | | 4:59 |
| 24 | VOECKLER Thomas | Europcar | | | 5:07 |
| 25 | HERNáNDEZ BLAZQUEZ Jesús | Team Saxo-Tinkoff | | | 5:45 |
| 26 | TAARAMäE Rein | Cofidis Solutions Crédits | | | 6:06 |
| 27 | PANTANO GOMEZ Jarlinson | Team Colombia | | | 6:23 |
| 28 | KIRYIENKA Vasil | Sky Procycling | | | 6:34 |
| 29 | KING Benjamin | RadioShack - Leopard | | | ,, |
| 30 | BOOKWALTER Brent | BMC Racing Team | | | ,, |
| 31 | KORETZKY Clément | Bretagne- Séché Environnement | | | ,, |
| 32 | ATAPUMA HURTADO Jhon Darwin | Team Colombia | | | 6:43 |
| 33 | FUMEAUX Jonathan | IAM Cycling | | | 7:08 |
| 34 | ROUX Anthony | Equipe Cycliste FDJ | | | 9:33 |
| 35 | LEVARLET Guillaume | Cofidis Solutions Crédits | | | ,, |
| 36 | HERMANS Ben | RadioShack - Leopard | | | ,, |
| 37 | SCHMIDT Fabien | Sojasun | | | ,, |
| 38 | LUDVIGSSON Tobias | Team Argos - Shimano | | | ,, |
| 39 | EL FARES Julien | Sojasun | | | ,, |
| 40 | KELDERMAN Wilco | Blanco Pro Cycling Team | | | ,, |
| 41 | FRANK Mathias | BMC Racing Team | | | ,, |
| 42 | BOARO Manuele | Team Saxo-Tinkoff | | | 11:07 |
| 43 | REICHENBACH Sebastien | IAM Cycling | | | 11:11 |
| 44 | TARRIDE Grégoire | La Pomme Marseille | | | 12:08 |
| 45 | MOUREY Francis | Equipe Cycliste FDJ | | | 13:12 |
| 46 | GAUTIER Cyrille | Europcar | | | 13:30 |
| 47 | SIUTSOU Kanstantsin | Sky Procycling | | | ,, |
| 48 | ROY Jérémy | Equipe Cycliste FDJ | | | 14:06 |
| 49 | EVANS Cadel | BMC Racing Team | | | 14:56 |
| 50 | SUTHERLAND Rory | Team Saxo-Tinkoff | | | ,, |
| 51 | GESCHKE Simon | Team Argos - Shimano | | | ,, |
| 52 | RODRIGUEZ GALINDO Michael | Team Colombia | | | 17:08 |
| 53 | TANKINK Bram | Blanco Pro Cycling Team | | | ,, |
| 54 | GERARD Arnaud | Bretagne- Séché Environnement | | | 18:28 |
| 55 | TALABARDON Yannick | Sojasun | | | 19:11 |
| 56 | SCHLECK Andy | RadioShack - Leopard | | | 21:57 |
| 57 | GASTAUER Ben | AG2R La Mondiale | | | ,, |
| 58 | DELAPLACE Anthony | Sojasun | | | ,, |
| 59 | RIBLON Christophe | AG2R La Mondiale | | | ,, |
| 60 | MARENTES TORRES Wilson Alexander | Team Colombia | | | 22:20 |
| DNF | JULES Justin | La Pomme Marseille | | | - |
| DNF | MARTINEZ Yannick | La Pomme Marseille | | | - |
| DNF | ROSTOLLAN Thomas | La Pomme Marseille | | | - |
| DNF | KREDER Raymond | Garmin - Sharp | | | - |
| DNF | POUX Paul | Sojasun | | | - |
| DNF | FAIRLY Caleb | Garmin - Sharp | | | - |
| DNF | NERZ Dominik | BMC Racing Team | | | - |
| DNF | ENGOULVENT Jimmy | Sojasun | | | - |
| DNF | GUILLOU Florian | Bretagne- Séché Environnement | | | - |
| DNF | MCCARTHY Jay | Team Saxo-Tinkoff | | | - |
| DNF | VEIKKANEN Jussi | Equipe Cycliste FDJ | | | - |
| DNF | MANUEL GARATE Juan | Blanco Pro Cycling Team | | | - |
| DNF | BOS Theo | Blanco Pro Cycling Team | | | - |
| DNF | PERICHON Pierre-luc | Bretagne- Séché Environnement | | | - |
| DNF | TIERNAN-LOCKE Jonathan | Sky Procycling | | | - |
| DNF | ROLLAND Pierre | Europcar | | | - |
| DNF | TULIK Angelo | Europcar | | | - |
| DNF | BERNAUDEAU Giovanni | Europcar | | | - |
| DNF | DENNIS Rohan | Garmin - Sharp | | | - |
| DNF | LEQUATRE Geoffroy | Bretagne- Séché Environnement | | | - |
| DNF | SPRICK Mathieu | Team Argos - Shimano | | | - |
| DNF | HUPOND Thierry | Team Argos - Shimano | | | - |
| DNF | HUGUET Yann | Team Argos - Shimano | | | - |
| DNF | CAMACHO BERNAL Julio Alexis | Team Colombia | | | - |
| DNF | BARGUIL Warren | Team Argos - Shimano | | | - |
| DNF | HAAS Nathan | Garmin - Sharp | | | - |
| DNF | FONSECA Armindo | Bretagne- Séché Environnement | | | - |
| DNF | BROWN Graeme | Blanco Pro Cycling Team | | | - |
| DNF | REZA Kevin | Europcar | | | - |
| DNF | ARASHIRO Yukiya | Europcar | | | - |
| DNF | PAILLOT Yoann | La Pomme Marseille | | | - |
| DNF | BOUHANNI Nacer | Equipe Cycliste FDJ | | | - |
| DNF | CUSIN Remi | IAM Cycling | | | - |
| DNF | GENIEZ Alexandre | Equipe Cycliste FDJ | | | - |
| DNF | BESCOND Jérémy | Cofidis Solutions Crédits | | | - |
| DNF | KERN Julian | AG2R La Mondiale | | | - |
| DNF | DOMONT Axel | AG2R La Mondiale | | | - |
| DNF | ZANDIO ECHAIDE Xabier | Sky Procycling | | | - |
| DNF | DOMBROWSKI Joe | Sky Procycling | | | - |
| DNF | VON HOFF Steele | Garmin - Sharp | | | - |
| DNF | HUNTER Robert | Garmin - Sharp | | | - |
| DNF | BRANDLE Matthias | IAM Cycling | | | - |
| DNF | CANTWELL Jonathan | Team Saxo-Tinkoff | | | - |
| DNF | JI Cheng | Team Argos - Shimano | | | - |
| DNF | ANTOMARCHI Julien | La Pomme Marseille | | | - |
| DNF | PLIUSCHIN Alexandr | IAM Cycling | | | - |
| DNF | SCHELLING Patrick | IAM Cycling | | | - |
| DNS | WEGMANN Fabian | Garmin - Sharp | | | - |
| OTL | BESSY Cyril | Cofidis Solutions Crédits | | | - |
| OTL | FROHLINGER Johannes | Team Argos - Shimano | | | - |
| OTL | CORTI Marco | Team Colombia | | | - |
| OTL | ROMERO CORREDOR Jeffry Johan | Team Colombia | | | - |
| OTL | OSPINA NAVARRO Dalivier | Team Colombia | | | - |
| OTL | VOIGT Jens | RadioShack - Leopard | | | - |
| OTL | GONCALVES Jose | La Pomme Marseille | | | - |
| OTL | CAMMAERTS Edwig | Cofidis Solutions Crédits | | | - |
| OTL | LANDER Sebastian | BMC Racing Team | | | - |
| OTL | DIDIER Laurent | RadioShack - Leopard | | | - |
| OTL | VACHON Florian | Bretagne- Séché Environnement | | | - |
| OTL | HARDY Romain | Cofidis Solutions Crédits | | | - |
| OTL | SEPúLVEDA Eduardo | Bretagne- Séché Environnement | | | - |











GC