Amstel Gold Race 2013 just started. Teams have been presented in Maastrich and now the peloton is on its way to the finish in Valkemburg. 251 km, 33 hills, 4 times the Cauberg. The first of the Ardennes Classics is the last born in the calendar but not an easy one. At the opposite it's a demanding race and the new finish makes it unpredictable.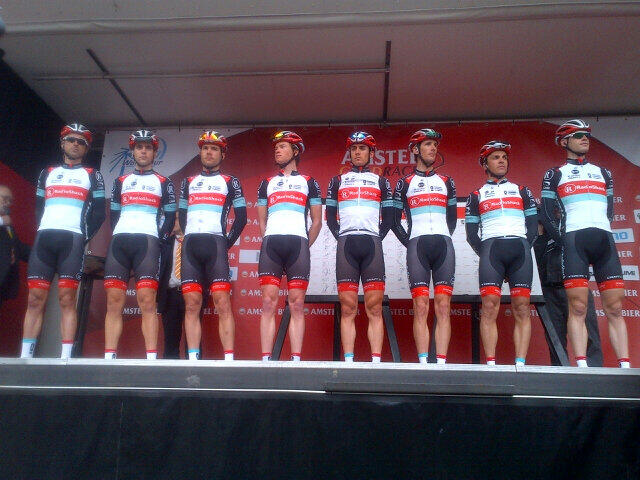 It's warm, more than 20 degrees. Faces were serious on the signature podium or maybe a little sleepy. Andy Schleck got interviewed in spite he isn't the team leader here. "Andy, how are you?", "Good.", "Do you feel you are improving?", "Yes, I'm better." More or less that was.
Asking riders at the start is a quite useless exercise because they can't tell you the truth about their shape and moreover about their planns. But Andy is just going to do his best. I wished him good luck last night and asked: "Do you like the new route?", "It's ok" he said.
I'm curious to see RSNT's strategy in this race. After Fabian Cancellara's show in Flanders and Roubaix the moral is high. Lets see! on
http://live.cyclingnews.com/#null
there is a live commentary by Susan Westemeyer and since 2 pm the race will be on streaming: look here
http://www.cyclingfans.com/node/7418
for links.
UPDATE: IT'S RAINING ON THE RACE! :S (11.13 am)