I don't try to report all the attacks and conterattacks that dotted today race. La Fleche is a short, hard race with one of the steepest finish in cycling so it's normally raced in avery aggresive way. Yesterday I told you about Huy, but have a loo here (source Cyclingnews live commentary) and see how many hills the peloton had to climb today.
Km 76.5 - Côte de Naninne - 2.6 km climb to 3.7 %
Km 90.0 - Côte de Groynne - 2.0 km climb to 3.5 %
Km 108.5 - Mur de Huy - 1.3 km climb to 9.3 %
Km 127.5 - Côte d'Ereffe - 2.1 km climb to 5.9 %
Km 146.0 - Côte de Peu d'Eau - 2.7 km climb to 3.9 %
Km 151.0 - Côte de Bellaire - 1.0 km climb to 6.8 %
Km 158.5 - Côte de Bohisseau - 1.3 km climb to 7.6 %
Km 161.5 - Côte de Bousalle - 1.7 km climb to 4.9 %
Km 173.5 - Mur de Huy - 1.3 km climb to 9.3 %
Km 190.0 - Côte d'Amay - 1.5 km climb to 6.7 %
Km 196.5 - Côte de Villers-le-Bouillet - 1.2 km climb to 7.5 %
Km 205.0 - Mur de Huy - 1.3 km climb to 9.3 %
You feel them in your legs at the end and unfortunately the end is a true 'wall'.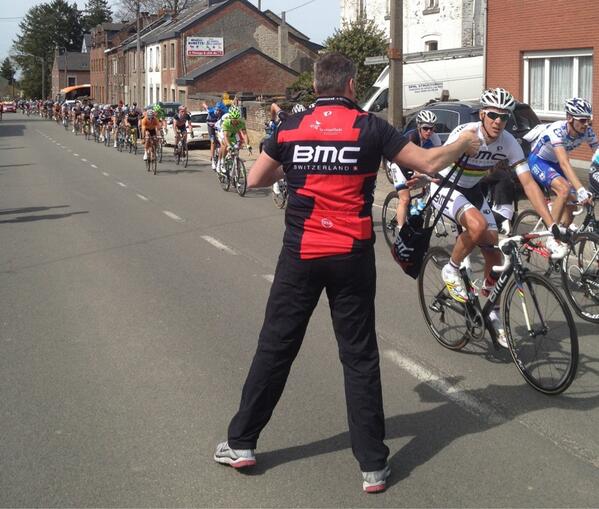 After several attacks and about 25 Km two riders -Devilliers and Lang - managed to break-away. Van Goolen joined. The break was on. They quickly gained till 10'. Then, on the Côte de Bellaire, RSLT opened the dances. Two riders attacked and selected a small group. It didn't work but RSLT's riders kept attacking and were very active at the front. The situation was very fluid and - caught the break - Ten Dam and Bardet excaped together but the peloton never allowed more than 20''. The serious move was by the young Colombian rider Betancur (AG2R) on the last ascent to Huy. After him Gilbert, Sagan, Henao, Moreno, Martin, Mollema...
Moreno joined and passed Betancur in that unreal sprint uphill so typical in La Fleche Wallone. The young rider looked a little surprised and also Henao outsprinted him. Just on the line he was side by side with Dan Martin but he was 3rd at the photofinish. I'm glad because he had been the bravest if not the strongest. He will win in Huy in few years, no doubt. Gilbert and moreover Sagan got dropped in the last meters. Maybe Sagan still has got something to learn... but there is all the time.
Andy Schleck finished 86 at 4'35''. He was looking good, pedaling in the middle of the peloton, sometimes apearing in front. He didn't try to break-away and didn't work to chase. He didn't got dropped on the last climb but slightly earlier, 8 km to go. He was in a group of 5 riders, they eventually reached the back of the peloton but only when the gruppetto was forming and he remained there, smiling and chattering.
Now: I'm very happy he didn't crash and finished the race. I'm also glad he had fun. But I'm disappointed he didn't try to finish in the main group. Not in the front group - there was Gallopin: 16th - but with the large group at 1' or 2'. In my opinion it was important. It wasn't about the race but about dignity. When you are exhausted and far behinde I understand you let it go but that wasn't the case today. Was he saving his legs for Sunday? I don't think he's going to fight for a top 5 results so it was better to show something here.
Finally, I see there is no press conference - because there is nothing to tell, I agree. So I stay at home. Quite angry at the moment. Have I got the right to get angry? ah no, I lost it a few years ago. I'm just angry with myself.
RESULTS
Source http://www.procyclingstats.com/race/1167911-La-Fl%C3%A8che-Wallonne-2013-Overview
| | | | | | |
| --- | --- | --- | --- | --- | --- |
| 1 | MORENO FERNANDéZ Daniel | Katusha Team | 80 | 225 | 4:52:33 |
| 2 | HENAO MONTOYA Sergio Luis | Sky Procycling | 60 | 150 | 0:03 |
| 3 | BETANCUR GOMEZ Carlos Alberto | AG2R La Mondiale | 50 | 110 | ,, |
| 4 | MARTIN Daniel | Garmin - Sharp | 40 | 90 | ,, |
| 5 | KWIATKOWSKI Michal | Omega Pharma - Quick-Step | 30 | 80 | ,, |
| 6 | RODRIGUEZ OLIVER Joaquim | Katusha Team | 22 | 70 | 0:08 |
| 7 | VALVERDE BELMONTE Alejandro | Movistar Team | 14 | 60 | ,, |
| 8 | ANTON HERNANDEZ Igor | Euskaltel - Euskadi | 10 | 50 | ,, |
| 9 | MOLLEMA Bauke | Blanco Pro Cycling Team | 6 | 46 | ,, |
| 10 | NOCENTINI Rinaldo | AG2R La Mondiale | 2 | 42 | ,, |
| 11 | CARUSO Giampaolo | Katusha Team | | 38 | ,, |
| 12 | SAGAN Peter | Cannondale Pro Cycling Team | | 34 | ,, |
| 13 | ULISSI Diego | Lampre - Merida | | 30 | 0:13 |
| 14 | SLAGTER Tom-Jelte | Blanco Pro Cycling Team | | 26 | ,, |
| 15 | GILBERT Philippe | BMC Racing Team | | 22 | 0:15 |
| 16 | GALLOPIN Tony | RadioShack - Leopard | | 20 | 0:17 |
| 17 | KREUZIGER Roman | Team Saxo-Tinkoff | | 18 | ,, |
| 18 | VICHOT Arthur | Equipe Cycliste FDJ | | 17 | 0:21 |
| 19 | HESJEDAL Ryder | Garmin - Sharp | | 16 | 0:23 |
| 20 | MARTENS Paul | Blanco Pro Cycling Team | | 15 | ,, |
| 21 | ALBASINI Michael | Orica GreenEDGE | | 14 | ,, |
| 22 | URAN Rigoberto | Sky Procycling | | 13 | ,, |
| 23 | HERMANS Ben | RadioShack - Leopard | | 12 | ,, |
| 24 | WYSS Marcel | IAM Cycling | | 11 | ,, |
| 25 | SERRY Pieter | Omega Pharma - Quick-Step | | 10 | 0:30 |
| 26 | ZUBELDIA AGIRRE Haimar | RadioShack - Leopard | | 9 | ,, |
| 27 | PREIDLER Georg | Team Argos - Shimano | | 8 | 0:32 |
| 28 | CUNEGO Damiano | Lampre - Merida | | 7 | ,, |
| 29 | DENIFL Stefan | IAM Cycling | | 6 | 0:35 |
| 30 | GASPAROTTO Enrico | Astana Pro Team | | 5 | ,, |
| 31 | IGLINSKIY Maxim | Astana Pro Team | | 5 | 0:38 |
| 32 | FARIA DA COSTA Rui Alberto | Movistar Team | | 5 | ,, |
| 33 | CONTADOR VELASCO Alberto | Team Saxo-Tinkoff | | 5 | 0:40 |
| 34 | CLARKE Simon | Orica GreenEDGE | | 5 | ,, |
| 35 | CHALAPUD GOMEZ Robinson Eduardo | Team Colombia | | 5 | ,, |
| 36 | GRIVKO Andriy | Astana Pro Team | | 5 | 0:43 |
| 37 | ROCHE Nicolas | Team Saxo-Tinkoff | | 5 | ,, |
| 38 | SORENSEN Chris Anker | Team Saxo-Tinkoff | | 5 | 0:49 |
| 39 | VANENDERT Jelle | Lotto Belisol Team | | 5 | 0:51 |
| 40 | DE CLERCQ Bart | Lotto Belisol Team | | 5 | ,, |
| 41 | RUJANO GUILLEN José Humberto | Vacansoleil - DCM | | 5 | 0:53 |
| 42 | MARCATO Marco | Vacansoleil - DCM | | 5 | ,, |
| 43 | EDMONDSON Joshua | Sky Procycling | | 5 | ,, |
| 44 | AMADOR BAKKAZAKOVA Andrey | Movistar Team | | 5 | ,, |
| 45 | JEANNESSON Arnold | Equipe Cycliste FDJ | | 5 | 0:59 |
| 46 | REICHENBACH Sebastien | IAM Cycling | | 5 | 1:01 |
| 47 | VANTOMME Maxime | Crelan-Euphony | | 5 | ,, |
| 48 | MORI Manuele | Lampre - Merida | | 5 | ,, |
| 49 | OSPINA NAVARRO Dalivier | Team Colombia | | 5 | 1:03 |
| 50 | VISCONTI Giovanni | Movistar Team | | 5 | 1:05 |
| 51 | MONFORT Maxime | RadioShack - Leopard | | 5 | 1:12 |
| 52 | BUSCHE Matthew | RadioShack - Leopard | | 5 | 1:14 |
| 53 | VORGANOV Eduard | Katusha Team | | 5 | ,, |
| 54 | NERZ Dominik | BMC Racing Team | | 5 | 1:21 |
| 55 | WEGMANN Fabian | Garmin - Sharp | | 5 | ,, |
| 56 | JEANDESBOZ Fabrice | Sojasun | | 5 | 1:23 |
| 57 | LUTSENKO Aleksey | Astana Pro Team | | 5 | 1:26 |
| 58 | GADRET John | AG2R La Mondiale | | 5 | ,, |
| 59 | QUINTANA ROJAS Nairo Alexander | Movistar Team | | 5 | 1:33 |
| 60 | SULZBERGER Wesley | Orica GreenEDGE | | 5 | ,, |
| 61 | PINEAU Jérome | Omega Pharma - Quick-Step | | 5 | 1:36 |
| 62 | CHEREL Mikael | AG2R La Mondiale | | 5 | 1:39 |
| 63 | DELAPLACE Anthony | Sojasun | | 5 | ,, |
| 64 | VAUGRENARD Benoit | Equipe Cycliste FDJ | | 5 | 1:43 |
| 65 | PICHON Laurent | Equipe Cycliste FDJ | | 5 | 1:49 |
| 66 | IZAGIRRE INSAUSTI Gorka | Euskaltel - Euskadi | | 5 | 1:51 |
| 67 | IZAGIRRE INSAUSTI Ion | Euskaltel - Euskadi | | 5 | ,, |
| 68 | PONZI Simone | Astana Pro Team | | 5 | 2:07 |
| 69 | FUGLSANG Jakob | Astana Pro Team | | 5 | ,, |
| 70 | MEYER Travis | Orica GreenEDGE | | 5 | 2:10 |
| 71 | KROON Karsten | Team Saxo-Tinkoff | | 5 | 2:15 |
| 72 | VANENDERT Dennis | Lotto Belisol Team | | 5 | 2:16 |
| 73 | BOOKWALTER Brent | BMC Racing Team | | 5 | ,, |
| 74 | GESCHKE Simon | Team Argos - Shimano | | 5 | 2:23 |
| 75 | KREDER Michel | Garmin - Sharp | | 5 | ,, |
| 76 | WEENING Pieter | Orica GreenEDGE | | 5 | 2:36 |
| 77 | LOSADA ALGUACIL Alberto | Katusha Team | | 5 | 2:39 |
| 78 | VICIOSO ARCOS Ángel | Katusha Team | | 5 | ,, |
| 79 | TEN DAM Laurens | Blanco Pro Cycling Team | | 5 | 2:41 |
| 80 | GOLAS Michal | Omega Pharma - Quick-Step | | 5 | ,, |
| 81 | TANNER David | Blanco Pro Cycling Team | | 5 | 2:43 |
| 82 | CARUSO Damiano | Cannondale Pro Cycling Team | | 5 | 3:23 |
| 83 | DE MARCHI Alessandro | Cannondale Pro Cycling Team | | 5 | 3:26 |
| 84 | SøRENSEN Nicki | Team Saxo-Tinkoff | | 5 | 3:40 |
| 85 | MOINARD Amaël | BMC Racing Team | | 5 | 4:02 |
| 86 | SCHLECK Andy | RadioShack - Leopard | | 5 | 4:35 |
| 87 | LAGUTIN Sergey | Vacansoleil - DCM | | 5 | 4:52 |
| 88 | TANKINK Bram | Blanco Pro Cycling Team | | 5 | 4:55 |
| 89 | GENIEZ Alexandre | Equipe Cycliste FDJ | | 5 | 4:59 |
| 90 | MEIER Christian | Orica GreenEDGE | | 5 | ,, |
| 91 | VERONA QUINTANILLA Carlos | Omega Pharma - Quick-Step | | 5 | ,, |
| 92 | ASTARLOZA Mikel | Euskaltel - Euskadi | | 5 | ,, |
| 93 | BILLE Gaetan | Lotto Belisol Team | | 5 | ,, |
| 94 | VERMOTE Julien | Omega Pharma - Quick-Step | | 5 | ,, |
| 95 | PAUWELS Serge | Omega Pharma - Quick-Step | | 5 | ,, |
| 96 | KOLOBNEV Alexandr | Katusha Team | | 5 | ,, |
| 97 | TROFIMOV Yuri | Katusha Team | | 5 | ,, |
| 98 | LEMOINE Cyril | Sojasun | | 5 | ,, |
| 99 | SUTHERLAND Rory | Team Saxo-Tinkoff | | 5 | ,, |
| 100 | NORDHAUG Lars Petter | Blanco Pro Cycling Team | | 5 | ,, |
| 101 | ZAUGG Oliver | Team Saxo-Tinkoff | | 5 | ,, |