Great day today in Liège-Bastogne-Liège. Thrilling open race, attacks by attacks and a winner winning at the true last meters of the race. It has been a long way to Ans for the peloton. Look here all the hills it had to climb:
Km 70 : Côte de la Roche-en-Ardenne (2,8 km, 6,2%)
Km 116.5 : Côte de Saint-Roch (1 km, 11 %)
Km 160 : Côte de Wanne (2 km, 7,3 %)
Km 166.5 : Côte de Stockeu (1 km, 12,2 %)
Km 172.5 : Côte de la Haute-Levée (3,6 km, 5,7 %)
Km 185 : Côte du Rosier (4,4 km, 5,9 %)
Km 197.5 : Côte du Maquisard (2,5 km, 5 %)
Km 208 : Mont-Theux (2,7km, 5,9 %)
Km 223 : Côte de la Redoute (2 km, 8.8 %)
Km 244.5 : Côte de Colonster (2,4 km, 6 %)
Km 256 : Côte de Saint-Nicolas (1,2km, 8,6 %)
The weather was cloudy and windy but not rainy. The crowd on the road was huge. At the start Andy Schleck had said: "C'est ma course préférée de l'année. Même à l'entraînement pour les reconnaissances, j'y prends du plaisir. Je sais que je ne suis pas à mon meilleur niveau, mais je vais tout de même me faire plaisir. Le parcours a légèrement changé, nous verrons peut-être une course différente, mais j'espère que la côte de la Roche aux Faucons reviendra l'année prochaine" [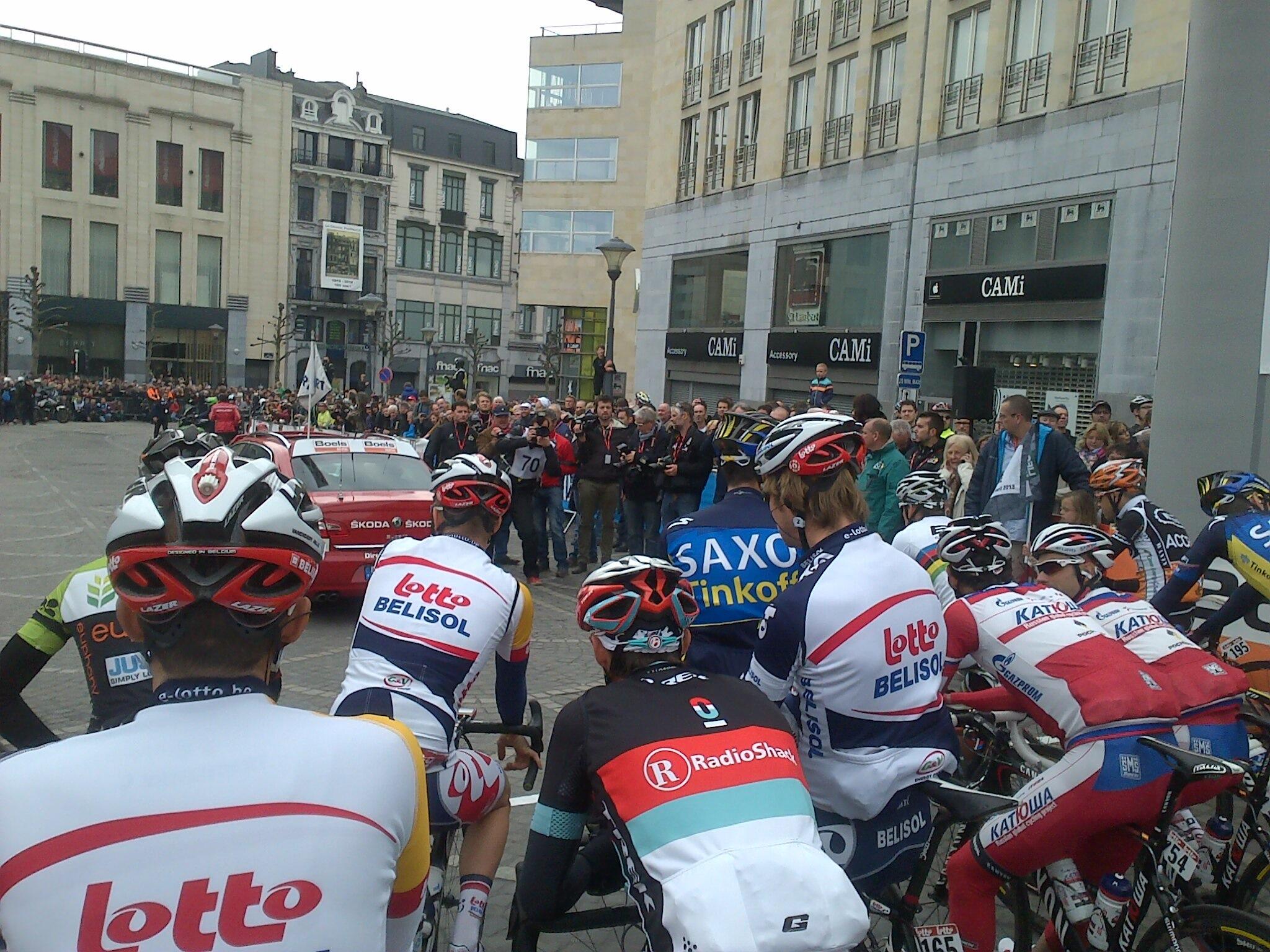 "It's my favourite race in the year. I enjoy also the recon training. I know I am not at my best but I'm going to enjoy it anyway. The route changed a little, we will see if that will make a different race but I hope
côte de la Roche aux Faucons will be back next year."]
After 14 km, the first break went away: De Clercq (Bel-LTB), Jérôme (Fra-EUC), Fumeaux (Sui-IAM), Lang (Sui-IAM), Veucheulen (Bel-VCD) Armee (Bel-TSV) got quickly 50'' on the peloton.
Saxo-Tinkoff was pulling now, RSLT Monfort was at the front and looked brilliant, not so Ben King instead: always at the back, almost dropped, definitely it wasn't his day.
73km to go the break's gap was down to 3' 18".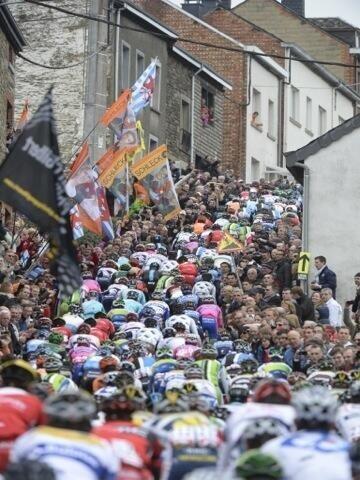 Excaped Armee got dropped to pee and forever. Poor De Clercq got serious troubles with a back wheel: changed it twice (Mavic and team car) but it didn't work yet so had to change bike and got dropped again.
But he didn't give up: chased and managed to come back to the break. Respect! moreover because the break was over soon: 51 km to go the gap was dramticly dropping: 1'27''. In the peloton they were taking things seriously now. All RSLT - Ben King excluded, Andy Schleck included - was in front.
A very good day for my rider, a very good race and a good sign.
On La Redoute Sky attacked by Losada. Costa (MOV) and Fuglsang (AST) followed. Frank (BMC), Losada (KAT), Cunego (LAM) and Bardet (ALM) bridged soon. RSLT Monfort was in the chasing group
Things got absolutely messy. A front group of 8 riders gained a few meters, they were: Bardet, Cunego, Fédrigo, Frank, Fuglsang, Lopez Garcia, Losada and Rui Costa. 35 km to go they had 12". Caught, they attacked again, without Frank and with Ten Dam. The new break-away spitted immediately: Cunego, Losada and Bardet dropped the company. The race was very fast, nervous and risky.
20 km to go Andy Schleck was at the back of the peloton but not the last one, still pedaling well and talking by radio with the team car. Monfort's chances were over so he got finally dropped 10 km to go. He finished 41 at 1'20''.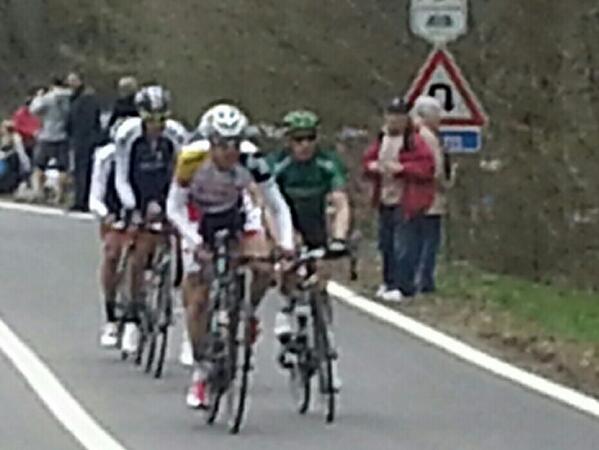 In front the race was exploding: many riders attacked on the new climb, the Colonster, but Hesjedal was the one who managed to go away solo. It was 15 km to go, he had gained 20'': to win was hard but possible. In the chassing group there were: Uran, Contador, Anton, Caruso and Rui Costa. Hesjedal got caught on the Cote St Nicholas. Betancur attacked, a small group was chasing: Martin, Hesjedal, Rodriguez, Scarponi and Valverde.
At the last km Rodriguez dashed away, like a arrow. But Dan Martin immediately followed, joined, passed, sprinted: won. Amazing! a well deserved victory, a splendid achievement after so many efforts by a rider who worked hard. Congrats!!
UPDATE:
First interview with Dan Martin: http://www.letour.fr/2013/LBL/LIVE/us/100/journal_etape.html
"Can you talk to us about the tactic set up by the team?
The idea was to get someone in front and that's what Ryder did and I just stayed behind with the others. I couldn't believe how easy it was in Saint-Nicolas. I was totally in control and followed any attack that went. With Ryder in front I was in the perfect position. We eventually caught him at the top of the climb and he rode flat out for me. It was a fantastic team effort from all the team. Every single of our riders rode their hearts out today. Me and Ryder were already in the Top 10 last year so it really is a good race for us.
Winning after Sean Kelly must mean a lot?
Actually somebody texted me last night that the first year that Sean Kelly won Catalunya, he won Liège weeks later. That was back in 1984. That was a bit of an omen and I've been thinking about it all week. After finishing fourth of the Fleche Wallonne, I thought that maybe I could win. All these little things were adding up. I was in a complete state of zen all day. Just so calm.
What has changed in the last few years that has made you a winner of Liège-Bastogne-Liège?
I think it's just maturing physically and the confidence as well. I've definitely made a big step this winter. Maybe the Tour last year brought me a lot. I found a massive difference in my body this past year. I've grown up basically. I think that it's also an age thing. And for these races, the more mature guys do well. There's also the confidence of my team as well. That belief has given me that extra edge.
How did you react when you crossed the finish line?
I was shocked. Complete shock. I couldn't believe it. I race on instinct. I don't think about what's happening during the race. I just try and win. Actually finding myself in front of the finish line of Liège-Bastogne-Liège with my arms in the air, it's incredible…"
UPDATE
Andy said:
"This race suits me very well but the whole day was full of stress. I never saw such a big group at the bottom of Redoute. There was a crash there. I wasn't in it but had to brake and then start from zero. There was panic with the crash and Max ended up with a broken derailleur. The team gave their all today and I'm happy about how I felt, too. I'm now feeling progress in my condition and it's a good sign. I've worked very hard these past few months and now I am feeling the results. It's good for my mind, too. Next for me is California."

RESULTS
Source http://www.procyclingstats.com/race/1169111-Li%C3%A8ge---Bastogne---Li%C3%A8ge-2013-Overview

| | | | | | |
| --- | --- | --- | --- | --- | --- |
| 1 | MARTIN Daniel | Garmin - Sharp | 100 | 275 | 6:38:07 |
| 2 | RODRIGUEZ OLIVER Joaquim | Katusha Team | 80 | 200 | 0:03 |
| 3 | VALVERDE BELMONTE Alejandro | Movistar Team | 70 | 150 | 0:09 |
| 4 | BETANCUR GOMEZ Carlos Alberto | AG2R La Mondiale | 60 | 120 | ,, |
| 5 | SCARPONI Michele | Lampre - Merida | 50 | 100 | ,, |
| 6 | GASPAROTTO Enrico | Astana Pro Team | 40 | 90 | 0:18 |
| 7 | GILBERT Philippe | BMC Racing Team | 30 | 80 | ,, |
| 8 | HESJEDAL Ryder | Garmin - Sharp | 20 | 70 | ,, |
| 9 | FARIA DA COSTA Rui Alberto | Movistar Team | 10 | 60 | ,, |
| 10 | GERRANS Simon | Orica GreenEDGE | 4 | 50 | ,, |
| 11 | VAUGRENARD Benoit | Equipe Cycliste FDJ | | 46 | ,, |
| 12 | ANTON HERNANDEZ Igor | Euskaltel - Euskadi | | 42 | ,, |
| 13 | BARDET Romain | AG2R La Mondiale | | 38 | ,, |
| 14 | NOCENTINI Rinaldo | AG2R La Mondiale | | 34 | ,, |
| 15 | NORDHAUG Lars Petter | Blanco Pro Cycling Team | | 30 | ,, |
| 16 | HENAO MONTOYA Sergio Luis | Sky Procycling | | 28 | ,, |
| 17 | SøRENSEN Nicki | Team Saxo-Tinkoff | | 26 | 0:21 |
| 18 | VANENDERT Jelle | Lotto Belisol Team | | 24 | 0:26 |
| 19 | GESCHKE Simon | Team Argos - Shimano | | 22 | 0:56 |
| 20 | ULISSI Diego | Lampre - Merida | | 20 | ,, |
| 21 | IGLINSKIY Maxim | Astana Pro Team | | 19 | ,, |
| 22 | DENIFL Stefan | IAM Cycling | | 18 | 1:00 |
| 23 | NIBALI Vincenzo | Astana Pro Team | | 17 | ,, |
| 24 | ROLLAND Pierre | Team Europcar | | 16 | ,, |
| 25 | DE MARCHI Alessandro | Cannondale Pro Cycling Team | | 15 | 1:03 |
| 26 | TROFIMOV Yuri | Katusha Team | | 14 | ,, |
| 27 | PINEAU Jérome | Omega Pharma - Quick-Step | | 13 | 1:06 |
| 28 | LEUKEMANS Bjorn | Vacansoleil - DCM | | 12 | ,, |
| 29 | GALLOPIN Tony | RadioShack - Leopard | | 11 | ,, |
| 30 | CUNEGO Damiano | Lampre - Merida | | 10 | ,, |
| 31 | GADRET John | AG2R La Mondiale | | 9 | ,, |
| 32 | FUGLSANG Jakob | Astana Pro Team | | 8 | ,, |
| 33 | WEENING Pieter | Orica GreenEDGE | | 7 | ,, |
| 34 | SLAGTER Tom-Jelte | Blanco Pro Cycling Team | | 6 | ,, |
| 35 | FEDRIGO Pierrick | Equipe Cycliste FDJ | | 5 | ,, |
| 36 | FROOME Christopher | Sky Procycling | | 5 | 1:14 |
| 37 | SANCHEZ GONZALEZ Samuel | Euskaltel - Euskadi | | 5 | ,, |
| 38 | RATTO Daniele | Cannondale Pro Cycling Team | | 5 | ,, |
| 39 | SORENSEN Chris Anker | Team Saxo-Tinkoff | | 5 | ,, |
| 40 | VICHOT Arthur | Equipe Cycliste FDJ | | 5 | 1:18 |
| 41 | SCHLECK Andy | RadioShack - Leopard | | 5 | 1:20 |
| 42 | STETINA Peter | Garmin - Sharp | | 5 | ,, |
| 43 | ZUBELDIA AGIRRE Haimar | RadioShack - Leopard | | 5 | 1:24 |
| 44 | LAGUTIN Sergey | Vacansoleil - DCM | | 5 | ,, |
| 45 | JEANNESSON Arnold | Equipe Cycliste FDJ | | 5 | 1:25 |
| 46 | ARASHIRO Yukiya | Team Europcar | | 5 | 1:30 |
| 47 | WEGMANN Fabian | Garmin - Sharp | | 5 | 1:34 |
| 48 | VALLS FERRI Rafael | Vacansoleil - DCM | | 5 | ,, |
| 49 | TEN DAM Laurens | Blanco Pro Cycling Team | | 5 | ,, |
| 50 | QUINTANA ROJAS Nairo Alexander | Movistar Team | | 5 | ,, |
| 51 | ALBASINI Michael | Orica GreenEDGE | | 5 | 1:40 |
| 52 | MORENO FERNANDéZ Daniel | Katusha Team | | 5 | 1:49 |
| 53 | URAN Rigoberto | Sky Procycling | | 5 | ,, |
| 54 | VISCONTI Giovanni | Movistar Team | | 5 | 2:12 |
| 55 | MARTENS Paul | Blanco Pro Cycling Team | | 5 | 2:15 |
| 56 | SERRY Pieter | Omega Pharma - Quick-Step | | 5 | ,, |
| 57 | CONTADOR VELASCO Alberto | Team Saxo-Tinkoff | | 5 | ,, |
| 58 | CLARKE Simon | Orica GreenEDGE | | 5 | ,, |
| 59 | CARUSO Damiano | Cannondale Pro Cycling Team | | 5 | 2:21 |
| 60 | CHEREL Mikael | AG2R La Mondiale | | 5 | 2:28 |
| 61 | ROCHE Nicolas | Team Saxo-Tinkoff | | 5 | 4:40 |
| 62 | GRIVKO Andriy | Astana Pro Team | | 5 | ,, |
| 63 | VAN AVERMAET Greg | BMC Racing Team | | 5 | ,, |
| 64 | WYSS Marcel | IAM Cycling | | 5 | ,, |
| 65 | VANTOMME Maxime | Crelan-Euphony | | 5 | 4:51 |
| 66 | LOPEZ GARCIA David | Sky Procycling | | 5 | 4:53 |
| 67 | LOSADA ALGUACIL Alberto | Katusha Team | | 5 | ,, |
| 68 | MORI Manuele | Lampre - Merida | | 5 | 5:16 |
| 69 | BUSCHE Matthew | RadioShack - Leopard | | 5 | ,, |
| 70 | BURGHARDT Marcus | BMC Racing Team | | 5 | ,, |
| 71 | LE MEVEL Christophe | Cofidis Solutions Crédits | | 5 | ,, |
| 72 | ASTARLOZA Mikel | Euskaltel - Euskadi | | 5 | ,, |
| 73 | MARTINEZ DE ESTEBAN Egoi | Euskaltel - Euskadi | | 5 | ,, |
| 74 | GAUTIER Cyril | Team Europcar | | 5 | ,, |
| 75 | KOLOBNEV Alexandr | Katusha Team | | 5 | ,, |
| 76 | MOINARD Amaël | BMC Racing Team | | 5 | ,, |
| 77 | MOLLEMA Bauke | Blanco Pro Cycling Team | | 5 | ,, |
| 78 | TANKINK Bram | Blanco Pro Cycling Team | | 5 | ,, |
| 79 | VICIOSO ARCOS Ángel | Katusha Team | | 5 | 5:26 |
| 80 | CARUSO Giampaolo | Katusha Team | | 5 | ,, |
| 81 | MONFORT Maxime | RadioShack - Leopard | | 5 | 5:33 |
| 82 | HERMANS Ben | RadioShack - Leopard | | 5 | ,, |
| 83 | KREDER Michel | Garmin - Sharp | | 5 | 7:51 |
| 84 | GAVAZZI Francesco | Astana Pro Team | | 5 | 7:57 |
| 85 | KADRI Blel | AG2R La Mondiale | | 5 | 8:09 |
| 86 | NERZ Dominik | BMC Racing Team | | 5 | 8:20 |
| 87 | IZAGIRRE INSAUSTI Ion | Euskaltel - Euskadi | | 5 | ,, |
| 88 | HAAS Nathan | Garmin - Sharp | | 5 | ,, |
| 89 | SULZBERGER Wesley | Orica GreenEDGE | | 5 | ,, |
| 90 | IZAGIRRE INSAUSTI Gorka | Euskaltel - Euskadi | | 5 | ,, |
| 91 | VERONA QUINTANILLA Carlos | Omega Pharma - Quick-Step | | 5 | ,, |
| 92 | KWIATKOWSKI Michal | Omega Pharma - Quick-Step | | 5 | ,, |
| 93 | DELFOSSE Sebastien | Crelan-Euphony | | 5 | ,, |
| 94 | BRANDLE Matthias | IAM Cycling | | 5 | 8:29 |
| 95 | VANENDERT Dennis | Lotto Belisol Team | | 5 | ,, |
| 96 | REZA Kevin | Team Europcar | | 5 | ,, |
| 97 | DE GREEF Francis | Lotto Belisol Team | | 5 | ,, |
| 98 | SIUTSOU Kanstantsin | Sky Procycling | | 5 | ,, |
| 99 | VERMOTE Julien | Omega Pharma - Quick-Step | | 5 | ,, |
| 100 | HOLLENSTEIN Reto | IAM Cycling | | 5 | ,, |
| 101 | VORGANOV Eduard | Katusha Team | | 5 | ,, |
| 102 | CHRISTENSEN Mads | Team Saxo-Tinkoff | | 5 | ,, |
| 103 | NAVARRO GARCIA Daniel | Cofidis Solutions Crédits | | 5 | ,, |
| 104 | CUSIN Remi | IAM Cycling | | 5 | ,, |
| 105 | MEIER Christian | Orica GreenEDGE | | 5 | ,, |
| 106 | CASAR Sandy | Equipe Cycliste FDJ | | 5 | ,, |
| 107 | DEKKER Thomas | Garmin - Sharp | | 5 | ,, |
| 108 | CHARTEAU Anthony | Team Europcar | | 5 | ,, |
| 109 | KROON Karsten | Team Saxo-Tinkoff | | 5 | ,, |
| 110 | BOOKWALTER Brent | BMC Racing Team | | 5 | ,, |
| 111 | ZAUGG Oliver | Team Saxo-Tinkoff | | 5 | ,, |
| 112 | MEYER Travis | Orica GreenEDGE | | 5 | ,, |
| 113 | SOUPE Geoffrey | Equipe Cycliste FDJ | | 5 | ,, |
| 114 | MARCATO Marco | Vacansoleil - DCM | | 5 | ,, |
| 115 | SICARD Romain | Euskaltel - Euskadi | | 5 | ,, |
| 116 | VANDBORG Brian | Cannondale Pro Cycling Team | | 5 | ,, |
| 117 | MATE MARDONES Luis Angel | Cofidis Solutions Crédits | | 5 | ,, |
| 118 | COPPEL Jérome | Cofidis Solutions Crédits | | 5 | ,, |
| 119 | VOGONDY Nicolas | Accent.jobs – Wanty | | 5 | ,, |
| 120 | MONTAGUTI Matteo | AG2R La Mondiale | | 5 | ,, |
| 121 | DUMOULIN Tom | Team Argos - Shimano | | 5 | ,, |
| 122 | FRANK Mathias | BMC Racing Team | | 5 | ,, |
| 123 | TAARAMäE Rein | Cofidis Solutions Crédits | | 5 | 9:20 |
| 124 | MOSER Moreno | Cannondale Pro Cycling Team | | 5 | 9:35 |
| 125 | KREUZIGER Roman | Team Saxo-Tinkoff | | 5 | 9:54 |
| 126 | DE CLERCQ Bart | Lotto Belisol Team | | 5 | 11:38 |
| 127 | JACOBS Pieter | Topsport Vlaanderen – Baloise | | 5 | ,, |
| 128 | MATTHEWS Michael | Orica GreenEDGE | | 5 | 12:52 |
| 129 | RUIJGH Rob | Vacansoleil - DCM | | 5 | ,, |
| 130 | LANG Pirmin | IAM Cycling | | 5 | 13:37 |
| 131 | TANNER David | Blanco Pro Cycling Team | | 5 | 14:39 |
| 132 | DE GENDT Thomas | Vacansoleil - DCM | | 5 | ,, |
| 133 | VANDEWALLE Kristof | Omega Pharma - Quick-Step | | 5 | ,, |
| 134 | ZINGLE Romain | Cofidis Solutions Crédits | | 5 | ,, |
| 135 | VANDEWALLE Jurgen | Lotto Belisol Team | | 5 | ,, |
| 136 | STORTONI Simone | Lampre - Merida | | 5 | ,, |
| 137 | SALERNO Cristiano | Cannondale Pro Cycling Team | | 5 | 16:08 |
| 138 | KING Benjamin | RadioShack - Leopard | | 5 | ,, |
| 139 | BILLE Gaetan | Lotto Belisol Team | | 5 | ,, |
| 140 | VALENTIN Tristan | Cofidis Solutions Crédits | | 5 | ,, |
| 141 | CAMMAERTS Edwig | Cofidis Solutions Crédits | | 5 | ,, |
| 142 | KOCH Michel | Cannondale Pro Cycling Team | | 5 | ,, |
| 143 | DIDIER Laurent | RadioShack - Leopard | | 5 | ,, |
| 144 | DE WEERT Kevin | Omega Pharma - Quick-Step | | 5 | ,, |
| 145 | HUPOND Thierry | Team Argos - Shimano | | 5 | ,, |
| 146 | VEUCHELEN Frederik | Vacansoleil - DCM | | 5 | ,, |
| 147 | VAN HECKE Preben | Topsport Vlaanderen – Baloise | | 5 | ,, |
| 148 | DEVILLERS Gilles | Crelan-Euphony | | 5 | 16:43 |