Legend: Paris-Roubaix was first run in 1896. It was created by two textile manufacturers who had built the velodrome so had the idea of a race from Paris to 2 their track. The first prize represented seven months' wages for a miner at the time. Like for TdF Tourmalet climb, first rider testing Paris-Rroubaix thought it was impossible and dangerous, but a good dinner with the organizers changed his mind. The first edition's winner was the German Fischer (in 9 h!) 2nd the Dane Meyer 3rd Garin, who was going to win the 1st edition of TdF. Only 4 on 26 started riders finished within 1hour from the winner. A legend had been born.
Hell: Paris-Roubaix stopped only for two the world wars. 1919 edition was unique. 9 million people had died in the I World War. who knew if there was still a road to Roubaix? The organizers went to see and called it The Hell of the North: not a tree, not a m not hurled upside down, a shell hole after another. The winner Pélissier said: "This wasn't a race. It was a pilgrimage".
Cobbles: Until the II World War Paris-Roubaix was over cobbles not because they were bad but because that was how roads were made. Later cobbles became a challenge. 1949 winner André Mahé said: "There were cobbles from the moment you left Paris". But progress threatened Paris-Roubaix cobbles because mayors surfaced them to look better in tv. 'Les Amis de Paris-Roubaix' has been created to save them.
Today: sun and cold, a dusty Roubaix. The first break went away after 17 km and they were: Debuscheres, Steegmans, Thurau, RSNT's Jungels, Smukulis, Rathe, Veuchelen, Morkov, Siskevicius, Boivin, Teruel, Koretzky, Lemontagner. Siskevicius, Teruel and Lemontagner got dropped soon and the advantage never was large one. The race was back together before the first of 27 brutal cobbled sectors.
Attacks, some flats (also Sky Ian Satnnard), a breakaway with Boasson Hagen was quickly caught. Then Hayman, Koretzky, O'Grady and Steegmans gained 17". A horrible crash for Offredo (FDJ) who ploughed straight into a road sign in the centre of the road and abandoned the race. Arenberg done and dusted. After sector 16 Steegmans and Hayman was having a 55'' gap. Chasing bunch included RSLT's Cancellara, Popovich, Devolder and Rast. In a nervous fluid situation peloton kept splitting and reasemblating. After sector 8 there were four leaders: Gaudin, Langeveld, Vandenbergh and Vanmarcke and a chasing group: Van Avermaet, Terpstra and Cancellara.
The turn point was when Cancellara slowed down and went to the team car: many said he wasn't in shape... or his shape was very good, so good to play a strategy game. 32km to go two riders were in front: Vanmarcke and Vandenbergh, in the 1st chasing group there were: Van Avermaet, Flecha, Paolini and Stybar, in the 2nd chasing group there were: Boom, Cancellara, Eisel, Terpstra. 30km to go Fabian opened the gas, left his group and went after the four in front. He was so fast to it takes absolutely nothing. Terpstra followed. Leaders gap was only 18'' now.
Then Cancellara attacked again, Stybar glued to his wheel. Only Sep Vanmarcke resisted and they went away together. A spledid podium already, just the right order to set. In the dust and crowd of Carrefour de l'arbre. In the screaming and cheering, flags, faces, hands. Not sure how it happened but Stybar fell and got dropped. Somebody said a fan with a camera was in the midle of the road. I still don't know. A pity. A shame. Stybar chased but Cancellara and Vanmarcke were far ahead.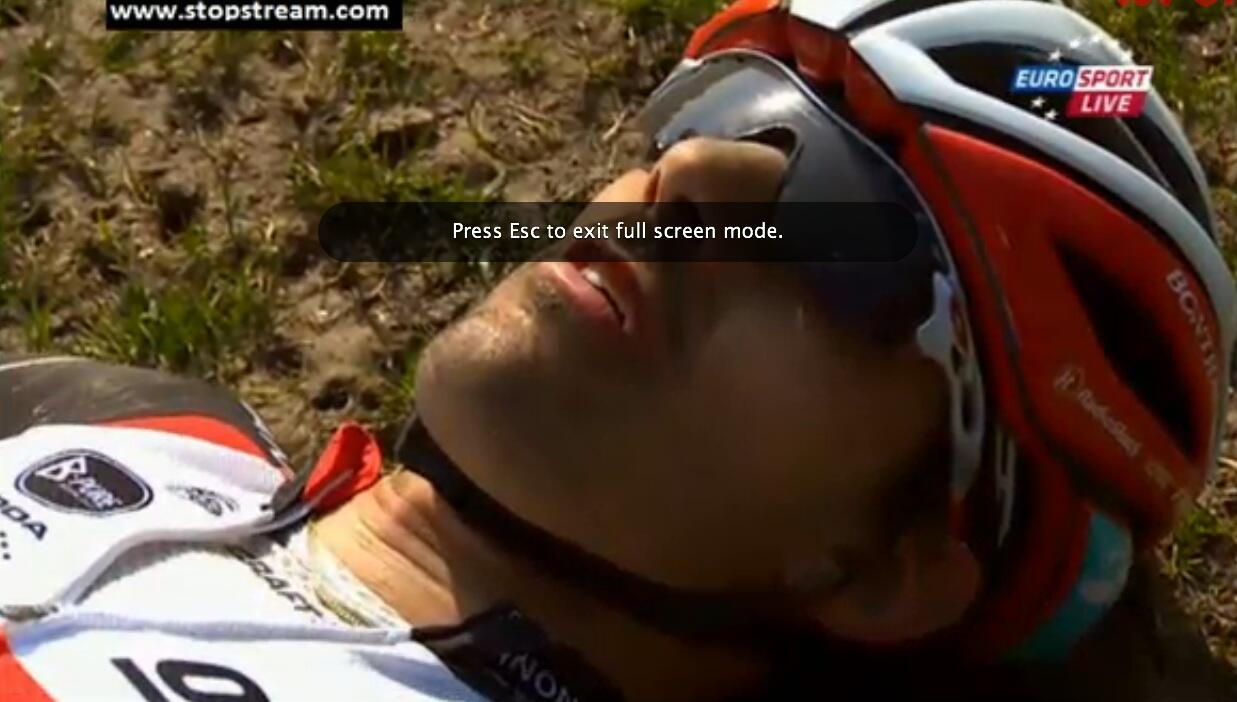 I was watching them and thinking: how similar they are! big men, strong builded bodies, huge power. They talked a few times flying to Roubaix, their mind working hard to solve the problem. Dropping the opponent? betting all at the sprint in the velodrome? Cancellara tryed to drop Vanmarcke but Vanmarcke resisted. They got together into the velodrome. Old times story! a classy track sprint! Fabian beated Sep, passed the line and the lapped chasers sprinting for the 3rd place (Terpstra). Collapsed. "I don't know how I did it." he said "Now it's time for a holiday and to put my bike to the side".
Three times winner of Roubaix, Cancellara is one of the very few riders who won twice Roubaix and Ronde in the same year. A splendid rider, a splendid husband and father, a splendid friend. A splendid man. Congrats Fabian!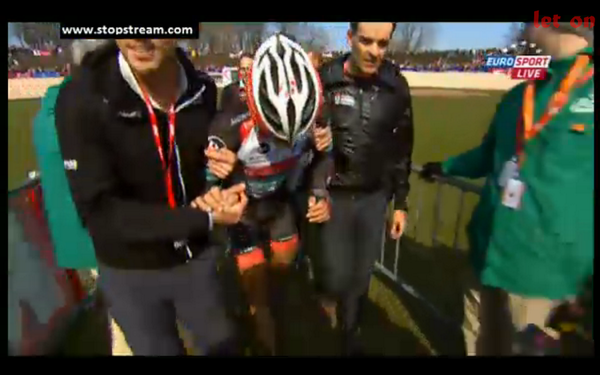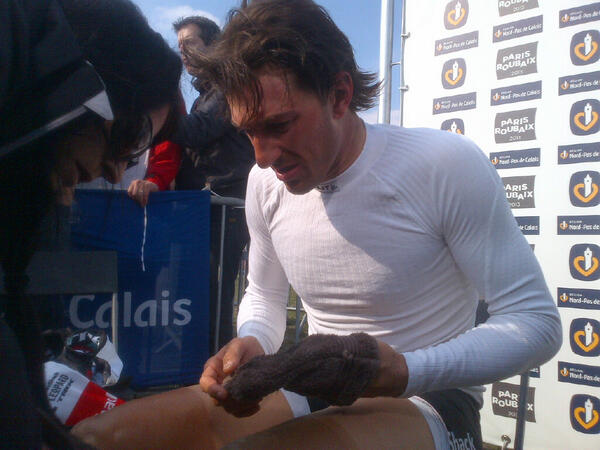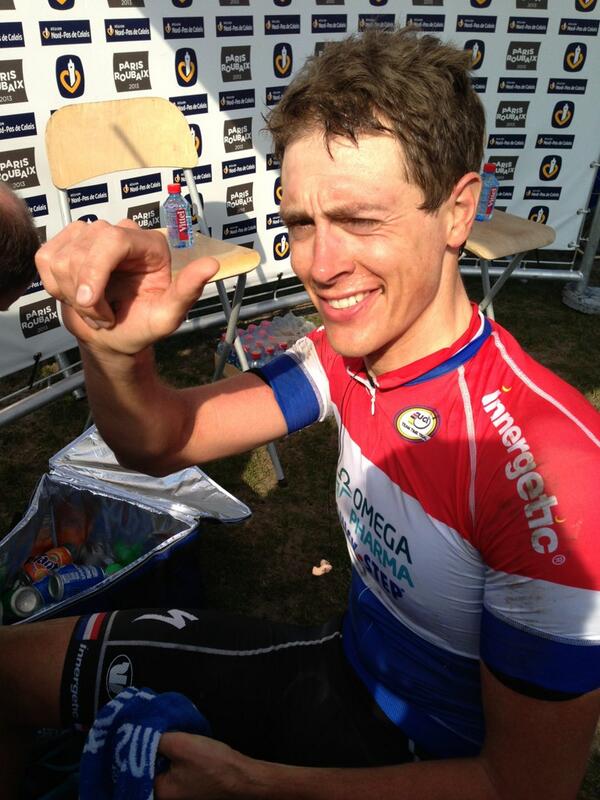 RESULTS
Source http://www.procyclingstats.com/race/1167891-Paris-Roubaix-2013
| | | | | | |
| --- | --- | --- | --- | --- | --- |
| 1 | CANCELLARA Fabian | RadioShack - Leopard | 100 | 275 | 5:45:33 |
| 2 | VANMARCKE Sep | Blanco Pro Cycling Team | 80 | 200 | ,, |
| 3 | TERPSTRA Niki | Omega Pharma - Quick-Step | 70 | 150 | 0:31 |
| 4 | VAN AVERMAET Greg | BMC Racing Team | 60 | 120 | ,, |
| 5 | GAUDIN Damien | Europcar | 50 | 100 | ,, |
| 6 | STYBAR Zdenek | Omega Pharma - Quick-Step | 40 | 90 | 0:39 |
| 7 | LANGEVELD Sebastian | Orica GreenEDGE | 30 | 80 | ,, |
| 8 | FLECHA Juan Antonio | Vacansoleil - DCM | 20 | 70 | ,, |
| 9 | KRISTOFF Alexander | Katusha Team | 10 | 60 | 0:50 |
| 10 | TURGOT Sébastien | Europcar | 4 | 50 | ,, |
| 11 | HAUSSLER Heinrich | IAM Cycling | | 46 | ,, |
| 12 | EISEL Bernhard | Sky Procycling | | 42 | ,, |
| 13 | WYNANTS Maarten | Blanco Pro Cycling Team | | 38 | ,, |
| 14 | BOOM Lars | Blanco Pro Cycling Team | | 34 | ,, |
| 15 | BRESCHEL Matti | Team Saxo-Tinkoff | | 30 | ,, |
| 16 | LEUKEMANS Bjorn | Vacansoleil - DCM | | 28 | ,, |
| 17 | CHAINEL Steve | AG2R La Mondiale | | 26 | ,, |
| 18 | TJALLINGII Maarten | Blanco Pro Cycling Team | | 24 | ,, |
| 19 | CHAVANEL Sylvain | Omega Pharma - Quick-Step | | 22 | ,, |
| 20 | VANDENBERGH Stijn | Omega Pharma - Quick-Step | | 20 | ,, |
| 21 | PAOLINI Luca | Katusha Team | | 19 | 1:00 |
| 22 | POZZATO Filippo | Lampre - Merida | | 18 | 2:52 |
| 23 | PHINNEY Taylor | BMC Racing Team | | 17 | 3:13 |
| 24 | SIEBERG Marcel | Lotto Belisol Team | | 16 | ,, |
| 25 | SINKELDAM Ramon | Team Argos - Shimano | | 15 | ,, |
| 26 | LE BON Johan | Equipe Cycliste FDJ | | 14 | 3:17 |
| 27 | MONDORY Lloyd | AG2R La Mondiale | | 13 | ,, |
| 28 | DEGENKOLB John | Team Argos - Shimano | | 12 | 3:29 |
| 29 | PETIT Adrien | Cofidis Solutions Crédits | | 11 | ,, |
| 30 | WAGNER Robert | Blanco Pro Cycling Team | | 10 | ,, |
| 31 | GUARNIERI Jacopo | Astana Pro Team | | 9 | ,, |
| 32 | SABATINI Fabio | Cannondale Pro Cycling Team | | 8 | ,, |
| 33 | KLUGE Roger | Team NetApp – Endura | | 7 | ,, |
| 34 | SCHAR Michael | BMC Racing Team | | 6 | ,, |
| 35 | HUSHOVD Thor | BMC Racing Team | | 5 | ,, |
| 36 | VEELERS Tom | Team Argos - Shimano | | 5 | ,, |
| 37 | VENTOSO ALBERDI Francisco José | Movistar Team | | 5 | ,, |
| 38 | KEISSE Iljo | Omega Pharma - Quick-Step | | 5 | ,, |
| 39 | BANDIERA Marco | IAM Cycling | | 5 | ,, |
| 40 | MALACARNE Gael | Bretagne- Séché Environnement | | 5 | ,, |
| 41 | ELMIGER Martin | IAM Cycling | | 5 | ,, |
| 42 | HINAULT Sébastien | IAM Cycling | | 5 | ,, |
| 43 | ROELANDTS Jurgen | Lotto Belisol Team | | 5 | ,, |
| 44 | DE BACKER Bert | Team Argos - Shimano | | 5 | ,, |
| 45 | MINARD Sébastien | AG2R La Mondiale | | 5 | ,, |
| 46 | KEUKELEIRE Jens | Orica GreenEDGE | | 5 | ,, |
| 47 | BOASSON HAGEN Edvald | Sky Procycling | | 5 | ,, |
| 48 | THURAU Bjorn | Europcar | | 5 | ,, |
| 49 | GUSEV Vladimir | Katusha Team | | 5 | 3:32 |
| 50 | VANSUMMEREN Johan | Garmin - Sharp | | 5 | ,, |
| 51 | STANNARD Ian | Sky Procycling | | 5 | ,, |
| 52 | HAYMAN Mathew | Sky Procycling | | 5 | ,, |
| 53 | ROULSTON Hayden | RadioShack - Leopard | | 5 | 6:07 |
| 54 | DEVOLDER Stijn | RadioShack - Leopard | | 5 | 6:11 |
| 55 | STEEGMANS Gert | Omega Pharma - Quick-Step | | 5 | ,, |
| 56 | BODNAR Maciej | Cannondale Pro Cycling Team | | 5 | ,, |
| 57 | BOECKMANS Kris | Vacansoleil - DCM | | 5 | ,, |
| 58 | FARRAR Tyler | Garmin - Sharp | | 5 | 8:37 |
| 59 | ROJAS GIL Jose Joaquin | Movistar Team | | 5 | 10:27 |
| 60 | TAMOURIDIS Ioannis | Euskaltel - Euskadi | | 5 | ,, |
| 61 | HUTAROVICH Yauheni | AG2R La Mondiale | | 5 | ,, |
| 62 | BARLE Florent | Cofidis Solutions Crédits | | 5 | ,, |
| 63 | GUTIERREZ PALACIOS Iván | Movistar Team | | 5 | ,, |
| 64 | SELIG Rüdiger | Katusha Team | | 5 | ,, |
| 65 | PERICHON Pierre-luc | Bretagne- Séché Environnement | | 5 | ,, |
| 66 | VAN EMDEN Jos | Blanco Pro Cycling Team | | 5 | ,, |
| 67 | KUZNETSOV Viacheslav | Katusha Team | | 5 | ,, |
| 68 | GREIPEL Andre | Lotto Belisol Team | | 5 | ,, |
| 69 | LABBE Arnaud | Cofidis Solutions Crédits | | 5 | ,, |
| 70 | BAUER Jack | Garmin - Sharp | | 5 | ,, |
| 71 | QUINZIATO Manuel | BMC Racing Team | | 5 | ,, |
| 72 | BONNET William | Equipe Cycliste FDJ | | 5 | 10:30 |
| 73 | MAASKANT Martijn | Garmin - Sharp | | 5 | 13:16 |
| 74 | MAES Nikolas | Omega Pharma - Quick-Step | | 5 | 13:42 |
| 75 | KORETZKY Clément | Bretagne- Séché Environnement | | 5 | ,, |
| 76 | MURAVYEV Dmitriy | Astana Pro Team | | 5 | 14:34 |
| 77 | LEMOINE Cyril | Sojasun | | 5 | ,, |
| 78 | CURVERS Roy | Team Argos - Shimano | | 5 | ,, |
| 79 | THOMAS Geraint | Sky Procycling | | 5 | ,, |
| 80 | SERGENT Jesse | RadioShack - Leopard | | 5 | ,, |
| 81 | VAN POPPEL Boy | Vacansoleil - DCM | | 5 | ,, |
| 82 | ERVITI OLLO Imanol | Movistar Team | | 5 | ,, |
| 83 | KOREN Kristjan | Cannondale Pro Cycling Team | | 5 | ,, |
| 84 | JUNGELS Bob | RadioShack - Leopard | | 5 | ,, |
| 85 | JARRIER Benoit | Bretagne- Séché Environnement | | 5 | ,, |
| 86 | RAST Gregory | RadioShack - Leopard | | 5 | 14:38 |
| 87 | TOSATTO Matteo | Team Saxo-Tinkoff | | 5 | ,, |
| 88 | GENE Yohann | Europcar | | 5 | ,, |
| 89 | PALINI Andrea | Lampre - Merida | | 5 | ,, |
| 90 | DEMARE Arnaud | Equipe Cycliste FDJ | | 5 | 14:40 |
| 91 | KREDER Wesley | Vacansoleil - DCM | | 5 | ,, |
| 92 | CANTWELL Jonathan | Team Saxo-Tinkoff | | 5 | ,, |
| 93 | LAENGEN Vegard Stake | Bretagne- Séché Environnement | | 5 | ,, |
| 94 | AAEN JORGENSEN Jonas | Team Saxo-Tinkoff | | 5 | ,, |
| 95 | BARTA Jan | Team NetApp – Endura | | 5 | 19:12 |
| 96 | O'GRADY Stuart | Orica GreenEDGE | | 5 | 20:37 |
| 97 | RASCH Gabriel | Sky Procycling | | 5 | ,, |
| 98 | LUND Anders | Team Saxo-Tinkoff | | 5 | ,, |
| 99 | GARCIA AMBROA Ricardo | Euskaltel - Euskadi | | 5 | ,, |
| 100 | TALABARDON Yannick | Sojasun | | 5 | ,, |
| 101 | POPOVYCH Yaroslav | RadioShack - Leopard | | 5 | ,, |
| 102 | BAGDONAS Gediminas | AG2R La Mondiale | | 5 | ,, |
| 103 | MøRKøV Michael | Team Saxo-Tinkoff | | 5 | 25:31 |
| 104 | HAEDO Lucas Sebastian | Cannondale Pro Cycling Team | | 5 | ,, |
| 105 | KUMP Marko | Team Saxo-Tinkoff | | 5 | ,, |
| 106 | KLEMME Dominik | IAM Cycling | | 5 | ,, |
| 107 | SCHILLINGER Andreas | Team NetApp – Endura | | 5 | ,, |
| 108 | DEMPSTER Zakkari | Team NetApp – Endura | | 5 | ,, |
| 109 | ROWE Luke | Sky Procycling | | 5 | 26:16 |
| 110 | DURBRIDGE Luke | Orica GreenEDGE | | 5 | ,, |
| 111 | KING Edward | Cannondale Pro Cycling Team | | 5 | ,, |
| 112 | CLARKE William | Team Argos - Shimano | | 5 | ,, |
| 113 | KAMYSHEV Arman | Astana Pro Team | | 5 | ,, |
| 114 | BOL Jetse | Blanco Pro Cycling Team | | 5 | ,, |
| 115 | DOWNING Russell | Team NetApp – Endura | | 5 | ,, |
| 116 | GUARDINI Andrea | Astana Pro Team | | 5 | ,, |
| 117 | LAMOISSON Morgan | Europcar | | 5 | ,, |
| 118 | JUUL-JENSEN Christopher | Team Saxo-Tinkoff | | 5 | ,, |
| DNF | HENDERSON Gregory | Lotto Belisol Team | | | - |
| DNF | DEBUSSCHERE Jens | Lotto Belisol Team | | | - |
| DNF | DEHAES Kenny | Lotto Belisol Team | | | - |
| DNF | BAK Lars Ytting | Lotto Belisol Team | | | - |
| DNF | OFFREDO Yoann | Equipe Cycliste FDJ | | | - |
| DNF | FISCHER Murilo Antonio | Equipe Cycliste FDJ | | | - |
| DNF | DELAGE Mickaël | Equipe Cycliste FDJ | | | - |
| DNF | BOUCHER David | Equipe Cycliste FDJ | | | - |
| DNF | REYNES MIMO Vicente | Lotto Belisol Team | | | - |
| DNF | BOZIC Borut | Astana Pro Team | | | - |
| DNF | SISKEVICIUS Evaldas | Sojasun | | | - |
| DNF | LINDEMAN Bert-Jan | Vacansoleil - DCM | | | - |
| DNF | MOURIS Jens | Orica GreenEDGE | | | - |
| DNF | DOCKER Mitchell | Orica GreenEDGE | | | - |
| DNF | COOKE Baden | Orica GreenEDGE | | | - |
| DNF | BEPPU Fumiyuki | Orica GreenEDGE | | | - |
| DNF | TLEUBAYEV Ruslan | Astana Pro Team | | | - |
| DNF | HUFFMAN Evan | Astana Pro Team | | | - |
| DNF | SELVAGGI Mirko | Vacansoleil - DCM | | | - |
| DNF | VEUCHELEN Frederik | Vacansoleil - DCM | | | - |
| DNF | FAVILLI Elia | Lampre - Merida | | | - |
| DNF | GRAZIATO Massimo | Lampre - Merida | | | - |
| DNF | PETACCHI Alessandro | Lampre - Merida | | | - |
| DNF | ARIEL RICHEZE Maximiliano | Lampre - Merida | | | - |
| DNF | VIGANO Davide | Lampre - Merida | | | - |
| DNF | WACKERMANN Luca | Lampre - Merida | | | - |
| DNF | GODDAERT Kristof | IAM Cycling | | | - |
| DNF | LARSSON Gustav Erik | IAM Cycling | | | - |
| DNF | SARAMOTINS Aleksejs | IAM Cycling | | | - |
| DNF | DE KORT Koen | Team Argos - Shimano | | | - |
| DNF | APPOLLONIO Davide | AG2R La Mondiale | | | - |
| DNF | HOULE Hugo | AG2R La Mondiale | | | - |
| DNF | IGLINSKIY Valentin | AG2R La Mondiale | | | - |
| DNF | ENGOULVENT Jimmy | Sojasun | | | - |
| DNF | DANIEL Maxime | Sojasun | | | - |
| DNF | LABORIE Christophe | Sojasun | | | - |
| DNF | MARTIAS Rony | Sojasun | | | - |
| DNF | PAIANI Jean-lou | Sojasun | | | - |
| DNF | LADAGNOUS Matthieu | Equipe Cycliste FDJ | | | - |
| DNF | BOIVIN Guillaume | Cannondale Pro Cycling Team | | | - |
| DNF | SCHULZE Andre | Euskaltel - Euskadi | | | - |
| DNF | MARANGONI Alan | Cannondale Pro Cycling Team | | | - |
| DNF | GARCíA ETXEGIBEL Egoitz | Cofidis Solutions Crédits | | | - |
| DNF | GHYSELINCK Jan | Cofidis Solutions Crédits | | | - |
| DNF | JOEAAR Gert | Cofidis Solutions Crédits | | | - |
| DNF | SIJMENS Nico | Cofidis Solutions Crédits | | | - |
| DNF | ZINGLE Romain | Cofidis Solutions Crédits | | | - |
| DNF | EICHLER Markus | Team NetApp – Endura | | | - |
| DNF | JARC Blaz | Team NetApp – Endura | | | - |
| DNF | WETTERHALL Alexander | Team NetApp – Endura | | | - |
| DNF | DOWSETT Alex | Movistar Team | | | - |
| DNF | HERRADA LOPEZ Jesús | Movistar Team | | | - |
| DNF | TERUEL ROVIRA Eloy | Movistar Team | | | - |
| DNF | DELPECH Jean-luc | Bretagne- Séché Environnement | | | - |
| DNF | VACHON Florian | Bretagne- Séché Environnement | | | - |
| DNF | LE MONTAGNER Benjamin | Bretagne- Séché Environnement | | | - |
| DNF | BILBAO LOPEZ DE ARMIENTA Peio | Euskaltel - Euskadi | | | - |
| DNF | CHAVANEL Sébastien | Europcar | | | - |
| DNF | DA DALTO Mauro | Cannondale Pro Cycling Team | | | - |
| DNF | OROZ UGALDE Juan José | Euskaltel - Euskadi | | | - |
| DNF | RADOCHLA Steffen | Euskaltel - Euskadi | | | - |
| DNF | KREDER Raymond | Garmin - Sharp | | | - |
| DNF | ROSSELER Sebastien | Garmin - Sharp | | | - |
| DNF | RATHE Jacob | Garmin - Sharp | | | - |
| DNF | HALLER Marco | Katusha Team | | | - |
| DNF | ISAYCHEV Vladimir | Katusha Team | | | - |
| DNF | SMUKULIS Gatis | Katusha Team | | | - |
| DNF | KLIER Andreas | Garmin - Sharp | | | - |
| DNF | FLENS Rick | Blanco Pro Cycling Team | | | - |
| DNF | PUCCIO Salvatore | Sky Procycling | | | - |
| DNF | WYSS Danilo | BMC Racing Team | | | - |
| DNF | OSS Daniel | BMC Racing Team | | | - |
| DNF | BURGHARDT Marcus | BMC Racing Team | | | - |
| DNF | IRIZAR ARANBURU Markel | RadioShack - Leopard | | | - |
| DNF | VEILLEUX David | Europcar | | | - |
| DNF | COUSIN Jérôme | Europcar | | | - |
| DNF | VAN KEIRSBULCK Guillaume | Omega Pharma - Quick-Step | | | - |
| DNF | SAEZ DE ARREGI Adrian | Euskaltel - Euskadi | | | - |
| OTL | STAMSNIJDER Tom | Team Argos - Shimano | | | - |