Pic by Michelena DiarioVasco
Good weather fortunately and a good race. RSNT looked aggressive and made it to the first break-away with Bushe. It also included: Landa, Zandio, Madrazo, Cherel, Paterski and Txurruka. They started the first climb of the day - Alto de Asensio (2ª): 8 km 4,37% average - with a slight advantage and got caught before the KOM. Only Txurruka managed to stay away immediately joined by RSLT Laurent Didier. The peloton pulled by Saxo-Tinkoff set a solid pace, controlling but allowing the breakers to gain till 5''.
Pic Michelena
They passed Alto de Asensio (2ª) then Alto de Itziar (3ª) 5 km 4,40% average in the splendid scenary of Euskal Herria. Finally both break-away and peloton reached Alto de Endoia (2º) and then Azurki's ramp (1ª): the hardest part of today stage. Alto de Azurki (1ª) is 5,5 km 7,82% average. Gap was dramaticly decreasing. We got the image of the race and I think I spotted Andy Schleck quite in front.
When the peloton passed Alto de Azurki the gap was 2'22''. Then they afforded a beautiful descent: large and regular. Break and peloton started climbing Alto de Kalbario - (3ª), 4,4km 5,07% average - almost at the same time: gap was about 1' and Txurruka speeded up trying to go away solo. Didier dropped was quickly back to the peloton. The brave Baque rider was also caught on the last climb: el Alto de Aiastia - (2ª) 4,8 km 5,42% average.
A new race begane: team were fighting for positions at the head of the peloton. At the back somebody was suffering. There was a crash: Devenyns and Van den Broeck went down and many others had to stop. Andy Schleck was at the back of the peloton so I guess he lost some time. Finally a fast descent where Contador took the lead making a last selection: a small group of riders arrived at the sprint and ORICA-GE Gerrans won on Peter Velits and Vicioso.
Didier said: "Yes, 110km in the front. I was told I was free to go and in the first days you never know how things will go so it's good to be in the breaks and see what happens. I am trying to do my best for the team. In the past we've come with clear race leaders but now we are free to go. I like giving myself a chance."
Andy Schleck finished 80 at 1'01''.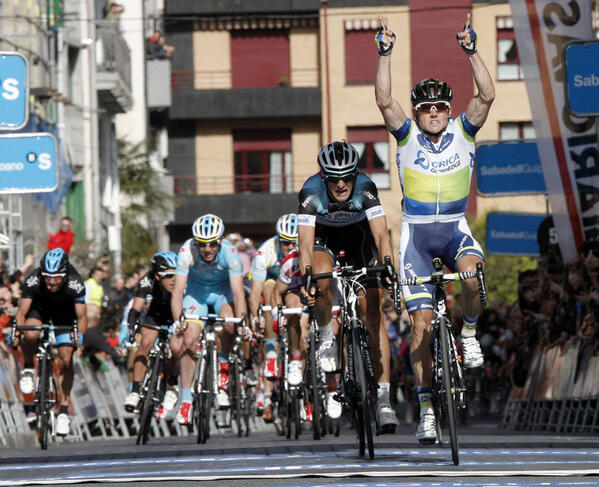 RESULTS
Source http://www.procyclingstats.com/race/1167811-Vuelta-Ciclista-al-Pais-Vasco-2013-Overview
| | | | | | |
| --- | --- | --- | --- | --- | --- |
| 1 | GERRANS Simon | Orica GreenEDGE | 6 | 50 | 4:06:33 |
| 2 | VELITS Peter | Omega Pharma - Quick-Step | 4 | 30 | ,, |
| 3 | VICIOSO ARCOS Ángel | Katusha Team | 2 | 18 | ,, |
| 4 | GAVAZZI Francesco | Astana Pro Team | 1 | 13 | ,, |
| 5 | FUGLSANG Jakob | Astana Pro Team | 1 | 10 | ,, |
| 6 | HENAO MONTOYA Sergio Luis | Sky Procycling | | 7 | ,, |
| 7 | CONTADOR VELASCO Alberto | Team Saxo-Tinkoff | | 4 | ,, |
| 8 | PORTE Richie | Sky Procycling | | 3 | ,, |
| 9 | QUINTANA ROJAS Nairo Alexander | Movistar Team | | 2 | ,, |
| 10 | WEENING Pieter | Orica GreenEDGE | | 1 | ,, |
| 11 | VAN GARDEREN Tejay | BMC Racing Team | | | ,, |
| 12 | BAGOT Yoann | Cofidis Solutions Crédits | | | ,, |
| 13 | HERRADA LOPEZ Jesús | | | | ,, |
| 14 | SPILAK Simon | Katusha Team | | | ,, |
| 15 | FARIA DA COSTA Rui Alberto | Movistar Team | | | ,, |
| 16 | DYACHENKO Alexandr | Astana Pro Team | | | ,, |
| 17 | KREUZIGER Roman | Team Saxo-Tinkoff | | | ,, |
| 18 | SANCHEZ GONZALEZ Samuel | Euskaltel - Euskadi | | | 0:05 |
| 19 | GILBERT Philippe | BMC Racing Team | | | ,, |
| 20 | CLARKE Simon | Orica GreenEDGE | | | ,, |
| 21 | PINEAU Jérome | Omega Pharma - Quick-Step | | | ,, |
| 22 | TALANSKY Andrew | Garmin - Sharp | | | ,, |
| 23 | HESJEDAL Ryder | Garmin - Sharp | | | ,, |
| 24 | IZAGIRRE INSAUSTI Gorka | Euskaltel - Euskadi | | | ,, |
| 25 | KLöDEN Andréas | RadioShack - Leopard | | | ,, |
| 26 | PIETROPOLLI Daniele | Lampre - Merida | | | ,, |
| 27 | IZAGIRRE INSAUSTI Ion | Euskaltel - Euskadi | | | ,, |
| 28 | FERNANDEZ DE LARREA Koldo | Garmin - Sharp | | | ,, |
| 29 | CUNEGO Damiano | Lampre - Merida | | | ,, |
| 30 | SLAGTER Tom-Jelte | Blanco Pro Cycling Team | | | ,, |
| 31 | DE CLERCQ Bart | Lotto Belisol Team | | | ,, |
| 32 | LOSADA ALGUACIL Alberto | Katusha Team | | | ,, |
| 33 | NERZ Dominik | BMC Racing Team | | | ,, |
| 34 | POELS Wout | Vacansoleil - DCM | | | ,, |
| 35 | STETINA Peter | Garmin - Sharp | | | ,, |
| 36 | TEN DAM Laurens | Blanco Pro Cycling Team | | | ,, |
| 37 | CARUSO Giampaolo | Katusha Team | | | ,, |
| 38 | PERAUD Jean-christophe | AG2R La Mondiale | | | ,, |
| 39 | LE MEVEL Christophe | Cofidis Solutions Crédits | | | 0:12 |
| 40 | ANTON HERNANDEZ Igor | Euskaltel - Euskadi | | | 0:14 |
| 41 | CARDOSO Andre Fernando S. Martins | Caja Rural-Seguros RGA | | | ,, |
| 42 | SARMIENTO TUNARROSA Jose Cayetano | | | | ,, |
| 43 | VALLS FERRI Rafael | Vacansoleil - DCM | | | ,, |
| 44 | CASTROVIEJO Jonathan | Movistar Team | | | ,, |
| 45 | TANKINK Bram | Blanco Pro Cycling Team | | | ,, |
| 46 | ULISSI Diego | Lampre - Merida | | | ,, |
| 47 | INTXAUSTI Benat | Movistar Team | | | 0:16 |
| 48 | BARGUIL Warren | Team Argos - Shimano | | | 0:19 |
| 49 | ZUBELDIA AGIRRE Haimar | RadioShack - Leopard | | | ,, |
| 50 | BRAJKOVIč Janez | Astana Pro Team | | | ,, |
| 51 | BUSCHE Matthew | RadioShack - Leopard | | | 0:21 |
| 52 | SERPA PEREZ Jose Rodolfo | Lampre - Merida | | | ,, |
| 53 | ROGERS Michael | Team Saxo-Tinkoff | | | ,, |
| 54 | BETANCUR GOMEZ Carlos Alberto | AG2R La Mondiale | | | ,, |
| 55 | MOINARD Amaël | BMC Racing Team | | | ,, |
| 56 | COPPEL Jérome | Cofidis Solutions Crédits | | | ,, |
| 57 | VORGANOV Eduard | Katusha Team | | | ,, |
| 58 | LAGUTIN Sergey | Vacansoleil - DCM | | | ,, |
| 59 | ROCHE Nicolas | Team Saxo-Tinkoff | | | ,, |
| 60 | MORI Manuele | Lampre - Merida | | | ,, |
| 61 | PINOT Thibaut | Equipe Cycliste FDJ | | | ,, |
| 62 | SERRY Pieter | Omega Pharma - Quick-Step | | | ,, |
| 63 | KANGERT Tanel | Astana Pro Team | | | ,, |
| 64 | GASPAROTTO Enrico | Astana Pro Team | | | ,, |
| 65 | VALENTIN Tristan | Cofidis Solutions Crédits | | | ,, |
| 66 | MARTINEZ DE ESTEBAN Egoi | Euskaltel - Euskadi | | | ,, |
| 67 | ELISSONDE Kenny | Equipe Cycliste FDJ | | | ,, |
| 68 | TIERNAN-LOCKE Jonathan | Sky Procycling | | | ,, |
| 69 | VELASCO MURILLO Ivan | Caja Rural-Seguros RGA | | | ,, |
| 70 | LONGHO BORGHINI Paolo | Cannondale Pro Cycling Team | | | ,, |
| 71 | MORENO BAZAN Javier | Movistar Team | | | ,, |
| 72 | MADRAZO RUIZ Angel | Movistar Team | | | ,, |
| 73 | STORTONI Simone | Lampre - Merida | | | ,, |
| 74 | GADRET John | AG2R La Mondiale | | | ,, |
| 75 | MARTIN Tony | Omega Pharma - Quick-Step | | | 0:28 |
| 76 | VERONA QUINTANILLA Carlos | Omega Pharma - Quick-Step | | | 0:37 |
| 77 | SULZBERGER Wesley | Orica GreenEDGE | | | ,, |
| 78 | DE GENDT Thomas | Vacansoleil - DCM | | | 0:53 |
| 79 | RUJANO GUILLEN José Humberto | Vacansoleil - DCM | | | ,, |
| 80 | SCHLECK Andy | RadioShack - Leopard | | | 1:01 |
| 81 | ANDONOV PETROV Danail | Caja Rural-Seguros RGA | | | ,, |
| 82 | DE WEERT Kevin | Omega Pharma - Quick-Step | | | ,, |
| 83 | VANDEWALLE Jurgen | Lotto Belisol Team | | | ,, |
| 84 | KREDER Michel | Garmin - Sharp | | | ,, |
| 85 | KIRYIENKA Vasil | Sky Procycling | | | 1:05 |
| 86 | PREIDLER Georg | Team Argos - Shimano | | | 1:12 |
| 87 | FRAILE MATARRANZ Omar | Caja Rural-Seguros RGA | | | 1:22 |
| 88 | RUIJGH Rob | Vacansoleil - DCM | | | 2:27 |
| 89 | MARTENS Paul | Blanco Pro Cycling Team | | | ,, |
| 90 | VANENDERT Dennis | Lotto Belisol Team | | | ,, |
| 91 | LIGTHART Pim | Vacansoleil - DCM | | | ,, |
| 92 | VANDEWALLE Kristof | Omega Pharma - Quick-Step | | | ,, |
| 93 | MONFORT Maxime | RadioShack - Leopard | | | ,, |
| 94 | CANUTI Federico | Cannondale Pro Cycling Team | | | 2:40 |
| 95 | GRETSCH Patrick | Team Argos - Shimano | | | ,, |
| 96 | MEIER Christian | Orica GreenEDGE | | | ,, |
| 97 | KOLOBNEV Alexandr | Katusha Team | | | ,, |
| 98 | CHEREL Mikael | AG2R La Mondiale | | | ,, |
| 99 | ROY Jérémy | Equipe Cycliste FDJ | | | ,, |
| 100 | CHERNETSKIY Sergey | Katusha Team | | | ,, |
| 101 | FERRARI Fabricio | Caja Rural-Seguros RGA | | | 2:52 |
| 102 | PATERSKI Maciej | Cannondale Pro Cycling Team | | | ,, |
| 103 | GARCíA ETXEGIBEL Egoitz | Cofidis Solutions Crédits | | | ,, |
| 104 | GENIEZ Alexandre | Equipe Cycliste FDJ | | | ,, |
| 105 | SORENSEN Chris Anker | Team Saxo-Tinkoff | | | 3:09 |
| 106 | VANDBORG Brian | Cannondale Pro Cycling Team | | | ,, |
| 107 | COBO ACEBO Juan Jose | Movistar Team | | | 3:28 |
| 108 | TXURRUKA Amets | Caja Rural-Seguros RGA | | | ,, |
| 109 | MALORI Adriano | Lampre - Merida | | | ,, |
| 110 | RATTO Daniele | Cannondale Pro Cycling Team | | | ,, |
| 111 | ZANDIO ECHAIDE Xabier | Sky Procycling | | | ,, |
| 112 | TAARAMäE Rein | Cofidis Solutions Crédits | | | 3:47 |
| 113 | DOMBROWSKI Joe | Sky Procycling | | | 4:08 |
| 114 | WEGMANN Fabian | Garmin - Sharp | | | 4:58 |
| 115 | VOIGT Jens | RadioShack - Leopard | | | ,, |
| 116 | KOHLER Martin | BMC Racing Team | | | ,, |
| 117 | HOWES Alex | Garmin - Sharp | | | ,, |
| 118 | DANIELSON Thomas | Garmin - Sharp | | | ,, |
| 119 | TANNER David | Blanco Pro Cycling Team | | | ,, |
| 120 | IGNATENKO Petr | Katusha Team | | | ,, |
| 121 | NOVIKOV Nikita | Vacansoleil - DCM | | | ,, |
| 122 | LUTSENKO Aleksey | Astana Pro Team | | | ,, |
| 123 | BARDET Romain | AG2R La Mondiale | | | ,, |
| 124 | KADRI Blel | AG2R La Mondiale | | | ,, |
| 125 | MONTAGUTI Matteo | AG2R La Mondiale | | | ,, |
| 126 | GESCHKE Simon | Team Argos - Shimano | | | ,, |
| 127 | BELLEMAKERS Dirk | Lotto Belisol Team | | | 5:10 |
| 128 | PEREZ MORENO Ruben | Euskaltel - Euskadi | | | 6:07 |
| 129 | SICARD Romain | Euskaltel - Euskadi | | | ,, |
| 130 | GARATE Juan Manuel | Blanco Pro Cycling Team | | | 7:19 |
| 131 | LANDA MEANA Mikel | Euskaltel - Euskadi | | | 7:21 |
| 132 | FROHLINGER Johannes | Team Argos - Shimano | | | ,, |
| 133 | PIEDRA PEREZ Antonio | Caja Rural-Seguros RGA | | | ,, |
| 134 | GARCIA FERNANDEZ Marcos | Caja Rural-Seguros RGA | | | ,, |
| 135 | ALBASINI Michael | Orica GreenEDGE | | | 8:54 |
| 136 | MATTHEWS Michael | Orica GreenEDGE | | | ,, |
| 137 | IMPEY Daryl | Orica GreenEDGE | | | ,, |
| 138 | VICHOT Arthur | Equipe Cycliste FDJ | | | ,, |
| 139 | CASAR Sandy | Equipe Cycliste FDJ | | | ,, |
| 140 | HUPOND Thierry | Team Argos - Shimano | | | ,, |
| 141 | VEIKKANEN Jussi | Equipe Cycliste FDJ | | | ,, |
| 142 | NAVARRO GARCIA Daniel | Cofidis Solutions Crédits | | | ,, |
| 143 | BONO Matteo | Lampre - Merida | | | ,, |
| 144 | NORDHAUG Lars Petter | Blanco Pro Cycling Team | | | ,, |
| 145 | WARBASSE Lawrence | BMC Racing Team | | | ,, |
| 146 | BOOKWALTER Brent | BMC Racing Team | | | ,, |
| 147 | VANENDERT Jelle | Lotto Belisol Team | | | ,, |
| 148 | CUMMINGS Stephen | BMC Racing Team | | | ,, |