The wether was awful today and the finish hard againGreat!! They got a few seconds but names in that break were too important: not only Andy but moreover Roche, Vorganov, Martinez. People able to win a stage andstill dangerous for the GC contenders. After few kms he tryed to break-away with Izagirre, Martínez, Vorganov, Roche, Vanendert and Preidler. The peloton didn't let them go and the break was over soon.
More or less 100 km to go a new break got formed and passed the first kom in Alto de Pagatza (2ª) in this order: 1 Ratto 2 Montaguti 3 Vorganov 4 Taaramae. They had gained 5' at that time and Velits (1'49'' from Henao) was the virtual leader of the race. Nice to see Rein Taaramae up there :)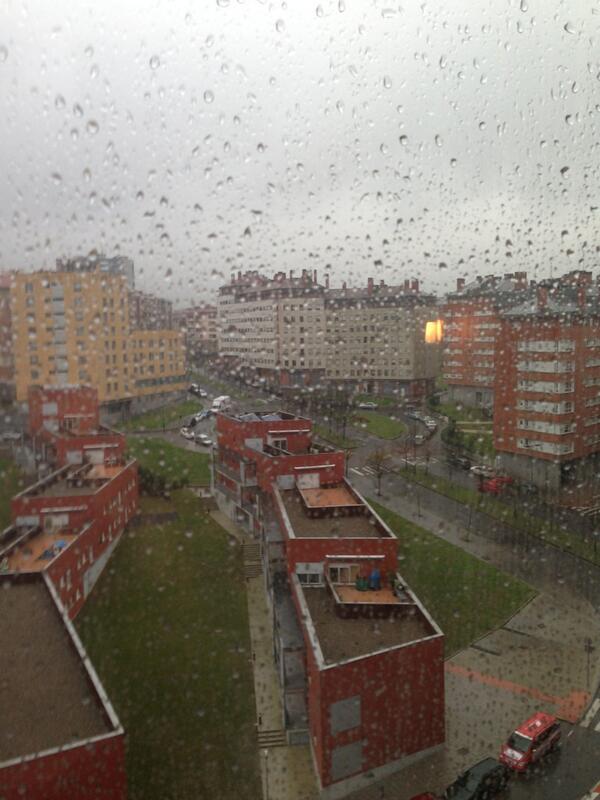 Pic by Nicholas Roche
When the video coverage finally kicked off I saw Andy Schleck pedaling in the rain with all the RSLT squad: he was looking welleven if rain and cold are NOT his cup of tea.
Team Sky of the race leader Henao had to work in front chasing all day. Climbs were steep and the rain made descent really dangerous so the break kept an advantage about 4' till the last climb of the day. Then Movistar started chasing too.
Velits and Montaguti finally dropped Ratto but on the way to Arrate, on the last nasty climb of Alto de Usartza - (1ª), 7,3 km at 6,71% average - fireworks begane and there were many attacks, the most serious by Spilak - well placed in GC and holding good chances in the last ITT. At that point the GC contenders reacted and a small group including the yellow jersey Henao, Quintana, Contador and others conterattacked.
In front the battle was hard, at the back the peloton got splitted in many groups and there were riders all over the road trying to minimize the lost. Quintana won, Henao kept the jersey for few seconds. As far as Andy Schleck, last time I saw him he was at the back but not dropped. He finished
128 at 18'32''.
Best Leopards, Monfort at 1'36''.
RSLT's report says: "... it wasn't a good day for Andreas. He had two punctures. One in the front and later the back. Then at the bottom of the second-to-last climb he broke something on the bike and we're car number 18 so it took awhile for us to reach him. Andy helped him make it back but on the last climb of Arrate he was just empty by then." That explains way.
Pic by Team Sky
It was simply amazing to see how many people were atop every climbs in rain mist and cold supporting and cheering riders! That's Euskal Herria! that's Basque people!
RESULTS
Source
http://www.procyclingstats.com/race/1167841-Vuelta-Ciclista-al-Pais-Vasco-2013-Stage-4-Trapagaran-EibarArrate
| | | | | | |
| --- | --- | --- | --- | --- | --- |
| 1 | QUINTANA ROJAS Nairo Alexander | Movistar Team | | 50 | 3:58:52 |
| 2 | HENAO MONTOYA Sergio Luis | Sky Procycling | | 30 | 0:02 |
| 3 | CONTADOR VELASCO Alberto | Team Saxo-Tinkoff | | 18 | ,, |
| 4 | BETANCUR GOMEZ Carlos Alberto | AG2R La Mondiale | | 13 | ,, |
| 5 | SPILAK Simon | Katusha Team | | 10 | ,, |
| 6 | PORTE Richie | Sky Procycling | | 7 | ,, |
| 7 | PERAUD Jean-christophe | AG2R La Mondiale | | 4 | ,, |
| 8 | WEENING Pieter | Orica GreenEDGE | | 3 | 0:16 |
| 9 | SANCHEZ GONZALEZ Samuel | Euskaltel - Euskadi | | 2 | 0:23 |
| 10 | LOSADA ALGUACIL Alberto | Katusha Team | | 1 | 0:24 |
| 11 | POELS Wout | Vacansoleil - DCM | | | ,, |
| 12 | CUNEGO Damiano | Lampre - Merida | | | ,, |
| 13 | CARUSO Giampaolo | Katusha Team | | | 0:27 |
| 14 | GADRET John | AG2R La Mondiale | | | ,, |
| 15 | ULISSI Diego | Lampre - Merida | | | ,, |
| 16 | DANIELSON Thomas | Garmin - Sharp | | | 0:28 |
| 17 | SARMIENTO TUNARROSA Jose Cayetano | Cannondale Pro Cycling Team | | | 0:30 |
| 18 | INTXAUSTI Benat | Movistar Team | | | 0:33 |
| 19 | TALANSKY Andrew | Garmin - Sharp | | | ,, |
| 20 | HERRADA LOPEZ Jose | Movistar Team | | | 0:54 |
| 21 | VAN GARDEREN Tejay | BMC Racing Team | | | 0:57 |
| 22 | FUGLSANG Jakob | Astana Pro Team | | | 1:02 |
| 23 | FARIA DA COSTA Rui Alberto | Movistar Team | | | ,, |
| 24 | VELITS Peter | Omega Pharma - Quick-Step | | | 1:16 |
| 25 | CHEREL Mikael | AG2R La Mondiale | | | ,, |
| 26 | TEN DAM Laurens | Blanco Pro Cycling Team | | | ,, |
| 27 | DE CLERCQ Bart | Lotto Belisol Team | | | ,, |
| 28 | BAGOT Yoann | Cofidis Solutions Crédits | | | ,, |
| 29 | KREUZIGER Roman | Team Saxo-Tinkoff | | | ,, |
| 30 | MONTAGUTI Matteo | AG2R La Mondiale | | | ,, |
| 31 | MONFORT Maxime | RadioShack - Leopard | | | 1:33 |
| 32 | DYACHENKO Alexandr | Astana Pro Team | | | 1:41 |
| 33 | BUSCHE Matthew | RadioShack - Leopard | | | 2:07 |
| 34 | DE WEERT Kevin | Omega Pharma - Quick-Step | | | ,, |
| 35 | VALLS FERRI Rafael | Vacansoleil - DCM | | | 2:33 |
| 36 | MATE MARDONES Luis Angel | Cofidis Solutions Crédits | | | 2:45 |
| 37 | VERONA QUINTANILLA Carlos | Omega Pharma - Quick-Step | | | 2:50 |
| 38 | CARDOSO Andre Fernando S. Martins | Caja Rural-Seguros RGA | | | ,, |
| 39 | GARCIA FERNANDEZ Marcos | Caja Rural-Seguros RGA | | | 2:53 |
| 40 | STETINA Peter | Garmin - Sharp | | | 3:00 |
| 41 | ZUBELDIA AGIRRE Haimar | RadioShack - Leopard | | | 3:21 |
| 42 | BARGUIL Warren | Team Argos - Shimano | | | 3:38 |
| 43 | BARDET Romain | AG2R La Mondiale | | | 3:39 |
| 44 | ANTON HERNANDEZ Igor | Euskaltel - Euskadi | | | ,, |
| 45 | LE MEVEL Christophe | Cofidis Solutions Crédits | | | ,, |
| 46 | MARTINEZ DE ESTEBAN Egoi | Euskaltel - Euskadi | | | ,, |
| 47 | PIETROPOLLI Daniele | Lampre - Merida | | | 3:56 |
| 48 | SERRY Pieter | Omega Pharma - Quick-Step | | | ,, |
| 49 | KANGERT Tanel | Astana Pro Team | | | 4:30 |
| 50 | RUIJGH Rob | Vacansoleil - DCM | | | 4:50 |
| 51 | GARATE Juan Manuel | Blanco Pro Cycling Team | | | ,, |
| 52 | SULZBERGER Wesley | Orica GreenEDGE | | | ,, |
| 53 | MEIER Christian | Orica GreenEDGE | | | 5:23 |
| 54 | SLAGTER Tom-Jelte | Blanco Pro Cycling Team | | | 5:31 |
| 55 | MARTENS Paul | Blanco Pro Cycling Team | | | 5:32 |
| 56 | MOINARD Amaël | BMC Racing Team | | | ,, |
| 57 | RATTO Daniele | Cannondale Pro Cycling Team | | | 6:49 |
| 58 | KOLOBNEV Alexandr | Katusha Team | | | 7:12 |
| 59 | LAGUTIN Sergey | Vacansoleil - DCM | | | ,, |
| 60 | MALORI Adriano | Lampre - Merida | | | ,, |
| 61 | GAVAZZI Francesco | Astana Pro Team | | | ,, |
| 62 | SILIN Egor | Astana Pro Team | | | ,, |
| 63 | STORTONI Simone | Lampre - Merida | | | ,, |
| 64 | IZAGIRRE INSAUSTI Ion | Euskaltel - Euskadi | | | ,, |
| 65 | COBO ACEBO Juan Jose | Movistar Team | | | 8:01 |
| 66 | PATERSKI Maciej | Cannondale Pro Cycling Team | | | ,, |
| 67 | LONGHO BORGHINI Paolo | Cannondale Pro Cycling Team | | | ,, |
| 68 | PREIDLER Georg | Team Argos - Shimano | | | ,, |
| 69 | GESCHKE Simon | Team Argos - Shimano | | | ,, |
| 70 | GILBERT Philippe | BMC Racing Team | | | 8:55 |
| 71 | HERNáNDEZ BLAZQUEZ Jesús | Team Saxo-Tinkoff | | | 8:59 |
| 72 | NORDHAUG Lars Petter | Blanco Pro Cycling Team | | | ,, |
| 73 | KIRYIENKA Vasil | Sky Procycling | | | ,, |
| 74 | ROCHE Nicolas | Team Saxo-Tinkoff | | | ,, |
| 75 | VORGANOV Eduard | Katusha Team | | | 9:02 |
| 76 | SORENSEN Chris Anker | Team Saxo-Tinkoff | | | 9:22 |
| 77 | ROGERS Michael | Team Saxo-Tinkoff | | | ,, |
| 78 | HUPOND Thierry | Team Argos - Shimano | | | ,, |
| 79 | HESJEDAL Ryder | Garmin - Sharp | | | 9:26 |
| 80 | CLARKE Simon | Orica GreenEDGE | | | ,, |
| 81 | SERPA PEREZ Jose Rodolfo | Lampre - Merida | | | ,, |
| 82 | MORENO BAZAN Javier | Movistar Team | | | ,, |
| 83 | VELASCO MURILLO Ivan | Caja Rural-Seguros RGA | | | ,, |
| 84 | MORI Manuele | Lampre - Merida | | | ,, |
| 85 | TAARAMäE Rein | Cofidis Solutions Crédits | | | 11:17 |
| 86 | CANUTI Federico | Cannondale Pro Cycling Team | | | 12:26 |
| 87 | MATTHEWS Michael | Orica GreenEDGE | | | 13:29 |
| 88 | PINOT Thibaut | Equipe Cycliste FDJ | | | ,, |
| 89 | IMPEY Daryl | Orica GreenEDGE | | | 13:32 |
| 90 | FRAILE MATARRANZ Omar | Caja Rural-Seguros RGA | | | ,, |
| 91 | DOMBROWSKI Joe | Sky Procycling | | | ,, |
| 92 | COPPEL Jérome | Cofidis Solutions Crédits | | | ,, |
| 93 | KREDER Michel | Garmin - Sharp | | | ,, |
| 94 | HOWES Alex | Garmin - Sharp | | | ,, |
| 95 | NAVARRO GARCIA Daniel | Cofidis Solutions Crédits | | | ,, |
| 96 | SICARD Romain | Euskaltel - Euskadi | | | ,, |
| 97 | LANDA MEANA Mikel | Euskaltel - Euskadi | | | ,, |
| 98 | CASAR Sandy | Equipe Cycliste FDJ | | | ,, |
| 99 | KADRI Blel | AG2R La Mondiale | | | ,, |
| 100 | MOREIRA PAULINHO Sergio Miguel | Team Saxo-Tinkoff | | | ,, |
| 101 | ZANDIO ECHAIDE Xabier | Sky Procycling | | | 15:34 |
| 102 | IZAGIRRE INSAUSTI Gorka | Euskaltel - Euskadi | | | ,, |
| 103 | FROHLINGER Johannes | Team Argos - Shimano | | | ,, |
| 104 | NERZ Dominik | BMC Racing Team | | | ,, |
| 105 | GASPAROTTO Enrico | Astana Pro Team | | | ,, |
| 106 | GRETSCH Patrick | Team Argos - Shimano | | | ,, |
| 107 | TIERNAN-LOCKE Jonathan | Sky Procycling | | | ,, |
| 108 | VANDEWALLE Kristof | Omega Pharma - Quick-Step | | | ,, |
| 109 | ANDONOV PETROV Danail | Caja Rural-Seguros RGA | | | ,, |
| 110 | FERRARI Fabricio | Caja Rural-Seguros RGA | | | ,, |
| 111 | PEREZ MORENO Ruben | Euskaltel - Euskadi | | | ,, |
| 112 | WARBASSE Lawrence | BMC Racing Team | | | ,, |
| 113 | PETERSON Tom | Team Argos - Shimano | | | ,, |
| 114 | VEIKKANEN Jussi | Equipe Cycliste FDJ | | | ,, |
| 115 | BELLEMAKERS Dirk | Lotto Belisol Team | | | ,, |
| 116 | CHERNETSKIY Sergey | Katusha Team | | | ,, |
| 117 | VICHOT Arthur | Equipe Cycliste FDJ | | | 15:41 |