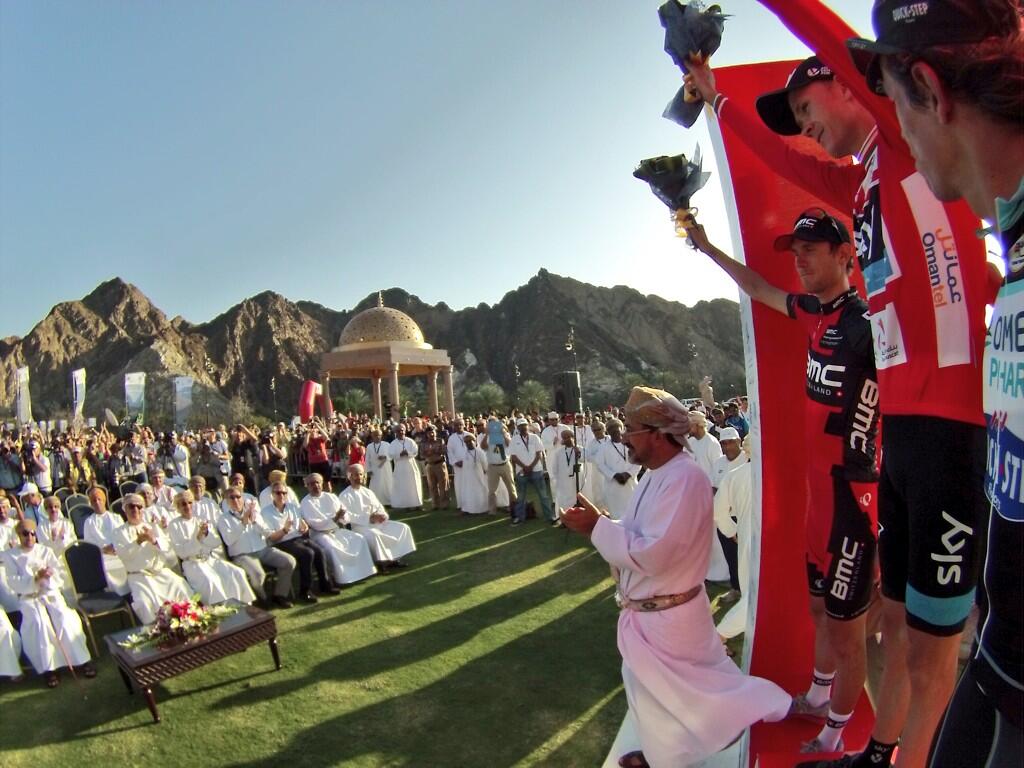 I liked it. It has been a

great race

. Here you have just some ideas not a complete and accurate analysis: I'm not able to do it.
And of course I tell my opinion: I can be wrong. Maybe I'm too generous with somebody and too strict with others.
For sure that race gave us the opportunity to

compare

the actual shape of the most of the main caracters of the cycling show. I'm more interested in

Tour de France contenders

so more focused on them. Few excluded (Contador, Mollema and Betancur. Quintana is going to race in the Giro) they were all here! And few excluded... they are already in a very interesting form. It's going to be an

exciting

season.
PS
I say nothing about teams: the Best Team Classification says it all
(or not?).
Climbers
Very good
Froome: the winner, in a splendid shape, already at the top and even saying he has a lot of work to do. The only doubt is: can he keep this shape till July? but previous years show he can. It's going to be hard to beat him in the Tour.
van Garderen: he's very good and his team looks also quite better than before.
Uran: that's a rider I belove, powerful and unconventional. He has often made the race and his team is probably the strongest in the peloton. Much more to come: stay tuned!
Rodriguez: in my opinion this one is Froome's main contender. I'm not sure if he's going to do Giro or Tour but Purito wants a big tour and so far he just missed a bit of good luck. I could be wrong but I think 2014 is Purito's year. Lets bet?
.............................................
Pozzovivo: he's not on the same level and must be judged by his standard. This one is a classy climber but hardly a gc contender, in add he lost a few trains in his career. All considered, his Tour of Oman has been very good and I hope he's going to show something also in the next races.
Jeannesson: his final gc has been affected by a mistake of his team but he raced very well and is in a very good shape. I don't think he can win the Tour but he can aim a top ten result.
Bardet: that's one of my favourite riders. Best youth in Oman, meritately. I don't put limit to this one because I think he doesn't know yet how far he can go.
Konig: he says he targets the Tour. In this race he demonstrated he can aim to do well. And his team has got a ticket to ride! Big chance.
Frank Schleck: I'm impressed but not surprised. Unlike Andy, Frank cares about his results in every races. He came back from his bann super motivated. In Tour Down Under he wasn't yet in form but now he's ready to fight for a good placement in Paris-Nice.
Elissonde: A YesWeLike-Guy who did very well, 2nd in the Best Youth classification, 21 in GC (and consider he worked for his team mate
Jeannesson. Bravo!
Gesink and Van Den Broeck: about both of them I can say:
he's back, he's there and I'm sure he will be there also in May (Giro) or July (Tour). But already in April.
Kreuziger: he and Contador animated the last Tour de France, they have been the only ones racing for the victory, no for the podium and without any compromise with Team Sky. Chapeau. Kreuziger is a great rider but - as he says - lazy. He needs motivation. In this team it seems he found it.
Nibali: he's improving race by race but he isn't yet at the level of the best Tour contenders. Maybe he's also a little distracted by his personal life - like Andy he's going to get a baby. But he's a very serious guy, hard workers and finally back with his coach Paolo Slongo, a guarantee in cycling. Can he beat Chris Froome? I think he can... but he need a strong team - unlike in the Giro that he won alone.
Impey and Santaromita: ORICA-GreeEdge had already achieved a wonderful result at home in Tour Down Under, here it's good, not splendid but solid, looking toward the next important goals of the season.
Tschopp: a good surprise! For IAM I'd have thought of Frank...
..................................
Henao,
Nieve,
Moreno:
strong, loyal, committed. They worked for their team leader but are much more than helpers. I especially like Nieve and I'm happy he found his place in Team Sky: it's a very good gain for Froome's squad.
So so
Some riders had to work for their team so probably a personal result wasn't possible: I think of
De Marchi and Moser (Sagan), Gallopin (Greipel and
Van Den Broeck) but also Frank (van Garderen), Meyer (Impey) and Roche (Kreuziger). It's a bit different if you talk of Battaglin: Bardiani is a small team, ambicious and always on the attack but as a matter of fact not a Wourld Tour team so Locatelli 37 isn't so bad. But Battaglin on a mountain stage can do better than that.
Mhm...
Andy Schleck's performance has been disappointing. I have already told what I think, and he too. He's going to help his brother in Paris-Nice I guess and that's right but I want to see a good placement in the final GC. A normal placement at least: not so different than the other Tour's contenders.
Sprinters
Very good
Greipel: few to add to a wonderful series of victories.
Good
Kristoff: a stage win, a 4th and a 9th place. No bad at all.
So so
Boonen: but he comes from two weeks of great racing in Dubai and Qatar. In add, he worked for the team leader Uran, successfully.
Roulleurs
Very good
Lövkvist: is he back? he was a young promise, lost himself a bit, now a 15th place in the final GC. That's good! Even if the best result for IAM is team mate
Tschopp.
Bazzana: that's a good surprise for me. Already in the previous races in the Arabic peninsula he showed his aggressive racing style and in Oman he has been often on the attack.
Cataldo: Froome victory's is also his victory. It's a team victory and that's a precious rider for a team. Cataldo could aim to personal results but, a bit like Boasson Hagen, going to Team Sky he somehow accepted to limit his goals. Stage victories and good results in itt are still possible. It's already a big satisfation to give a strong team such a big contribute.
Good
Sagan: he's not that victory machine yet. A stage victory but a low gc. He's going to do better (if not...).
Ligthart

: that's a rider I like. He worked for his team but as usual he also went away in a break. He's a guy who always tries not just for a team strategy but also to play his cards and sometimes he succeed. Bravo!
So so
Van Avermaet: he worked for van Garderen but also in Qatar - more suitable race - his personal results has been unimpressive. I read he's satisfied. His goals are coming close and probably he'll peack for the Classics.
Cancellara: he worked for Frank Schleck. That's all. Not 100% in Dubai and Qatar, still able to get a good result (5 in Dubai final GC, 4 in a stage in Qatar) he must hurry up to enter the fight for the cobbles Classics at the top.
Finisseurs
Mhm...
Gilbert: disappointing so far. And honestly I can't say he worked for his team. I mean: he did - like Andy Schleck - but for sure that wasn't a decisive help - unlike Cataldo. In
2012 in Qatar he finished 22, in

2013 in Oman he was 21. In general Gilbert is a rider who must demonstrate he's still able to win as he used to do. BMC changed this year, Phinney said it works better for him, lets see if also Gilbert can achieve again those results you expect by him.
All stages
Source:
http://www.procyclingstats.com/race/Tour_of_Oman_2014-Stages
Final GC
1
Christopher

Froome

(GBr) Team Sky

22:02:26

2
Tejay

Van Garderen

(USA) BMC Racing Team

0:00:26

3
Rigoberto

Uran

Uran (Col) Omega Pharma - Quick-Step Cycling Team

0:00:31

4
Joaquim

Rodriguez

(Spa) Team Katusha

0:00:48

5
Robert

Gesink

(Ned) Belkin-Pro Cycling Team

0:00:57

6
Domenico

Pozzovivo

(Ita) AG2R La Mondiale

0:01:01

7
Sergio

Henao

Montoya (Col) Team Sky

0:01:19

8
Roman

Kreuziger

(Cze) Tinkoff-Saxo

0:01:25

9
Johann

Tschopp

(Swi) IAM Cycling

0:01:32

10
Daniel

Moreno

Fernandez (Spa) Team Katusha

0:01:34

11
Arnold

Jeannesson

(Fra) Fdj.fr

0:01:50

12
Vincenzo

Nibali

(Ita) Astana Pro Team

0:01:51

13
Romain

Bardet

(Fra) AG2R La Mondiale

0:01:53

14
Daryl

Impey

(RSA) Orica GreenEdge

0:01:58

15
Thomas

Lövkvist

(Swe) IAM Cycling
16
Jurgen

Van Den Broeck

(Bel) Lotto Belisol
17
Leopold

Konig

(Cze) Team Netapp - Endura

0:02:15

18
Ivan

Santaromita

(Ita) Orica GreenEdge

0:02:21

19

Frank Schleck

(Lux) Trek Factory Racing

0:02:29

20
Mikel

Nieve

Iturralde (Spa) Team Sky

0:02:44

21
Kenny Elissonde (Fra) Fdj.fr

0:02:45

22
Lars Ytting Bak (Den) Lotto Belisol

0:02:52

23
David De La Cruz Melgarejo (Spa) Team Netapp - Endura

0:03:10

24
Stef Clement (Ned) Belkin-Pro Cycling Team

0:03:17

25
Dominik Nerz (Ger) BMC Racing Team

0:03:31

26
Valerio Agnoli (Ita) Astana Pro Team

0:03:34

27
Peter Velits (Svk) BMC Racing Team

0:03:35

28
Steve Chainel (Fra) AG2R La Mondiale

0:03:50

29
Alessandro

De Marchi

(Ita) Cannondale

0:03:57

30
David Lopez Garcia (Spa) Team Sky

0:04:12

31
Fabian

Cancellara

(Swi) Trek Factory Racing

0:04:14

32
Zdenek Stybar (Cze) Omega Pharma - Quick-Step Cycling Team

0:04:15

33
Pim

Ligthart

(Ned) Lotto Belisol

0:04:25

34
Stijn Vandenbergh (Bel) Omega Pharma - Quick-Step Cycling Team

0:04:34

35
Zico Waeytens (Bel) Topsport Vlaanderen - Baloise

0:05:02

36
Christopher Jones (USA) Unitedhealthcare Professional Cycling Team

0:05:06

37
Mathias

Frank

(Swi) IAM Cycling

0:05:16

38
Stefano

Locatelli

(Ita) Bardiani CSF

0:05:30

39
Marc Demaar (Ned) Unitedhealthcare Professional Cycling Team

0:05:40

40
Bartosz Huzarski (Pol) Team Netapp - Endura

0:05:52

41
Francesco Gavazzi (Ita) Astana Pro Team

0:05:55

42
Michael Schär (Swi) BMC Racing Team

0:06:06

43
Cameron

Meyer

(Aus) Orica GreenEdge
44
Alessandro

Bazzana

(Ita) Unitedhealthcare Professional Cycling Team

0:06:27

45
Tony

Gallopin

(Fra) Lotto Belisol

0:06:31

46
Enrico

Battaglin

(Ita) Bardiani CSF

0:06:34

47
Jesse Sergent (NZl) Trek Factory Racing

0:07:09

48
Moreno

Moser

(Ita) Cannondale

0:07:13

49
Peter

Sagan

(Svk) Cannondale

0:07:14

50
Nicolas

Roche

(Irl) Tinkoff-Saxo

0:07:53

51
Blel Kadri (Fra) AG2R La Mondiale
0:08:42
52
Kristijan Koren (Slo) Cannondale
0:08:47
53
Philippe

Gilbert

(Bel) BMC Racing Team
0:09:13
54
Greg Van Avermaet (Bel) BMC Racing Team
0:09:39
55
Gatis Smukulis (Lat) Team Katusha
0:10:01
56
Lars Boom (Ned) Belkin-Pro Cycling Team
0:10:18
57
Matti Breschel (Den) Tinkoff-Saxo
0:11:55
58
Lucas Euser (USA) Unitedhealthcare Professional Cycling Team
0:12:57
59
Martin Elmiger (Swi) IAM Cycling
0:13:06
60
Pieter Jacobs (Bel) Topsport Vlaanderen - Baloise
0:13:23
61
Jens Keukeleire (Bel) Orica GreenEdge
0:14:12
62
Arthur Vanoverberghe (Bel) Topsport Vlaanderen - Baloise
0:14:21
63
Aliaksandr Kuchynski (Blr) Team Katusha
0:14:25
64
Dario

Cataldo

(Ita) Team Sky
0:14:28
65
Manuele Boaro (Ita) Tinkoff-Saxo
0:15:04
66
Frantisek Padour (Cze) Team Netapp - Endura
0:15:14
67
Preben Van Hecke (Bel) Topsport Vlaanderen - Baloise
0:15:21
68
Thomas

Sprengers

(Bel) Topsport Vlaanderen - Baloise
0:15:22
69
Oscar Gatto (Ita) Cannondale
0:15:23
70
Yaroslav Popovych (Ukr) Trek Factory Racing
0:16:39
71
Marco Canola (Ita) Bardiani CSF
0:19:30
72

Andy Schleck

(Lux) Trek Factory Racing
0:20:01
73
Paolo Longo Borghini (Ita) Cannondale
0:21:45
74
Michel Koch (Ger) Cannondale
0:21:57
75
Laurent Mangel (Fra) Fdj.fr
0:23:27
76
Heinrich Haussler (Aus) IAM Cycling
0:24:11
77
Zakkari Dempster (Aus) Team Netapp - Endura
0:24:58
78
Tom

Boonen

(Bel) Omega Pharma - Quick-Step Cycling Team
0:25:10
79
Sébastien Minard (Fra) AG2R La Mondiale
0:25:14
80
Alan Marangoni (Ita) Cannondale
0:25:17
81
Gregory Rast (Swi) Trek Factory Racing
0:25:23
82
Karsten Kroon (Ned) Tinkoff-Saxo
83
Matteo

Trentin

(Ita) Omega Pharma - Quick-Step Cycling Team
0:25:29
84
Kanstantsin Siutsou (Blr) Team Sky
0:25:32
85
Hayden Roulston (NZl) Trek Factory Racing
0:25:41
86
Andreas Schillinger (Ger) Team Netapp - Endura
0:25:47
87
Michael Albasini (Swi) Orica GreenEdge
0:25:48
88
Niki

Terpstra

(Ned) Omega Pharma - Quick-Step Cycling Team
0:26:09
89
Stijn Devolder (Bel) Trek Factory Racing
0:26:58
90
Daniele Bennati (Ita) Tinkoff-Saxo
0:27:39
91
Lieuwe Westra (Ned) Astana Pro Team
0:28:15
92
Marcus Burghardt (Ger) BMC Racing Team
0:28:30
93
Jurgen Roelandts (Bel) Lotto Belisol
0:28:40
94
André

Greipel

(Ger) Lotto Belisol
0:28:42
95
Viacheslav Kuznetsov (Rus) Team Katusha
0:28:48
96
William Bonnet (Fra) Fdj.fr
0:29:05
97
Ben Swift (GBr) Team Sky
0:29:12
98
Martin

Kohler

(Swi) BMC Racing Team
0:29:27
99
Michael Morkov (Den) Tinkoff-Saxo
0:29:55
100
Nacer Bouhanni (Fra) Fdj.fr
0:30:21
101
Guillaume Van Keirsbulck (Bel) Omega Pharma - Quick-Step Cycling Team
0:30:23
102
Martijn Maaskant (Ned) Unitedhealthcare Professional Cycling Team
0:30:33
103
Jos Van Emden (Ned) Belkin-Pro Cycling Team
0:30:43
104
Sébastien Hinault (Fra) IAM Cycling
0:30:55
105
Maarten Tjallingii (Ned) Belkin-Pro Cycling Team
0:30:57
106
Murilo Antonio Fischer (Bra) Fdj.fr
0:30:58
107
Cesare

Benedetti

(Ita) Team Netapp - Endura
0:31:11
108
Vladimir Isaichev (Rus) Team Katusha
0:31:34
109
Barry Markus (Ned) Belkin-Pro Cycling Team
0:31:55
110
Jetse Bol (Ned) Belkin-Pro Cycling Team
0:32:08
111
Marcel Aregger (Swi) IAM Cycling
0:33:11
112
Gert Dockx (Bel) Lotto Belisol
0:33:18
113
Christopher Juul Jensen (Den) Tinkoff-Saxo
0:33:43
114
Jelle Wallays (Bel) Topsport Vlaanderen - Baloise
0:33:46
115
Alexander Kristoff (Nor) Team Katusha
0:33:47
116
Robert Wagner (Ger) Belkin-Pro Cycling Team
0:34:03
117
Borut Bozic (Slo) Astana Pro Team
0:34:20
118
Sébastien Turgot (Fra) AG2R La Mondiale
0:34:21
119
Michael Van Staeyen (Bel) Topsport Vlaanderen - Baloise
0:34:30
120
Nicola Boem (Ita) Bardiani CSF
0:35:00
121
Michael

Hepburn

(Aus) Orica GreenEdge
0:35:02
122
Danny Pate (USA) Team Sky
0:35:05
123
Evan Huffman (USA) Astana Pro Team
0:35:19
124
Marcel Sieberg (Ger) Lotto Belisol
0:35:22
125
Rüdiger

Selig

(Ger) Team Katusha
0:38:57
126
Jens Mouris (Ned) Orica GreenEdge
0:39:10
127
Kevin Ista (Bel) IAM Cycling
0:39:24
128
Damien Gaudin (Fra) AG2R La Mondiale
0:39:32
129
Paolo Colonna (Ita) Bardiani CSF
0:39:45
130
Robert Förster (Ger) Unitedhealthcare Professional Cycling Team
0:39:53
131
Filippo Fortin (Ita) Bardiani CSF
0:40:16
132
Sam Bennett (Irl) Team Netapp - Endura
0:40:28
133
Sébastien Chavanel (Fra) Fdj.fr
0:40:57
134
Christophe Riblon (Fra) AG2R La Mondiale
0:45:34
135
John Murphy (USA) Unitedhealthcare Professional Cycling Team
0:51:17
136
Aldo Ino Ilesic (Slo) Unitedhealthcare Professional Cycling Team
0:53:40
Points
1
André

Greipel

(Ger) Lotto Belisol
45
pts
2
Nacer Bouhanni (Fra) Fdj.fr
34
3
Peter Sagan (Svk) Cannondale
28
Youth
1
Romain

Bardet

(Fra) AG2R La Mondiale
22:04:19
2
Kenny

Elissonde

(Fra) Fdj.fr
0:00:52
3
David

De La Cruz

Melgarejo (Spa) Team Netapp - Endura
0:01:17
4
Dominik Nerz (Ger) BMC Racing Team
0:01:38
5
Zico Waeytens (Bel) Topsport Vlaanderen - Baloise
0:03:09
6
Stefano

Locatelli

(Ita) Bardiani CSF
0:03:37
7
Enrico

Battaglin

(Ita) Bardiani CSF
0:04:41
8
Moreno

Moser

(Ita) Cannondale
0:05:20
9
Peter

Sagan

(Svk) Cannondale
0:05:21
10
Arthur Vanoverberghe (Bel) Topsport Vlaanderen - Baloise
0:12:28
11
Thomas

Sprengers

(Bel) Topsport Vlaanderen - Baloise
0:13:29
12
Michel Koch (Ger) Cannondale
0:20:04
13
Matteo

Trentin

(Ita) Omega Pharma - Quick-Step Cycling Team
0:23:36
14
Viacheslav Kuznetsov (Rus) Team Katusha
0:26:55
15
Nacer Bouhanni (Fra) Fdj.fr
0:28:28
16
Guillaume Van Keirsbulck (Bel) Omega Pharma - Quick-Step Cycling Team
0:28:30
17
Barry

Markus

(Ned) Belkin-Pro Cycling Team
0:30:02
18
Jetse Bol (Ned) Belkin-Pro Cycling Team
0:30:15
19
Marcel Aregger (Swi) IAM Cycling
0:31:18
20
Christopher Juul Jensen (Den) Tinkoff-Saxo
0:31:50
21
Jelle Wallays (Bel) Topsport Vlaanderen - Baloise
0:31:53
22
Nicola

Boem

(Ita) Bardiani CSF
0:33:07
23
Michael

Hepburn

(Aus) Orica GreenEdge
0:33:09
24
Evan Huffman (USA) Astana Pro Team
0:33:26
25
Rüdiger

Selig

(Ger) Team Katusha
0:37:04
26
Filippo Fortin (Ita) Bardiani CSF
0:38:23
27
Sam Bennett (Irl) Team Netapp - Endura
0:38:35
Team
1
Team

Sky

66:11:00
2

IAM

Cycling
0:02:30
3

AG2R

La Mondiale
0:03:02
4
Orica Greenedge
0:03:07
5
BMC Racing Team
0:03:56
6
Lotto Belisol
0:04:18
7
Team Katusha
0:04:42
8
Omega Pharma - Quick-Step Cycling Team
0:05:48
9
Team

Netapp

- Endura
0:06:21
10
Astana Pro Team
0:06:26
11
Belkin Pro Cycling Team
0:07:00
12
Tinkoff-Saxo
0:07:01
13

Trek

Factory Racing
0:07:15
14
UnitedHealthcare Professional Cycling Team
0:11:19
15
Topsport Vlaanderen - Baloise
0:13:08
16
Cannondale
0:14:29
17
FDJ.fr
0:17:38
18
Bardiani CSF
0:24:48