Two big hands, palms toward the finish line, arms rised. Fabian

Cancellara

sprints to conquer his 3rd Ronde. He rode again a perfect race, almost invisible till the final circuit, then cool and

powerful

, almost unbattable.
Pain and disappointment on Greg Avermaet's face, a fist up for Sep Vanmarcke, in rage.
But

pain, disappoiment, distress

on many faces, on many hands trembling on the handlbars, on many body thrown and left down on the road, in fields or ditches. Too many

crashes

in this Ronde. As a bulletin of war.
The most shocking after 60 km, when Garmin rider Johan

Vansummeren

hit an old woman and both remained on the ground, rider and bike on the still body of the woman, motionless. According to:

http://www.cyclingnews.com/news/vansummeren-traumatized-by-tour-of-flanders-collision
"at a roundabout after 60 kilometres of racing in Wielsbeke. The pace in the peloton was high, as they chased a group of 11 riders who had formed a breakaway. Where a traffic island split the road in two halves, video shows an older woman, a young boy and a man were standing on a raised island, and riders were passing the obstacle on both sides. Suddenly, Johan Vansummeren (Garmin-Sharp) came crashing into the group, directly striking the older woman, knocking her into the ground. The race organisation did not want to communicate much about the situation, stating only, "She is still in the intensive care unit in hospital. The organization regrets the accident and sympathizes with the family," in a press release."
After the race Vansummeren said:
"I feel really bad that other people are affected.
The fact that this lady got hurt bothers me much more than the crash. Crashes are part of cycling but it's really sad for the family.
I really hope she'll be making progress. I don't know who she is. It was all very hectic. Maybe... during the upcoming days I'll leave the family alone and then I'll contact them."
About the many crashes:
"This is the top. There are a lot of spectators. It's a hype. Twice or thrice a year riders head to a race with this tension. It's all about small roads and riding at the front. Every year incidents happen.
The biggest part of the problem is what they're planting on the roads.
There are more crashes but there's much more junk on the road too.
I don't think I'll find sleep tonight.
It had to become a beautiful Sunday but it's anything but that".
Although it HAS been a beautiful Sunday and an amazing race, crashes, injuries, spoiled hopes and the awful thought of that spectator who was may be dieing left a bitter taste on my mouth - and I'm sure I'm not the only one. Hands up as '

enough

' in this case. Fortunately the last part of the race has been relatively safer and way more exciting.
Trek Factory Racing got almost decimated by brutal crashes. Stijn Devolder even crashed three times and never softly: it's incredible but he came back on bike every times and to the front. Without all those troubles he could have got some good results here. Popovich hit a spectator too - with less dramatic consequences - and was off to the hospital. Rast had to stop. Neo-pro Jasper

Stuyven

finished instead:

promising

guy. Given that they were never in front and very often on the ground... Fabian Cancellara's victory looks even more great. I'd say he has won solo once again but it would be unfair: he has been very well directed if not so much supported. He didn't need all that support!
BMC

really made the race: Taylor Phinney was in the early break-away - including also Romain Zingle (Cofidis), Daryl Impey (Orica-GreenEdge), Stig Broeckx (Lotto-Belisol), Aliaksander Kuchynski (Katusha), James Vanlandschoot (Wanty-Groupe Robert) and Jelle Wallays (Topsport Vlaanderen-Baloise)- Manuel Quinziato attacked with OPQS Trentin on the Kanarieberg and Van Avermaet was in the right move on the Taaienberg - with Sagan, Cancellara, Boonen, Vandenbergh, Stybar, Terpstra, Degenkolb, Vanmarcke, Björn Leukemans (Wanty – Groupe Gobert) and Sébastien Minard (AG2R La Mondiale) before he attacked solo 33 km to go. That, with Cancellara's attack on the final ascent of the Kwaremont, was the move that decided the race: Van Avermaet understood that the big names in the chase were looking each others too long - OPQS especially - and had the guts to go. He finished second at the sprint, wasn't happy on the podium and criticized Vandenbergh (OPQS) who followed but just as a stopper. I think that a help by him would have made no difference. But Van Avermaet has been a brave.
OPQS Team Manager Patrick

Lefevre

said "Sorry @GregVanAvermaet don't insult @vdbstijncycling, we #OPQS are not interested in the second place. Nothing personally." I agree that Vandenbergh simply did his duty: you don't collaborate when you have three team leaders chasing. But still OPQS with the strongest team in the peloton didn't manage to win and neither to put a rider on the podium. That's a matter of fact. Tom Boonen wasn't looking good - attacked early just for the show - Terpstra was maybe more tired than hungry - he already had a superb season - while Stybar - my bet - seemed the perfect candidate for this Ronde's victory. He looked strong and at ease on the cobbles but when Vanmarcke attacked Cancellara on the Paterberg got slightly dropped and that was the sign he wasn't at his best. Indead was Terpstra to chase hard and solo in the final. Too late: all those power was to be used to jump on Van Avermaet's wheel. I guess they have some regret by OPQS... even if they will not admit it.
No regret for

Belkin

. They shouldn't. Crashed affected also their race but not their attempt to win it. Their strategy was similar to Treck's: well hiden till the right moment, then on the attack with a very VERY solid Sep

Vanmarcke

. The way he was ready and able to follow Fabian Cancellara, the way he kept his wheel and even attacked him on the Paterberg gave this Ronde a special pathos: Sep Vanmarcke was fueled on

revenge

. He didn't forget last year Paris-Roubaix, he said he didn't sleep for more than one night after that lost at the sprint in Roubiax's velodrome and tried it again and again. He shouldn't regret because in this Ronde he showed an incredible

strength

, not only phisical, also mental because it isn't easy to play as a pair with Fabian Cancellara. I like Vanmarcke and must confess I was cheering for him in those last km. Never mind: he did great! ...and I expect more next Sunday!
I was very curious to see Team Sky on the cobbles this year because they had said "We used to be not so strong but we studied and we learnt." They are methodical you know and they have some very good Classics' riders. Stannard injuried, crashes had unfortunately a big impact on their final result but in my opinion they did a good Ronde: often on the attack with Edvald

Boasson-Hagen

and Bernard

Eisel

, always in front with Geraint

Thomas

- in spite he crashed -

Knees

and

Wiggins

working hard for the team. Not bad, not spendid. Honest. All considered Thomas 8th is very good result.
Cannondale raced well but Peter

Sagan

couldn't finish it. That's all. It must be frustrating because as a team they did their best to put him in the best place at the right moment but in the Ronde - brutal individual race for fearless warriors, that is - you must get it yourself. Peter Sagan is strong, no doubt, and that race suits him. Cancellara put pressure on him and he looked nervous. He probably lacks a bit of modesty and he's going to learn it in a painful way. Note Maciej Bodnar 38th, and he worked as a dog for Sagan, after a week of tough racing in De Panne. Bravo.
Katusha tried by

Paolini

and at the finish by

Kristoff

: ramdom actions a bit, so unsuccessful. But keep an eye on Paolini because he's in a wonderful shape. Giant bet on

Degenkolb

and it was risky in such a hilly race. He proved them right, remaining in the front group till the end. Finally 'only' 15th with team mate Devenyns (14th) but you can't just tell him chapeau.

Wanty

was in the Ronde with a great rider and ex-Vacansoleil, Björn

Leukemans

: he was in the elite group when Van Avermaet attacked and even tried to follow. In the final he attacked again obtaining a well deserved 6th. In that group there was also the AG2r rider Minard, who finished 22: a good result for a team that didn't look very strong in this race but terrific in so many others so far. FDJ was unlucky: Offredo (21th) punctured, others crashed...

Lampre

-Merida's Pippo

Pozzato

finished 16th: he said people take too many risks and doesn't care about causing crashes. Time has gone that he was fighting in front for a top result or even a victory. After Vansumeren horrible crash Garmin wasn't very active in the race but still Langeveld managed to finish 10th.
IAM's Chavanel

19th is disappointing in my opinion. Disappointing but not their fault

Lotto

-Belisol (Roelandts retired, Gallopin 23th in spite he fell) and

Qhubeka

(Konovalovas 29th), both quite affected by crashes. Only bright note the neo-pro Stig

Broeckx

: in the early break-away (but DNF). Very disappointing

ORICA

-GreenEdge, the only riders somehow active Impey (52th) and Keukeleire (best finisher: 37th).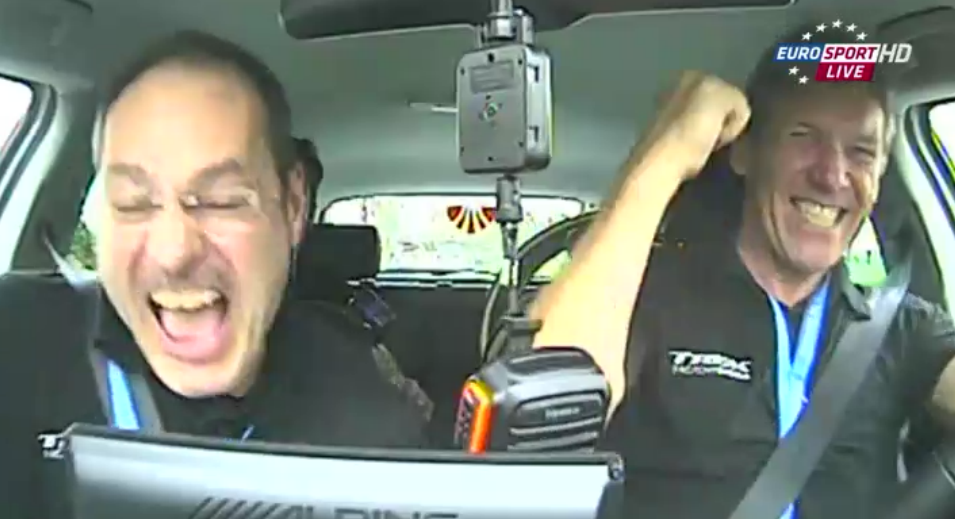 What Fabian Cancellara said:
"I tried to ask Dirk [Demol] through the radio how many seconds we had because the last thing I wanted was the others coming back. That would have been the end of the world. For the spectators at home I am sure it was an exciting track final. It was man against man and I just kept pushing to the end. I did it for the team, and for my wife because I promised to bring the flowers home. I feel sorry for the Belgians. I was against three Belgians at the end….but now I am happy and it's time to go rock the bus and have a nice evening.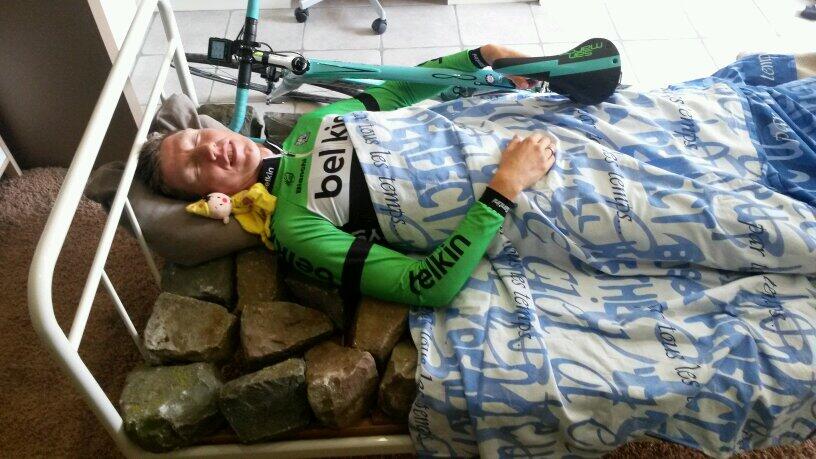 Since I was alone I knew I had to make the selection up the Kwaremont. On the Paterberg I could not go more, I was dead, and then I had to make a gamble to stay with Vandenbergh, Vanmarcke and Van Avermaet
. I wanted to finish alone, but today it was better to wait for the sprint. Winning solo was the goal – I wanted to lift the bike over the line – but
I was not afraid to sprint at the end, since then it is each man for himself; I still don't know how I did it, I just did it.
The race was quite intense, quite hard. We lost a lot of riders to crashes straightaway. To manage a race like this was amazing. Everyone did his little piece - Jesse [Sergent], Markel [Irazar], Hayden [Roulston], all the team – you need these little pieces to be at the top of the pyramid.
It was so tough, I almost got dropped two times when they attacked.
I don't know, everything went well in the end. It's just amazing. Last year I won in an amazing way here, but to repeat, this is even bigger – I have no words.
There is no Monday, we said with the team before the race."
What Greg Van Avermaet said:
"It was a sprint of the strongest and Fabian started his sprint at the same moment. He was a little bit stronger than me. It is a little bit disappointing for me because Flanders is a dream. It is too bad I don't have it, but I am happy that I was up there in the first group. It gives me confidence and should also give the team confidence. I am only 28 years old, so there are still a few years to come. I am a little disappointed that Vandenbergh was not working with me so I was always riding on my own. I felt very strong and tried to get a good tempo, knowing the strong guys would come. I made it over the Paterberg and then waited a bit. [About his early flat tyre] Klaas Lodewyck gave me a wheel and Silvan Dillier, Michael Schär and Manuel Quinziato did a great job to bring me back on the Koppenberg in the position."
What Sep Vanmarcke said:
"In the last kilometres, I was having cramps and I said to myself, 'I have to finish on the podium. I decided to go on safe. I even closed a gap myself as otherwise I knew I could end up fourth. I'm happy with my third place, but now, slowly, a sense of disillusionment hits me. If I had started the sprint earlier, you never know what could had happen.
I fell right on my neck and was suffering for quite a while. I also wasted some power returning to the peloton, but the team continued to motivate me and after the first cobblestone section, I found my rhythm again. I started believing in my chances again. When I told my team-mates that, it motivated them. It was very hectic today, but after my crash, I never got into trouble thanks to my team-mates. That was great. I definitely will be ready for next week."
What Taylor Phinney said:
"It is always a bit of a relief to get in a breakaway in a monument because then you don't have to deal with the stress all day. It also sets the team up well because they know they always have me up there if they want to bridge across. I was feeling really good and knew I was one of the strongest form the breakaway. I just wanted to last as long as I could and try to be helpful in the later part of the race when it really started to kick off from behind."
What OPQS said:
"When Van Avermaet went I was on the front, so the team said if someone attacked, a rider of the team has to always go with them," Vandenbergh said "So, I was just the guy on the front to be able to go with him. We were able to make it to the finish. I did a good attack at 3 kilometers to go, but you have to also in that kind of moment be a little bit lucky that the other riders might be too busy watching each other. Unfortunately, that wasn't the case. But I did my best in the final with the situation I was in. I tried to go for a win and attack as best I could, but the guys with me were strong and I have to congratulate Cancellara for the victory."
"Two hundred riders on these roads, it's one nervous pack the whole day," Terpstra said. "Luckily only Nikolas Maes crashed without major consequences, because there were a lot of crashes. I think we made it through pretty well. Stijn was really strong after the Taaienberg and then he went along with Van Avermaet. They had directly a good gap. That was good, but then we let it get a little bit out of hand. Last time on the Kwaremont, Cancellara and Vanmarcke made a really fast acceleration and then they were out front. We tried to catch them. On the Paterberg we were close for a moment, but then they cooperated really well. I tried to chase with Kristoff the best I could. It's a shame if you see we had three guys in the top 10, maybe we could aim for something higher, but only for one rider. I think because the team was strong I think we can have some opportunities again next week."
"Looking back now, I think we made the right decision to control the race at the heart and the more technical part of the circuits, because there were a lot of crashes," Boonen said. "There are a lot of guys going home not as happy as we are. Even though we didn't win the race. In the end I think we did the right thing. I think we could have done a better job if the radio was working, but we had no radio communication from the last time on the top of the new Kwaremont. So, maybe if we had radios Niki waits for us and we have maybe six guys pulling behind the three guys pulling with Stijn and I think we could have come back. But I think with the shape I had right now, today, 7th is the right result. Up until 230 kilometers I felt the way I was supposed to feel for maybe a Classic win, but with 30 kilometers to go that's where I could maybe improve. It was the first time I did a final after six hours this year. Normally we'd have a few more races like this, but given the circumstances this is the first time. So, maybe this is normal for the amount of racing I've had. It's one thing to train, but it's not the same as competition. You have to do these kinds of situations in the intensity of a race."
"In the moment we had four riders it was still really difficult," Stybar said. "Stijn made the right decision to go away with Van Avermaet at that moment. He deserved to be there. He's very strong. It's difficult to predict if the race would come down to a sprint if he goes ahead with 30 or 40 kilometers to go. Everyone tries and you don't know with who you will be with in the breakaway and how far you will get. So it's a little bit of a lottery and luck. Ok, he couldn't finish it off, but it is at it is. As for the rest of us, we were always in good position. Of course then the group got bigger and bigger when riders came back. Then on the Kwaremont, Cancellara and Vanmarcke were the two strongest riders and they rode away. I couldn't follow. I saw Fabian going, but he was maybe four or five guys in front of me and at that moment I don't know if I could have followed him when he attacked. That is just how it is. We will look ahead now to next week. "
What Geraint Thomas said:
"My back is a bit sore after my tumble. It happened when I was taking a drink, everybody slammed on their breaks in front of me. Because I had a bottle in my hand, I could only grab my front break and hit a central reservation before falling on to my face. I felt terrible for the rest of the race. When you hurt your back you lose a lot of your power and I didn't feel very solid on the bike. That said, still being able to finish in the top 10 after all that was pretty pleasing, especially because I almost got off the bike at one point. The boys rode really well to get me back into the race. Eddy was really strong and Brad did a lot of work for me. At the end, me and Eddy were taking it in turns to follow the moves and when I couldn't hang on on the Taainberg, Eddy stayed ahead to keep us on the front foot. When the groups came back together, I'd just finished a turn and was towards the back of the group when Cancellara made his move. I didn't have the legs to go with him after the day I'd had - and the efforts I'd just made - but considering how I felt, I'm pleased to have been able to stay with Boonen until the finish. I think we can take a lot from today's performance. Gabba [Rasch] crashed as well today but I'm sure we'll be good to go again for Roubaix next week. I think that race suits our team better than Flanders, so if we can stay out of trouble, we'll be looking for a good result there."
RESULTS
1
Fabian Cancellara (Swi) Trek Factory Racing
6:15:18
2
Greg Van Avermaet (Bel) BMC Racing Team
3
Sep Vanmarcke (Bel) Belkin Pro Cycling Team
4
Stijn Vandenbergh (Bel) Omega Pharma - Quick-Step Cycling Team
5
Alexander Kristoff (Nor) Team Katusha
0:00:08
6
Niki Terpstra (Ned) Omega Pharma - Quick-Step Cycling Team
0:00:18
7
Tom Boonen (Bel) Omega Pharma - Quick-Step Cycling Team
0:00:35
8
Geraint Thomas (GBr) Team Sky
0:00:37
9
Björn Leukemans (Bel) Wanty - Groupe Gobert
0:00:41
10
Sebastian Langeveld (Ned) Garmin Sharp
0:00:43
11
Vincent Jerome (Fra) Team Europcar
0:01:12
12
Marcus Burghardt (Ger) BMC Racing Team
13
Nicki Sörensen (Den) Tinkoff-Saxo
0:01:15
14
Dries Devenyns (Bel) Team Giant-Shimano
0:01:19
15
John Degenkolb (Ger) Team Giant-Shimano
0:01:25
16
Peter Sagan (Svk) Cannondale
17
Filippo Pozzato (Ita) Lampre-Merida
18
Zdenek Stybar (Cze) Omega Pharma - Quick-Step Cycling Team
19
Sylvain Chavanel (Fra) IAM Cycling
20
Sébastien Minard (Fra) AG2R La Mondiale
21
Yoann Offredo (Fra) FDJ.fr
22
Edvald Boasson Hagen (Nor) Team Sky
23
Tony Gallopin (Fra) Lotto Belisol
24
Laurens De Vreese (Bel) Wanty - Groupe Gobert
0:01:35
25
Oscar Gatto (Ita) Cannondale
0:01:41
26
Iljo Keisse (Bel) Omega Pharma - Quick-Step Cycling Team
0:01:43
27
Lloyd Mondory (Fra) AG2R La Mondiale
28
Steve Chainel (Fra) AG2R La Mondiale
29
Ignatas Konovalovas (Ltu) MTN - Qhubeka
30
Bram Tankink (Ned) Belkin Pro Cycling Team
31
Jan Barta (Cze) Team NetApp - Endura
32
Bradley Wiggins (GBr) Team Sky
33
Andrey Amador Bakkazakova (CRc) Movistar Team
34
Maarten Wynants (Bel) Belkin Pro Cycling Team
35
Zico Waeytens (Bel) Topsport Vlaanderen - Baloise
36
Luca Paolini (Ita) Team Katusha
0:03:52
37
Jens Keukeleire (Bel) Orica Greenedge
38
Maciej Bodnar (Pol) Cannondale
39
Alexandre Pichot (Fra) Team Europcar
40
Taylor Phinney (USA) BMC Racing Team
0:04:12
41
Fabio Sabatini (Ita) Cannondale
42
Stig Broeckx (Bel) Lotto Belisol
43
Jos Van Emden (Ned) Belkin Pro Cycling Team
44
Guillaume Van Keirsbulck (Bel) Omega Pharma - Quick-Step Cycling Team
45
Mirko Selvaggi (Ita) Wanty - Groupe Gobert
46
Silvan Dillier (Swi) BMC Racing Team
47
Tyler Farrar (USA) Garmin Sharp
48
Cyril Lemoine (Fra) Cofidis, Solutions Credits
49
Borut Bozic (Slo) Astana Pro Team
50
Sébastien Turgot (Fra) AG2R La Mondiale
51
Mathew Hayman (Aus) Orica Greenedge
52
Daryl Impey (RSA) Orica Greenedge
53
Zakkari Dempster (Aus) Team NetApp - Endura
54
Koen De Kort (Ned) Team Giant-Shimano
55
Imanol Erviti Ollo (Spa) Movistar Team
56
Manuel Quinziato (Ita) BMC Racing Team
57
Paolo Longo Borghini (Ita) Cannondale
58
Matteo Trentin (Ita) Omega Pharma - Quick-Step Cycling Team
59
Andriy Grivko (Ukr) Astana Pro Team
0:07:41
60
Bernhard Eisel (Aut) Team Sky
61
Jasper Stuyven (Bel) Trek Factory Racing
62
Luke Rowe (GBr) Team Sky
63
William Bonnet (Fra) FDJ.fr
64
Reinardt Janse Van Rensburg (RSA) Team Giant-Shimano
65
Salvatore Puccio (Ita) Team Sky
66
Lars Ytting Bak (Den) Lotto Belisol
0:08:17
67
Thomas Leezer (Ned) Belkin Pro Cycling Team
68
Preben Van Hecke (Bel) Topsport Vlaanderen - Baloise
69
Matthieu Ladagnous (Fra) FDJ.fr
70
Michael Schär (Swi) BMC Racing Team
71
Tom Van Asbroeck (Bel) Topsport Vlaanderen - Baloise
72
Kenneth Van Bilsen (Bel) Topsport Vlaanderen - Baloise
73
Egoitz Garcia Echeguibel (Spa) Cofidis, Solutions Credits
74
Kristijan Koren (Slo) Cannondale
75
Yannick Martinez (Fra) Team Europcar
76
Jérôme Pineau (Fra) IAM Cycling
77
Vladimir Gusev (Rus) Team Katusha
78
Scott Thwaites (GBr) Team NetApp - Endura
0:09:49
79
Markel Irizar Aranburu (Spa) Trek Factory Racing
80
Maarten Tjallingii (Ned) Belkin Pro Cycling Team
81
Jack Bauer (NZl) Garmin Sharp
82
Alexey Tsatevitch (Rus) Team Katusha
83
Alan Marangoni (Ita) Cannondale
84
Christopher Juul Jensen (Den) Tinkoff-Saxo
85
Roy Curvers (Ned) Team Giant-Shimano
86
Stijn Devolder (Bel) Trek Factory Racing
87
Marco Bandiera (Ita) Androni Giocattoli
88
Ramon Sinkeldam (Ned) Team Giant-Shimano
89
Dylan Van Baarle (Ned) Garmin Sharp
90
Thor Hushovd (Nor) BMC Racing Team
91
Davide Cimolai (Ita) Lampre-Merida
92
Gert Joeaar (Est) Cofidis, Solutions Credits
93
Lars Boom (Ned) Belkin Pro Cycling Team
94
Jerome Cousin (Fra) Team Europcar
95
Christian Knees (Ger) Team Sky
96
Roger Kluge (Ger) IAM Cycling
0:12:25
97
Mitchell Docker (Aus) Orica Greenedge
0:12:38
98
Michael Hepburn (Aus) Orica Greenedge
99
Jay Robert Thomson (RSA) MTN - Qhubeka
100
Aliaksandr Kuchynski (Blr) Team Katusha
101
James Vanlandschoot (Bel) Wanty - Groupe Gobert
102
Karsten Kroon (Ned) Tinkoff-Saxo