Dangerous

final with several laps in the

city

of De Panne, in a gimkana amongh roundabouts and other urban obstacles. Riders passing everywhere in a pure Belgian style.
There was a

break

-away: Segers, De Man, Steels, Thomson and Maaskant. 11 km to go, break almost caught, Thomson and Segers attacked and gained a slight advantage. They started in front the last lap of 8 km but got caught 4 km to go, Thomson first, then Segers. The bunch sprint was launched and trains started to

fight

shoulder against shoulder for the best position.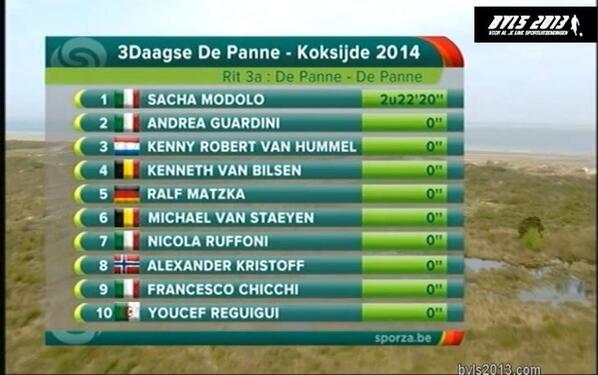 About 3 km to go a big

crash

involved a few riders, included OPQS sprinter Andy

Fenn

. Approaching the finish in a very fast rush Kenny

Dehaes

went down in a corner and straight against a barrier. In front Lampre had taken control and Sacha

Modolo

won again, passing left very close to the barrier - in a very risky way - and outsprinting Andrea Guardini.

RESULTS
STAGE 3
1. Modolo
3. Van Hummel
GC
1. Gert Steegmans