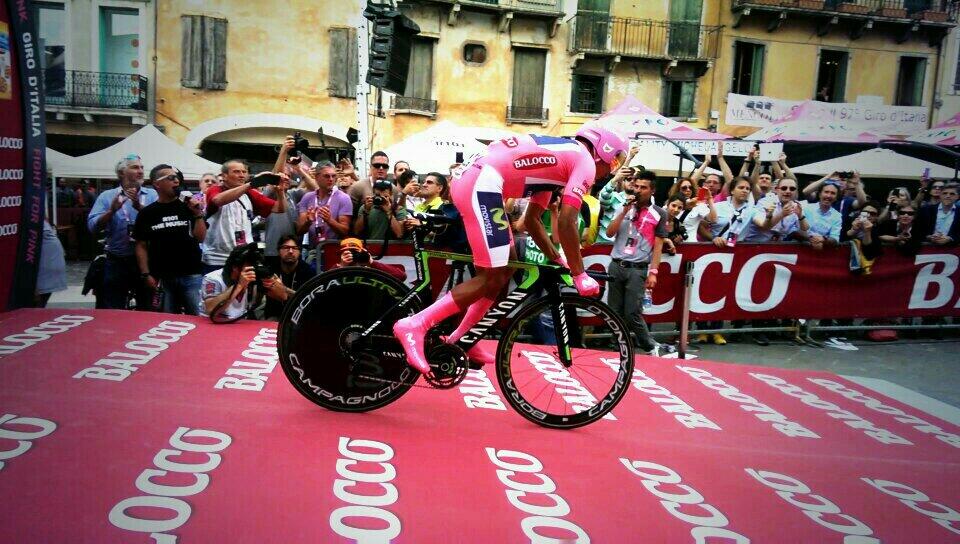 Quintana at the start
Nairo

Quintana

is pink and pinker. But today Fabio

Aru

, the young rider from Sardinia, already in White and stage winner, upset the Giro overall. He went so fast that he passed Rafal Majka, 3' ahead. Quintana was faster. Domenico

Pozzovivo

was also very fast.
Speedy re-shaped the race standings up the

Monte Grappa

- where a whole generation died, a

huge tomb

, a monument to human

nonsense

. Is it right to scream for joy on such a place of death and desperation? Many forget and many even don't know. After the race Fabio Aru is going to bring flowers for the pelotn to the Sacrario atop Monte Grappa. The

Giro remember.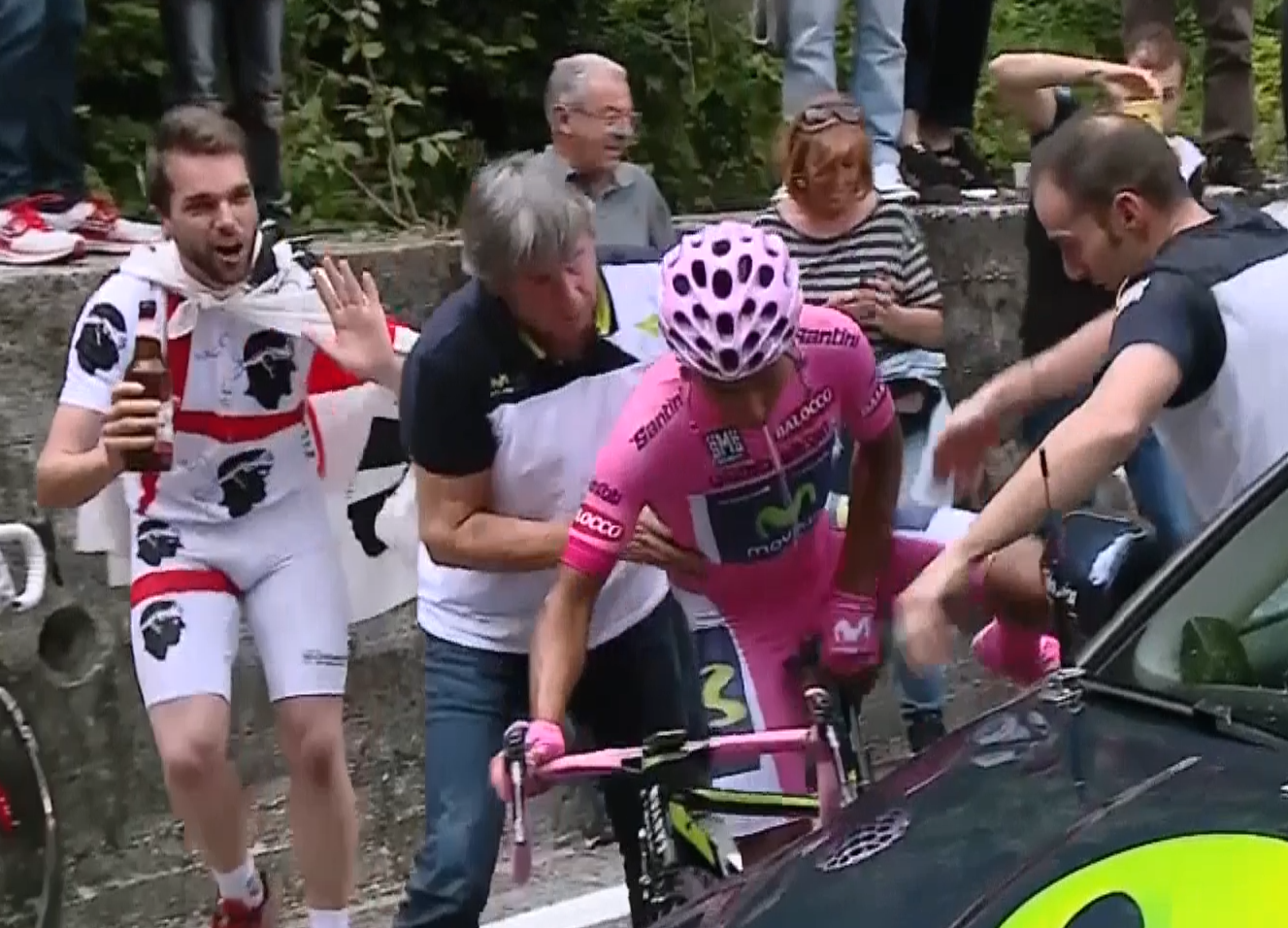 Bike switch
And today many

hopes also died.

Pink is not a colour for funerals. Seconds made the tomb big and bigger. Results say all in a TT. Cadel

Evans

, Rafal

Majka

, Wilco

Kelderman

and also Rigoberto

Uran

are today

losers

. They lost time and positions when they were supposed to gain.
Today winners are

Quintana

(of course and in any sense) and Fabio Aru, but also Sebastian Henao and Dario Cataldo: the Sky duo made a splendid race and they both improved their GC (Cataldo is now 28, Henao 21, so a top 20 result is possible).
Sebastian Henao
As far as

TFR: Kiserlovski

managed to keep his 10th place in GC and that's already a good result. The same you can tell about other riders not especially strong against the clock who didn't even hope to gain time.

Hesjedal

was unlucky: a

mechanical

problem forced him to change his bike a second time, after the

switch

from tt bike to normal one. By the way: almost all favourites do that so it wasn't an advantage for nobody. But Kelderman didn't and he lost... not sure that's the reason.
Is the Giro already over? tomorrow is the Zoncolan... then Gemona-Trieste (and I'll be there).
Rafal Majka
Team Tinkoff DS Lars Michaelsen:"Before the start of the stage Rafa still suffered from stomachaches and obviously that had an impact on his performance today. It's a sad way to lose our position but that's how it is. Now, we're facing one more stage in the mountains and I'd like to say that we'll be attacking from the gun but if Rafa's feeling the same way, that wouldn't be the wisest tactics. We can only hope that he'll recover over night and we'll see how he's feeling tomorrow,"
Team Lotto-Belisol on Twitter: "Unfortunately @Kennydehaes finished outside the time limit in the time trial after he broke his chain two times! That means that two days before the end @Kennydehaes has to leave the race. "
What
Robert Kiserlovski said:
"I was happy today, I know I can improve, but it's okay. For me I prefer to have three climbs before, but I know it's like this and I must work on the time trial for the future. It is my weakness. First part of the TT I was good, then in the middle I lost a bit of concentration. I pulled it together and finished strong again. One more hard stage and the suffering is over. But tomorrow is really hard. I don't like the climb tomorrow; I know it fairly well as it is close to my home. I have raced it three times and in training maybe done it four to five times. It's too steep. It works the arms more than the legs. It's just not the type of climb I prefer, but I hope tomorrow will be okay, if all goes well I should keep the 10th place."
TFR DS Adriano Baffi about Riccardo Zoidl: "Riccardo is strong in the TT. The problem is that he has gotten a little tendonitis in the last part of the Giro and we did ask him to not give 100% today. The result is not a surprise for us - he is still far from the performance of the leaders, but this is a good sign for the future. He had trouble at the start of the Giro, maybe too much pressure, maybe a result from coming back from the broken collarbone, but it is good to see him ride stronger in the third week. He should be good for the Tour of Austria – we will see if he profits from the Giro."
What Cadel Evans said:


"Technically, I rode a pretty good time trial. You never do perfect, but you can hope to be close. For what I had, I got most of it out on the road. Zoncolan is not a long climb, but it is a very, very hard climb. We are in the third week of a very hard tour and a lot can still happen. As we will probably see today, the small differences make a big difference in the third week, especially in a grand tour as hard as this one."
MORE TO COME
RESULTS
ITT
| | | | | | |
| --- | --- | --- | --- | --- | --- |
| 1 | Nairo Alexander QUINTANA ROJAS | COL | MOV | 24 | 1:05:37 |
| 2 | Fabio ARU | ITA | AST | 24 | +17 |
| 3 | Rigoberto URAN URAN | COL | OPQ | 27 | +1:26 |
| 4 | Pierre ROLLAND | FRA | EUC | 28 | +1:57 |
| 5 | Domenico POZZOVIVO | ITA | ALM | 32 | +2:24 |
| 6 | Franco PELLIZOTTI | ITA | AND | 36 | +3:22 |
| 7 | Rafal MAJKA | POL | TCS | 25 | +3:28 |
| 8 | Sebastian HENAO GOMEZ | COL | SKY | 21 | +3:48 |
| 9 | Tim WELLENS | BEL | LTB | 23 | +4:00 |
| 10 | Dario CATALDO | ITA | SKY | 29 | +4:10 |
| 11 | Cadel EVANS | AUS | BMC | 37 | +4:26 |
| 12 | Stefano PIRAZZI | ITA | BAR | 27 | +4:34 |
| 13 | Riccardo ZOIDL | AUT | TFR | 26 | +4:42 |
| 14 | Edoardo ZARDINI | ITA | BAR | 25 | +4:46 |
| 15 | Francis MOUREY | FRA | FDJ | 34 | +4:46 |
| 16 | Wilco KELDERMAN | NED | BEL | 23 | +4:52 |
| 17 | Enrico BATTAGLIN | ITA | BAR | 25 | +5:11 |
| 18 | Alexandre GENIEZ | FRA | FDJ | 26 | +5:11 |
| 19 | Hubert DUPONT | FRA | ALM | 34 | +5:20 |
| 20 | Rodolfo Andres TORRES AGUDELO | COL | COL | 27 | +5:22 |
| 21 | Robert KISERLOVSKI | CRO | TFR | 28 | +5:26 |
| 22 | Mattia CATTANEO | ITA | LAM | 24 | +5:28 |
| 23 | Francesco Manuel BONGIORNO | ITA | BAR | 24 | +5:29 |
| 24 | Daniel MORENO FERNANDEZ | ESP | KAT | 33 | +5:33 |
| 25 | Winner ANACONA GOMEZ | COL | LAM | 26 | +5:35 |
| 26 | Ryder HESJEDAL | CAN | GRS | 34 | +5:39 |
| 27 | Maxime MONFORT | BEL | LTB | 31 | +5:53 |
| 28 | Perrig QUEMENEUR | FRA | EUC | 30 | +6:14 |
| 29 | Emanuele SELLA | ITA | AND | 33 | +6:15 |
| 30 | Wouter POELS | NED | OPQ | 27 | +6:15 |

GC
| | | | | | |
| --- | --- | --- | --- | --- | --- |
| 1 | Nairo Alexander QUINTANA ROJAS | Colombia | MOV | 24 | 79:03:45 |
| 2 | Rigoberto URAN URAN | Colombia | OPQ | 27 | +3:07 |
| 3 | Fabio ARU | Italy | AST | 24 | +3:48 |
| 4 | Pierre ROLLAND | France | EUC | 28 | +5:26 |
| 5 | Domenico POZZOVIVO | Italy | ALM | 32 | +6:16 |
| 6 | Rafal MAJKA | Poland | TCS | 25 | +6:59 |
| 7 | Cadel EVANS | Australia | BMC | 37 | +9:25 |
| 8 | Wilco KELDERMAN | Netherlands | BEL | 23 | +9:29 |
| 9 | Ryder HESJEDAL | Canada | GRS | 34 | +10:11 |
| 10 | Robert KISERLOVSKI | Croatia | TFR | 28 | +13:59 |
| 11 | Alexis VUILLERMOZ | France | ALM | 26 | +22:33 |
| 12 | Alexandre GENIEZ | France | FDJ | 26 | +24:29 |
| 13 | Ivan BASSO | Italy | CAN | 37 | +28:37 |
| 14 | Franco PELLIZOTTI | Italy | AND | 36 | +30:26 |
| 15 | Maxime MONFORT | Belgium | LTB | 31 | +31:09 |
| 16 | Hubert DUPONT | France | ALM | 34 | +33:35 |
| 17 | Matteo RABOTTINI | Italy | NRI | 27 | +37:34 |
| 18 | Damiano CUNEGO | Italy | LAM | 33 | +45:48 |
| 19 | Andre Fernando S. Martins CARDOSO | Portugal | GRS | 30 | +47:19 |
| 20 | Michael ROGERS | Australia | TCS | 35 | +52:42 |
| 21 | Sebastian HENAO GOMEZ | Colombia | SKY | 21 | +53:10 |
| 22 | José HERRADA LOPEZ | Spain | MOV | 29 | +55:06 |
| 23 | Wouter POELS | Netherlands | OPQ | 27 | +55:26 |
| 24 | Steve MORABITO | Switzerland | BMC | 31 | +56:59 |
| 25 | Samuel SANCHEZ GONZALEZ | Spain | BMC | 36 | +58:47 |
| 26 | Fabio Andres DUARTE AREVALO | Colombia | COL | 28 | +1:02:37 |
| 27 | Gianluca BRAMBILLA | Italy | OPQ | 27 | +1:06:25 |
| 28 | Dario CATALDO | Italy | SKY | 29 | +1:07:07 |
| 29 | Georg PREIDLER | Austria | GIA | 24 | +1:08:05 |
| 30 | Serge PAUWELS | Belgium | OPQ | 31 | +1:10:31 |