It's a race, a competition. It's about gaining UCI points and money, it's about sponsors' exposure, it's about tourism promotion. It's about tv share.
The Giro it's about all that, no doubt. That's mostly why it starts from

Ireland

and why Teams accept such a unpratical

nonsense

.
But the Giro it's also about

sport

, fortunately. It's about challenging stages, a demanding route, three weeks to grab fame and

glory

, to confirm or to make your name. It's about personal

limits

and pushing them further. It's about new experinces and last chances, beginners and favourites. And that is the side I'm more interested in.

Stories

of persons, goals, achievements and failures.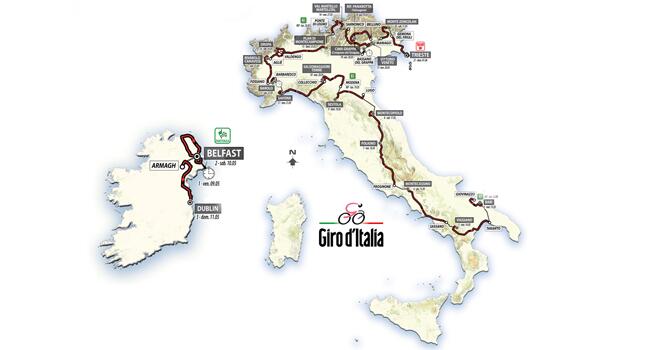 But that isn't all. The Giro is also the pride of a

nation

, like the Tour de France is the pride of France. The Giro is different though because Italy is a way younger nation than France. The Giro has been - and still is - the

making

of a nation, a way to build it as a

unit

, to make people on the road feeling '

Italians

', not just Piemontese, Toscano or Campano. Italy is a nation since 1861, the first Giro was in 1909 but still in 1946, just after the II WW, Italian identity and Giro were problematic as the stage of Trieste damaticly shown (read more here http://en.wikipedia.org/wiki/Giro_d%27Italia ). Last year the Tour de France started from Corsica and only few years ago la Vuelata went back to Euskal Herria: in both cases the national indentity was (and is) and issue.
In spite of my old school communism and consequent political internationalism, I think it's good when the inhabitants of the same country can find a shared identity in something peaceful and honest like a bike race.
The world 'honest' could make rise some eyebrows but considering other sports it's easy to see that cycling isn't worse than soccer or tennis or athletics with regard to doping: it has just got stricter rules and more frequent controls. On the road the pain is equally shared, sprints and climbing are strictly judged - it's very hard to cheat or to avoid fair-play - Cycling teams are international and cycling fans use to cheer everybody, with no regard for nationality. Racism in cycling doesn't exist (or isn't so disgusting open like in the soccer stadiums) and nationalism is always in positive, as supporting riders from your country, never as being rude or aggressive toward riders from another country.
The Giro, the Maglia Rosa, the Trofeo Senza Fine are also about Italy, Italian national identity, the

beauty

of nature and art that belongs to all Italians and makes them proud. The Giro is to show Italy to Italians in first: look, that's your country, ALSO THAT is your country even if it's far from where you live and different.
That's why I don't like at all when the Giro starts abroad: Italy is long, you need three weeks to pass it all, even excluding the islands and some part of it. Italian identity nedds the Giro to keep a peaceful, proud, welcoming side.
In spite of that,

Ireland

seems a

good

place to start. Not by a logistic point of view (especially when you go to Bari then). But by a

political

one. Ireland is still shamefully devided in two country and is painfully making is way from a civilian war lasted centuries to a better future. In my opinion Ireland should be one country but I'm not Irish so I shut up and respect the efforts they are doing to find a peaceful, fair solution. It isn't easy. Anyway it's good to see the Giro starting from Belfast and riding to Dublin, crossing the bounds, making it

one

. It's a message I undersand and I share.
It seems that also Ireland understand and share! it's going all pink.
Unfortunately I'm not there, so I just read about the press conference and teams presentation. I agree with Rodriguez who said: "We are only six at the favourites' table but it's because there wasn't room for all". The favourite number one is in my opinion Rigoberto Uran, because he has got the strongest team, but many can fight for the final victory. Then the Giro isn't only about the Pink Jersey: stage victories, sprints, itt and ttt are all important goals for teams and riders.
Bring it on (and bring it back, please!)