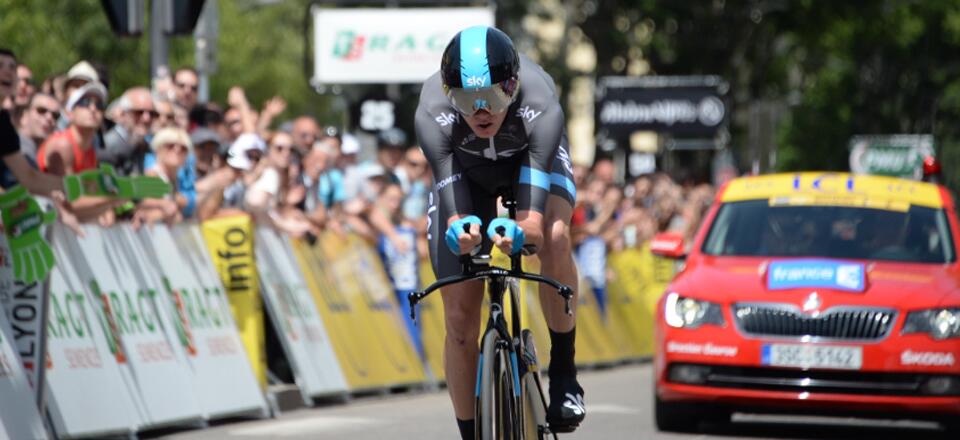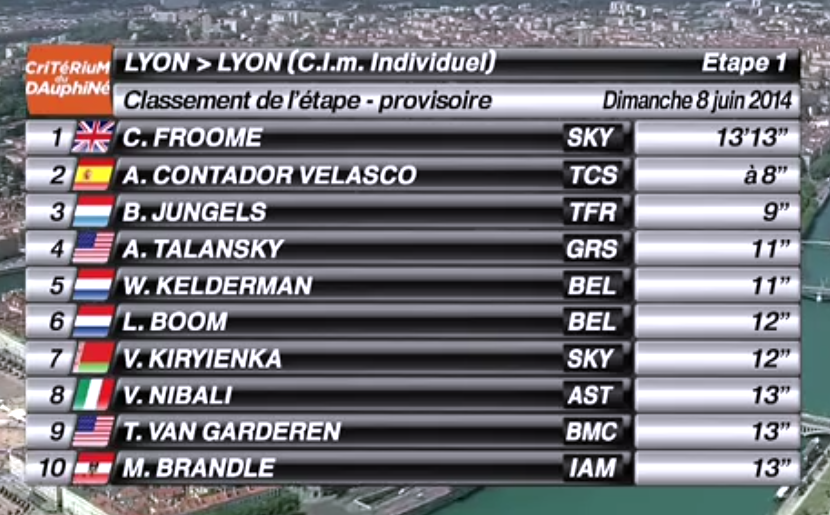 What Chris Froome said:
"I don't think it was necessarily the objective to take the yellow jersey today on such a short, flat time trial but I couldn't be happier with the result.
I'm here to win the race and we're going to do everything we can. Obviously it's the most important to try and have the yellow jersey at the end of the race, not necessarily right now.
The Dauphine this year is really hard right from the opening stages. I think tomorrow again we can expect a really big race in the mountains."
Team Tinkoff DS
says DS Philippe Mauduit:
"I think this is a good result. It's not winning but Alberto is obviously well-prepared and now only needs a week of race speed to brush off his physical condition. I'm totally confident. Tomorrow, Sky have the responsibility of the pace-making while we can stay behind before the demanding finale.
"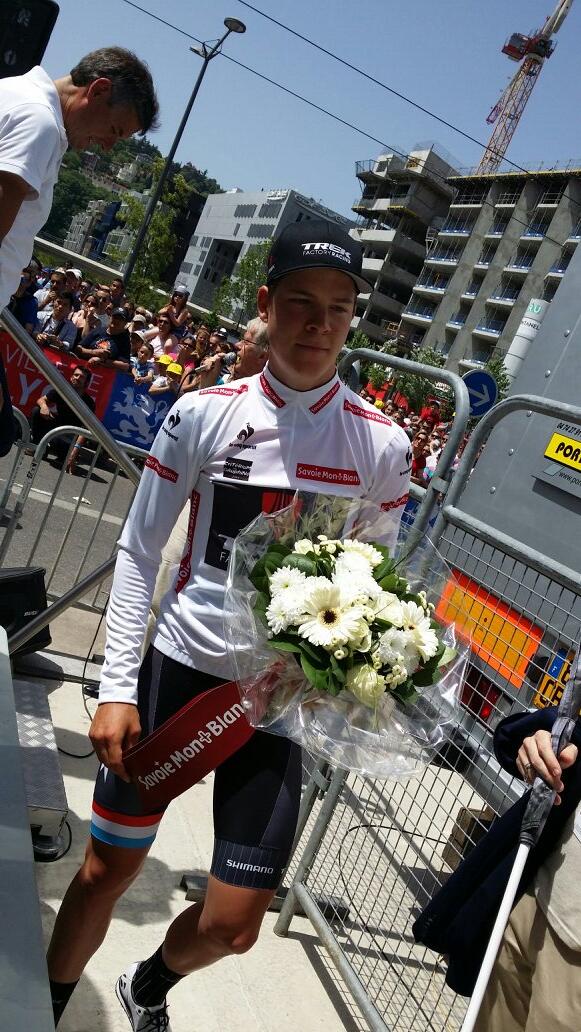 What Bob Jungels said:
"It's my first since Liège, about six weeks. I took a good rest after the first period and when I started back I immediately felt another step, another progression. I have been working a lot in the mountains, long climbs and power work. Last week I really focused on this time trial so I rode my TT bike everyday, doing short intervals to get the rhythm again. It's very hard to prepare for a race right out of training but 10k is quite short, and it was a technical parcours so it really suited me. Usually I like the longer tt's around 30k, but I am normally pretty good on the TT bike, and I did a lot of training so I felt quite comfortable and I could managed the corners really well in the downhill and this helped me a lot. I focused on this since a few weeks. I like to see the circuit the day before and then at night, in bed, I visualize it again in my head. This morning I did the warm up on the circuit, too. I knew it perfectly. I caught the rider in front of me and that is also motivating. It's a little bit a pity after waiting so long but I can't complain. To be on the podium with [Froome] and [Contador] is something special. I was lucky with the weather a little bit, but that's how it is. To end up in a WorldTour race on the podium? I am overwhelmed. The course included a one kilometer climb mid-way with a twisting, technical descent. The weather played a factor as the riders faced a stiff headwind for the second half, and as the day progressed, so did the strength of the wind. [Director] Alain [Gallopin] asked me what time I wanted to start and I went to check the forecast and saw that there would be more wind in the afternoon. So I decided to start pretty early. And as we see now it was a good choice. It's maybe a little bit unfair to the big favorites who have to start at the end, but if you have the choice then you use it for sure. I did a good TT. I beat a lot of good guys. [Michal] Kwiatkowski started two places in front of me, and really I did not expect to beat him. In the end I did, I am super happy about that. It's something nice – it's always good to have a jersey. I am not bad in the climbs, which I saw the last few weeks, but I won't force myself to focus solely on the GC not with Froome, Contador and Nibali here. I can't match them in the climbs. I will see tomorrow, as there is already an uphill finish. But the plan is to focus more on the stages."