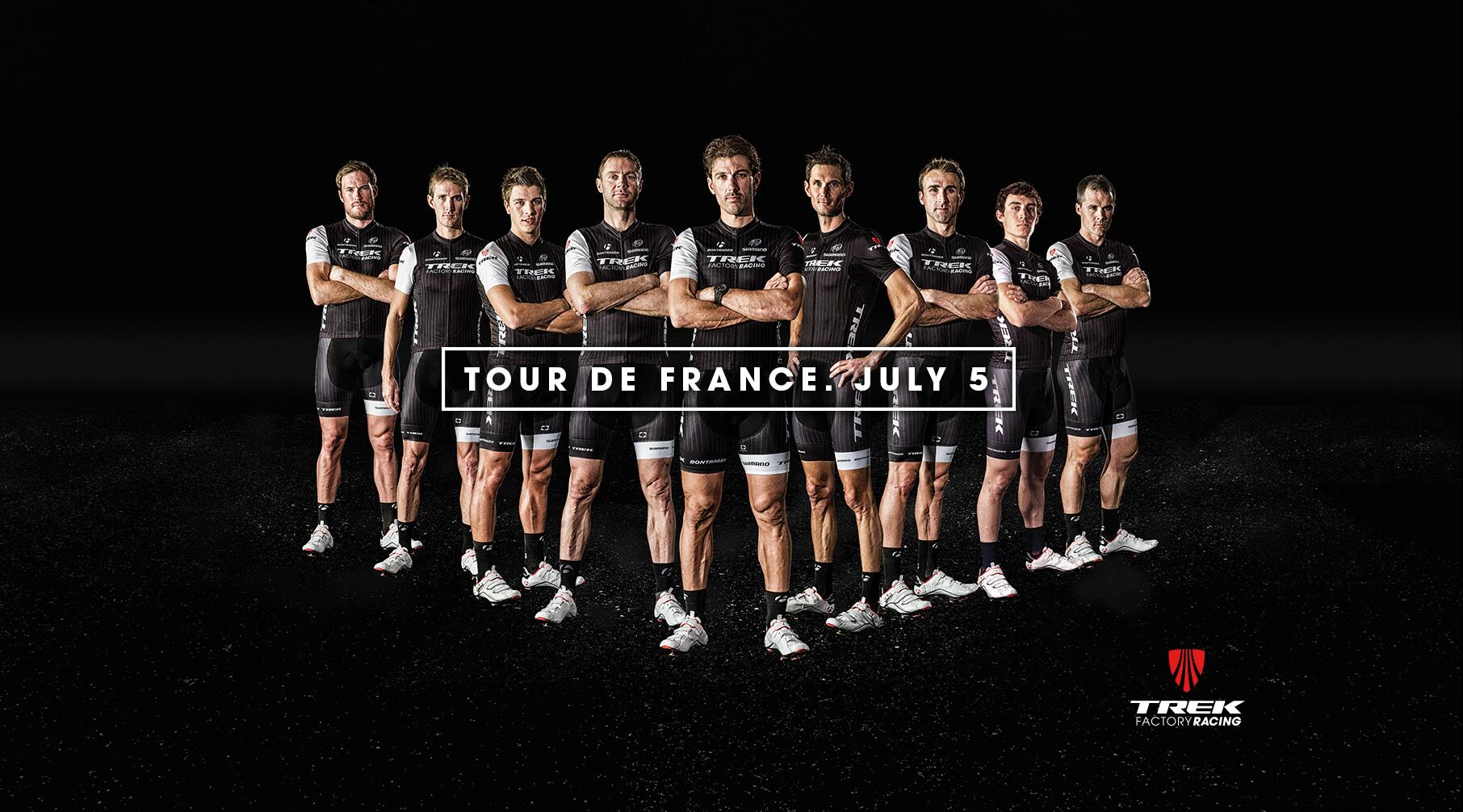 The roster

: Fabian Cancellara, Fränk Schleck, Andy Schleck, Haimar Zubeldia, Jens Voigt, Matthew Busche, Markel Irizar, Gregory Rast, and Danny van Poppel.
GM Luca Guercilena

:
"This edition of the Tour de France is characterized as

one for the mountain goats

, even the parcours of the TT has lots of climbing.

Fränk

and

Haimar

are two riders with experience in GC; they have shown what they are worth and they have our trust. Climbers who are in good shape can hold a GC. We will support them with the best possible. With Andy and Matthew to help out in the mountain stages and strong rouleurs like Jens, Markel and Rasty, they are well surrounded.
Fabian is a favorite for the cobblestone stage, but like many other riders he's in the Tour to be competitive every day, not only for one stage. Sure it's a good day for him because it's pavé, but it's not a "Classic during a Grand Tour" - it's a lot shorter, so the scenario will be very different than in April!
Danny

could be the 'joker' in the first week,

he will

not

have a lead out

train

, but we saw last year he did not have any help with his team and he made third in the first stage.

We know it's a big stage for him, but he can do it,

he has

no pressure

. I saw in Switzerland, with only Fabian and 'Greggy' helping him, that it worked out well. He is able to find his way without a train.
Andy

will ride in support of Fränk and Haimar in the climbs.
He will
not
have a
personal focus
on the GC
. It shouldn't be a surprise that we're lining him up as a support rider for his brother and for Haimar:
Andy may not have won a stage in the Tour de Suisse, but
he raced well.
His prologue wasn't bad and he was racing aggressively in the last stage. He showed a lot of
desire
, and he has
progressed
since the Classics.
Riders of his stature should have the opportunity to compete in the race that made them great.
Matthew has deserved his spot. He suffered the hamstring injury at the end of the Dauphiné but he has no National Championships this week and still has 12 days to prepare. He's a strong guy, he's smart, we have to remember he almost won a stage last year in the Dauphiné - he can be a dark-horse to win a stage from a breakaway.
'Jensie' will certainly pick a day or two that suit his breakaway expertise, and make sure his last Tour is as thrilling as his first."
My opinion:
Luca Guercilena has my deepest esteem and I don't think I'm such an expert to question a world tour team'd selection. I agree that the next Tour de France is for climbers so you must bring a good climber for the GC and a team made to support him in the mountain. I don't believe in shared leadership so I understand that Zubeldia is TFR's leader in the race. Frank Schleck had a good season so far but crashed out the Tour de Suisse and is just back after a long forced break. Both Zubeldia and Frank Schleck can't even dream to win the Tour - in my opinion of course - so when I say they are for the GC I mean: TFR's goal is to put one of them - at least - in the top five. Top ten will be ok. Top 20 so so. Out of that a failure.
You must have goals to select a roster and to make a strategy. Those climbers - plus Irizar and Rast - can also win a stage or try to win the Polka Jersey, but you know that French riders are very focused on both those goals so it's going to be hard. Danny Van Poppel could wear the White Jersey - not win it - and conquer a sprinters' stage but Guercilena is right to say he mustn't feel the pressure because he's too young. Competition will be very hard for both his possible goals and maybe he will get none. A stage podium would be already great. So, basically, TFR goes to the Tour without a sprinter. Danny van Poppel is free to try but no pressure and no train. Cancellara will help then it's on him. That's fine when you focus on the GC... but we have seen that TFR can't hope to win the Tour by Zubeldia (or Frank Schleck)... Cancellara could win on the pavé but he's going to have serious opponents and Guercilena is right to say it will be different than in April. In add Cancellara's shape isn't so good at the moment: he crashed training and his Tour de Suisse has been under the expectations.
Busche is a talented youth but got injuried in the Dauphiné. It's true that he has got the time to recover but the question is: why bring him? which goal for? break-aways? help in the mountains? I don't see how he can be necessary to the team so a young guy in better shape could be better, couldn't he? "He deserved his spot" sounds poor to me. But I'm not saying he shouldn't be in. The Jensie of course deserved his spot and we need no explaination: in the last year of his career he already showed up in so many races!
Finally, Andy Schleck. Well, Andy. "He showed a lot of

desire

, and he

has progressed

since the Classics. Riders of his stature should have the opportunity to compete in the race that made them great." Mhm... that's as if you bring him for pity and you must apologise. Normally you don't bring to the Tour a rider with no results. Not a GC rider like Andy. How can Andy help his team leader in the mountains when in the Tour de Suisse he couldn't stay with the main group on the last climb? Mathias Frank's attack in the last stage had been prepared by a terrific work by his team mate Wyss. Andy at the moment isn't able to do anything similar. He himself used to attack on the last climb or after his brother but I don't see that since 2011: it's three years ago. It's ages. Andy has never been particularly good at entering a break and he has troubles even to keep the front of the peloton on his own, I can't imagine him keeping his team leader up there.
It's true that he progressed - I wrote it few days ago - but his level is still inadequate to be useful in the Tour de France. So what bring him for? for his desire? every rider desires to go to the Tour! In respect of his past? that's very sad. He doesn't deserve to be treated like a dead dog. He doesn't deserve your pity. He deserves a honest feed-back about his possibilities so he can set realistic goals for himself.
I don't mean to sound harsh, at the opposite. I hoped he would have been not selected because in my opinion he needs a break, a re-start. I see the team doesn't put pressure on him but hey, he's 29 and he crashed two years ago. A re-start would be: no Tour, maybe a stop to train and get back to the fitness he needs and he still doesn't have. I'm sure he trains, I'm sure he's serious. But something doesn't work and he must stop to fix it. You don't help him bringing him to the Tour just for pity. Sorry.
That's my opinion. Then, as I always say: surprise me!