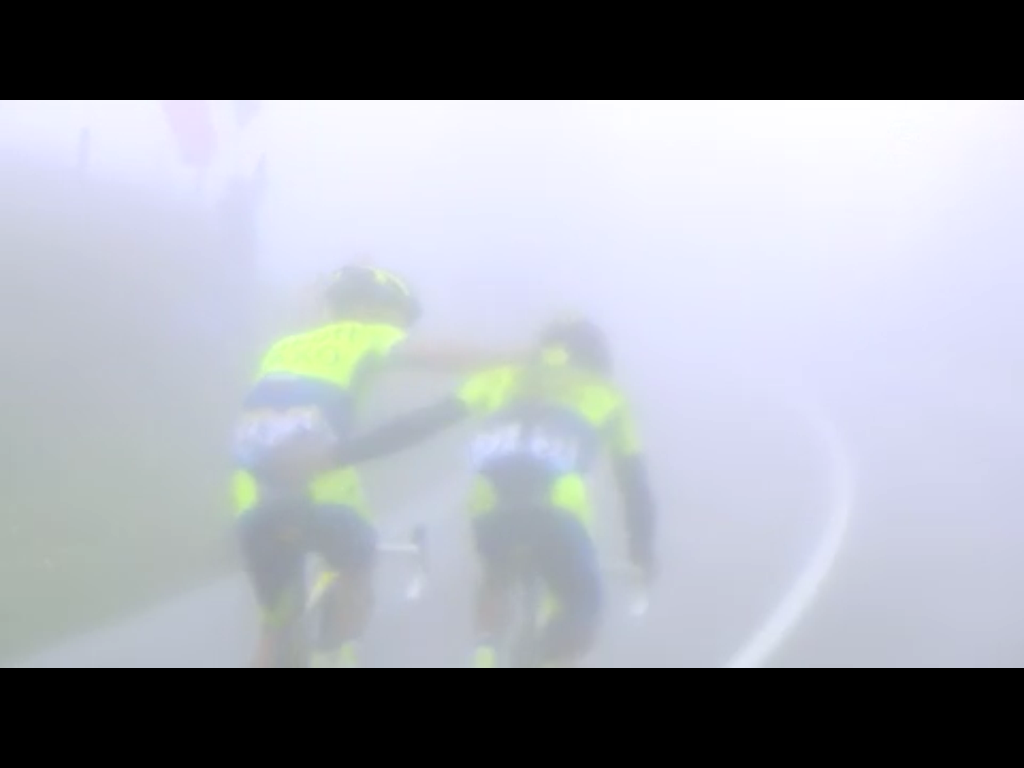 Pain is like a mist. Moisture of blood and rain. Cold and hot into the veins. At first it's nothing: seeing nothing, feeling nothing. Black pain: a blind body on self defence. A white pain after that, insidious, a messy mind, heavy confused head unsure about the world. Being the white pain, not 'feeling' it, a painful whole.
In alpinists' memories, I read of it: of 'dragging'. For miles and miles. A fading soul dragging an injuried body, strips of blood on the snow. Solitude, silence of death. A frozen brocken ground in the distance. And enjoying it.
But cycling is different. A crowded noisy solitude. Faces and cars lights in the mist, coloured patches in the rain and others' bikes to crash on. Will to go fast. Materials are still an issue, here and there. Humans have to rely on things that other humans have to make perfect to achieve perfection, to push the human limit - or just to exit the confort zone.
And riders always get back on bike, unless they lay unconscious beside the road or stand impatient holding a brocken frame, waiting for the team car while the race runs. Pushed by a proud spectator or by the team mechanic, they go, ignoring the white pain, hiding it behind the head. They are not pretending, they simply put their self in a point ahead. No thoughts or maybe a storm, that is the same. No defined patterns to deviate the focus.
But Contador was wearing a mask of acceptance. He knew immediately. Nevertheless he tried. Pedaling in the mist, half an hour with a brocken tibia. Seeing clearly through the huge white pain his Tour vanishing, no more any gain. It seems he crashed twice. Bjarne Riis down the car looking his knee, bandage, useless care. Those two men who had risked all and went so close to lose. Those two men so close. In the last lost. Nobody's fault but they're saying 'it's mine'.
Fair play in front. Confronting the sources. Still rain, still pain, still pulling and falling on the slippery road. The Tour like an elimination race. No time to think, just feeling angry. Contador is out, they finally know. Somehow relieved. The show goes on.
Team Manager Bjarne Riis:
"Alberto crashed on a fast and straight part of the descent. He was reaching for his pocket and the bike was swept away under him probably because of a bump or hole in the road. Alberto was in the shape of his life and the entire team had our eyes fixed on the podium in Paris and the work we would have to do to get there. After the crash, Alberto got back on the bike and we tried for about 18 kilometers to keep him in the race. Despite his best efforts and an impressive show of willpower, he had to abandon the race. Alberto has broken his tibia just below the knee. It's not a complicated fracture but it probably requires surgery. He will stay with us tonight and tomorrow he will travel back to Madrid to undergo further examinations and a surgery if necessary. We will naturally have to look ahead. But right now it's to early to say anything about the possibility of Alberto riding Vuelta a Espana. It depends on his recovery and on how fast he can get back on the bike and start training again",
How it happened: read here:
http://cyclingtips.com.au/2014/07/tinkoff-saxo-tangle-with-belkin-bikes-identified-as-cause-of-snapped-contador-frame/