There we go: tonight the Tour de France will officially start with the Teams Presentation in Leeds around 7 pm (CET) - 6 pm BST, 1am New York - It's going to be streamed - check here for all info :
http://www.cyclingfans.com/tour-de-france/live
This morning some teams held press conferences and I got the blues thinking I was invited. But that's life: you have to make choices. This year I decided to go to Paris-Roubaix instead and to spend my Summer money for a bike trip in Austria with my son. So no, I'm not on the Tour: I'll watch it on the telly. No reportage but hopefully a good writing.
Trek Factory Racing announced two new important sponsors: Samsung and People For Bikes. There is no need to introduce the first one, while I suggest
you google the second because it's an interesting stuff.
Also Tinkoff Saxo announced a new sponsor: B&O PLAY by Bang & Olufsen.
NetApp

and

Endura stop to sponsor the team but a new German partner will be announced soon. I'm not sure that's a good news.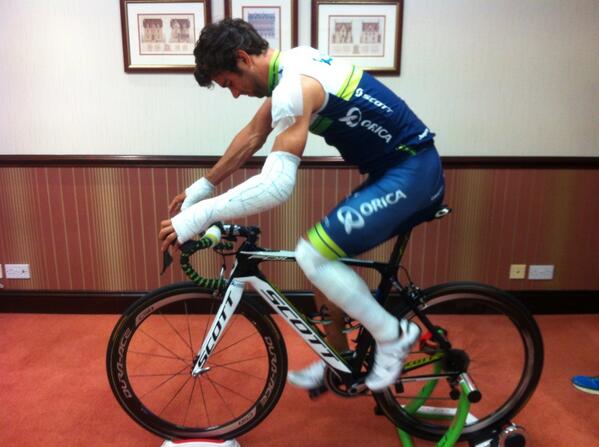 Bad news for sure about Michael Matthew, who crashed training: Christian Meier could take his place.
A long travel is about to start again. Some riders - and staff, and jurnos - are used to it, for others it's new but all say it's exciting, stressing, killing beautiful. It's the Tour de France: the most important cycling race in the world.
Lets live it till the last drop!
ALL STAGES

Stage 1

Leeds - Harrogate

190.5km

Stage 2

York - Sheffield

201km

Stage 3

Cambridge - London

155km

Stage 4

Le Touquet-Paris-Plage - Lille Métropole

163.5km

Stage 5

Ypres - Arenberg Porte du Hainaut

155.5km

Stage 6

Arras - Reims

194km

Stage 7

Épernay - Nancy

234.5km

Stage 8

Tomblaine - Gérardmer La Mauselaine

161km

Stage 9

Gérardmer - Mulhouse

170km

Stage 10

Mulhouse - La Planche des Belles Filles

161.5km

Rest Day 1

Besançon - Besançon

Stage 11

Besançon - Oyonnax

187.5km

Stage 12

Bourg-en-Bresse - Saint-Étienne

185.5km

Stage 13

Saint-Étienne - Chamrousse

197.5km

Stage 14

Grenoble - Risoul

177km

Stage 15

Tallard - Nîmes

222km

Rest Day 2

Carcassonne - Carcassonne

Stage 16

Carcassonne - Bagnères-de-Luchon

237.5km

Stage 17

Saint-Gaudens - Saint-Lary-Soulan Pla d'Adet

124.5km

Stage 18

Pau - Hautacam

145.5km

Stage 19

Maubourguet Pays du Val d'Adour - Bergerac

208.5km

Stage 20

Bergerac - Périgueux (ITT)

54km

Stage 21

Évry - Paris Champs-Élysées

137.5km
PS
For readers using a phone: go to the web version for a black back-ground! I'm sorry but the TdF IS Yellow! :)