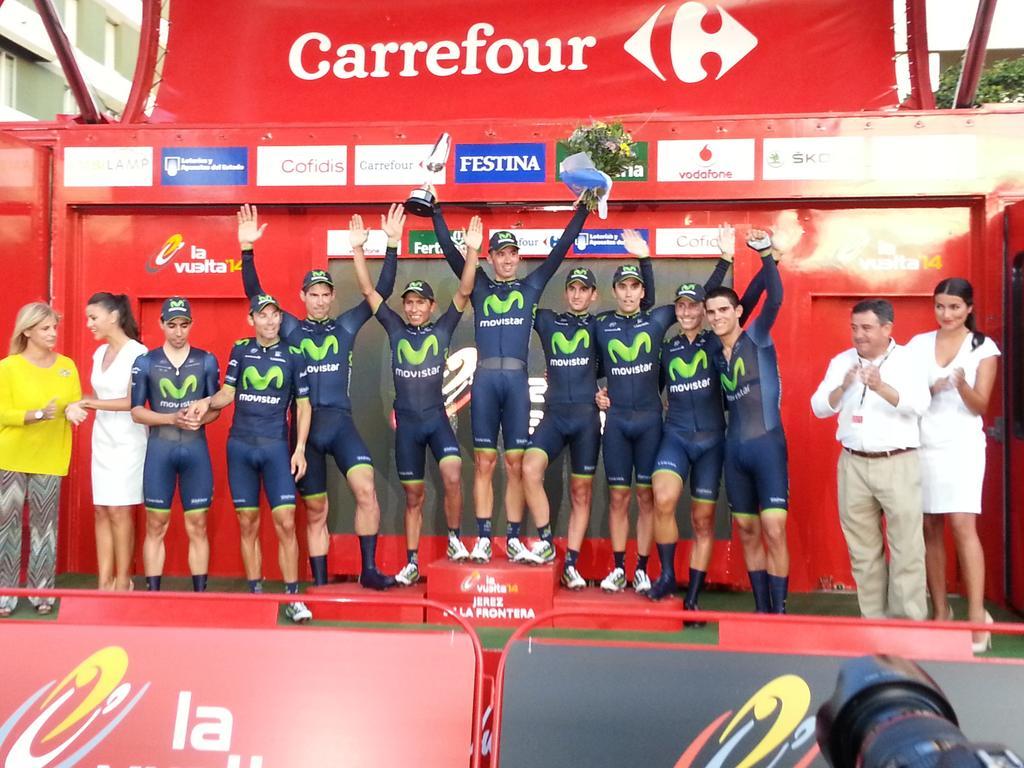 Pic by Antoine Plouvin
...and

Castroviejo

is the first race leader.
Very disappointing Team Sky (11th) that used to have in this hard discipline a strenght point.
Not bad TFR, also considering they all crashed during the recon.



RESULTS
1

Movistar Team

0:14:13
2

Cannondale

0:00:06
3

Orica-GreenEdge
4

Trek Factory Racing

0:00:09
5

Omega Pharma-Quickstep

0:00:11
6

Giant-Shimano

0:00:16
7

Belkin

0:00:19
8

Tinkoff-Saxo
9

BMC Racing

0:00:21
10

Lampre-Merida

0:00:25
11

Team Sky

0:00:27
12

MTN-Qhubeka

0:00:29
13

Astana

0:00:30
14

Lotto-Belisol
15

AG2R La Mondiale

0:00:33
16

Katusha

0:00:38
17

IAM Cycling

0:00:40
18

Garmin Sharp

0:00:41
19

FDJ.fr

0:00:45
20

Caja Rural - RGA

0:00:48
21

Cofidis, Solutions Credits

0:00:51
22

Team Europcar

0:01:03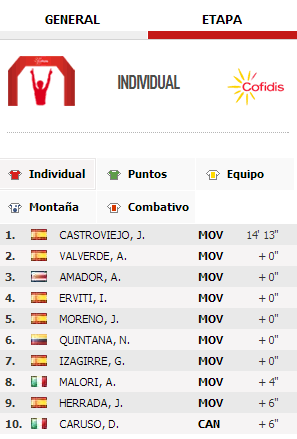 Movistar Jonathan Castroviejo:
"We all nine rode to perfection. It was my honour to take the jersey, but this is a prize for the whole team - without my team-mates, it would have been impossible. Pamplona's victory was a special one, unforgettable as we were home, but today the goal was doing it just fine, with no crashes - it might have indeed taken us to the win, not having made any mistakes. We talked about starting calm and staying focused, and it went perfectly. Though our goal was getting over the day, we didn't only win: we also opened pretty significant gaps over our rivals. When you're on into the race, you only think about going faster, faster until the finish. You don't think about a second, two or three, you simply don't look at it. I couldn't have imagined I would be leading the race again. The jersey is mine now, but the goal is keeping it within the team. We will support Nairo and Alejandro all the way to the mountains, where we will see who of the two can do better."
Belkin DS Nico Verhoeven
"I've seen a good team today. The men were on the limit. Unfortunately, Laurens lost some time, but besides that I am very happy with this TT. It's important that Laurens doesn't lose his morale now. The mountains are yet to come, and that is where he excels. We'll see a lot of climbs over the next three weeks. The field of riders is very strong this Vuelta, stronger than in the Tour, but as a team we're ready."
"I think this was a maximum performance. We had a bit of bad luck by losing Laurens quickly. Not long after that Robert Wagner was dropped because of a flat. We have trained in a specific order and that got messed up, but we reacted very well. I was able to put in a couple of good pulls.
I feel good. I want to fight for a top ten spot along with Wilco Kelderman. I'm impressed by how strong he is."
"After the Tour of Utah, I had a little bit of rest and today was good. I'm feeling very strong at the moment. I'm aiming for a good overall, top fifteen, hopefully better. Today was a strong team effort. "
"We reached a high speed. Not everyone was able to follow and that says enough. I think we achieved the maximum possible with the team today."
OPQS
Sport and Development Manager Rolf Aldag:
"I think it was really close between 2nd and 10th place at this TTT. I think the guys did a good job. We didn't take too many risks on a very technical course, as this is a three week race and there can be many other possibilities to make the difference at this Vuelta. Of course it isn't easy, teams have to make a choice, and we made the choice to stay consistent with a designated leader of Uran. I think the priority was to focus on the straight parts of the course and we really showed the power of our team there. Everybody did their job. It was great teamwork and I think the focus they showed in the lead up to this stage is promising for the next three weeks."
"We are OK with this resultI think we did a good TTT. The course was quite technical with 22 roundabouts in a little more than 12 kilometers, and we must also remember that this is just the beginning of La Vuelta. We will see what happens in the next days. As usual the first few stages will be nervous and maybe the wind here in the South of Spain can also be a factor."
Tony Martin :
"It was the first race for me after a four week break. So, I knew it sou;don't be perfect for me. But I think it was really good speed. We have to look back and analyze where we may have lost time, but that is for another moment other than now. I'm happy to get my first time trial back in my legs after some time off, and now we focus on the next stages here at La Vuelta."
Team Tinkoff-Saxo DS Steven de Jongh:
"I'm completely satisfied with this result. The boys rode really well together through the technically demanding course and even though it's only 12 kilometers, it's such a demanding discipline but we completed the stage with six riders. It's a good way to start the Vuelta. Tomorrow's stage is a flat one but we have to pay attention to the wind as the crosswind sections could create chaos in the peloton."
TFR DS Josu Larrazabal
"The dangerous points [of the course] were the roundabouts because it is very old asphalt and quite dirty here in the city. The team was in one line, Bob was first and lost control of his front wheel, and when the guy in front is on the ground it is difficult for the ones behind to avoid the crash. From the car we saw four or five guys on top of the others, and for a few seconds the feeling was terrible! We thought the worst - broken collarbones or ribs or something. Thankfully, it turned out to not be so bad and we breathed a sigh of relief. But then, after all that, it was about how would the guys react?
The feeling is good especially after what happened this morning with the whole team on the ground. But when we see that we had a very competitive time, you feel a little bit disappointed, too. After what happened this morning they were able to keep going, to keep their motivation high – we were very happy about their attitude. Because after you crash in the morning, and with the small injuries they sustained, it is very difficult to go again in the afternoon. They gave it their all, they were very motivated, and they raced very, very well."
DS Adriano Baffi
"As for strategy, honestly the idea was to try and win the race! On such a tricky parcours we had six guys ride, and had Felline, Arredondo and Zubeldia sit on the back. Popo and Kristof did their job, and were tired from that. In the end the strategy was good, and maybe we were not the best in the roundabout, but after the crash of this morning that is to be expected. The boys did the best they could. They had a really strong performance. For sure they had a bit of a handicap from the crash, but that is not an excuse, it is just a reality."
ORICA-GE DS Neil Stephens:
"The boys did extremely well.
The main priority was to stay together to try to make a bit of a difference in the time for Esteban.
Straight after the finish, we were a little bit down but then we started to see the times we had done against the times of our rivals and we soon realised that it is quite easy to make some mistakes when you are going as fast as we were.
When you look at the times, it was a fantastic ride, well above what was expected and it was a bit of an indication of how good the guys are going.
I knew we were going well, I knew that they had trained well and I knew the tactics were going to be there but I didn't really think the stage was in our grasp.
That was actually good because it took a little bit of pressure off us.
The boys went out and rode as fast as they could, they didn't take any risks and just went out there and did the job.
The result of the stage is not only an indication of good form but also the professional attitude these riders and staff have had over the last few days leading up to the stage.
Over training in the last couple of days we identified the stronger points in the team and the weaker points in the team and tried to get the benefits out of each of those elements by using the weaker points to support the team but have the bigger stronger guys working hard to benefit the team.
It's not one way with us telling the riders what is going to happen, we had a lot of interaction with the boys, they are really good at their job and together we came up with the plan and it was carried out well."
Team Qhubeka DS Jens Zemke:
"Really we could not have asked for a better result. You can see there are big world tour teams behind us and even a team like Sky has only beaten us by 2 seconds. I am very happy with the boys performance and if you look at the crowds today, i don't think you could have put more people on that course today. So we put on a great show and that is what we came to do."
Jay Thomson
"Stage 1 of the Vuelta Espana is done and dusted. The team was incredible. We went out of the starting blocks like race horses and we were going really well. Then as the race goes, on a technical course like this you either on the giving end or receiving end and so yeah, a couple of us got spat out the back but it's better to finish with 5 or 6 than to have all 9 riders still. It shows the team went full gas for everything. It was a great day and a great start, Sergio was at the front so we cant complain."
Team Sky DS Dario Cioni:
"We lost time which is not ideal but the time gaps are quite limited to most of the teams.
It was good that we came through without issues and there are a few teams with GC contenders who lost even more than us. Naturally when we set out we were hoping to do better, but when you consider we had a few riders coming back from longer breaks, I don't think the performance today reflects the strength of the team and what we'll be able to do in this race.
Tomorrow the wind will be the main factor. If there is no wind it should be an easier day, even if the finish is quite tricky, especially in the last few kilometres. Our goal is to not lose time, but if we do get some wind it could create some opportunities. It's a good chance for Chris to open up his legs in the group given he hasn't been in a peloton since the Tour."
Alberto Contador
"I think it's a good result. The distance up to Movistar is only 19 seconds, but more than that, I'm happy because I could keep up with my teammates. I was able to participate in the work during the race and it's a good sign that I had no pain in my knee. I was really looking forward to the start of the race and the time differences are not significant. From now, I'll go day by day and see what will happen.
It was a complicated time trial. If it had rained it would have been practically impossible. It was a time trial that demanded respect with slippery asphalt in the roundabouts after a period without rain, with petrol and diesel from the cars. So I'm happy we avoided any problems. I'm also satisfied because I saw the whole team working well, they were really concentrated, and that motivates me.
."We will see on stage 2, if there will be any wind. We have to be attentive and stay in the front so we don't lose time, but above all to prevent crashes, which is what worries me the most during this first week in regard to my attempt to recover so I can do the final part of the Vuelta as I want