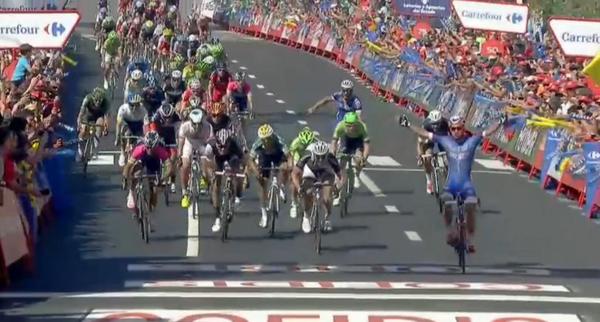 A

break-away

: Conti, Haas, Sbaragli, Janse Van Rensburg, Aramendia, Hardy. A chase. All to gether 15 km to go. The wind blowing by the seaside. Stunning blue water. Some technical turns, a sprin
t, a winner: Nacer Bouhanni. Today in La Vuelta.
STAGE
1. Alejandro Valverde
2. Quintana
3. Amador
4. Castoviejo
5. Erviti
6. Izaguirre
7. Gatto
8. Matthew
9. Bodnar
10. A.Yates
Nacer Bouhanni:
"We worked very hard for this. The last moment we were in a great position. It's a great day for me and for my whole team. We have to take our chances when we can. Each time I have a chance to win, I will take it. Maybe I can win a couple stages. Maybe I will give myself the goal of taking the points jersey."
Alejandro Valverde:
"To be honest, it wasn't on the plan that I took the leader's jersey, but the finish was really nervous and difficult and we had to ride up-front, trying not to lose any time into splits or crashes. I hadn't even realized I had become the GC leader: I had to come back from the team bus, because I had already left for it. It's always nice to take the leader's jersey and I'm happy about this, but I would be even more should any other team-mate don it. It's great to be ahead of other rivals, but this is not really important for the Vuelta's final outcome. We will see how everything goes, and if it's reasonable for us to fight and keep it. There's quite a decent climb tomorrow, almost 1.5km, and we will have to stay attentive, but it's just the same as today: you can never relax, otherwise you might lose time."
John Degenkolb:
"We tried to come to the front too early and this meant that when it really mattered we were lacking power. This left us too far back and boxed in. I also missed Ramon at the finish too after he got sandwiched in the final kilometres.
We planned to do what FDJ did and it worked well for them. It's frustrating not to take this good opportunity but there will be more chances and we can learn from it and get stronger."
Ramon Sinkeldam:
"It was harder than expected today, mainly due to the heat. We were together riding well but then at the end it didn't come together.
At 800m to go someone rode into me from behind and I only just managed to stay on the bike. This meant that I lost ground though and couldn't be there to help John. I think without this I could have helped John up a few places for the sprint."
Roberto Ferrari:
"I approached the last 1000 meters pedaling in fifth position, just behind Bouhanni who was following his team mates. I could not ask a better position and I was also self-confident since I could manage in a good way my energies.
In the last bend, Stuyven overtook me and took my place behind Bouhanni and I had to decrease the speed and raise it again: Bouhanni started the sprint and could obtain a deserved victory, I could overtook Stuyven, but I could not resist to Degenkolb who crossed as the second the finish line".
Greg Henderson:
"Very straight forward and uneventful day in #lavuelta. @Lotto_Belisol were guiding myself and @jensdebus nicely till a mechanical for Jens."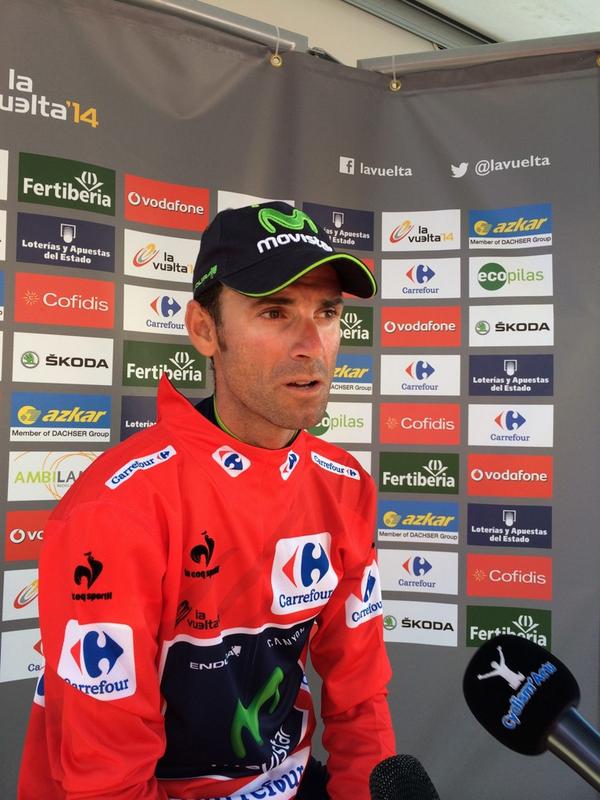 Team Belkin
Moreno Hofland:
"In the final, a rider in front of me lost his pedal so I had to close a small gap and spent my energy there. I came too short."
Robert Wagner
"It was pretty hectic final, but I didn't expect otherwise. It was really difficult. I'd say we did really well until two or 1.5 kilometres to the finish, we were there with Paul and Moreno. There was a big mess with 1.2 out, that's where I lost the wheel. A guy from Giant-Shimano missed the turn, and Moreno was on his own. I couldn't help him any more. It wasn't like we hoped, but I hope we have more chances."
Team Sky DS Dario Cioni:
"We made it our one goal today that we should be well-positioned and the guys did a really good job all stage.
On paper it looked easy but during the first half of the stage there was some wind and out here you really don't need much to get in trouble. There was a point when it could have possibly split but we knew that further up the road it would die down. It wasn't enough to do any real damage.
Tomorrow's stage could be interesting. It's a more difficult stage with the finish up a small climb. Again it will be essential that Chris is in a good place heading into the finish. At that point we'll see the first small test for the riders."
ORICA-GE DS Neil Stephens:
"Michael (Matthews) is better suited when the sprint is a bit tougher.
Today was super flat and very hectic and the pure sprinters are all still fresh.
So for us today's finish was just a bit of an exercise really, a trial run for stages to come and whatever we did on the stage was a bonus.
It wasn't a win, it wasn't close and the boys did a good job but really we are concentrating on a couple of different stages. We knew that the odds were stacked up against us but we had a bit of a go to see how it panned out.
We had two objectives, making sure we didn't get caught out in the crosswind and the boys did a good job of protecting both Michael and Esteban and then looking out for Michael a little in the finish.
I'd really like to win a stage and if we can win a stage and take the lead as well, that's even better.
That's why I asked Michael not to peel off in the team time trial. We wanted to go as fast as we could yesterday but we also knew that if we could stay with that front group and we could take a win in the first few days we could get the jersey.
It's a secondary focus though, the first is to try to win a stage."
Team Tinkoff-Saxo DS Steven De Jongh:
"Our overall goal was to stay out of trouble and trying to prevent getting caught behind and the boys did an excellent job all the way to the finish line. It's the same target tomorrow where we're facing a somewhat other terrain though and we simply have to avoid accidents and save energy for the stages where we have a better chance of making a mark ont the race,"
TFR DS Josu Larrazabal:
"I think we have begun the Vuelta very well. Our idea is to take every stage like a one-day race with different goals each day and today was a day for Jasper. Of course we don't put any pressure on him, it's his first season at the WorldTour level. Even though he has the potential he needs to learn. But like always this season he showed that that he is a guy that is really, really fast.
It was not easy to get there, because we passed 10kms to go and it was really open area close to the sea and very windy so it was hard to keep the position. Fabian and Popo especially helped him, and once he was there he did very well to manage the situation with the strong sprinters in the peloton.
Of course Jasper is happy, but I think we are showing more excitement than him because he is always calm. But it is what we want from him and I think he understands this and he is going very well.
It was bad luck for Felline, he was giving out bottles to the guys and he gave a bottle to Haimar, and was giving a second bottle to Fabian and just in that moment when he only had one hand on the handlebar he hit a hole on the road and lost control and crashed. It was not so bad, like always it could have been worse in this type of crash, so I think, same as yesterday, we need to be glad that he is okay. He is young and he will come back.
Tomorrow is a good day for Felline, but we know the crash may affect him a little so we shall see how it goes. Of course, like always, we will try. I think from what we saw today it suggests in the coming days that we will do fairly well."
MORE TO COME