Kristoff

adds a new

victory

to his rich palmares,

Nizzolo

adds a

2nd place

to his large collection. I'm joking a bit but really, Nizzolo is such a good sprinter... but he still lacks of something. Maybe just the required good luck!
Alexander Kristoff:
"I had Marco and Pavel to keep me safe in the closing kilometers. In the last km we were a bit blocked but I managed to get to the front. With 300 meters to go I was really in the first position. I started my sprint a little bit slowly and gradually motored up so I was happy no one could come past me.
I like racing here in Hamburg. I've done this race every year since I've been a pro and I've always liked this race even though I've never won before. But I finally made it, so for sure now it's one of my favorite races."
Giacomo Nizzolo
"Before the last climb the whole team helped me to stay in the first positions. Danilo was there in the final kilometers, and he did a really great job. In the end I took the wheel of Kristoff, who for me was the favorite for today. I told the guys yesterday, and the day before, that the best guy who is in the best condition for this race was Kristoff, and in the end I was right because he won. What can I say, I always find somebody that is stronger than me, in the Giro, now here. If any of those were a victory, my season would change a lot. But okay, about the legs I can only be happy because two weeks ago I was really dead.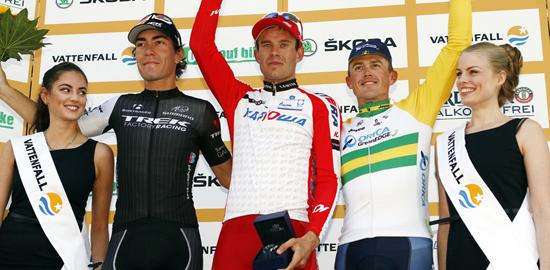 When I look back 15 days ago after the virus I got in Wallonie I can be only happy about the result of today. My feeling was not the best after that and in Eneco I was always fighting with my bike and today with my performance I can be happy. Second place in this race is a good result, especially with the top sprinters that were here."
TFR DS Dirk Demol
"I really feel for Giacomo because how many second and third places does he already have in his career? He is still waiting for that one big one. But it will come, it's on the way and that is what I told him after the race. He was frustrated and said, 'there is always someone who beats me!'' and I told him not to panic, you are again there, and for sure your day will come.
All the top sprinters were here: Kittel, Cavendish, Démare, Kristoff. I saw the replay of the sprint and Kristoff was just too strong. In the race meeting I told [the team] to work hard and be ready because now I want to see some results here, and also in Plouay because it's WorldTour. But we have to ride smart and it's up to us to take the race in hand, and finish as good as possible and we got the second place. They did a great job.
Boy [van Poppel] was caught behind a crash near the end and lost his position and could not get back to help in the finale, but what can I say about Danilo? It's his last year as a rider, he is a super professional, and huge respect for what he did again today.
Second is a very good result and now I go home happy, but at the same time I feel sorry for Giacomo."
Simon Gerrans:
"I felt pretty good from the start which I was surprised about. I had a few days off after San Sebastian just to recover from the Tour de France and that whole block of racing and then did a couple of weeks training up in the mountains. Hamburg was my first race back since then so it was a really good test actually.I came back down from the mountain only on Thursday so I thought I might be a little bit sluggish for the first half and hope to come good for the final but my sensations were pretty good right from the beginning.
I was waiting for the sprint with hopes on maybe finishing top five. We thought that would be a pretty good result. But we really hit it from the front and the guys did a really good job of putting me in a position to try and run a good place, so I was pretty happy to run third in the end."
We never intended to have anyway in the early move so we let three guys go away pretty early and just sat back. Then when we got onto the finish circuit (Michael) Albasini, (Simon) Yates and (Jens) Keukeleire were all pretty active in making sure they were in any dangerous moves that went. I sat back for the sprint with the idea of having Mat Hayman look after me in the final and that was really how it unfolded. Everyone did what their job was for the day and then coming into the sprint when it came back together I had Albasini keeping me up the front and then Hayman and Keukeleire leading me out."
RESULTS
1 KRISTOFF AlexanderTeam Katusha
2 NIZZOLO GiacomoTrek Factory Racing
3 GERRANS SimonOrica Green
4 FARRAR TylerGarmin Sharp
5 CAVENDISH MarkOmega Pharma - Quick-Step
6 KITTEL MarcelTeam Giant-Shimano
7 CIMOLAI DavideLampre-Merida
8 LOBATO Juan JoséMovistar Team
9 DILLIER SilvanBMC Racing Team
10 KREDER RaymondGarmin Sharp