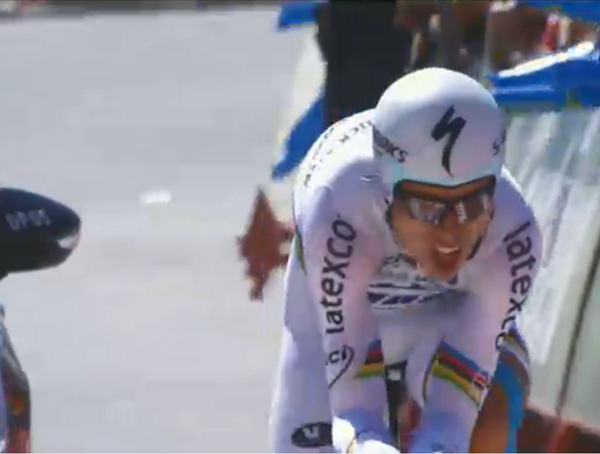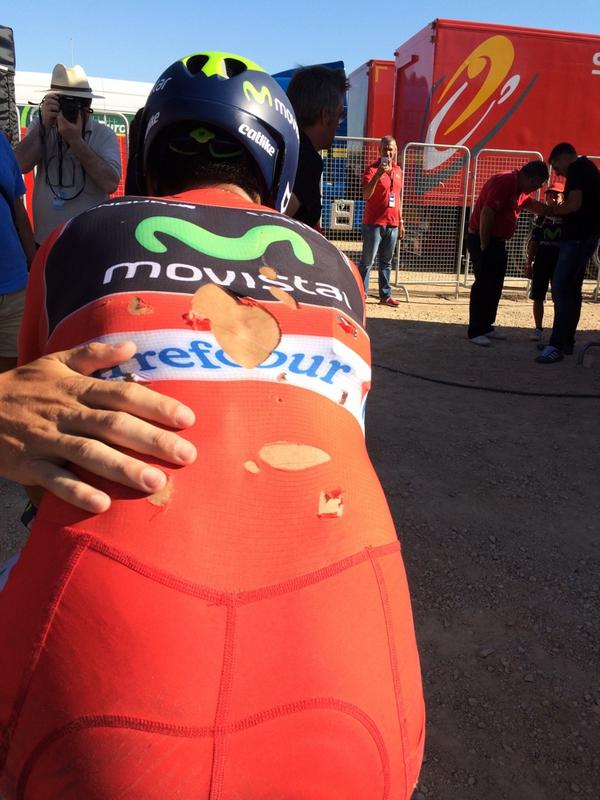 As far as the itt is concerned: Tony

Martin

ruled but TFR did very well by

Cancellara

,

Sergent

and

Jungels

.
As far as the GC is concerned:
https://www.youtube.com/watch?v=jI8iOqgIy5I
Alberto

Contador

was fit. Chris

Froome

wasn't. Uran did great.
Cancellara complained about the road... on the climb it was perfect, not so in the descent... bust still not as dangerous as he said in my opinion.
For the rest, lets the results talk.
UPDATE
Fabian Cancellara was relegated to 3rd because he 'drafted'.
Tony Martin:
"It was one of the hardest time trials this yea. The mountain was quite hard, it was hard to find a rhythm and still keep some energy for the second part with the descent and the flat sections. It was also technical with a lot of corners. For sure it was a challenge. I also had some issues with heat at the end. I wasn't so sure about the win. But I'm super happy I did it, as this is a race that does not suit me perfectly and there are plenty of strong time trialists here at La Vuelta. I made up some time on the second part of the parcours. We made some good analysis with the team before the race so I was well prepared. I also never had any problems in the corners thanks to the performance of my Specialized Shiv. I also see that my condition is good and I think this gives me huge morale in anticipation of Worlds. I have shown I'm heading in the right direction. I wanted to win for the team also. I am thrilled with the fact that we have two OPQS guys on the top two steps of the podium, and even Pieter Serry was 11th. Now we have a victory at La Vuelta and we can look to the next days with Rigoberto Uran on the virtual GC podium. Team spirit is super high."
Rigoberto Uran:
"We prepared for this time trial very well. Together with the staff we analyzed all the details, and at the end I think I did very well. I'm behind the three-time UCI World TT Champion Tony Martin, who is also my teammate, so to go 1-2 and finish behind such a great time trialist is really an ideal result for me and the team. I took a good tempo immediately and I had good feeling. When Davide Bramati told me on the radio that at the second intermediate time I had the same time of Tony, I couldn't believe it! It was really important to have that time gap from the team car, and to know we had a chance to go 1-2 I really went full gas. I lost some time in the last part, but to be honest the last 10 kilometers were really for big engine like Tony. I'm happy that we pulled off this great achievement, and I'm virtually on the GC podium again. We are where we are supposed to be at this point of the race. But La Vuelta is still long and the overall is wide open. Tomorrow there is another uphill finish. We will see what can happen. I'm feeling OK, and I can count on a great team around me, so we will see. This result has really put us all in a great mood."
Team Tinkoff-Saxo DS Steven De Jongh:
"Alberto did an amazing job on the course with a wild pace on the climb and from then on he maintained the pressure but on the descent he lost time to the likes of Martin and Cancellara. However, we're thrilled to have the jersey and tomorrow's a very tough day with an uphill finish. We'll try to control the stage and naturally defend the lead."
Fabian Cancellara:
"I did what I could, that was my goal today. My only doubt was my safety for myself, and I also could not find the rhythm. I spoke with my [director] and he said, 'hey, if you did not find the rhythm how do you expect the other ones to find the rhythm?'
I was not using the gears I usually do for time trials – it was either hard [gear] to pedal, or really low [gear] to pedal; [that] was something special of today. In the end I did what I could. I did my maximum, and that is also important.
It was bad, bad roads! This asphalt – it is not an excuse - but it has nothing to do with a time trial in my opinion. Compared to last year [the roads were] much nicer, but this is how it is and we have to do it, but I hope they look for better roads than this.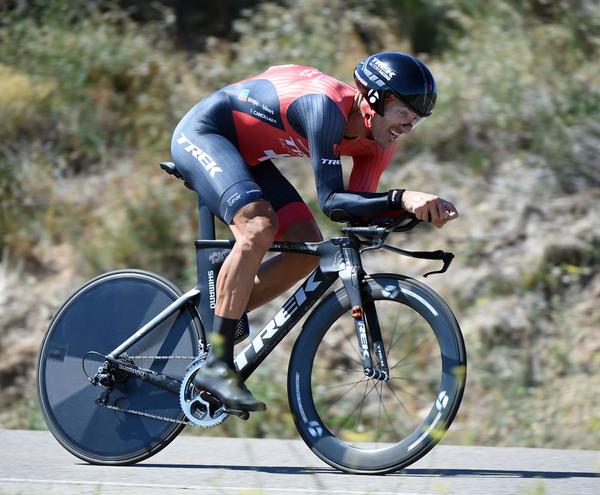 I am looking forward to the next days now. I was happy for the rest day and happy that the heat is less so we can return to a normal level of racing. From now we are building up to the next stage. [Today] the GC contenders had another race: they are racing for seconds for GC. On the other hand there are riders like me and Tony Martin and some others that go for the stage win. There are always two different races and two mentally different strengths [needed to] put out on the road. Of course it's always nice to start in the last [positions] to have all the references, but I know already for many years in big tours that I have to just go out and do the best I can and then see what comes at the end."
Jesse Sergent
"Today was a hard TT, it was up, down, windy, hot and bad roads. I felt okay but didn't really know what to expect. I went all-in to do my best. Today was a chance for me to do something, so I kept positive and gave it a nudge."
Bob Jungels
"In the first intermediate I did not feel very good, same problem with my legs since the crash, but I did a good time, and after the climb I recovered well and did a good second part. Most of my time trials I finish off pretty strong, so I am pretty happy. I lost 21 seconds to Jesse in the first kilometer, I still don't know how that is possible! At the end I was only 26 seconds back. I am not 100% satisfied because I think I can do better, especially in the climb. But after all these crashes I think I need some time to get back."
Chris Froome:
"Obviously I was hoping for a better ride today.
I definitely started out too fast. For the first 15 minutes I felt fantastic and I think I chased it a little much. By the time I hit the climb I started to really feel the effort of the fast start and I paid the price for the rest of the time trial. I think anyone who races and knows that feeling of starting out too fast, and how hard it is to come back from being in the red, will know what I'm talking about. It's a horrible feeling and I had to just try to hold on to it and finish the best I could.
I'm just over a minute off GC still with a lot of racing to come. I'm going to keep fighting as best I can every day. Going back, my goal coming into this Vuelta was to get a Grand Tour into my legs and finish the season in good form. I think all things considered I'm still on track for that. I'm going to take it one day at a time."
Samuel Sanchez:
"I immediately had good feelings today and
the team was kind enough to host him (Galdeano), which pushed me
emotionally. For sure, my performance came from
my heart and my legs. But I have to say that from the car, (BMC Racing
Team Sport Director) Valerio Piva managed my time trial the best, telling
me every single turn and the right rhythm.
The Vuelta
is really long again. Today we did a good step
up and tomorrow I hope to make another one. We will see, day-by-day.
I was sorry to hear about Quintana's
crash. I also had some risky moments in a few of
the corners. You always have to stay focused in a time trial like
that."
Robert Gesink:
"I am not satisfied about the time trial. It was hard, I could not focus today, I was everywhere in my thoughts, due to some private matters. It's just the way it is, and we'll see tomorrow."
Wilco Kelderman:
"The feeling was not great, and you could never get a good rhythm. It was really hard. In the downhill, it was technical, then you had bumpy roads. The last 10km, I felt a lot better. I did my best."
Nairo Quintana:
"I was feeling great in the uphill, but at that point of the descent my bike simply did not brake enough. Before the turn, I was tightening my shoe, which was a little bit loose, but I think that didn't have an effect on my crash. The thing is that I kept breaking for quite long, but it wasn't enough because the bike didn't stop, and I crashed. Fortunately, I could avoid having a bigger crash and I did not hurt myself really badly. I'm hurting my left ankle and I also have blows all over my body, but I hope it's nothing serious. This is cycling. I lost some time and I might be switching to help out Alejandro so we can conquer the overall podium."
Alejandro Valverde:
"I'm happy with myself - we're staying in second place, really close to Alberto - but it's a bittersweet taste with Nairo's crash. I didn't know anything, I was told when I finished. It's awful to have such a crash, when you're in the lead, clocking good times... being the two of us closer in the overall would have been better for our interests, but the only important thing now is that Nairo is still racing - I'm sure he will recover well, even though I'm told it was quite a blow. We'll keep fighting to do great in this Vuelta.
This was a time trial like the ones I used to make when I felt well. When conditions are normal, I usually keep close to the main specialists. There were two good phases for me, plus one not so good. The section before the top of the climb, really good. The first part of the descent also went well, but then, into the rest of the descent, I struggled to get back into a good pace. With 12k to go, I started to feel better - I did superb in the last 7k. Losing so few seconds to Alberto and finishing before Froome and Purito is fantastic. I know tomorrow's finish: it's a demanding climb, really tough, and I just hope legs respond well. It seems like it's going to be good weather up there and I hope it plays on my favour."
Joaquim Rodriguez.
"I knew I had to gain as much time as possible in the first uphill part and that's what I did. I can be satisfied with my result. At the end of the TT I missed some power so perhaps I lost a little time for the GC but I really cannot complain about this result in a TT not suited to my strengths."
RESULTS
ITT
1
Tony Martin (Ger) Omega Pharma - Quick-Step Cycling Team
0:47:02
2
Fabian Cancellara (Swi) Trek Factory Racing
0:00:11
3
Rigoberto Uran Uran (Col) Omega Pharma - Quick-Step Cycling Team
0:00:15
4
Alberto Contador Velasco (Spa) Tinkoff-Saxo
0:00:39
5
Samuel Sanchez (Spa) BMC Racing Team
0:00:48
6
Cadel Evans (Aus) BMC Racing Team
0:00:49
7
Vasil Kiryienka (Blr) Team Sky
0:00:58
8
Alejandro Valverde Belmonte (Spa) Movistar Team
0:01:01
9
Jesse Sergent (NZl) Trek Factory Racing
0:01:13
10
Christopher Froome (GBr) Team Sky
0:01:32
GC
1
Alberto Contador Velasco (Spa) Tinkoff-Saxo
2
Alejandro Valverde Belmonte (Spa) Movistar Team
0:00:27
3
Rigoberto Uran Uran (Col) Omega Pharma - Quick-Step Cycling Team
0:00:59
4
Winner Anacona Gomez (Col) Lampre-Merida
0:01:12
5
Christopher Froome (GBr) Team Sky
0:01:18
6
Joaquin Rodriguez Oliver (Spa) Team Katusha
0:01:37
7
Samuel Sanchez (Spa) BMC Racing Team
0:01:41
8
Fabio Aru (Ita) Astana Pro Team
0:02:27
9
Robert Gesink (Ned) Belkin Pro Cycling Team
0:02:36
10
Damiano Caruso (Ita) Cannondale
0:02:59