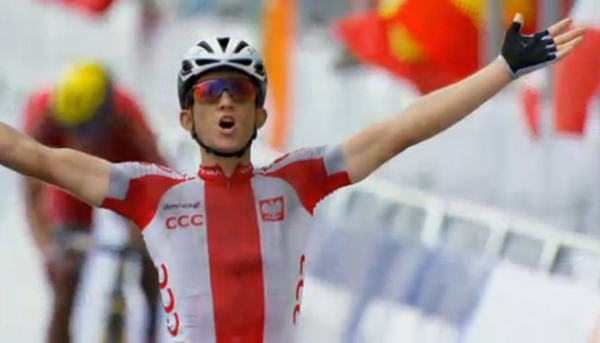 Italia

had promise
d

a calculated chaos

and it did it. But they spent a lot and De Marchi couldn't follow the de
cisive move.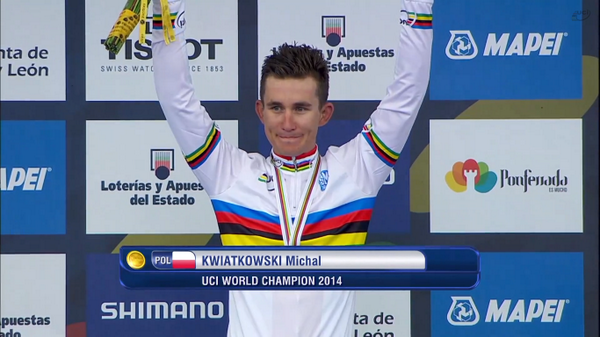 Poland

opted for a different strategy: a well

planned work

, a solid chase in the first part of the race, a smart racing in the group and a solo attack by

Kwiatowski

in the finale.
Italia

was

entertaining

,

Poland

was

effective

.
Poland wins, Italia fails.
Weather was crazy, not definitely bad: rain, then the sun, then rain, then sun.

Wet roads.
Nibali fell,

involved in big crash. Back on bike but he had already crashed at Tre Valli Varesine... Race over, basicly.
A
fter three laps - 1h22' of racing at an average speed of 39,65kph - there was a four men

break-away

including

Quintero (COL), Savickas (LTU), Polivoda (UKR) and Kvasina (CRO).
Poland pulling.
Cancellara

often

in trouble

, again and again in the cars and back...
After nine laps: the gap was slowly decreasing.

Poland

still

chasing

. Average speed 38,53kph after 4h15' racing.
Boring

so far.
But 78 km to go

Italia goes in front and the peloton split.

The break-away is quickly caught -
Quintero is the last one solo on the road.

Race on.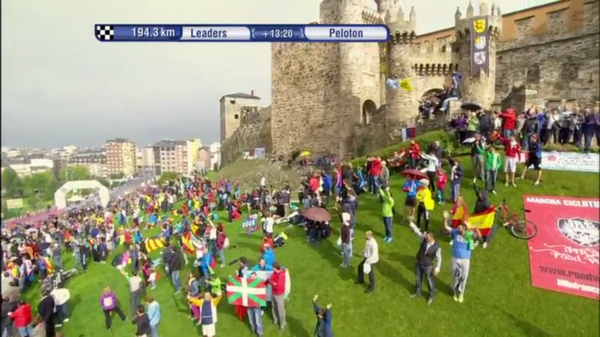 Italians

Aru

and

Visconti

, attack with Briton

Kennough, Wellens, Albasini

and

Dane

Juul Jensen.
The

peloton explodes.

R
iders try to bridge. Fluid situation but 1
2 riders get a gap

: Visconti, Albasini, Wellens, Kennaugh, Tony Martin, Giampaolo Caruso, Vanmarcke, Dani Navarro. Trofimov, Valverde, Boasson Hagen and Getsche.
Australia

has been left behind and is pulling the peloton.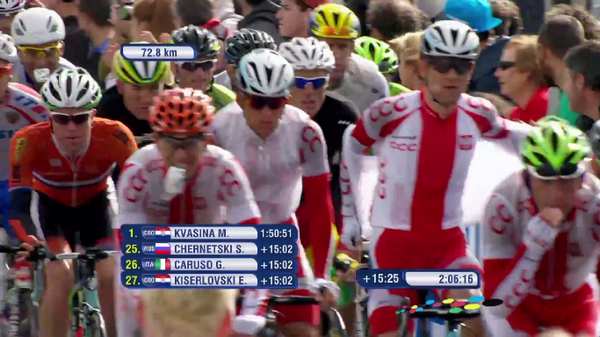 Tony Martin attacks in the descent

but can't stay away. The front group is back together. Few meters and
Visconti goes solo

. 33 km to the finish: it's a lot.

Kennaugh

is chasing solo, Visconti waits for the briton and they go together. Behind the peloton has caught the rest of break-away. It's pure chaos.
Frenchman

Gauthier

emerges and Italian

De Marchi

follows. Dan

Andersen

joins.
Finally Spain starts working.

A wonderful

Kiryienka

gets off the peloton and jumps ahead. It's four riders in front:
De Marchi, Gauthier, Kirienka

and

Andersen.

Kiryienka is dragging everybody.
Moreno, Castroviejo, Chaves, Vanmarcke, Clarkand Albasini are

chasing

. Then the peloton with all the

favourites

:
Gilbert, Valverde, Degenkolb, Bouhanni, Nibali, Rui Costa, Cancellara, Boonen, Kwiatkowski...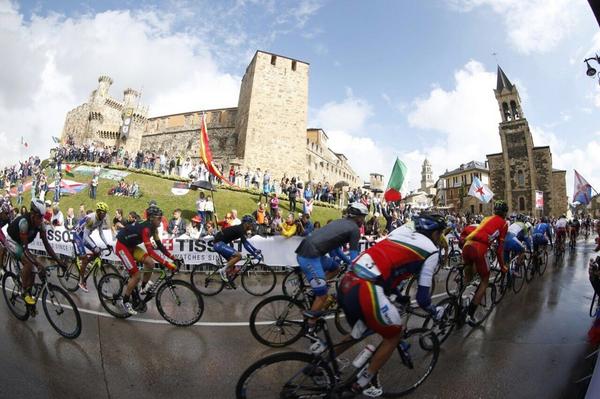 And it's exactly

Kwiatowski

who sets the decisive move: he

attacks

from the peloton on the last

descent

, bridges to the break, drops the company and

wins solo

. At his back

Gerrans

sprints to second. And

Valverde

is a regretful 3rd.
Best Italian, Sonny
Colbrelli: only 13th.
Michal
Kwiatkowski:
"I was feeling great on the last lap and I'm really grateful of my teammates and all their work.
I was just going to for the win I was trying to take risks because some were calculating and waiting the final climb.
Two days ago I watched the U23 race and I knew it was possible to do this type of win, especially in the race. I just did my effort and had a little bit of gap. This is just incredible."
Simon Gerrans:
"Happy with the result, but at the same time just slightly disappointed.
I raced a good race, I had fantastic support from Aussie team mates as usual. I can't thank them enough.
When Michal (Kwiatkowski) went over the top with the advantage he did, we knew it would be difficult to catch him. And then with a kilometre to go, we knew we were chasing for the minor placings.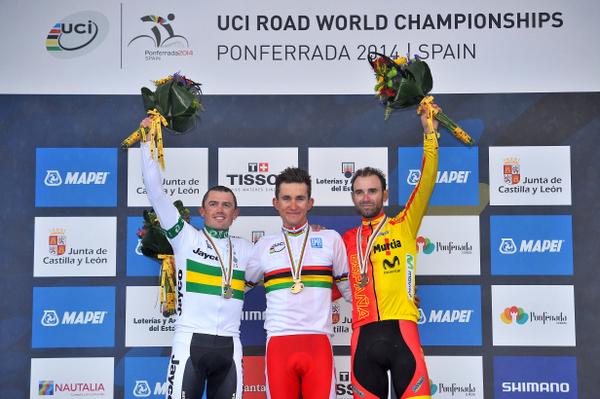 2014 has been one heck of a season for me.
It started with victories at the very beginning of the season and continued through, and it's great to at least cap it off with silver here."
Simon Geschke:
"The germans and also me personally are satisfied with these worlds. We did a good race tactically. Time for some cold beers now."
Bauke Mollema:
"It was a tough race. The pace was high and the weather made ​​it extra hard. Then it rained, then it was dry.
A few laps from the end, I realised that it wouldn't be enough to create big differences. I set my sights on the final climb, but unfortunately, I was distanced on the way to the top by a small first group. That was too bad because otherwise I could have sprinted for a top ten spot. This is disappointing, I had hoped for more.
The guys worked hard for me and Tom Dumoulin. They did everything to keep us in the front. Stef did important work in the beginning of the race and Wilco gave m
e his wheel when I flatted.
That flat tyre came at a bad time. As a result, we lost Wilco and Wout Poels. Wout waited for me, but couldn't follow on the downhill. Because of that flat tyre, we actually lost two men."
Ben Swift:
"Kwiatkowski is such a class act. He's had his team on the front all day and he definitely deserved that win. Chapeau to him.
I gave it my best shot. It was just that last steep climb that really, really hurt. I got myself into a good little position. It was just a hard day.
"Pete was fantastic today. That was brilliant. He went with that move. It was a bit of a strange race to be honest. I expected it to be more attacking."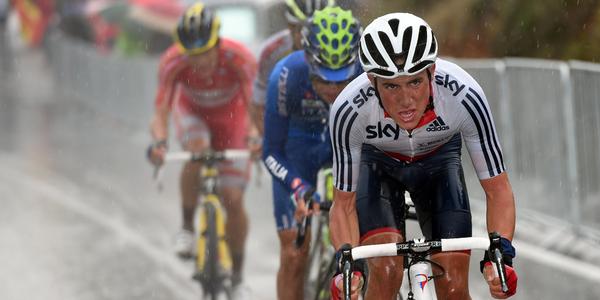 Peter Kennaugh
"It was my first professional world championships so I'm pretty happy with how I rode.
Just to be in there in the mix in the final is hard enough in these kind of races. As a team we did a really good ride today.
Twelfth for Swifty is a good result. It's the world championships. I tried my luck a bit earlier, which was sort of the game plan - to follow any of the bigger nations. I could have held back in that move and saved something for the end. I just thought, 'This is it, I've committed'. I just gave it my best shot and then once I got caught by the group I just tried to do what I could for Swift."
Tony Gallopin:
"I'm not completely satisfied with my sixth place, I'm rather disappointed. Being on the podium was maybe possible. Everyone's legs certainly were hurting but I just had to wait for the right moment. Everybody knew that the last lap would be decisive. I could follow the bests on the last climb, so I'm content with my performance. But my result should have been better. A medal was possible."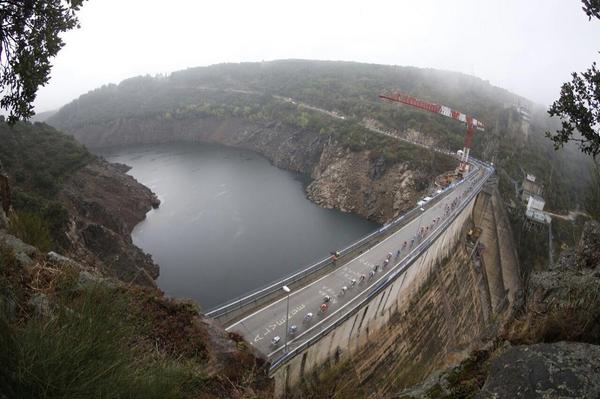 RESULTS
1 Michal Kwiatkowski (Poland) 6:29:07 2 Simon Gerrans (Australia) 0:00:01 3 Alejandro Valverde Belmonte (Spain) 4 Matti Breschel (Denmark) 5 Greg Van Avermaet (Belgium) 6 Tony Gallopin (France) 7 Philippe Gilbert (Belgium) 0:00:04 8 Alexander Kristoff (Norway) 0:00:07 9 John Degenkolb (Germany) 10 Nacer Bouhanni (France) 11 Fabian Cancellara (Switzerland) 12 Ben Swift (Great Britain) 13 Sonny Colbrelli (Italy) 14 Michael Matthews (Australia) 15 Ramunas Navardauskas (Lithuania) 16 Daryl Impey (South Africa) 17 Maciej Paterski (Poland) 18 Bauke Mollema (Netherlands) 19 Warren Barguil (France) 20 Michael Valgren Andersen (Denmark)