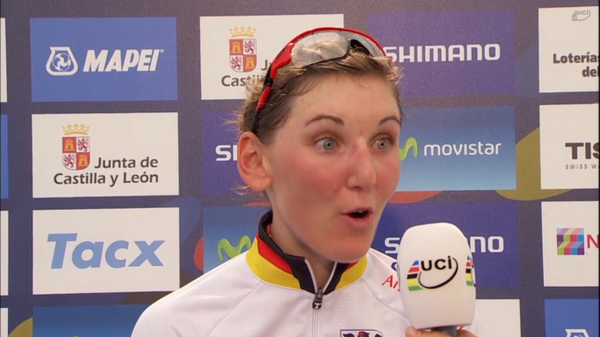 Surprise!
A great fight again... but unfortunately I saw nothing of it: I was by the vet. Vera The Cat got sterilised today, I just brought her home - and in Florence - and she's still confused. She's also angry I guess..
.
Anyway the German Lisa

Brennauer

is the new World Champion and that's a surprised for me. With her on the podium Anna

Solovey

(Silver) and Evelyn

Stevens

(Bronze).
"I knew that for me it was good that the race was so long because I'm very good in the end of the raceI gave it my all on the climb, I took the risks on the descent and then in the end I just went full gas to the line.
I can't believe it right now. I'm overwhelmed. I think this needs some time for me to know it's reality."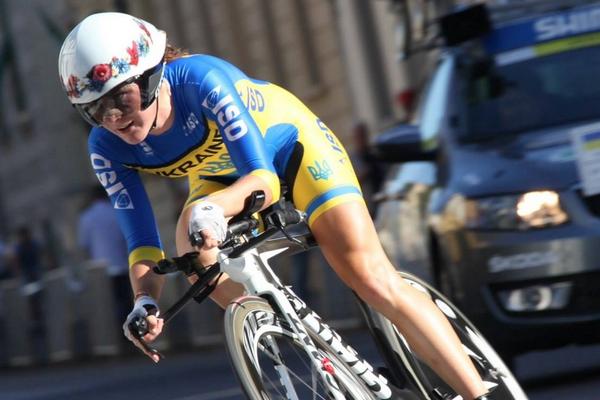 Nice helmet :)
Anna Solovey:
"I knew I would be second because I'm still young"I don't know what I'll do next year. I just live this moment because I am from Lugansk. This city is very dangerous."
Evelyn Stevens:
"I had information on the radio throughout and I knew I was in contention and it was exciting to be in the running for a podium spot"
Ellen van Dijk:
"In the downhill I took no chances because it wasn't worth it anymore, but I only lost 15 seconds or so. I heard along the way that I was over 15 seconds down on Anna Solovey, and I thought, 'what's wrong with my legs?'"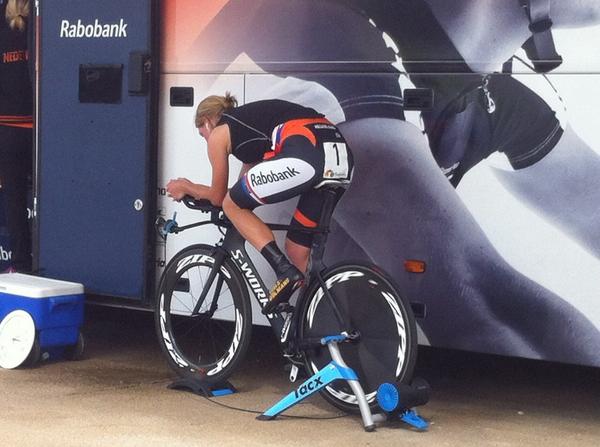 RESULTS
1

Lisa Brennauer (Germany)

0:38:48.16
2

Anna Solovey (Ukraine)

0:00:18.68
3

Evelyn Stevens (United States Of America)

0:00:21.25
4

Mieke Kroeger (Germany)

0:00:38.29
5

Ann-Sofie Duyck (Belgium)

0:00:45.31
6

Karol-Ann Canuel (Canada)

0:00:51.26
7

Ellen Van Dijk (Netherlands)

0:01:11.64
8

Alison Powers (United States Of America)

0:01:14.17
9

Linda Melanie Villumsen (New Zealand)

0:01:14.28
10

Trixi Worrack (Germany)

0:01:15.25
11

Katrin Garfoot (Australia)

0:01:23.36
12

Martina Sablikova (Czech Republic)

0:01:25.62
13

Chantal Blaak (Netherlands)

0:01:35.47
14

Eri Yonamine (Japan)

0:02:06.48
15

Elisa Longo Borghini (Italy)

0:02:14.86
16

Tatiana Antoshina (Russian Federation)

0:02:27.75
17

Serika Guluma Ortiz (Colombia)

0:02:29.51
18

Mayuko Hagiwara (Japan)

0:02:30.78
19

Eugenia Bujak (Poland)

0:02:33.04
20

Tatyana Riabchenko (Ukraine)

0:02:37.18
21

Julie Leth (Denmark)

0:02:42.53
22

Rossella Ratto (Italy)

0:02:57.21
24

Doris Schweizer (Switzerland)

0:03:09.45
25

Christine Majerus (Luxembourg)

0:03:30.97
26

Lija Laizane (Latvia)

0:03:34.93
27

Leah Kirchmann (Canada)

0:03:35.36
28

Lotta Lepisto (Finland)

0:03:40.03
29

Mia Radotic (Croatia)

0:03:48.42
30

Martina Ritter (Austria)

0:03:59.36
31

Sari Saarelainen (Finland)

0:04:04.65
32

Belen Lopez Morales (Spain)

0:04:11.65
33

Daiva Tuslaite (Lithuania)

0:04:16.37
34

Lourdes Oyarbide Jimenez (Spain)

0:04:27.21
36

Aude Biannic (France)

0:04:38.06
37

Ana Teresa Casas Bonilla (Mexico)

0:04:39.90
38

Jacqueline Hahn (Austria)

0:04:40.91
39

Katazina Sosna (Lithuania)

0:04:49.12
40

Alexandra Burchenkova (Russian Federation)

0:04:55.29
41

Liisi Rist (Estonia)

0:05:03.62
42

Katarzyna Pawlowska (Poland)

0:05:14.67
43

Heidi Dalton (South Africa)

0:05:43.86
44

Veronica Leal Balderas (Mexico)

0:05:44.31
45

Varvara Fasoi (Greece)

0:06:04.47
47

Daniela Reis (Portugal)

0:07:48.82
DNS

An-Li Kachelhoffer (South Africa)
DNS

Carmen Small (United States Of America)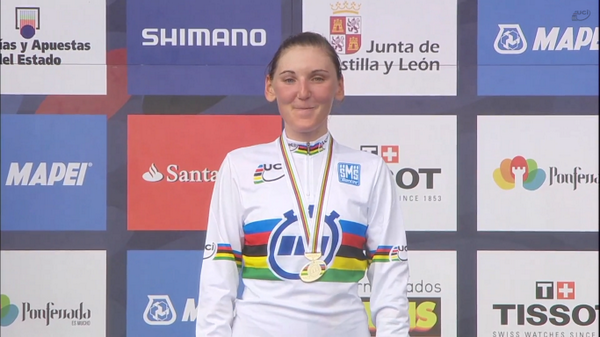 She's moved
Podium in the rain