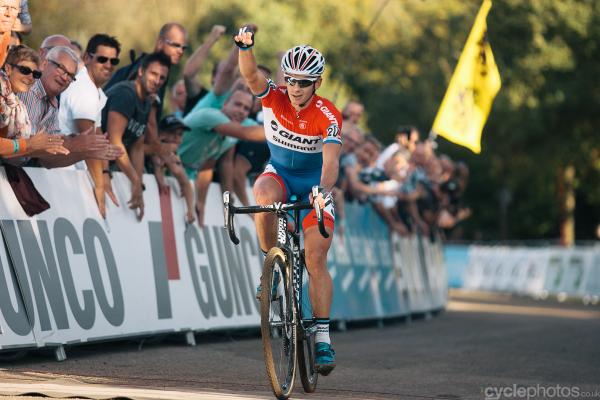 Yes:

coolness

, focus, control. Today

Lars van der Haar

didn't make any mistakes. Clean lines, a regular pace too high too folow for almost everybody. Few laps and already he was leading with Kevin

Pauwels

and Tom

Meeusen

.

Walsleben

trying to bridge. In a

sunny, crowded Cauberg.
It isn't easy to confirm after one year when you took such a smashing victory, it isn't easy when you are racing in your homeland, in front of your people. He did.
Cool, focused, always in control.

Moreover

determined.
Tom

Meeusen

was fighting as a lion and his style is classy and pure, but he couldn't keep the rythm and got finally

dropped

. It was Lars van der Haar and Kevin Pauwels, two fast wheels in a
very fast race. Unfortunately

Pauwels fell

, his back wheel sliding on died leaves on a descent.

Van der Haar flew away

and nobody could catch.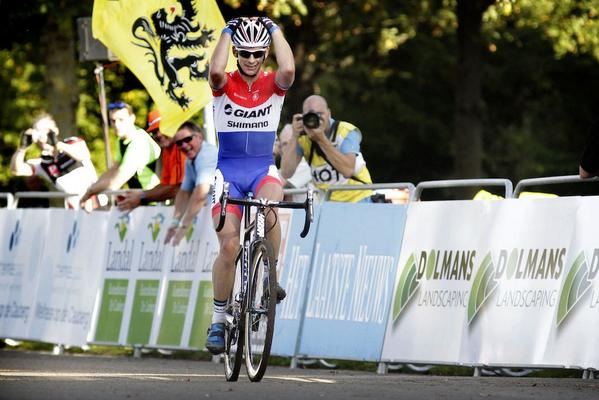 Behind a three riders

chasing group

had formed:

Meeusen, Pauwels, Walsleben

and

Vantornout

. They were giving it all but van der Haar was too fast.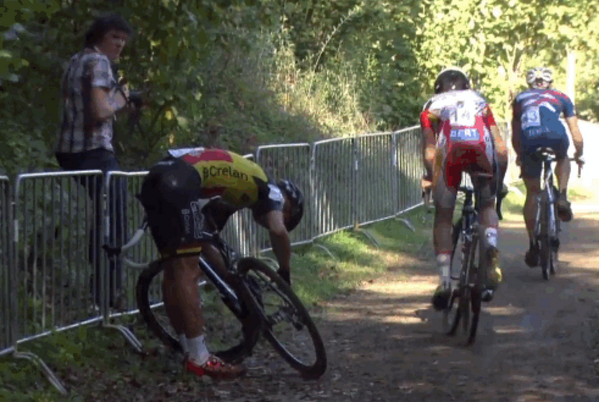 Bina

had already abandoned, Sven

Nys' chain dropped

and he was also forced to abandon.

Four laps to go van der Haar

crossed

solo

the line and since there his gap grew till 1'08''. At the last lap it was still 1'.
Behind

they werent's chasing anymore

but fighting more tactically for the 2nd place.

Van Amerongen

and

Van Kessel

had joined the front group.
At
the last lap

Kevin Pauwel attacked

and gained a gap. Meanwhile Lars van der Haar was already

smiling

and rising one arm to celebrate a cool

victory.

Bravo! 2. Pauwels, 3rd Van Kessel.
Lars van der Haar:
"From the first lap it went perfect today. I came in front with Pauwels but then became alone, and I didn't expect that. I pushed him too far and he made a mistake.
I didn't take a drink as I knew I could manage the heat – I don't think you need to do it for an hour. It turned out to be a good decision.
I am happy with my demonstration today, it was a good race and this was my first peak of the season. I'm pleased to be the World Cup leader again and I hope to go on like this."
"Of course I know that Sven Nys doesn't like the heat, so I decided for a fast start. Meeusen and Pauwels were not far away. It did not make sense to just keeping pushing. Moreover, I could save energy staying on
their wheels.
But after a while I saw the others coming back and I didn't want. So I went in front and rose the pace again.
Then I just rode steadly. I felt really good on the bike today. I really could 'play' with my bike, took the curves perfectly, had the right line. It felt good, much better than last week in Ronse where I struggled with the bike. It's really something beautiful when you can go ahead with 1:10, in the last two laps then I really enjoied the bike and I'm proud of this victory. It's fine to start the season well but the season is still long and I would like to show beautiful things in the bpost Bank trophy and Hansgrohe Superprestige."
Kevin Pauwels:
"I had abdominal cramps. I've already had them in Erpe-Mere. Perhaps it's because of the heat. You have to drink a lot, perhaps that explains those abdominal problems. I had to go deep to follow Lars and made mistakes."
Lars was clearly the strongest of us all. This fall was my own fault.
I'm growing gradually into my best shape and looking forward to races like the Koppenberg."
1

VAN DER HAAR Lars

NED19910723

DEVELOPMENT TEAM GIANT-SHIMANO

1:05:42
2

PAUWELS Kevin

BEL19840412

SUNWEB - NAPOLEON GAMES CYCLING TEAM

+00:26
3

VAN KESSEL Corne

NED19910807

TELENET - FIDEA

+00:34
4

VANTORNOUT Klaas

BEL19820519

SUNWEB - NAPOLEON GAMES CYCLING TEAM

+00:38
5

MEEUSEN Tom

BEL19881107

TELENET - FIDEA

+00:38
6

VAN AMERONGEN Thijs

NED19860718

TELENET - FIDEA

+00:41
7

WALSLEBEN Philipp

GER19871119

BKCP - POWERPLUS

+00:48
8

ADAMS Jens

BEL19920605

VASTGOEDSERVICE - GOLDEN PALACE CONTINENTAL TEAM

+00:59
9

POWERS Jeremy

USA19830629

+01:10
10

VERMEERSCH Gianni

BEL19921119

SUNWEB - NAPOLEON GAMES CYCLING TEAM

+01:24
11

MERLIER Tim

BEL19921030

SUNWEB - NAPOLEON GAMES CYCLING TEAM

+01:31
12

WELLENS Bart

BEL19780810

TELENET - FIDEA

+01:38
13

BOROS Michael

CZE19920809

+01:58
14

AERNOUTS Jim

BEL19890323

SUNWEB - NAPOLEON GAMES CYCLING TEAM

+02:05
15

WUBBEN Niels

NED19880220

TELENET - FIDEA

+02:18
16

MOUREY Francis

FRA19801208

FDJ.fr

+02:23
17

GRAND Arnaud

SUI19900828

+02:25
18

CANAL Fabien

FRA19890404

LOOK - BEAUMES DE VENISE

+02:30
19

VAN DEN BRAND Twan

NED19890122

+02:35
20

FRANZOI Enrico

ITA19820808

MARCHIOL EMISFERO

+02:48
21

PAPRSTKA Tomas

CZE19920301

REMERX-MERIDA TEAM KOLIN

+02:55
22

AERNOUTS Bart

BEL19820623

CORENDON - KWADRO

+03:04
23

TARAMARCAZ Julien

SUI19871112

CORENDON - KWADRO

+03:08
24

PEETERS Rob

BEL19850702

VASTGOEDSERVICE - GOLDEN PALACE CONTINENTAL TEAM

+03:24
25

MOSER Andreas

SUI19840122

+03:25
26

VAN LEEUWEN Patrick

NED19850416

CYCLINGTEAM JO PIELS

+03:38
27

MEISEN Marcel

GER19890108

CORENDON - KWADRO

+04:02
28

WEBER Sascha

GER19880223

VERANCLASSIC - DOLTCINI

+04:11
29

ZAHNER Simon

SUI19830306

+04:12
30

FIELD Ian

GBR19860618

+04:42
31

RUIZ DE LARRINAGA IBANEZ Javier

ESP19791102

+04:51
32

RULLIERE Melvin

FRA19891222

+04:58
33

WINTERBERG Lukas

SUI19880504

+05:24
34

BIANCO Marco

ITA19821211

-1LAP
35

LHOTELLERIE Clement

FRA19860309

-1LAP
36

GIL Mariusz

POL19830506

CORENDON - KWADRO

-1LAP
37

VAN IJZENDOORN Eddy

NED19850321

-2LAP
38

HANSEN Kenneth

DEN19911007

-2LAP
39

SAEGESSER Severin

SUI19920711

-2LAP
40

BERDEN Ben

BEL19750929

-2LAP
41

PAGE Jonathan

USA19760916

-2LAP
42

BETALU Josep

ESP19771021

-3LAP
43

VAN DER POEL David

NED19920615

BKCP - POWERPLUS

-3LAP
44

TAKENOUCHI Yu

JPN19880901

VERANCLASSIC - DOLTCINI

-4LAP
45

PARBO Joachim

DEN19741118

-4LAP
46

SILVESTRI Elia

ITA19900329

-4LAP
47

EDMOND Angus

NZL19760203

NZL19760203 -5LAP