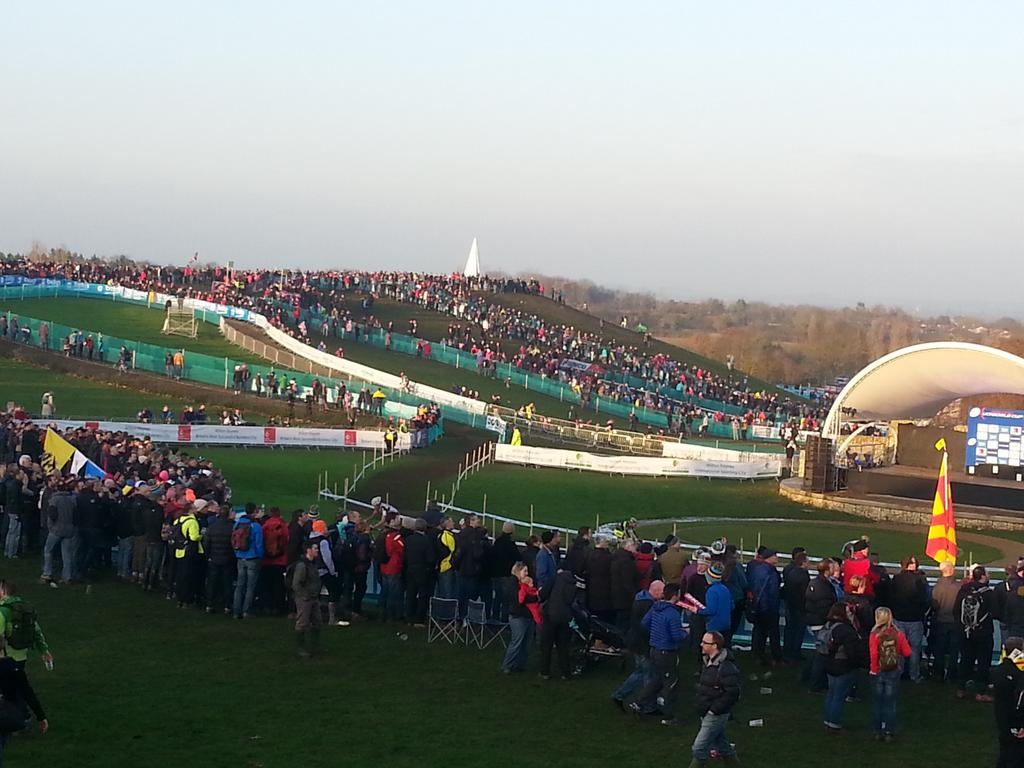 Sweet

sunny Saturday. Muddy race.

The Frenchman Francis

Mourey

was probably thinking of a French kiss already to this muddy victory but some

Belgians

have stolen it at the last lap. Great race by him anyway, always in front, often leading.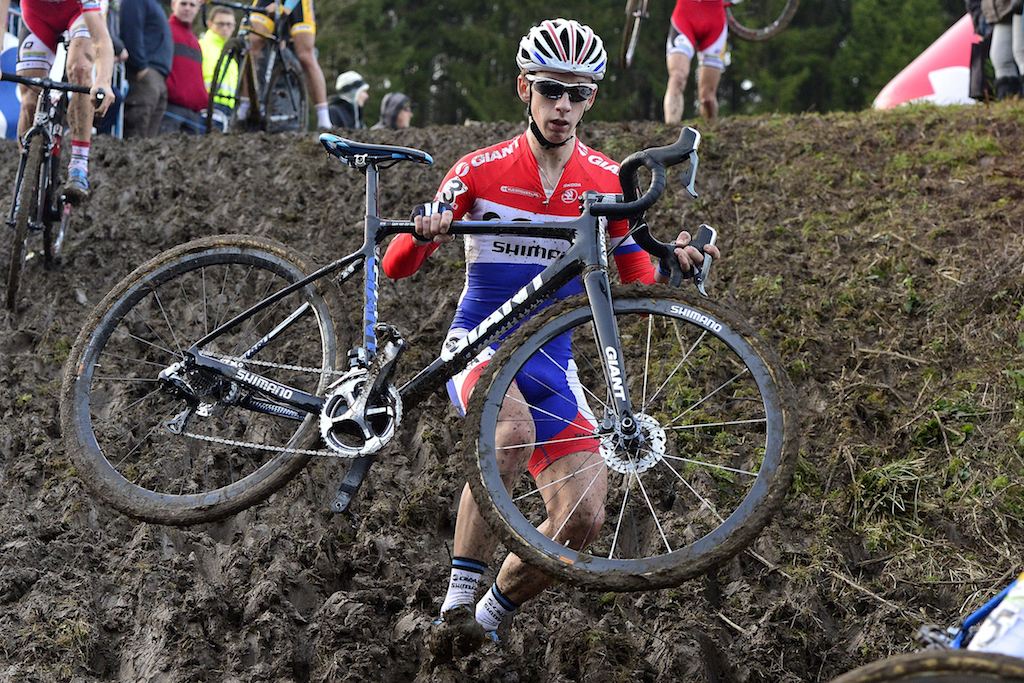 Sven

Nys had mechanical

problems, chased all the day and

finished 8.

Lars

van der Haar

didn't look brilliant on that

heavy terrain

but last week he was sick, so

4th is a very good result.

According to Lars' team "t
he conditions were bad enough for Lars's mechanics to say before the race that

the strategy would be to change his Giant TCX Advanced Pro each lap

of the race"!!
Special award for

Ian Field

who finished 12 in his homeland: the highest placement in cyclocross WC by a British rider. Bravo!
"In the last round I followed Klaas Vantornhout.At the end I had also some problems with my back. It looks good, but this classification is certainly not definitive. Klaas and Tom are very close.
It was a very tough circuit with a lot of shouldering to be done. I was having pain at my back but in the end I was still good enough to grab the win. "
Lars van der Haar:
"Podium in sight, pedals decided otherwise. Couldn't get in for a fair sprint :( But I'm satisfied with my progress on courses like this. 4th"
RESULTS
1

Kevin Pauwels (Bel) Sunweb - Napoleon Games Cycling Team

1:03:01
2

Klaas Vantornout (Bel) Sunweb - Napoleon Games Cycling Team

0:00:01
3

Francis Mourey (Fra) FDJ.fr

0:00:16
4

Lars Van Der Haar (Ned) Development Team Giant-Shimano

0:00:19
5

Philipp Walsleben (Ger) BKCP - Powerplus

0:00:43
6

Corné Van Kessel (Nedl) Telenet - Fidea

0:00:58
7

Tom Meeusen (Bel) Telenet - Fidea

0:01:00
8

Sven Nys (Bel) Crelan-AA Drink

0:01:12
9

Bart Aernouts (Bel) Corendon - Kwadro

0:01:32
10

Rob Peeters (Bel) Vastgoedservice - Golden Palace Continental Team

0:01:38
11

Fabien Canal (Fra) Look - Beaumes De Venise

0:01:41
12

Ian Field (GBr)

0:01:47
13

Laurens Sweeck (Bel) Corendon - Kwadro

0:01:53
14

Jonathan Page (USA)

0:01:55
15

Bart Wellens (Bel) Telenet - Fidea

0:02:01
16

Gianni Vermeersch (Bel) Sunweb - Napoleon Games Cycling Team

0:02:04
17

Marcel Wildhaber (Swi) Scott-Odlo Mtb Racing Team
18

Toon Aerts (Bel) Telenet - Fidea

0:02:06
19

Sascha Weber (Ger) Veranclassic - Doltcini

0:02:22
20

Jim Aernouts (Bel) Sunweb - Napoleon Games Cycling Team

0:02:35
21

David Van Der Poel (Ned) BKCP - Powerplus

0:02:48
22

Thijs Van Amerongen (Ned) Telenet - Fidea

0:02:57
23

Jens Adams (Bel) Vastgoedservice - Golden Palace Continental Team

0:03:16
24

Michael Boros (Cze)

0:03:23
25

Jeremy Powers (USA) Rapha-Focus

0:03:27
26

Marcel Meisen (Ger) Corendon - Kwadro

0:03:51
27

Radomir Simunek (Cze) Corendon - Kwadro

0:04:02
28

Tim Merlier (Bel) Sunweb - Napoleon Games Cycling Team

0:04:04
29

Mariusz Gil

0:04:07
30

Niels Wubben (Ned) Telenet - Fidea

0:04:38
31

Javier Ruiz De Larrinaga Ibanez (Spa)

0:04:45
32

Jack Clarkson (GBr)

0:05:21
33

Flavien Dassonville (Fra) Bigmat - Auber 93

0:05:45
34

Lubomir Petrus (Cze) BKCP - Powerplus

0:05:49
35

Twan Van Den Brand (Ned) Cyclingteam Jo Piels

0:06:14
36

Jeremy Durrin (USA) Optum p/b Kelly Benefit Strategie

0:06:25
37

Kenneth Hansen (Den)

0:06:39
38

Steven James (GBr)

0:06:52
39

Steven James (GBr)

0:07:08
40

Ben Sumner (GBr)

0:07:14
41

Martin Gujan (Swi) Orange Monkey Pro Team

0:07:50
42

Alex Paton (GBr)

0:08:00
43

Jody Crawforth (GBr)

0:08:05
44

Gusty Bausch (Lux)
45

Nicholas Barnes (GBr)
46

Ramon Sagues Portabella (Spa)
47

Jack Ravenscroft (GBr)
48

David Montgomery (Irl)
49

Glen Kinning (Irl)
50

Mark Mcconnell (Can)
51

Timothy O'regan (Irl)
52

Angus Edmond (NZl)
GC
1. Kevin Pauwels
2. Klaas
Vantornout
3. Corné Van Kessel
4. Philpp Walsleben
5. Lars van der Haar