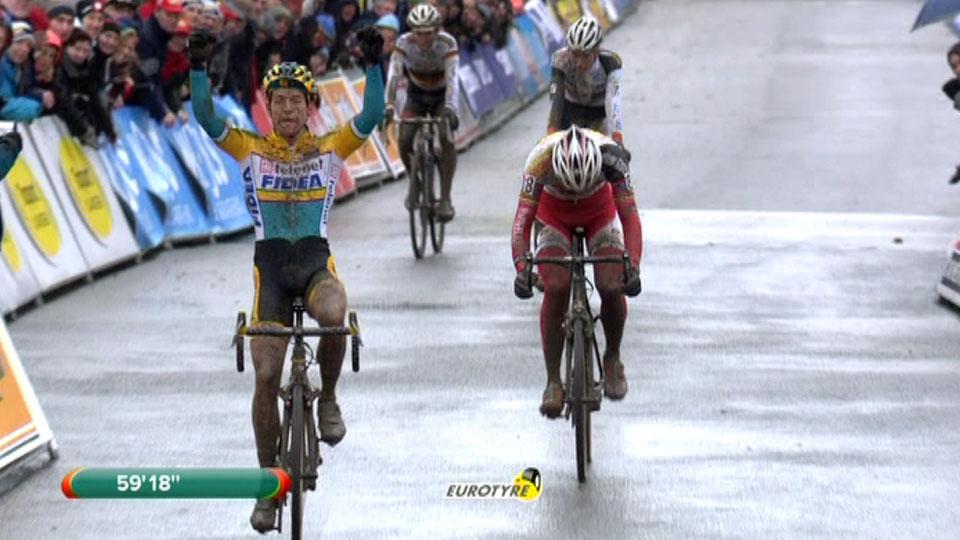 Muddy

def.

Slippery

too.

Technical

.
Too many mistakes for Sven

Nys

and probably mechanical problems: got dropped, kept loosing time, was

never in the game

.
Five laps to go there was a large front group including

Walsleben, Van der Poel, Van Kessel, Meeusen

and

Vantornout. Meisen

was chasing. Four laps to go Van Kessel had lost contact. In front

Van der Poel attacked

and got a gap. That was only the first one of several attacks by the young Dutch talent who was racing on a briliant style.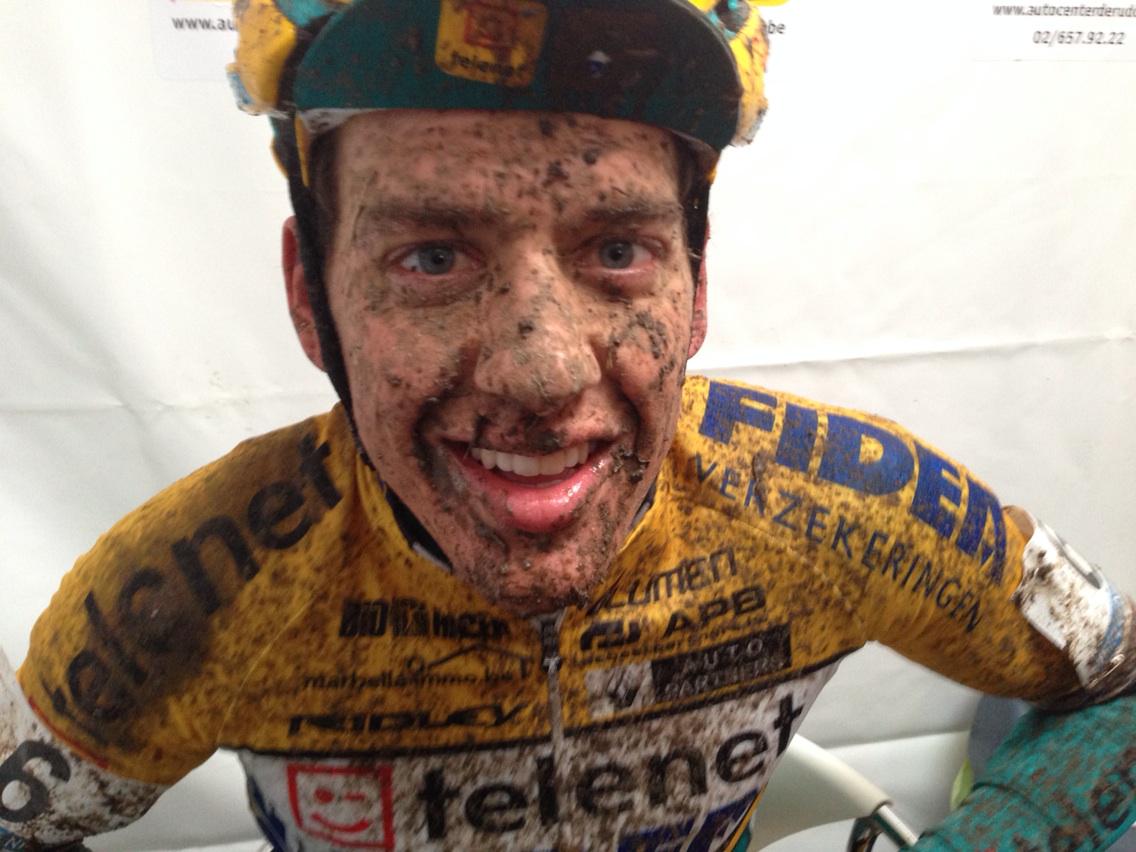 Pic by Renaat Schotte

Three laps to go Van der Poel was solo with 10''

on the chasing group but Meeusen managed to join and the rest was quickly back. He attacked again and again got

caught

. At the pit a mistake costed Meeusen some time but he joined again.
At the last lap Van der Poel looked

tired

, Walsleben too.

Vantornout

showed his class in some hard running sections but

Meeusen beated him at the sprint.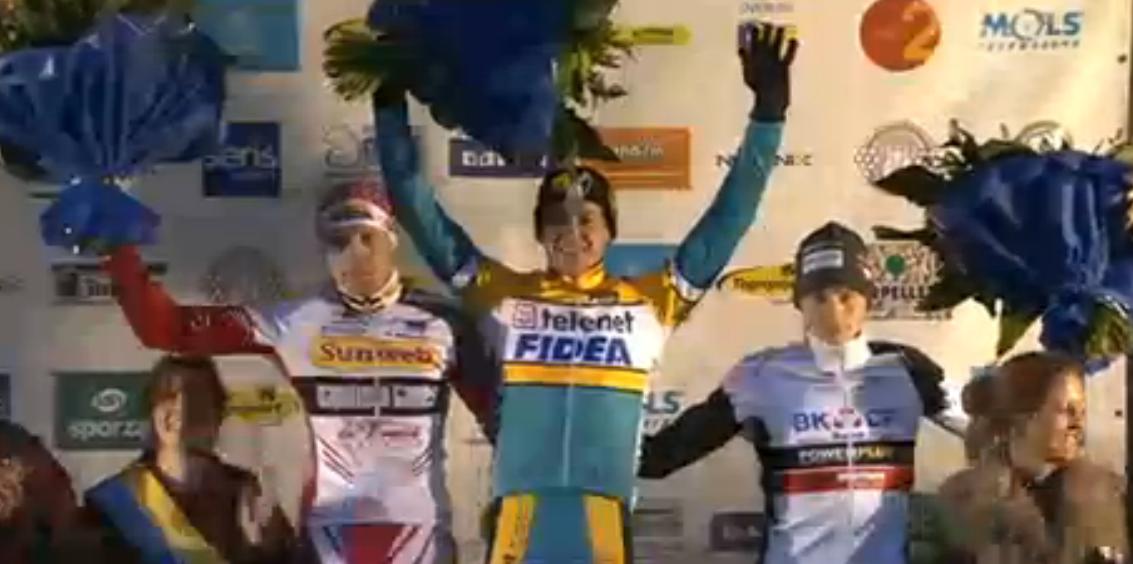 Note that

Van der Poel sprinted

like a true champion to get a spot on

podium

, with an incredible aceleration on Walsleben who had given up. Bravo!
Sven Nys' DS J
an Verstraeten:
"We do not know what's going on.
There is something with him in recent weeks, Nys can't get his top. And that has never been as clear as today.
We'll figure out what the problem is. There will be blood tests and he must go to the osteopath. Everything must be thoroughly checked.
This is really not normal. Sven has in recent weeks clearly indicated that there is something wrong, he's missing power. Now we have to find the cause. Only then will we know how we can manage the rest of the season."
PS
I read on the web that Sven Nys is going through a divorce...
RESULTS
1

Tom Meeusen (Bel) Telenet Fidea Cycling Team
2

Klaas Vantornout (Bel) Sunweb - Napoleon Games Cycling Team
3

Mathieu Van der Poel (Ned) BKCP - Powerplus Cycling Team
4

Philipp Walsleben (Bel) BKCP - Powerplus Cycling Team
5

Corné Van Kessel (Ned) Telenet Fidea Cycling Team
6

Marcel Meisen (Ger) Corendon - KwadrO Cycling Team
7

Gianni Vermeersch (Bel) Sunweb - Napoleon Games Cycling Team
8

Rob Peeters (Bel) Vastgoedservice - Golden Palace Cycling Team
9

Sven Vanthourenhout (Bel) Crelan - AA Drink Team
10

Julien Taramarcaz (Swi) Corendon - KwadrO Cycling Team
11

Jim Aernouts (Bel) Sunweb - Napoleon Games Cycling Team
12

Kevin Pauwels (Bel) Sunweb - Napoleon Games Cycling Team
13

Patrick Gaudy (Bel) Veranclassic-Doltcini Cycling Team
14

David Van der Poel (Ned) BKCP - Powerplus Cycling Team
15

Joeri Adams (Bel) Vastgoedservice - Golden Palace Cycling Team
16
Bart Aernouts (Bel) Corendon - KwadrO Cycling Team
17

Jan Denuwelaere (Bel) Vastgoedservice - Golden Palace Cycling Team
18

Niels Wubben (Ned) Telenet Fidea Cycling Team
19

Jonathan Page (USA) Planet Bike
20

Mariusz Gil (Pol) Project Cross Racing
21

Dave De Cleyn (Bel) Cycling Team Zemst VZW
22

Bart Wellens (Bel) Telenet Fidea Cycling Team
23

Patrick Van Leeuwen (Ned) Orange Babies Cycling Team
24

Kenneth Van Compernolle (Bel) CCN - Metalac Cycling team
25

Bart Hofman (Bel) Nodrugs Heroes Flanders
26

Lubomir Petrus (Cze) BKCP - Powerplus Cycling Team
27

Berne Vankeirsbilck (Bel) CCN - Metalac Cycling team
28

Niels Koyen (Bel) CCN - Metalac Cycling team
29

Kevin Cant (Bel) Corendon - KwadrO Cycling Team
30

Edwin De Wit (Bel) Kon. W.C. De Rupelspurters Boom
31

Fabian Obrist (Swi)
32

Ramon Sagues Portabella (Spa)
33

Remigiusz Gil (Pol) Project Cross Racing
34

Skyler Mackey (USA)