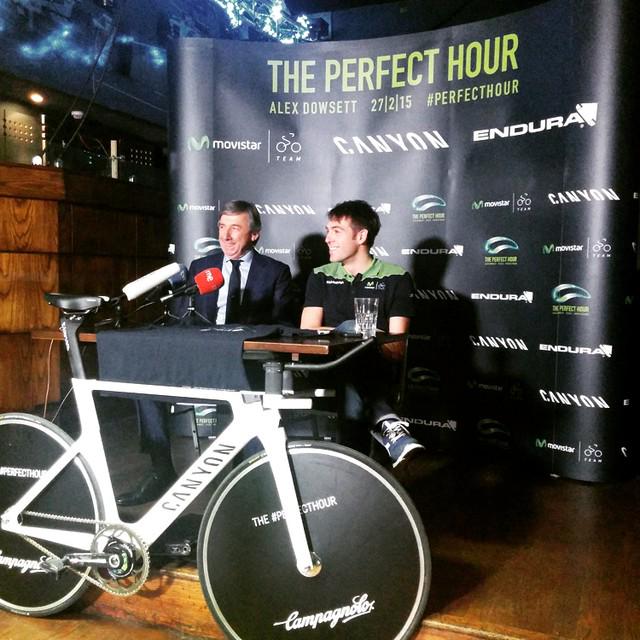 WOW! I'm looking forwa
rd! really I am! Alex is one of 'my' riders and I'm sure he's going to do things right. As the press release says:
"British time trialist from Movistar Team -
Commonwealth Games winner
,
3-times National Champion
- to take on current 51.852km mark
at London's Lee Valley VeloPark velodrome
on Friday,
February 27th
, 2015". And I'm considering the idea to fly there to watch.
Alex Dowsett:
"Things like the Commonwealth Games, the Olympics, the Tour de France and world championships hit home with the general public, but I truly had my eyes opened during my offseason this year when

I travelled around Europe with the Miles for Haemophilia campaign.

The campaign was simple: just to raise awareness and

promote a healthy and active lifestyle within the Haemophilia community.

What I realised quite quickly tough was the impact my story was having. As a young haemophiliac things were tough, even more so for my family than I. There was only a predicted gloomy outcome, talk of wheelchairs, crutches, joints fused in place or replaced, a far cry from the Alex you see before now.
On these trips I saw

my story was spreading hope

: their boy or girl could in fact lead an ordinary life. So I thought: what more can I do to bring a positive outlook on the future to them, alongside my own personal career ambitions? Everyone understands a world record, so I wanted my next target to be the hour record.

The Hour is something I've always been interested in; the simplicity of it, mostly: no tactics, no hiding, just you and the bike.

Now I've got a new sense of drive as I know that the more success I can achieve, the more hope it will give everyone in the whole rare disease community.

We spend our childhoods being told what we can't do, so I'm going for the record for anyone that gets told what they can't do something and goes out to prove themselves otherwise. I'm training a hell of a lot harder because of it.

"
"It's very emotional for me, due to several reasons. Dowsett's attempt means looking back to what

Miguel Indurain

's hour record meant to all of us, 20 years ago. Back then, it wasn't really usual to pursue such record, of all goals you could go after, and there weren't many riders who dared to take such challenge, either. After some attempts prior to ours, Miguel relied on his chances to beat the mark, we got our hands into it and, after many weeks of hard work, the day came - and it was really emotional:

the velodrome in Bordeaux, full of people, the TV camers showing it live... it was really different from what we were used to.

I always remember that day as one of the hardest for Miguel: I found it completely broken, out of energy after such a hard attempt in conditions he wasn't accustomed to at all.
Alex's attempt reflects the globalization of cycling and the internationalization of our team. Taking the chance with a British rider, at the Olympic velodrome in London, and adding that social drive, with Alex taking such efforts to support those ones with rare diseases, himself being an ambassador of Haemophilia...

I already find this attempt perfect and positive for everyone, all circumstances put together

. On the other hand, without our partners, especially

Canyon and Endura

, we would have hardly made it to the start line. The marks that two track riders, big time trialists, like Bobridge and Rohan Dennis will set will make it really difficult for us, but I hope this will become a further drive for Alex to tackle it."
UCI President Brian Cookson:
"I am delighted that an experienced time trialist such as Alex Dowsett is attacking the UCI Hour Record just months after Matthias Brändle's tremendous performance on the UCI World Cycling Centre velodrome, in Switzerland. After Brändle's new record, I said that I was convinced that

many other riders would try to add their names to the prestigious list of legendary UCI Hour Record holders

, and Alex did not wait long to announce his attempt.

It will take place at London's Lee Valley VeloPark velodrome, the venue of the 2012 Olympic Games, which will add to the excitement of the event.

Dowsett's attempt gives credit to the amendment of the regulations we introduced several months ago.

The recent changes have sparked an exciting series of challenges, which is exactly what we hoped would happen

when we decided to authorise the use of track bikes with modern designs and technology. The UCI Hour Record has been revived and is capturing the imaginations of riders and fans alike."
Tickets

for the UCI Hour Record attempt are already available through See Tickets. Details on the attempt's exact timetable, press accreditations and TV coverage will be announced in the coming weeks. Fans will be able to follow the preparations for the event through the hashtags

#PerfectHour and #UCIHourRecord, at Movistar Team's Facebook page and on Twitter accounts @alexdowsett, @Movistar_Team and @UCI_cycling.