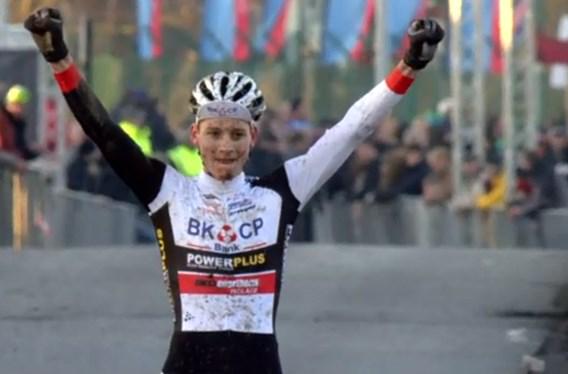 I'm just sorry for Sweeck...
Mathieu van der Poel:
"I wasn't enjoying a super day. I was able to profit from an attack where I received a good gap. I wanted to try something and that way at least Philipp [Walsleben] could profit. They hesitated behind me. If you're riding for the victory then it feels different.
It's good to have fun too. The forest was technical too. That favours me. Now it's an easy week and hopefully I'll take my first national championship in the Elite Men category.
I trained hard with the eye on next week. I dropped because it went too fast."
"Nobody wanted to chase him. Just before that he seemed to have a bad moment and I had just closed a gap."
Tom Meeusen:
"I wanted to leave this race with positive sensations and if I wanted to follow Mathieu then I would've hit the red zone."
Laurens Sweeck:
"In the last lap I got stuck on the climb in the section where I made the difference every lap. That's why we were together with three. Meeusen came from behind with a lot of speed. I quickly realized it wasn't going to happen for me. It's sad I miss out on the podium,"
Sven Nys:
"It was bad. I can't say much more. It's not good. Probably I didn't recover from the tough race in Baal. I'm back to where I was. I can't do much about it. I did everything I could to keep improving but it's getting worse again. That's a sign that it's not good. I have to live with it. I ride as good as I can but there's not much fun about it. It's annoying but that's sport at the highest
level."
RESULTS
1. Mathieu van der Poel (Ned)
2. Tom Meeusen
3. Kevin Pauwels
4. Laurens Sweeck
5. Philipp Walsleben (Dui)
6. Joeri Adams
7. Vincent Baestaens
8. Corne van Kessel (Ned)
9. Martin Bina (Tsj)
10. Radomir Simunek (Tsj)