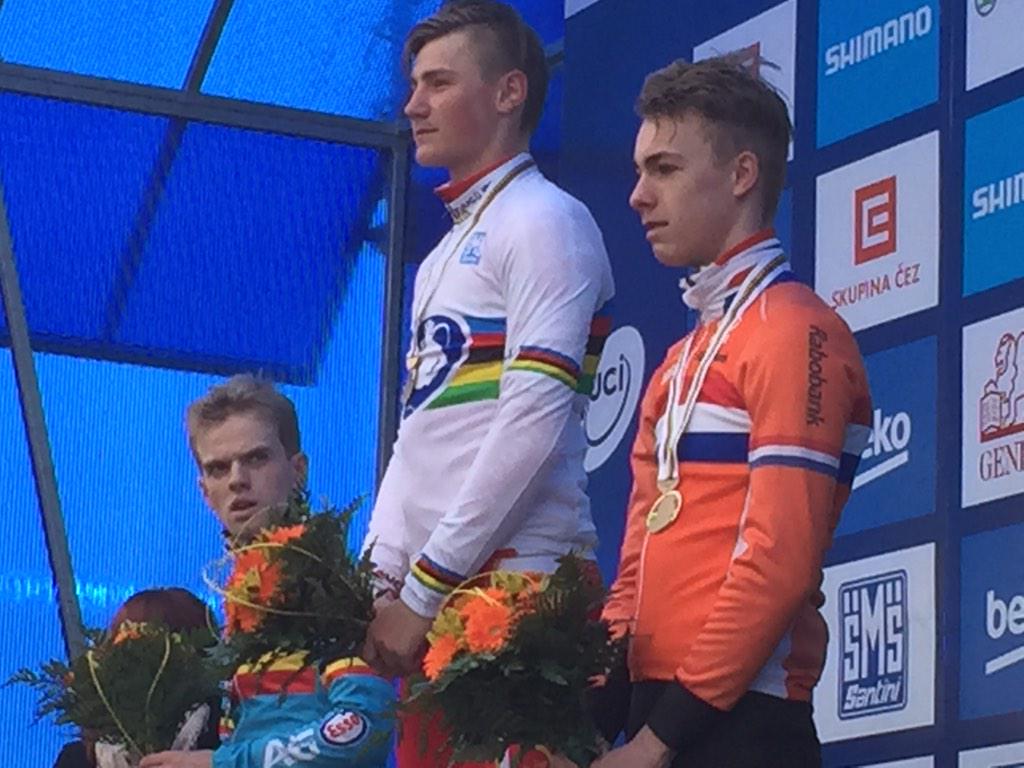 Simon Andreassen:
"It was just

great

. The whole race was

perfect

. It was more

technical

so I could use my technique from mountain biking. I'm very happy.
I had a very good start from the second row. Then I moved up to second place. Then I just wanted to be in first position.
In the second lap I passed Iserbyt. I made

no mistakes.

Then I opened up a little gap. I just ride safe. The gaps just got bigger."
RESULTS
1

Simon Andreassen (Den) Denmark

0:42:24
2

Eli Iserbyt (Bel) Belgium

0:00:40
3

Max Gulickx (Ned) Netherlands

0:00:41
4

Gage Hecht (USA) United States Of America

0:00:44
5

Thijs Wolsink (Ned) Netherlands

0:01:10
6

Stefano Sala (Ita) Italy

0:01:27
7

Jakob Dorigoni (Ita) Italy

0:01:30
8

Eddy Fine (Fra) France

0:01:34
9

Jarne Driesen (Bel) Belgium

0:01:53
10

Stegen Van Der Roel (Ned) Netherlands

0:01:58
11

Gavin Haley (USA) United States Of America

0:02:00
12

Emile Canal (Fra) France

0:02:02
13

Daniel Smarzaro (Ita) Italy

0:02:16
14

William Gascoyne (GBr) Great Britain

0:02:18
15

Brannan Fix (USA) United States Of America

0:02:21
16

Jokin Alberdi (Spa) Spain
17

Alexis Bourmaud (Fra) France

0:02:28
18

Ludwig Cords (Ger) Germany

0:02:32
19

Johan Jacobs (Swi) Switzerland
20

Jappe Jaspers (Bel) Belgium

0:02:34
21

Antonio Folcarelli (Ita) Italy

0:02:40
22

Matej Ulik (Svk) Slovakia

0:03:03
23

Lander Loockx (Bel) Belgium

0:03:11
24

Cooper Willsey (USA) United States Of America

0:03:14
25

Quentin Simon (Fra) France

0:03:17
26

Jens Dekker (Ned) Netherlands

0:03:36
27

Alessio Dhoore (Bel) Belgium
28

Arthur Green (GBr) Great Britain
29

Kevin Kuhn (Swi) Switzerland

0:03:38
30

Jon Gil Ranero (Spa) Spain

0:03:40
31

Marceli Boguslawski (Pol) Poland

0:03:52
32

Joshua Waters (GBr) Great Britain

0:03:55
33

Jaroslav Vojir (Cze) Czech Republic

0:03:56
34

Mario Junquera (Spa) Spain

0:04:03
35

Alfie Moses (GBr) Great Britain

0:04:04
36

Raphael Schroder (Ger) Germany
37

Martin Matejcek (Cze) Czech Republic

0:04:12
38

Colin Heiderscheid (Lux) Luxembourg

0:04:13
39

Cameron Beard (USA) United States Of America

0:04:14
40

Joel Grab (Swi) Switzerland

0:04:22
41

Anthon Charmig (Den) Denmark
42

Willem Boersma (Can) Canada

0:04:29
43

Oliver Evans (Can) Canada

0:04:32
44

Maximilian Mobis (Ger) Germany

0:04:33
45

Josef Jelinek (Cze) Czech Republic

0:04:34
46

Sandy Dujardin (Fra) France

0:04:44
47

Jonatan Ostlund (Swe) Sweden

0:04:45
48

Han Devos (Bel) Belgium

0:04:59
49

Lukas Kunt (Cze) Czech Republic

0:05:16
50

Dawid Jona (Pol) Poland
51

Jakub Kurty (Svk) Slovakia

0:05:17
52

Quinton Disera (Can) Canada

0:05:18
53

Ryo Takeuchi (Jpn) Japan
54

Masaki Yamada (Jpn) Japan

0:05:25
55

Michel Ries (Lux) Luxembourg

0:05:26
56

Andreas Lund Andresen (Den) Denmark

0:05:29
57

Noah Fries (Lux) Luxembourg

0:05:33
58

Pawel Kostrubski (Pol) Poland

0:05:44
59

Paul Rudolph (Ger) Germany

0:05:52
60

Nicholas Smith (Aus) Australia

0:05:59
61

Liam Mulcahy (Can) Canada

0:06:01
62

Ted Pettersson (Swe) Sweden

0:06:23
63

Tarik Haupt (Ger) Germany

0:06:30
64

Slavomir Kujan (Svk) Slovakia

0:06:43
65

Kristian Zimany (Svk) Slovakia
66

Noah Barrow (Aus) Australia

0:06:54
67

Jan Gajdosik (Svk) Slovakia

0:07:34
68

Jonas Brezina (Cze) Czech Republic

-1 Lap
69

Mark Zathureczky (Hun) Hungary

-1 Lap
70

Stefan Ritter (Can) Canada

-1 Lap
71

Tom Green (Aus) Australia

-1 Lap