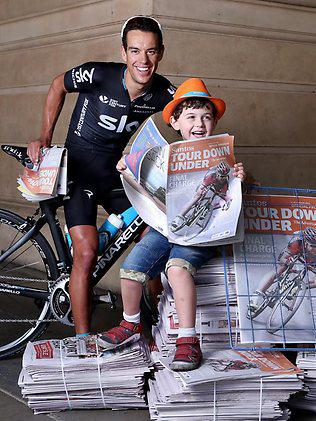 The night was

humid

when I rode back home. Tiny rain, icy cold. But now it's definitely

raining

, pourring,

bringing down the sky with those big thick tears.
I had a busy day, in spite it started late. I read till 1 am, hungry to go to the end of this splendid nightmare that is "The Circle" - a scary must. This morning I got up at 10 and went to my favourite café correcting students' tests. No time or will to watch cycling but I'm curious to see

what's going on down under

. I checked on my phone while tasting a cake.
The season kicks off far away from Europe and I can't help

feeling far

from it. Distractly I wonder

who's going to win

in Australia. Sprinters are sprinting still it

isn't a pure sprinters race anymore

. Climbers climbed today and will do more on Willunga, still this

climb isn't hard and way too short

.
For

Australians

- riders, teams and people - Tour Down Under is important. There is

Cadel Evans

at his last races, so very motivated (to be honest he has always been...), there is

Jack Bobridge

, leading and seeking revange, there is

Richie Porte

eager to start the season on a high note.
In the actual

top ten

there are also

Lieuwe Westra

- don't underrate him! - and

Daryl Impey

, whose team

Orica GreenEdge

is Australian and this year all committed to the GC.
Any other? sure.

The unespected

. But I think the winner will be probably amongh those five. What's your opinion?
Richie Porte

after stage 2:
"It's no secret I'm here to try and win this bike race. I'm in good condition at the moment. I'm really looking forward to tomorrow and stage three. It's quite a hard and decisive climb at the end. Everything's looking good.
It was obvious that it was going to be a hard start straight into a 10km climb. We've got a good strong team here and I'm feeling quite confident so I don't think it hurts to put the team on the front and try to control the race.
It's difficult to see how all the contenders are going. The finishes haven't been quite hard enough yet. Cadel (Evans) is looking good. I'm looking forward to having a good battle with him tomorrow and hopefully on Willunga as well."