I'm a little disappointed. Mathieu Van der Poel is no doubt a big talent and he deserved this victory. BUT in my opinion

he - and Van der Aert - should have hat to race in the U23

. Seeing them both on the podium made me think that there was somthing wrong. Ok you start in the Elite race... but you basicly beat all the Elite riders? so what do cathegories mean?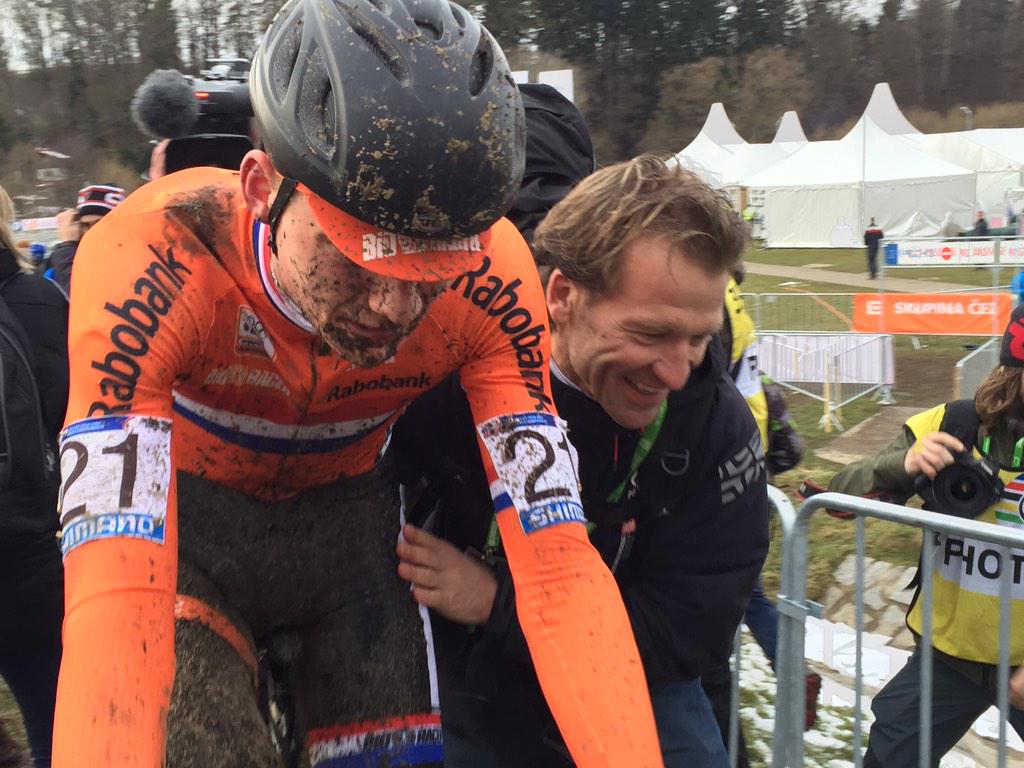 Lars Van der Haar is also very young, he could be at his 1st year in the Elites. He was on the podium last year with two riders definitely older than him, now he's the oldest on this U23 podium. Is that right? Mah...
Lars Van der Haar made a splendid race, only waited too long on Pauwels' wheel, and THAT allowed Van der Poel to go away with his victory, because if Van der Haar had chased him with Pauwels they had caught him I'm sure. In my opinion Lars was
right to not bring Pauwels back: it's Worlds, isn't it?
Still, he looked very strong and cool. Cooler than Van der Poel who made some small mistakes.
Pauwels made a big mistake, fell on the stairs and Van Aert dropped him. Van Aert had also crashed earlier in the race but had been able to come back and looked even fresher than the others! surprising!
We are going to see some splendid duel in the next season!
Mathieu Van der Poel:
"I didn't have a big gap, it was always about 10 seconds. But I had a lot of

confidence

from last week.
In the warm up the barriers were difficult, but i knew in the race it could make a difference. The first two laps weren't that great, but then I took time there every lap.
It's a lot different. I don't think I have the confidence to know what it's going to mean in the next season, but it will be awesome to ride in that jersey."
"I had no power left for the sprint. I felt a lot stronger than Pauwels, so I accelerated. It was allowed by the dutch team" (In the post race interview, via VElofacts)
"I felt good today and was strong in the race. I saw that Pauwels was out of energy and that was when I attacked, without Pauwels on my wheel. This worked out but I was too far behind to catch

van der Poel

and he

was so strong and was winning time on me on the jumps.
I am

a bit disappointed to not get the silver medal in the final

. I was empty after a hard race and made some mistakes. Wout was strong and I lost energy trying to get him off my wheel and

didn't have anything left for the sprint

anymore." (From Giant-Alpecin Site)
RESULTS
1 Mathieu van der Poel (Netherlands)

1:09:12
2

Wout Van Aert (Belgium)

0:00:15
3

Lars van der Haar (Netherlands)

0:00:17
4

Kevin Pauwels (Belgium)

0:01:06
5

Klaas Vantornout (Belgium)

0:01:12
6

Tom Meeusen (Belgium)

0:01:17
7

Gianni Vermeersch (Belgium)

0:02:26
8

Marcel Meisen (Germany)

0:02:37
9

Philipp Walsleben (Geremany)

0:02:43
10

Marco Fontana (Italy)

0:02:54
11

Julien Taramarcaz (Switzerland)

0:02:56
12

Luca Braidot (Italy)

0:03:13
13

Michael Boros (Czech Republic)

0:03:19
14

Fabien Canal (France)

0:03:26
15

Thijs Van Amerongen (Netherlands)

0:03:27
16

Simon Zahner (Switzerland)

0:03:30
17

Sven Nys (Belgium)
18

Tomas Paprstka (Czech Republic)

0:03:38
19

Rob Peeters (Belgium)

0:03:56
20

Francis Mourey (France)

0:03:59
21

Ian Field (Great Britain)

0:04:00
22

Mariusz Gil (Poland)

0:04:22
23

Jonathan Page (United States Of America)

0:04:33
24

Lubomir Petrus (Czech Republic)

0:04:41
25

Marcel Wildhaber (Switzerland)

0:04:47
26

Niels Wubben (Netherlands)

0:04:51
27

Javier Ruiz de Larrinaga Ibanez (Spain)

0:04:53
28

Arnaud Grand (Switzerland)

0:05:00
29

Matej Lasak (Czech Republic)

0:05:05
30

Kenneth Hansen (Denmark)

0:05:21
31

Martin Haring (Slovakia)

0:05:29
32

Jeremy Powers (United States Of America)

0:06:18
33

David van der Poel (Netherlands)

0:06:39
34

Aitor Hernandez Gutierrez (Spain)

0:06:40
35

Zach Mcdonald (United States Of America)

0:07:53
36

Aaron Schooler (Canada)

-1 lap
37

Marek Konwa (Poland)
38

Kazuhiro Yamamoto (Japan)

-2 laps
39

Radomir Simunek (Czech Republic)
40

Karl Heinz Gollinger (Austria)
41

Jaroslav Chalas (Slovakia)
42

Mark Mcconnell (Canada)
43

Vaclav Metlicka (Slovakia)
44

Paul Redenbach (Australia)

-3 laps
45

Yu Takenouchi (Japan)
46

Gabor Fejes (Hungary)
47

Garry Millburn (Australia)
48

Lukas Batora (Slovakia)
49

Mike Garrigan (Canada)

-4 laps
50

James Driscoll (United States Of America)
51

Oleksiy Ukhanov (Ukraine)
52

Angus Edmond (New Zealand)

-5 laps