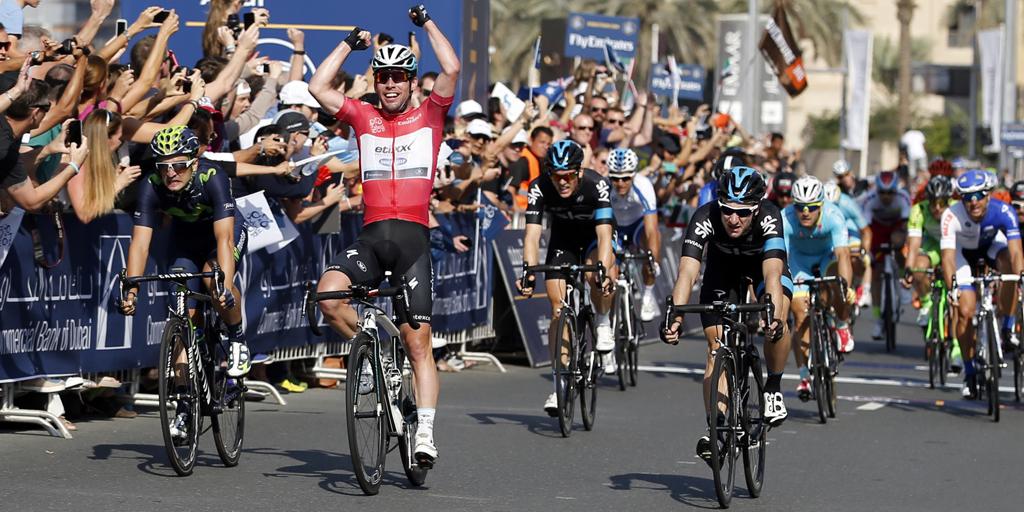 Mark Cavendish

isn't anymore the new thing in procycling

, he isn't anymore an amazing missile. Not because he isn't fast but because others are fast as well and sometimes more.

The absolute favourite became the underdog

, like Sven Nys in the cyclocross, while Fabian Cancellara, less brilliant at the sprint, still keeps the crown in the cobbles Classics. You shouldn't underrate Mark Cavendish. Class doesn't change with time, became purer. Just the fact he's winning races year after year since the first day he blasted in the pro scene shows

he isn't a temporary star in the sprinters' sky but a bright planet with a settled place.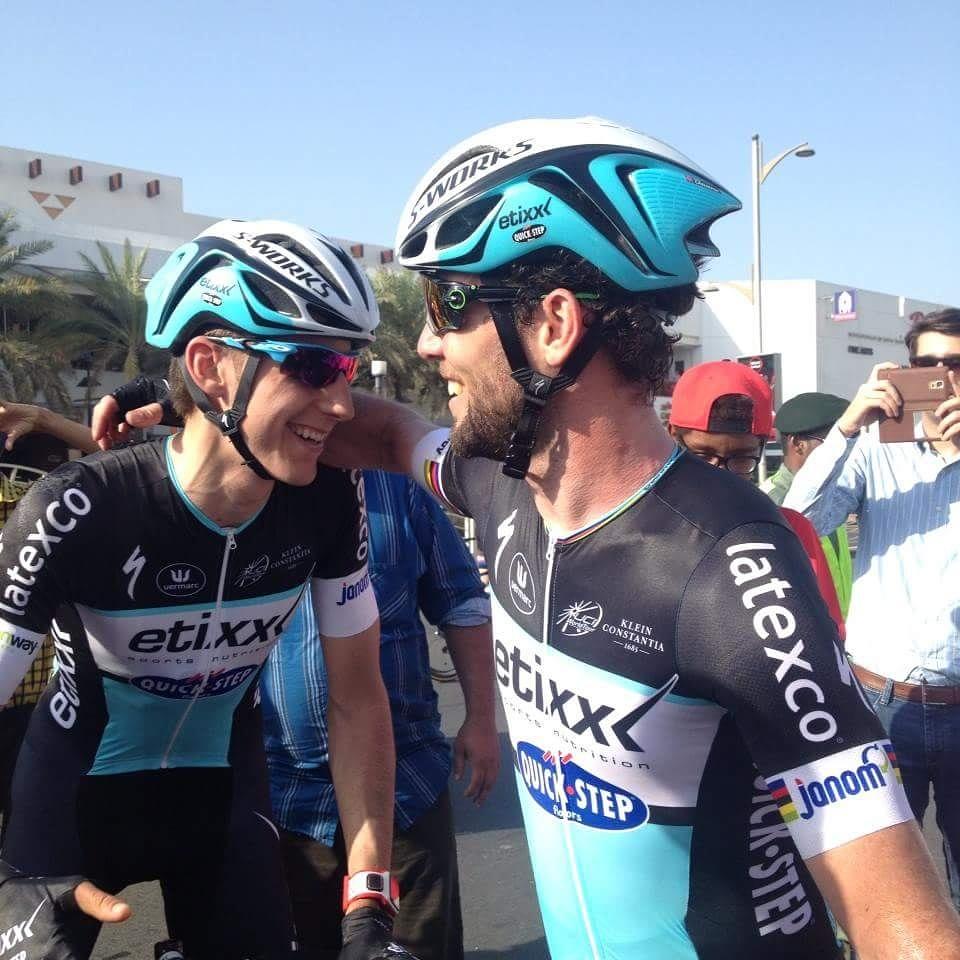 Some champions' career is a short parabola with a rapid ascent, a very high top but also a rapid descent. Quantity doesn't change the quality. Some riders just count one victory but it's an epic effort and we keep memory of it. Others are still there, still achiving decent results but we remember nothing of them. Champions leave a sign in the soul. Only few elected riders keep collecting masterpieces year after year and Mark Cavendish is one of them.
He's a splendid rider in his maturity, no more at the top but stretching his beautiful parabola in a way that only few can afford.

There is a right to grow old, and a beauty in a solid mature man. Mark Cavendish is a cleaver person, has built a family and a fame of friendly, generous, good guy.
Good that he won again in Dubai and brought home two jerseys.

Respect for the old man from Man.
Elia Viviani can be happy too, because in his birth day, he lost by a great champion who was in need of a great win.

Viviani is on the same path of glory

, Team Sky seems the perfect team to support him and results are already talking for him.
Mark Cavendish:
"I'm

over the moon

. We're the only team who rode all week, even yesterday when it was mainly to honour the jersey. I was a bit frustrated with the other teams who've come here and haven't raced, so

I had a bit of fire in my belly

."
"I didn't really have to do much,

the team did everything

. We were really motivated today. It was a tough breakaway, but Etixx - Quick-Step did a great job controlling it with the help of Giant Alpecin. Then

the leadout was absolutely phenomenal. It was so fast there was a gap before I started to sprint.

I looked and I saw the gap, and I went a little bit early so I could keep the gap and it all worked out perfectly. This was a win by Etixx - Quick-Step today. The guys were fantastic. That was really something special. I'm so proud of them and proud to get the Blue jersey at the end as well. I'm really happy. This is my 3rd stage win, and Gianni Meersman also won a race down in Australia, so we're looking forward to another successful year for Etixx - Quick-Step.

I'm also super thrilled that this is the 3rd GC victory of my career.

Here at Dubai Tour it's not exactly a sprinter's race, but it can favor people who can sprint. I know for sure last year I wasn't looking for the GC. This year I came here in good form. It wasn't really something I was expecting, but with the way the guys have been working all week it was something special to finish off with the GC win. This also shows I am on target for my next goals in the racing calendar. It's super encouraging for what's next, for me as well as my teammates who I want to thank for everything they did at Dubai Tour."
Elia Viviani:
"

Sorry to have lost like that...

but each sprint is different and this one went that way! Thanks @TeamSky for this strong week!"
Team Sky DS Dario Cioni:
"I was happy with the way our riders applied themselves once again today, and going into that last corner we were in a good position. Two guys from United HealthCare allowed the gap to open up in the closing metres though which put Cav in a great position. As hard as we tried, we couldn't get Elia in place to come around him.
Cav is one of the best in the business so we can't be too disappointed

with the way things turned out today, but you can never be 100% happy finishing second.
The race as a whole has been a good one. We were disappointed not to do more on

yesterday's stage

– or finish higher up on GC - but

that came down to bad luck. Ben [Swift] was really up for testing himself on that last climb

yesterday, and he was in great form, but he punctured on the approach to it.
On the plus side,

Elia won stage two and the fact he got three podium places from four proves his consistency.

We'll take learnings away from this race and look to apply them in the future."
RESULTS
STAGE
1

Mark Cavendish (GBr) Etixx-QuickStep
2

Elia Viviani (Ita) Team Sky
3

Juan Jose Lobato (Spa) Movistar
4

Ben Swift (GBr) Team Sky
5

Andrea Guardini (Ita) Astana
6

Daniele Ratto (Ita) UnitedHealthcare
7

Martijn Verschoor (Ned) Novo Nordisk
8

Davide Cimolai (Ita) Lampre-Merida
9

John Degenkolb (Ger) Giant-Shimano
10

Andrea Palini (Ita) Skydive Dubai
FINAL GC
1

Mark Cavendish (GBr) Etixx-QuickStep
2

John Degenkolb (Ger) Giant-Shimano

0:00:06
3

Juan Jose Lobato (Spa) Movistar

0:00:10
4

Alejandro Valerde (Spa) Movistar

0:00:12
5

Marco Canola (Ita) UnitedHealthcare

0:00:14
6

Alessandro Bazzana (Ita) UnitedHealthcare

0:00:17
7

Grega Bole (Slo) CCC-Polsat

0:00:18
8

Philippe Gilbert (Bel) BMC
9

Manuele Boaro (Ita) Tinkoff-Saxo
10

Filippo Pozzato (Ita) Lampre-Merida
Blue Jersey

Mark Cavendish (ETIXX - QUICK-STEP)
Red Jersey

Mark Cavendish (ETIXX - QUICK-STEP)
UAE Flag Jersey

intermediate sprints classification - Alessandro Bazzana (UNITEDHEALTHCARE PRO CYCLING)
White Jersey

best young rider - Michael Valgren Andersen (TINKOFF SAXO)
Best Team

: BMC