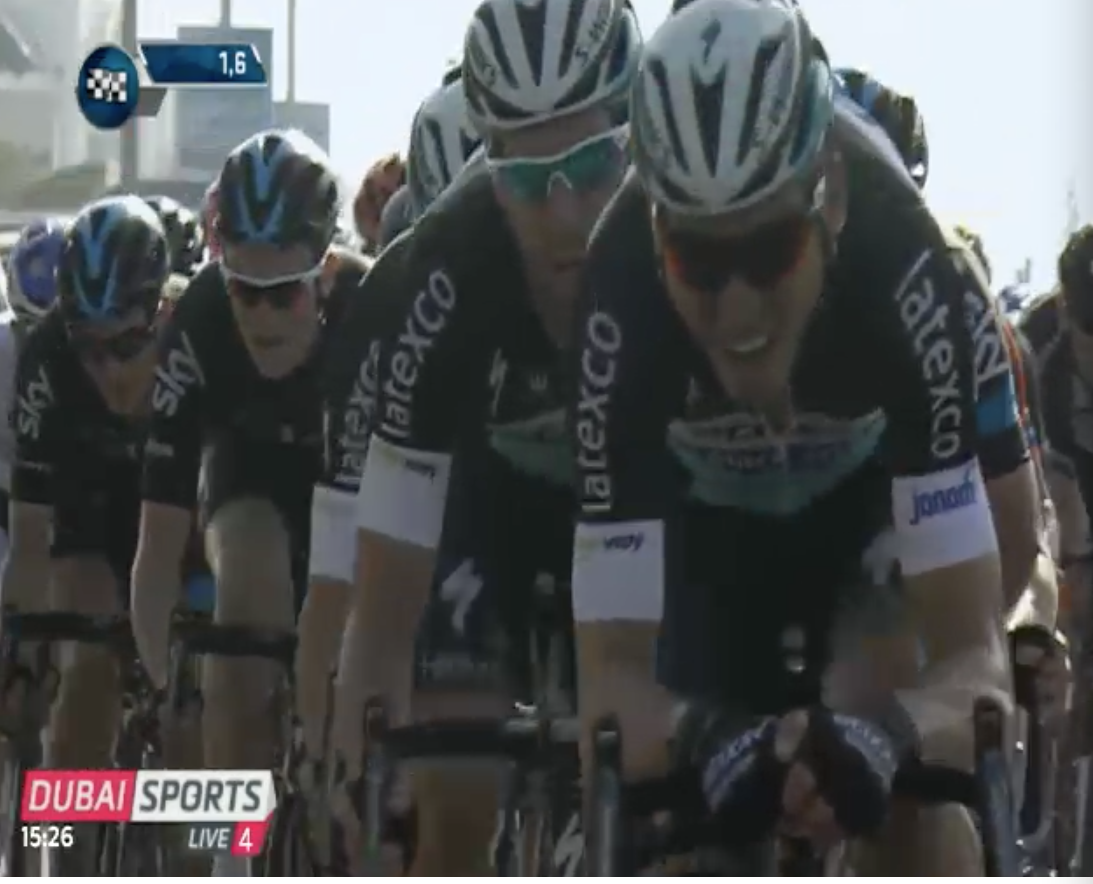 In the end it's just a

3rd

place and

Elia Viviani

isn't happy for sure. I should report another

splendid win by Mark Cavendish

- NOT aging, just growing up! - and a

very close 2nd by Andrea Guardini

, especially strong out of Europe.
But when I was at Team Sky's training camp we talked a lot about that new goal:

setting a top level lead out

for Swift and Viviani, testing and working to

make it perfect

because, you know,

that's what Team Sky is for, perfection

. And Elia Viviani heartly agrees.
So now, watching this superb sprint, I couldn't avoid to

focus on Team Sky's train

. They took the lead quite early - too early? -

battling with OPQS

face to face and should against shoulder. They were well mixed at the finish, when Viviani and Cavendish took off. A great work.
Guardini came from behind

, less supported maybe, faster in the last meters. Porsev looked few inches ahead on the line but no, it's Viviani.
I'm not a sprint specialist but I got the impression that

Team Sky anticipated too much and then Viviani lacked a bit of speed in that last brutal aceleration.

What do you think?
Mark Cavendish:
"We planned our leadout to go in the last few kilometers, but it was

so windy

there

we had to use everyone to stay in the front

even in the last 20 kilometers. The other teams were coming strong as always. There was only ourselves and Giant Alpecin riding on the front. As always my team rode incredibly well, and they showed confidence together.

To follow Mark Renshaw is so nice. He's so patient, he's able to go.

Ideally I wanted to leave it late because it was a cross headwind in the finish, and

Sky went on the left early. Renshaw just stayed calm, used them to pick up some speed in the slipstream.

Then he overtook and he started the leadout and

I felt Swift go on the left.

I had to go then. Not out of Swift getting the jump on me so much as other sprints might go with him and get the jump.

So I went earlier than I liked

, but I know I've good form and I was able to hold it. So, I knew it was OK when I went. I knew I was on top of the sprint, but

I felt Andrea Guardini coming faster than me. I was happy to just hold on until the line.

It's nice to win, but it's hard to explain the feeling unless you feel it for yourself.

I like winning, there's no secret with that.

I'm happy to wear the Leader's Jersey here at Dubai Tour. My friend Sir Paul Smith designed the jerseys. I saw him a week or so ago and I said I was going to bring him back one of his jerseys. I'll dedicate my win to him today. Now we will try to get another win in the next days.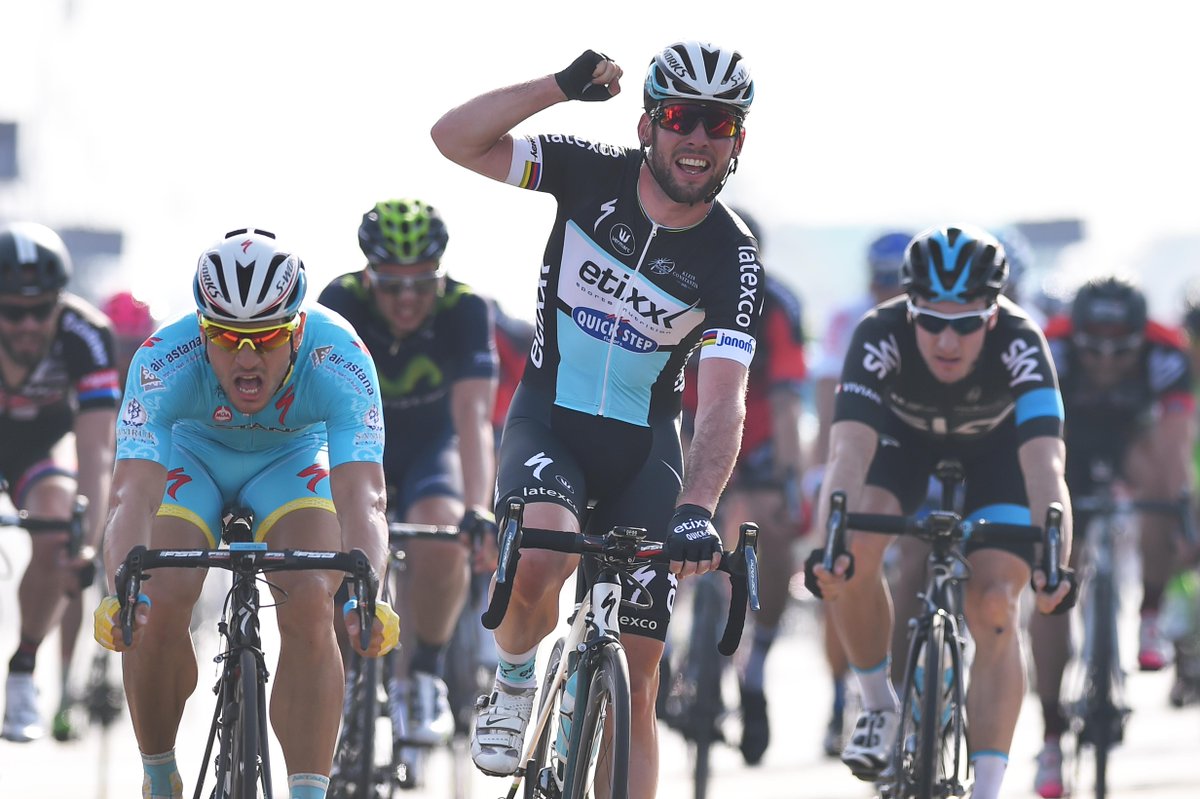 I'm super happy with my form and with the cohesion between Etixx - Quick-Step. We really rode strong as a team in Argentina and we rode really well as a team in Dubai today.

All winter I was happy.

At training camp it was such a strong ambiance. We knew we'd start off on a good note this season. We won more than 60 races last year, and we want to try and or better than this year. It's not going to be a big ask I don't think, because we can feel the desire and motivation to go out as a unit and win."
RESULTS
1

Mark Cavendish (GBr) Etixx - Quick-Step

3:25:00
2

Andrea Guardini (Ita) Astana Pro Team
3

Elia Viviani (Ita) Team Sky
4

Alexander Porsev (Rus) Team Katusha
5

Juan Jose Lobato (Spa) Movistar Team
6

Luka Mezgec (Slo) Team Giant-Alpecin
7

Andrea Palini (Ita) Skydive Dubai Pro Cycling
8

Paolo Simion (Ita) Bardiani CSF
9

Daniel Oss (Ita) BMC Racing Team
10
Martijn Verschoor (Ned) Team Novo Nordisk
JERSEYS:
Blue Jersey - race leader: Mark Cavendish (ETIXX - QUICK-STEP)
Red Jersey - points classification leader: Mark Cavendish (ETIXX - QUICK-STEP)
UAE Flag Jersey - intermediate sprints classification leader: Ben Swift (TEAM SKY)
White Jersey - best young rider: Paolo Simion (BARDIANI CSF)