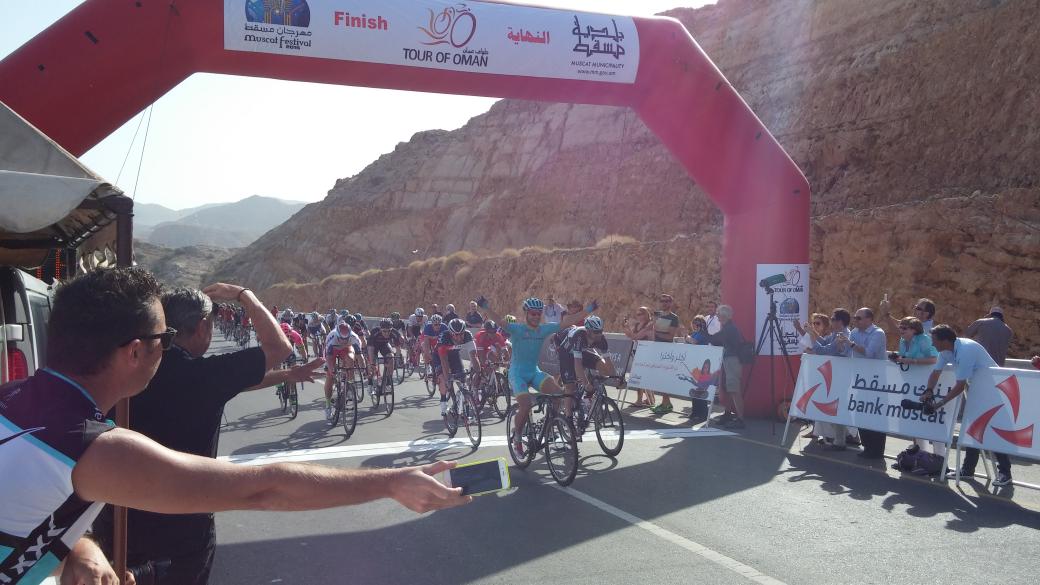 Matteo Pelucchi: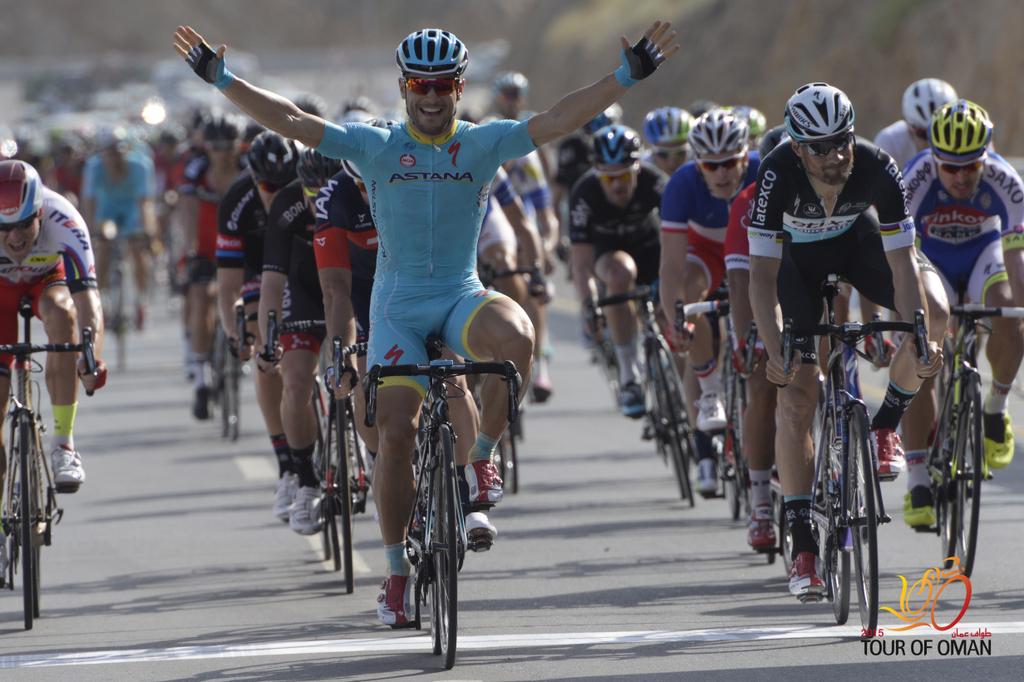 "I am very happy with my sprint even though

I made the mistake of not following Jonas Van Genechten long enough.

I thought he had given everything; I had no idea that he still had some speed left to give me. But today we start our collaboration and we are on track towards finding the perfect way to work together.

Maybe the second stage we will be able to play for the win since there is a slight climb before the finish.

Apart from that, the sprint was very hard. When I crossed the line, I was spent, but if I had placed myself better I certainly would have been playing for the win.
Finishing three times on the podium in my first three races suits me fine, because I know I will not have that treat every race. But thanks to all the hard work I did over the winter, I know I am on the right track."
RESULTS
STAGE
1.

ITA GUARDINI Andrea

6

ASTANA PRO TEAM

03h 45' 37''

2.

BEL BOONEN Tom

91

ETIXX-QUICK STEP

03h 45' 37''

+ 00' 00''
3.

ITA PELUCCHI Matteo

147

IAM CYCLING

03h 45' 37''

+ 00' 00''
4.

NOR KRISTOFF Alexander

35

TEAM KATUSHA

03h 45' 37''

+ 00' 00''
5.

NED SINKELDAM Ramon

86

TEAM GIANT-ALPECIN

03h 45' 37''

+ 00' 00''
6.

FRA BOUHANNI Nacer

101

COFIDIS, SOLUTIONS CREDITS

03h 45' 37''

+ 00' 00''
7.

SVK SAGAN Peter

21

TINKOFF-SAXO

03h 45' 37''

+ 00' 00''
8.

IRL BENNETT Sam

161

BORA-ARGON 18

03h 45' 37''

+ 00' 00''
9.

ITA MODOLO Sacha

114

LAMPRE - MERIDA

03h 45' 37''

+ 00' 00''
10.

FRA DEMARE Arnaud

55

FDJ

03h 45' 37''

+ 00' 00''
11.

GER ARNDT Nikias

82

TEAM GIANT-ALPECIN

03h 45' 37''

+ 00' 00''
12.

ESP VENTOSO ALBERTI Francisco José

48

MOVISTAR TEAM

03h 45' 37''

+ 00' 00''
13.

BEL STEEGMANS Gert

66

TREK FACTORY RACING

03h 45' 37''

+ 00' 00''
14.

AUS SUTTON Christopher

78

TEAM SKY

03h 45' 37''

+ 00' 00''
15.

BEL VANSPEYBROUCK Pieter

158

TOPSPORT VLAANDEREN-BALOISE

03h 45' 37''

+ 00' 00''
16.

AUS DOCKER Mitchell

132

ORICA GREENEDGE

03h 45' 37''

+ 00' 00''
17.

NOR BOASSON HAGEN Edvald

121

MTN-QHUBEKA

03h 45' 37''

+ 00' 00''
18.

BEL SALOMEIN Jarl

154

TOPSPORT VLAANDEREN-BALOISE

03h 45' 37''

+ 00' 00''
19.

GBR BLYTHE Adam

131

ORICA GREENEDGE

03h 45' 37''

+ 00' 00''
20.

ITA CARUSO Damiano

12

BMC RACING TEAM

03h 45' 37''

+ 00' 00''
21.

NED POELS Wouter

77

TEAM SKY

03h 45' 37''

+ 00' 00''
22.

ESP ROJAS GIL José Joaquin

45

MOVISTAR TEAM

03h 45' 37''

+ 00' 00''
23.

NED VAN POPPEL Danny

68

TREK FACTORY RACING

03h 45' 37''

+ 00' 00''
24.

BEL VAN AVERMAET Greg

17

BMC RACING TEAM

03h 45' 37''

+ 00' 00''
25.

RSA JANSE VAN RENSBURG Reinardt

124

MTN-QHUBEKA

03h 45' 37''

+ 00' 00''
26.

ITA NIBALI Vincenzo

1

ASTANA PRO TEAM

03h 45' 37''

+ 00' 00''
27.

SVK VELITS Peter

18

BMC RACING TEAM

03h 45' 37''

+ 00' 00''
28.

GER KNEES Christian

74

TEAM SKY

03h 45' 37''

+ 00' 00''
29.

BEL HERMANS Ben

14

BMC RACING TEAM

03h 45' 37''

+ 00' 00''
30.

UKR GRIVKO Andriy

5

ASTANA PRO TEAM

03h 45' 37''

+ 00' 00''
31.

USA VAN GARDEREN Tejay

11

BMC RACING TEAM

03h 45' 37''

+ 00' 00''
32.

SUI ELMIGER Martin

145

IAM CYCLING

03h 45' 37''

+ 00' 00''
33.

ESP MORENO FERNANDEZ Daniel

36

TEAM KATUSHA

03h 45' 37''

+ 00' 00''
34.

SUI RAST Gregory

65

TREK FACTORY RACING

03h 45' 37''

+ 00' 00''
35.

DEN FUGLSANG Jakob

4

ASTANA PRO TEAM

03h 45' 37''

+ 00' 00''
36.

BEL DE BACKER Bert

83

TEAM GIANT-ALPECIN

03h 45' 37''

+ 00' 00''
37.

SWE AHLSTRAND Jonas

102

COFIDIS, SOLUTIONS CREDITS

03h 45' 37''

+ 00' 00''
38.

GER NERZ Dominik

166

BORA-ARGON 18

03h 45' 37''

+ 00' 00''
39.

ESP SANZ UNZUE Enrique

46

MOVISTAR TEAM

03h 45' 37''

+ 00' 00''
40.

IRL DEIGNAN Philip

72

TEAM SKY

03h 45' 37''

+ 00' 00''
41.

FRA BARGUIL WARREN

81

TEAM GIANT-ALPECIN

03h 45' 37''

+ 00' 00''
42.

UKR POPOVYCH Yaroslav

64

TREK FACTORY RACING

03h 45' 37''

+ 00' 00''
43.

ESP IRIZAR ARRANBURU Markel

63

TREK FACTORY RACING

03h 45' 37''

+ 00' 00''
44.

COL ARREDONDO MORENO Julian

62

TREK FACTORY RACING

03h 45' 37''

+ 00' 00''
45.

NED WESTRA Lieuwe

8

ASTANA PRO TEAM

03h 45' 37''

+ 00' 00''
46.

POL MAJKA Rafal

26

TINKOFF-SAXO

03h 45' 37''

+ 00' 00''
47.

BEL TEUNS Dylan

16

BMC RACING TEAM

03h 45' 37''

+ 00' 00''
48.

ESP VALLS FERRI Rafael

118

LAMPRE - MERIDA

03h 45' 37''

+ 00' 00''
49.

SLO BOZIC Borut

2

ASTANA PRO TEAM

03h 45' 37''

+ 00' 00''
50.

ESP VALVERDE BELMONTE Alejandro

41

MOVISTAR TEAM

03h 45' 37''

+ 00' 00''
51.

RSA JANSE VAN RENSBURG Jacques

123

MTN-QHUBEKA

03h 45' 37''

+ 00' 00''
52.

AUT PREIDLER Georg

85

TEAM GIANT-ALPECIN

03h 45' 37''

+ 00' 00''
53.

AUT KONRAD Patrick

164

BORA-ARGON 18

03h 45' 37''

+ 00' 00''
54.

POL POLJANSKI Pawel

27

TINKOFF-SAXO

03h 45' 37''

+ 00' 00''
55.

CRC AMADOR BIKKAZAKOVA Andrey

42

MOVISTAR TEAM

03h 45' 37''

+ 00' 00''
56.

ITA SALERNO Christiano

167

BORA-ARGON 18

03h 45' 37''

+ 00' 00''
57.

FRADELAGE Mickaël

54

FDJ

03h 45' 37''

+ 00' 00''
58.

SUICANCELLARA Fabian

61

TREK FACTORY RACING

03h 45' 37''

+ 00' 00''
59.

BELSERRY Pieter

94

ETIXX-QUICK STEP

03h 45' 37''

+ 00' 00''
60.

RUSROVNY Ivan

28

TINKOFF-SAXO

03h 45' 37''

+ 00' 00''
61.

SUIAREGGER Marcel

142

IAM CYCLING

03h 45' 37''

+ 00' 00''
62.

BELVAN GENECHTEN Jonas

148

IAM CYCLING

03h 45' 37''

+ 00' 00''
63.

CZEKREUZIGER Roman

25

TINKOFF-SAXO

03h 45' 37''

+ 00' 00''
64.

PORCOSTA Rui Alberto

111

LAMPRE - MERIDA

03h 45' 37''

+ 00' 00''
65.

CZEKONIG Leopold

71

TEAM SKY

03h 45' 37''

+ 00' 00''
66.

ITAPOZZATO Filippo

117

LAMPRE - MERIDA

03h 45' 37''

+ 00' 00''
67.

AUSEARLE Nathan

73

TEAM SKY

03h 45' 37''

+ 00' 00''
68.

BELVAN HOECKE Gijs

156

TOPSPORT VLAANDEREN-BALOISE

03h 45' 37''

+ 00' 00''
69.

ESPERVITI OLLO Imanol

43

MOVISTAR TEAM

03h 45' 37''

+ 00' 00''
70.

AUSMEYER Cameron

136

ORICA GREENEDGE

03h 45' 37''

+ 00' 00''
71.

SUIFRANK Mathias

141

IAM CYCLING

03h 45' 37''

+ 00' 00''
72.

GERMATZKA Ralf

165

BORA-ARGON 18

03h 45' 37''

+ 00' 00''
73.

FRASOUPE GEOFFREY

108

COFIDIS, SOLUTIONS CREDITS

03h 45' 37''

+ 00' 00''
74.

AUSDEMPSTER Zakkari

162

BORA-ARGON 18

03h 45' 37''

+ 00' 00''
75.

GERSÜTTERLIN Jasha

47

MOVISTAR TEAM

03h 45' 37''

+ 00' 00''
76.

ITACOLBRELLI Sonny

176

BARDIANI CSF

03h 45' 37''

+ 00' 00''
77.

ITABARDIN Enrico

172

BARDIANI CSF

03h 45' 37''

+ 00' 00''
78.

ITABONGIORNO Francesco Manuel

174

BARDIANI CSF

03h 45' 37''

+ 00' 00''
79.

ESPPLAZA MOLINA Ruben

116

LAMPRE - MERIDA

03h 45' 37''

+ 00' 00''
80.

RSAMEINTJES Louis

125

MTN-QHUBEKA

03h 45' 37''

+ 00' 00''
81.

ITACHIRICO Luca

175

BARDIANI CSF

03h 45' 37''

+ 00' 00''
82.

FRAPINOT Thibaut

51

FDJ

03h 45' 37''

+ 00' 00''
83.

FRAJEANNESSON Arnold

56

FDJ

03h 45' 37''

+ 00' 00''
84.

BELDECLERCQ Tim

153

TOPSPORT VLAANDEREN-BALOISE

03h 45' 37''

+ 00' 00''
85.

SUIMORABITO Steve

57

FDJ

03h 45' 37''

+ 00' 00''
86.

FRAOFFREDO Yoann

58

FDJ

03h 45' 37''

+ 00' 00''
87.

AUTSCHORN Daniel

168

BORA-ARGON 18

03h 45' 37''

+ 00' 00''
88.

BELPAUWELS Serge

126

MTN-QHUBEKA

03h 45' 37''

+ 00' 00''
89.

BELKEUKELEIRE Jens

134

ORICA GREENEDGE

03h 45' 37''

+ 00' 00''
90.

NEDTERPSTRA Niki

95

ETIXX-QUICK STEP

03h 45' 37''

+ 00' 00''
91.

ESPRODRIGUEZ OLIVER Joaquin

31

TEAM KATUSHA

03h 45' 37''

+ 00' 00''
92.

ITABATTAGLIN Enrico

173

BARDIANI CSF

03h 45' 37''

+ 00' 00''
93.

ITACATALDO Dario

3

ASTANA PRO TEAM

03h 45' 37''

+ 00' 00''
94.

AUTBRÄNDLE Matthias

143

IAM CYCLING

03h 45' 37''

+ 00' 00''
95.

BELVAN HECKE Preben

155

TOPSPORT VLAANDEREN-BALOISE

03h 45' 37''

+ 00' 00''
96.

ITABENNATI Daniele

23

TINKOFF-SAXO

03h 45' 37''

+ 00' 00''
97.

ESPLOPEZ GARCIA David

75

TEAM SKY

03h 45' 37''

+ 00' 00''
98.

AUSHOWSON Damien

133

ORICA GREENEDGE

03h 45' 37''

+ 00' 00''
99.

DENBRESCHEL Matti

24

TINKOFF-SAXO

03h 45' 37''

+ 00' 00''
100.

POLHUZARSKI Bartosz

163

BORA-ARGON 18

03h 45' 37''

+ 00' 00''
101.

SUIHOLLENSTEIN Reto

146

IAM CYCLING

03h 45' 37''

+ 00' 00''
102.

NEDWEENING Pieter

138

ORICA GREENEDGE

03h 45' 37''

+ 00' 00''
103.

POROLIVEIRA Nelson

115

LAMPRE - MERIDA

03h 45' 37''

+ 00' 00''
104.

NEDSTAMSNIJDER Tom

87

TEAM GIANT-ALPECIN

03h 45' 37''

+ 00' 00''
105.

USAJONES Carter

84

TEAM GIANT-ALPECIN

03h 45' 37''

+ 00' 00''
106.

RSAVAN ZYL Johann

127

MTN-QHUBEKA

03h 45' 37''

+ 00' 00''
107.

USAPATE Danny

76

TEAM SKY

03h 45' 37''

+ 00' 00''
108.

BELWALLAYS Jelle

151

TOPSPORT VLAANDEREN-BALOISE

03h 45' 37''

+ 00' 00''
109.

ITAANDREETTA Simone

171

BARDIANI CSF

03h 45' 37''

+ 00' 00''
110.

AUSLANCASTER Brett Daniel

135

ORICA GREENEDGE

03h 45' 37''

+ 00' 00''
111.

BELVAN KEIRSBULCK Guillaume

97

ETIXX-QUICK STEP

03h 45' 37''

+ 00' 00''
112.

AUSGOSS Matthew Harley

122

MTN-QHUBEKA

03h 45' 37''

+ 00' 00''
113.

BELVANDENBERGH Stijn

98

ETIXX-QUICK STEP

03h 45' 37''

+ 00' 00''
114.

ITAZARDINI Edoardo

178

BARDIANI CSF

03h 45' 37''

+ 00' 00''
115.

RUSISAICHEV Vladimir

34

TEAM KATUSHA

03h 45' 37''

+ 00' 00''
116.

LATSMUKULIS Gatis

38

TEAM KATUSHA

03h 45' 37''

+ 00' 00''
117.

RSAVENTER Jacobus

128

MTN-QHUBEKA

03h 45' 37''

+ 00' 00''
118.

COLBELTRAN SUAREZ Eduard Alexander

22

TINKOFF-SAXO

03h 45' 37''

+ 00' 00''
119.

BELDEVENYNS Dries

144

IAM CYCLING

03h 45' 37''

+ 00' 00''
120.

ITATONELLI Alessandro

177

BARDIANI CSF

03h 45' 37''

+ 00' 00''
121.

BELMAES Nikolas

93

ETIXX-QUICK STEP

03h 45' 37''

+ 00' 00''
122.

FRASENECHAL Florian

107

COFIDIS, SOLUTIONS CREDITS

03h 45' 37''

+ 00' 00''
123.

ITABONO Matteo

112

LAMPRE - MERIDA

03h 45' 37''

+ 00' 00''
124.

ITAGUARNIERI Jacopo

32

TEAM KATUSHA

03h 45' 55''

+ 00' 18''
125.

ITATRENTIN Matteo

96

ETIXX-QUICK STEP

03h 45' 55''

+ 00' 18''
126.

NEDVAN POPPEL Boy

67

TREK FACTORY RACING

03h 45' 58''

+ 00' 21''
127.

NEDVEELERS Tom

88

TEAM GIANT-ALPECIN

03h 46' 01''

+ 00' 24''
128.

ITAFERRARI Roberto

113

LAMPRE - MERIDA

03h 46' 03''

+ 00' 26''
129.

FRACHAVANEL Sébastien

53

FDJ

03h 46' 18''

+ 00' 41''
130.

ITAPAOLINI Luca

37

TEAM KATUSHA

03h 46' 33''

+ 00' 56''
131.

CANROLLIN Dominique

106

COFIDIS, SOLUTIONS CREDITS

03h 46' 38''

+ 01' 01''
132.

FRABONNET William

52

FDJ

03h 46' 48''

+ 01' 11''
133.

AUTHALLER Marco

33

TEAM KATUSHA

03h 46' 59''

+ 01' 22''
134.

FRACHAINEL Steve

103

COFIDIS, SOLUTIONS CREDITS

03h 47' 05''

+ 01' 28''
135.

NEDMOURIS Jens

137

ORICA GREENEDGE

03h 47' 17''

+ 01' 40''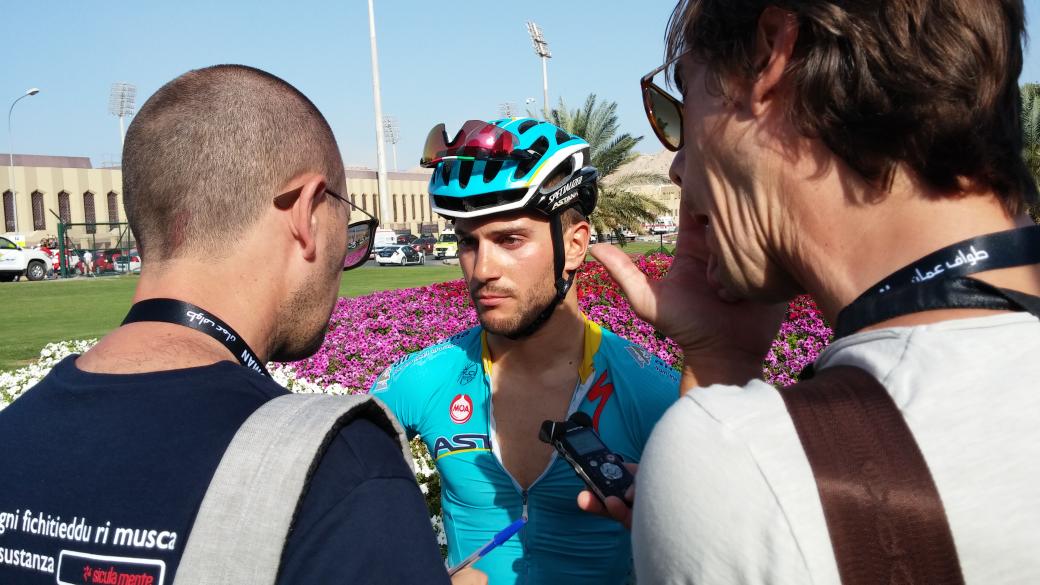 GC
1.

ITA GUARDINI Andrea

6

ASTANA PRO TEAM

03h 45' 27''
2.

BEL BOONEN Tom

91

ETIXX-QUICK STEP

03h 45' 31''

+ 00' 04''
3.

AUT KONRAD Patrick

164

BORA-ARGON 18

03h 45' 32''

+ 00' 05''
4.

ITA PELUCCHI Matteo

147

IAM CYCLING

03h 45' 33''

+ 00' 06''
5.

RSA VAN ZYL Johann

127

MTN-QHUBEKA

03h 45' 34''

+ 00' 07''
6.

ITA ANDREETTA Simone

171

BARDIANI CSF

03h 45' 36''

+ 00' 09''
7.

NOR KRISTOFF Alexander

35

TEAM KATUSHA

03h 45' 37''

+ 00' 10''
8.

NED SINKELDAM Ramon

86

TEAM GIANT-ALPECIN

03h 45' 37''

+ 00' 10''
9.

FRA BOUHANNI Nacer

101

COFIDIS, SOLUTIONS CREDITS

03h 45' 37''

+ 00' 10''
10.

SVK SAGAN Peter

21

TINKOFF-SAXO

03h 45' 37''

+ 00' 10''
11.

IRL BENNETT Sam

161

BORA-ARGON 18

03h 45' 37''

+ 00' 10''
12.

ITA MODOLO Sacha

114

LAMPRE - MERIDA

03h 45' 37''

+ 00' 10''
13.

FRA DEMARE Arnaud

55

FDJ

03h 45' 37''

+ 00' 10''
14.

GER ARNDT Nikias

82

TEAM GIANT-ALPECIN

03h 45' 37''

+ 00' 10''
15.

ESP VENTOSO ALBERTI Francisco José

48

MOVISTAR TEAM

03h 45' 37''

+ 00' 10''
16.

BEL STEEGMANS Gert

66

TREK FACTORY RACING

03h 45' 37''

+ 00' 10''
17.

AUS SUTTON Christopher

78

TEAM SKY

03h 45' 37''

+ 00' 10''
18.

BEL VANSPEYBROUCK Pieter

158

TOPSPORT VLAANDEREN-BALOISE

03h 45' 37''

+ 00' 10''
19.

AUS DOCKER Mitchell

132

ORICA GREENEDGE

03h 45' 37''

+ 00' 10''
20.

NOR BOASSON HAGEN Edvald

121

MTN-QHUBEKA

03h 45' 37''

+ 00' 10''
21.

BEL SALOMEIN Jarl

154

TOPSPORT VLAANDEREN-BALOISE

03h 45' 37''

+ 00' 10''
22.

GBR BLYTHE Adam

131

ORICA GREENEDGE

03h 45' 37''

+ 00' 10''
23.

ITA CARUSO Damiano

12

BMC RACING TEAM

03h 45' 37''

+ 00' 10''
24.

NED POELS Wouter

77

TEAM SKY

03h 45' 37''

+ 00' 10''
25.

ESP ROJAS GIL José Joaquin

45

MOVISTAR TEAM

03h 45' 37''

+ 00' 10''
26.

NED VAN POPPEL Danny

68

TREK FACTORY RACING

03h 45' 37''

+ 00' 10''
27.

BEL VAN AVERMAET Greg

17

BMC RACING TEAM

03h 45' 37''

+ 00' 10''
28.

RSA JANSE VAN RENSBURG Reinardt

124

MTN-QHUBEKA

03h 45' 37''

+ 00' 10''
29.

ITA NIBALI Vincenzo

1

ASTANA PRO TEAM

03h 45' 37''

+ 00' 10''
30.

SVK VELITS Peter

18

BMC RACING TEAM

03h 45' 37''

+ 00' 10''
31.

GER KNEES Christian

74

TEAM SKY

03h 45' 37''

+ 00' 10''
32.

BEL HERMANS Ben

14

BMC RACING TEAM

03h 45' 37''

+ 00' 10''
33.

UKR GRIVKO Andriy

5

ASTANA PRO TEAM

03h 45' 37''

+ 00' 10''
34.

USA VAN GARDEREN Tejay

11

BMC RACING TEAM

03h 45' 37''

+ 00' 10''
35.

SUI ELMIGER Martin

145

IAM CYCLING

03h 45' 37''

+ 00' 10''
36.

ESP MORENO FERNANDEZ Daniel

36

TEAM KATUSHA

03h 45' 37''

+ 00' 10''
37.

SUI RAST Gregory

65

TREK FACTORY RACING

03h 45' 37''

+ 00' 10''
38.

DEN FUGLSANG Jakob

4

ASTANA PRO TEAM

03h 45' 37''

+ 00' 10''
39.

BEL DE BACKER Bert

83

TEAM GIANT-ALPECIN

03h 45' 37''

+ 00' 10''
40.

SWE AHLSTRAND Jonas

102

COFIDIS, SOLUTIONS CREDITS

03h 45' 37''

+ 00' 10''
41.

GER NERZ Dominik

166

BORA-ARGON 18

03h 45' 37''

+ 00' 10''
42.

ESP SANZ UNZUE Enrique

46

MOVISTAR TEAM

03h 45' 37''

+ 00' 10''
43.

IRL DEIGNAN Philip

72

TEAM SKY

03h 45' 37''

+ 00' 10''
44.

FRA BARGUIL WARREN

81

TEAM GIANT-ALPECIN

03h 45' 37''

+ 00' 10''
45.

UKR POPOVYCH Yaroslav

64

TREK FACTORY RACING

03h 45' 37''

+ 00' 10''
46.

ESP IRIZAR ARRANBURU Markel

63

TREK FACTORY RACING

03h 45' 37''

+ 00' 10''
47.

COL ARREDONDO MORENO Julian

62

TREK FACTORY RACING

03h 45' 37''

+ 00' 10''
48.

NEDWESTRA Lieuwe

8

ASTANA PRO TEAM

03h 45' 37''

+ 00' 10''
49.

POLMAJKA Rafal

26

TINKOFF-SAXO

03h 45' 37''

+ 00' 10''
50.

BELTEUNS Dylan

16

BMC RACING TEAM

03h 45' 37''

+ 00' 10''
51.

ESPVALLS FERRI Rafael

118

LAMPRE - MERIDA

03h 45' 37''

+ 00' 10''
52.

SLOBOZIC Borut

2

ASTANA PRO TEAM

03h 45' 37''

+ 00' 10''
53.

ESPVALVERDE BELMONTE Alejandro

41

MOVISTAR TEAM

03h 45' 37''

+ 00' 10''
54.

RSAJANSE VAN RENSBURG Jacques

123

MTN-QHUBEKA

03h 45' 37''

+ 00' 10''
55.

AUTPREIDLER Georg

85

TEAM GIANT-ALPECIN

03h 45' 37''

+ 00' 10''
56.

POLPOLJANSKI Pawel

27

TINKOFF-SAXO

03h 45' 37''

+ 00' 10''
57.

CRCAMADOR BIKKAZAKOVA Andrey

42

MOVISTAR TEAM

03h 45' 37''

+ 00' 10''
58.

ITASALERNO Christiano

167

BORA-ARGON 18

03h 45' 37''

+ 00' 10''
59.

FRADELAGE Mickaël

54

FDJ

03h 45' 37''

+ 00' 10''
60.

SUICANCELLARA Fabian

61

TREK FACTORY RACING

03h 45' 37''

+ 00' 10''
61.

BELSERRY Pieter

94

ETIXX-QUICK STEP

03h 45' 37''

+ 00' 10''
62.

RUSROVNY Ivan

28

TINKOFF-SAXO

03h 45' 37''

+ 00' 10''
63.

SUIAREGGER Marcel

142

IAM CYCLING

03h 45' 37''

+ 00' 10''
64.

BELVAN GENECHTEN Jonas

148

IAM CYCLING

03h 45' 37''

+ 00' 10''
65.

CZEKREUZIGER Roman

25

TINKOFF-SAXO

03h 45' 37''

+ 00' 10''
66.

PORCOSTA Rui Alberto

111

LAMPRE - MERIDA

03h 45' 37''

+ 00' 10''
67.

CZEKONIG Leopold

71

TEAM SKY

03h 45' 37''

+ 00' 10''
68.

ITAPOZZATO Filippo

117

LAMPRE - MERIDA

03h 45' 37''

+ 00' 10''
69.

AUSEARLE Nathan

73

TEAM SKY

03h 45' 37''

+ 00' 10''
70.

BELVAN HOECKE Gijs

156

TOPSPORT VLAANDEREN-BALOISE

03h 45' 37''

+ 00' 10''
71.

ESPERVITI OLLO Imanol

43

MOVISTAR TEAM

03h 45' 37''

+ 00' 10''
72.

AUSMEYER Cameron

136

ORICA GREENEDGE

03h 45' 37''

+ 00' 10''
73.

SUIFRANK Mathias

141

IAM CYCLING

03h 45' 37''

+ 00' 10''
74.

GERMATZKA Ralf

165

BORA-ARGON 18

03h 45' 37''

+ 00' 10''
75.

FRASOUPE GEOFFREY

108

COFIDIS, SOLUTIONS CREDITS

03h 45' 37''

+ 00' 10''
76.

AUSDEMPSTER Zakkari

162

BORA-ARGON 18

03h 45' 37''

+ 00' 10''
77.

GERSÜTTERLIN Jasha

47

MOVISTAR TEAM

03h 45' 37''

+ 00' 10''
78.

ITACOLBRELLI Sonny

176

BARDIANI CSF

03h 45' 37''

+ 00' 10''
79.

ITABARDIN Enrico

172

BARDIANI CSF

03h 45' 37''

+ 00' 10''
80.

ITABONGIORNO Francesco Manuel

174

BARDIANI CSF

03h 45' 37''

+ 00' 10''
81.

ESPPLAZA MOLINA Ruben

116

LAMPRE - MERIDA

03h 45' 37''

+ 00' 10''
82.

RSAMEINTJES Louis

125

MTN-QHUBEKA

03h 45' 37''

+ 00' 10''
83.

ITACHIRICO Luca

175

BARDIANI CSF

03h 45' 37''

+ 00' 10''
84.

FRAPINOT Thibaut

51

FDJ

03h 45' 37''

+ 00' 10''
85.

FRAJEANNESSON Arnold

56

FDJ

03h 45' 37''

+ 00' 10''
86.

BELDECLERCQ Tim

153

TOPSPORT VLAANDEREN-BALOISE

03h 45' 37''

+ 00' 10''
87.

SUIMORABITO Steve

57

FDJ

03h 45' 37''

+ 00' 10''
88.

FRAOFFREDO Yoann

58

FDJ

03h 45' 37''

+ 00' 10''
89.

AUTSCHORN Daniel

168

BORA-ARGON 18

03h 45' 37''

+ 00' 10''
90.

BELPAUWELS Serge

126

MTN-QHUBEKA

03h 45' 37''

+ 00' 10''
91.

BELKEUKELEIRE Jens

134

ORICA GREENEDGE

03h 45' 37''

+ 00' 10''
92.

NEDTERPSTRA Niki

95

ETIXX-QUICK STEP

03h 45' 37''

+ 00' 10''
93.

ESPRODRIGUEZ OLIVER Joaquin

31

TEAM KATUSHA

03h 45' 37''

+ 00' 10''
94.

ITABATTAGLIN Enrico

173

BARDIANI CSF

03h 45' 37''

+ 00' 10''
95.

ITACATALDO Dario

3

ASTANA PRO TEAM

03h 45' 37''

+ 00' 10''
96.

AUTBRÄNDLE Matthias

143

IAM CYCLING

03h 45' 37''

+ 00' 10''
97.

BELVAN HECKE Preben

155

TOPSPORT VLAANDEREN-BALOISE

03h 45' 37''

+ 00' 10''
98.

ITABENNATI Daniele

23

TINKOFF-SAXO

03h 45' 37''

+ 00' 10''
99.

ESPLOPEZ GARCIA David

75

TEAM SKY

03h 45' 37''

+ 00' 10''
100.

AUSHOWSON Damien

133

ORICA GREENEDGE

03h 45' 37''

+ 00' 10''
101.

DENBRESCHEL Matti

24

TINKOFF-SAXO

03h 45' 37''

+ 00' 10''
102.

POLHUZARSKI Bartosz

163

BORA-ARGON 18

03h 45' 37''

+ 00' 10''
103.

SUIHOLLENSTEIN Reto

146

IAM CYCLING

03h 45' 37''

+ 00' 10''
104.

NEDWEENING Pieter

138

ORICA GREENEDGE

03h 45' 37''

+ 00' 10''
105.

POROLIVEIRA Nelson

115

LAMPRE - MERIDA

03h 45' 37''

+ 00' 10''
106.

NEDSTAMSNIJDER Tom

87

TEAM GIANT-ALPECIN

03h 45' 37''

+ 00' 10''
107.

USAJONES Carter

84

TEAM GIANT-ALPECIN

03h 45' 37''

+ 00' 10''
108.

USAPATE Danny

76

TEAM SKY

03h 45' 37''

+ 00' 10''
109.

BELWALLAYS Jelle

151

TOPSPORT VLAANDEREN-BALOISE

03h 45' 37''

+ 00' 10''
110.

AUSLANCASTER Brett Daniel

135

ORICA GREENEDGE

03h 45' 37''

+ 00' 10''
111.

BELVAN KEIRSBULCK Guillaume

97

ETIXX-QUICK STEP

03h 45' 37''

+ 00' 10''
112.

AUSGOSS Matthew Harley

122

MTN-QHUBEKA

03h 45' 37''

+ 00' 10''
113.

BELVANDENBERGH Stijn

98

ETIXX-QUICK STEP

03h 45' 37''

+ 00' 10''
114.

ITAZARDINI Edoardo

178

BARDIANI CSF

03h 45' 37''

+ 00' 10''
115.

RUSISAICHEV Vladimir

34

TEAM KATUSHA

03h 45' 37''

+ 00' 10''
116.

LATSMUKULIS Gatis

38

TEAM KATUSHA

03h 45' 37''

+ 00' 10''
117.

RSAVENTER Jacobus

128

MTN-QHUBEKA

03h 45' 37''

+ 00' 10''
118.

COLBELTRAN SUAREZ Eduard Alexander

22

TINKOFF-SAXO

03h 45' 37''

+ 00' 10''
119.

BELDEVENYNS Dries

144

IAM CYCLING

03h 45' 37''

+ 00' 10''
120.

ITATONELLI Alessandro

177

BARDIANI CSF

03h 45' 37''

+ 00' 10''
121.

BELMAES Nikolas

93

ETIXX-QUICK STEP

03h 45' 37''

+ 00' 10''
122.

FRASENECHAL Florian

107

COFIDIS, SOLUTIONS CREDITS

03h 45' 37''

+ 00' 10''
123.

ITABONO Matteo

112

LAMPRE - MERIDA

03h 45' 37''

+ 00' 10''
124.

ITAGUARNIERI Jacopo

32

TEAM KATUSHA

03h 45' 55''

+ 00' 28''
125.

ITATRENTIN Matteo

96

ETIXX-QUICK STEP

03h 45' 55''

+ 00' 28''
126.

NEDVAN POPPEL Boy

67

TREK FACTORY RACING

03h 45' 58''

+ 00' 31''
127.

NEDVEELERS Tom

88

TEAM GIANT-ALPECIN

03h 46' 01''

+ 00' 34''
128.

ITAFERRARI Roberto

113

LAMPRE - MERIDA

03h 46' 03''

+ 00' 36''
129.

FRACHAVANEL Sébastien

53

FDJ

03h 46' 18''

+ 00' 51''
130.

ITAPAOLINI Luca

37

TEAM KATUSHA

03h 46' 33''

+ 01' 06''
131.

CANROLLIN Dominique

106

COFIDIS, SOLUTIONS CREDITS

03h 46' 38''

+ 01' 11''
132.

FRABONNET William

52

FDJ

03h 46' 48''

+ 01' 21''
133.

AUTHALLER Marco

33

TEAM KATUSHA

03h 46' 59''

+ 01' 32''
134.

FRACHAINEL Steve

103

COFIDIS, SOLUTIONS CREDITS

03h 47' 05''

+ 01' 38''
135.

NEDMOURIS Jens

137

ORICA GREENEDGE

03h 47' 17''

+ 01' 50''