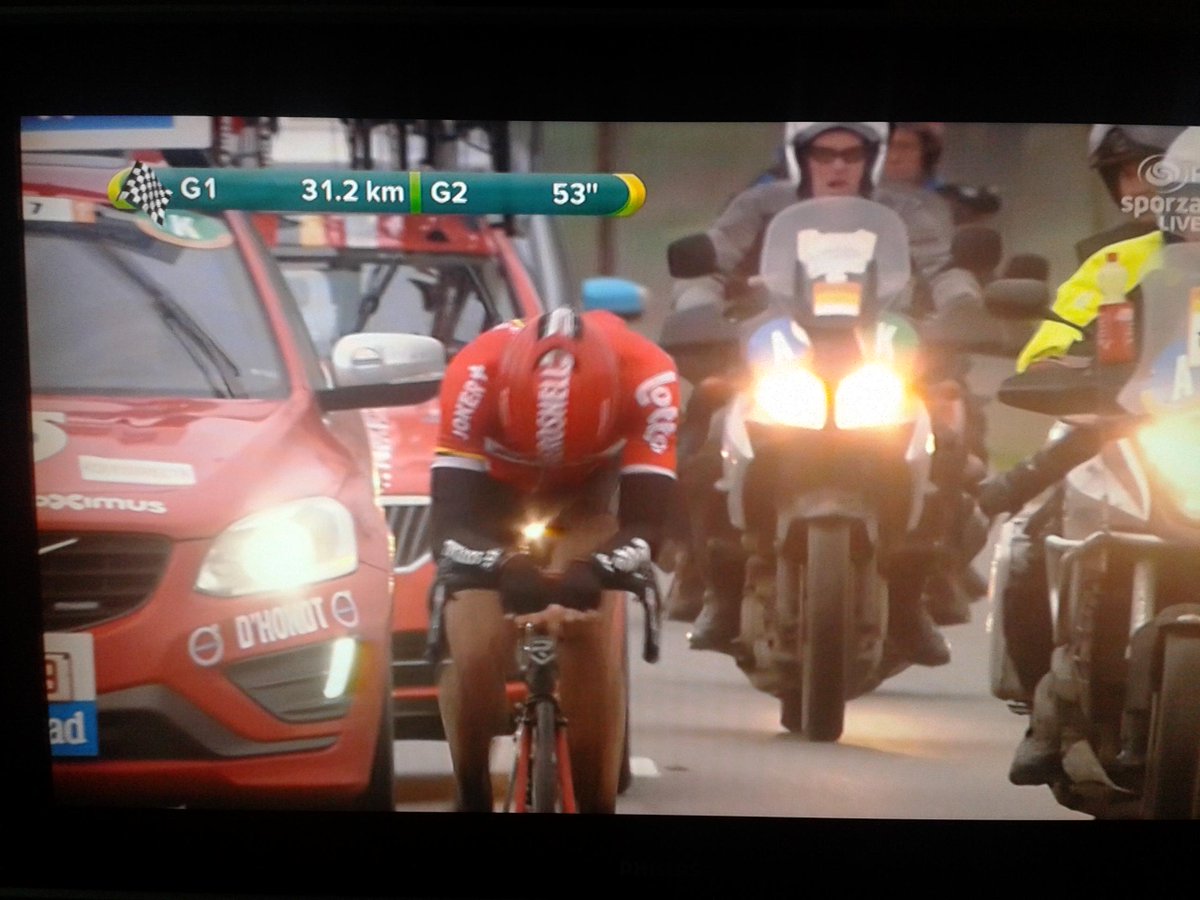 ...but earlier there had been a lion.
Solo on the road, in the rain, on silver slippery taramac: Jurgen Roelandts goes.
Still 50 km and

a strong chasing group

including Geraint

Thomas

, Sep

Vanmarcke

, Daniel

Oss

, Jens

Debusschere

, Stijn

Vandenbergh

, Luca

Paolini

and Niki

Terpstra

. They have a 2' delay.
Behind a larger group

- Maarten Tjallingii, John Degenkolb, Peter

Sagan

, Matteo Trentin, Scott Thwaites, Alexander Kristoff, Oliver Naesen, Edward Theuns, Marcel Sieberg, Greg Van Avermaet, Nacer Bouhanni, Arnaud Démare, Mathew Hayman, André Greipel, Manuel Quinziato and Nikolas Maes. Their delay is also larger and their race already over.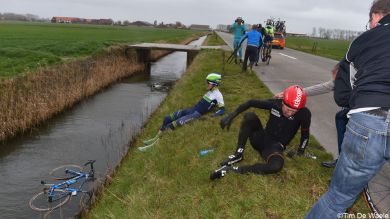 They are lucky, still on their bike while

others crashed all day long and all over the road.
Roelandts

has attacked on the way to the

Monteberg

, on counter to Tjallingii.

Guts and strength.
Now he's topping the

Kemmelberg

for the second time. He's

suffering on these cobbles, zigzaging up the climb.
On the Kemmelberg the chasing group split:

Terpstra speeds up, Oss gets dropped.
Behind Sylvain

Chavanel is trying to bridge...

but the peloton is at 6:30 to Roelandts!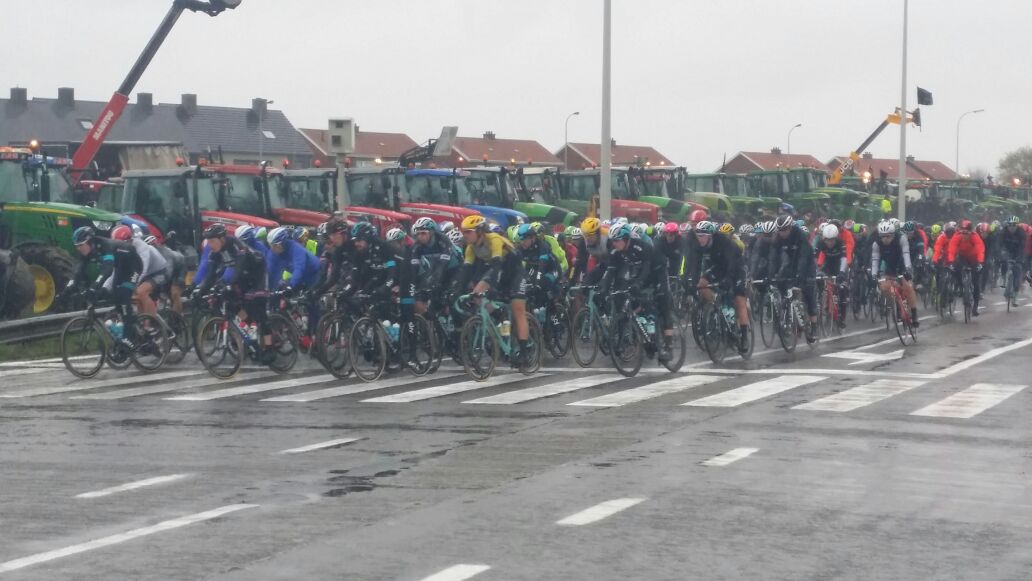 No more climbs

and the gap is down to 58" with 31.9 km to go: that's

the hardest part

for the brave solo attacker.
Chassed and chassers passe through the

centre of Ypres

: the gap is 25" with 20.7 km to go. They can see him. He's

caught 19 km to go

.
Terpstra attacks and Paolini takes his wheel.

16.3 km to go. Thomas and Vandenbergh chase, Debusschere and Vanmarcke follow. Back to 4 riders ahead with 10.2km to go, Vanmarcke and Debusschere also join.

Endless straight street. Head down.
Just 3 km, Terpstra goes and Thomas is on his wheel. But it's too late:

Paolini wins

solo. The last Italian here had been Mario Cipollini...
Luca Paolini:
"This is a surprise but I'm so happy to have wonI don't think I was the strongest but I played my cards. I knew they'd be waiting for the sprint and so I tried to get away with five kilometres to go.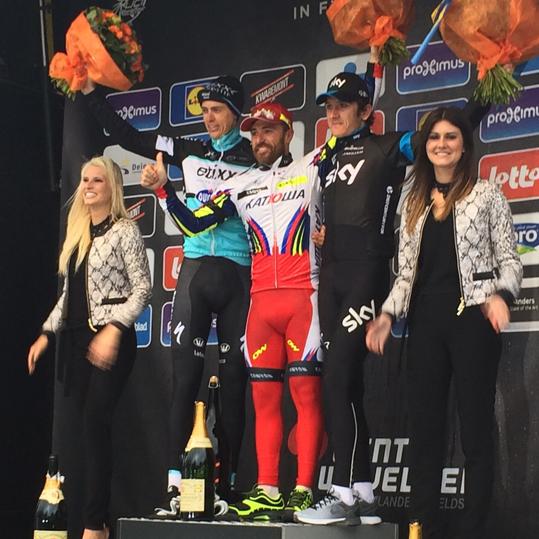 It was a very difficult day out there. I crashed twice and changed my bike. But I knew the route and know were to stay up front. After my bad luck I was lucky. It was so bad that we weren't sure if we could carry on. But we're up in the north and this is real cycling.

The strongest survived today

."
Niki Terpstra: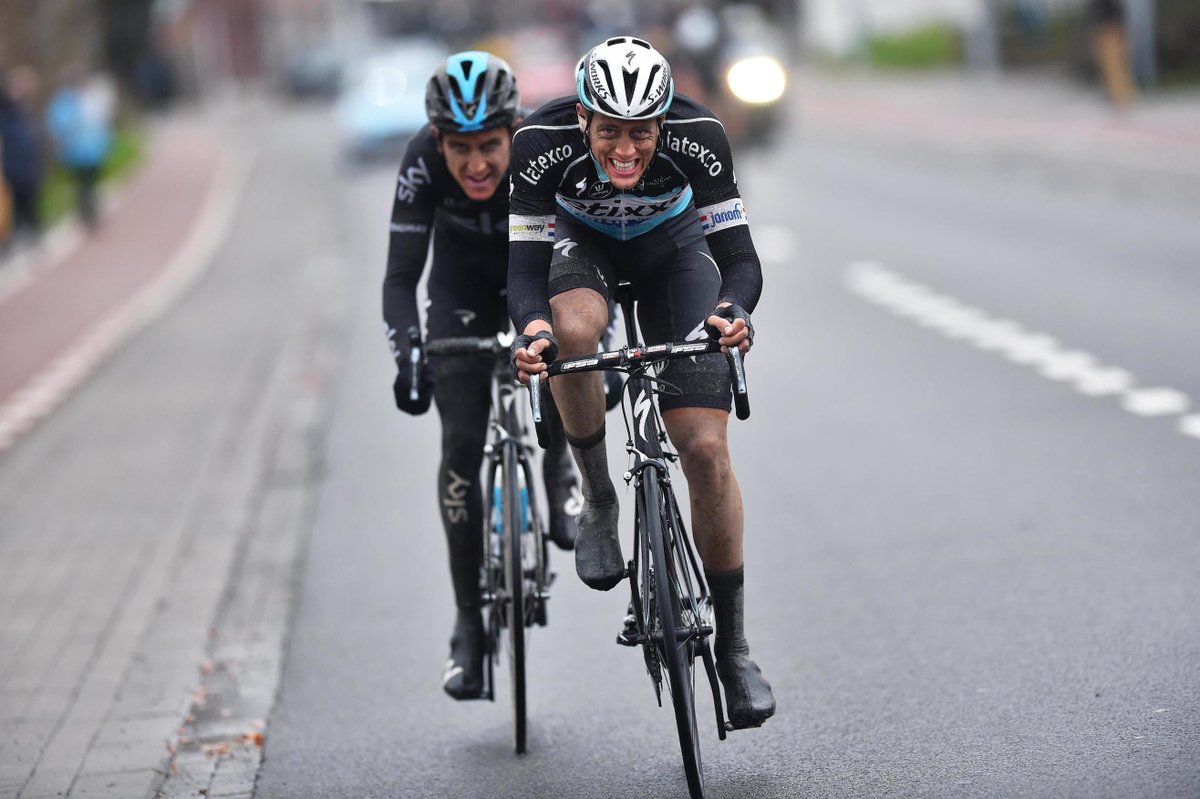 "I had some bad luck I had to work through at this race. When we reached the Casselberg, and I had a flat on top. But at that moment there was 10 groups due to the wind. There were no cars behind us, so I took a wheel of someone standing there with a spare and I pursued. Then we started catching group-by-group and we worked together so we could come back to the first and we did it. Then ​in a key moment moment when a select group formed in the front with Vandenbergh, Thomas, and others,

I hesitated a bit and I lost the momentum to be together with them. At a certain moment when the gap was almost a minute I ​decided to go and it is not even just a a time trial to make it to the group.

It is really full gas, maximum effort, until you can catch them. Otherwise you won't make it. I was able to catch them, even though

it cost me a lot

. I tried my best to recover at that point.

Then I had another flat tire in another key moment.

But OK, even with these things in my legs already, I have to say Paolini deserved the victory today. He was already going so fast when he attacked and there was a tailwind. We would have had to do almost 65 kilometers per hour to catch him. It was really hard.

He simply did the right attack in a good moment.

So all I could do in the end was my best for a second place, and I have to say I am happy with my sprint. I made the best of my situation I think. I felt strong and now I know what I can do if I am there in the final. Considering everything, including the conditions which were crazy and riders blowing off the road,

I am happy I stayed on the bike and was there to decide this hectic race.

We also showed again that we have a strong team who can be there in the actions. The first step after this race is to recover, then fine tune the condition before De Ronde. My condition is there and we will see what I can do going forward."
Geraint Thomas
"Today was it just on all day - stress and full gas.
I'm happy to be on the podium again.

Obviously it would have been nice to go for the win but it's hard when you're coming into the final and everyone's attacking. You can't really go with everything and some people don't want to pull as much.
There wasn't really any collaboration in the group.

It was hard to get everyone going. People were looking at me a bit after my win on Friday. That's what it felt like. When Paolini went it was a good move for him but we all looked at each other. Fortunately me and Niki got away at the end.
The grass was softer that the tarmac! It was unbelievable. The gusts were incredible. It was hard enough just trying to stay on the bike. Fortunately it was all okay in the end.
I'll rest up now. Have a good massage, eat well, stay in bed and put my feet up until Sunday."
Jürgen Roelandts:
"I really believed in it today! But I had some strong guys behind me. Thx for all the people cheering for me today! Gave all I had"
Peter Sagan:
"It was an extremely tough and dangerous race. After 70km we had forceful wind gusts and at the same time we were going full gas, which created echelons and made the race really tough. I have now had two demanding races, E3 Harelbeke and Gent-Wevelgem, and I have spent a lot of energy. So I need to recover from today and I'll be looking forward to Ronde van Vlaanderen"
Sep Vanmarcke:
"10 km to go I was there. But I actually didn't have anything left at that point.

After about 185 kilometres, I tensed up.

Summarising, it was a very heavy race.

The wind, the rain and the cold zapped my power.

I'm very disappointed in the end.
It was

pure willpower

that I was able to return with the leaders several times, but at some point, I couldn't do it anymore."
RESULTS
1
Luca Paolini (Ita) Team Katusha
6:20:55
2
Niki Terpstra (Ned) Etixx - Quick-Step
0:00:11
3
Geraint Thomas (GBr) Team Sky
4
Stijn Vandenbergh (Bel) Etixx - Quick-Step
0:00:18
5
Jens Debusschere (Bel) Lotto Soudal
0:00:26
6
Sep Vanmarcke (Bel) Team LottoNL-Jumbo
0:00:40
7
Jurgen Roelandts (Bel) Lotto Soudal
0:01:52
8
Daniel Oss (Ita) BMC Racing Team
0:04:15
9
Alexander Kristoff (Nor) Team Katusha
0:05:12
10
Peter Sagan (Svk) Tinkoff-Saxo