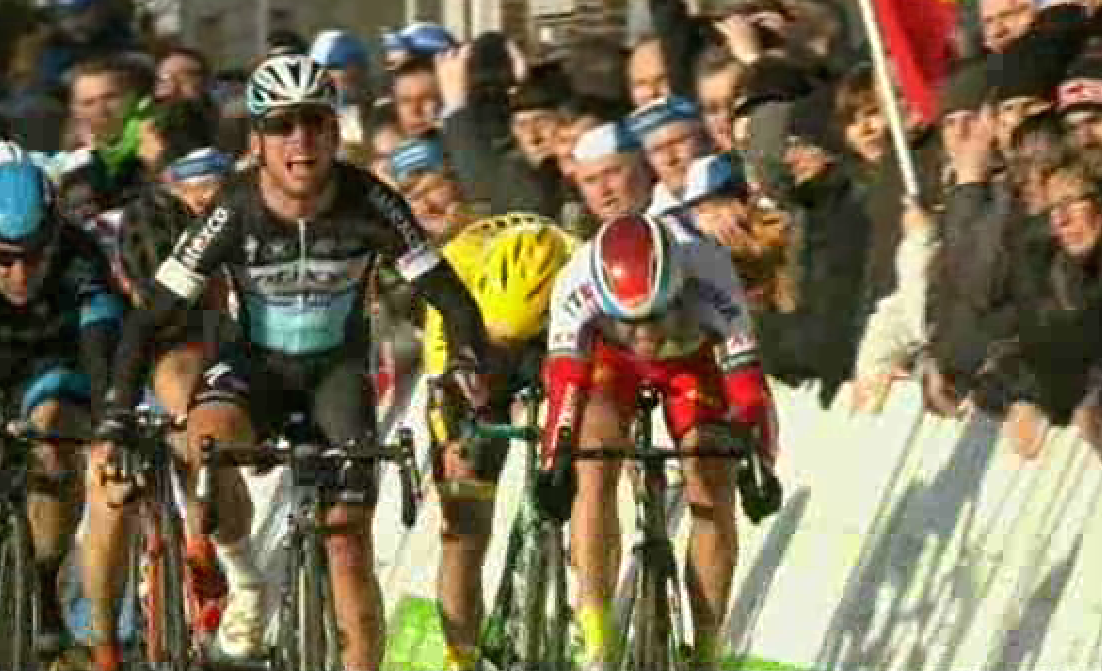 Nine hills

- Edelareberg, La Houppe, Kanarieberg, Kruisberg, Hotond, Côte de Trieu, Oude Kwaremont, Holstraat and Nokereberg.
A breakaway

- Mattia Pozzo (Nippo - Vini Fantini) Sjoerd van Ginneken (Team Roompot), Engoulvent (Europcar), Xandro Meurisse (AN Post), Fredrik Backaert, Dimitri Peyskens (Team 3M), Thomas Vauborzeix (Veranclassic-Ekoï) Zhupa, Never more than 3'.

Etixx and Katusha controlling.
Oude Kwaremont: Vanmarcke attacks, Boonen follows. A large front group forms

- Tom Boonen (EQS) Ian Stannard (SKY) Zdenek Štybar (EQS) Maarten Wynants (TLJ) Philippe Gilbert (BMC) Elia Viviani (SKY) Sep Vanmarcke (TLJ) Mark Cavendish (EQS) Yves Lampaert (EQS) Sam Bennett (BOA) Matteo Trentin (EQS) Kris Boeckmans (LTS) Alexander Kristoff (KAT) Scott Thwaites (BOA).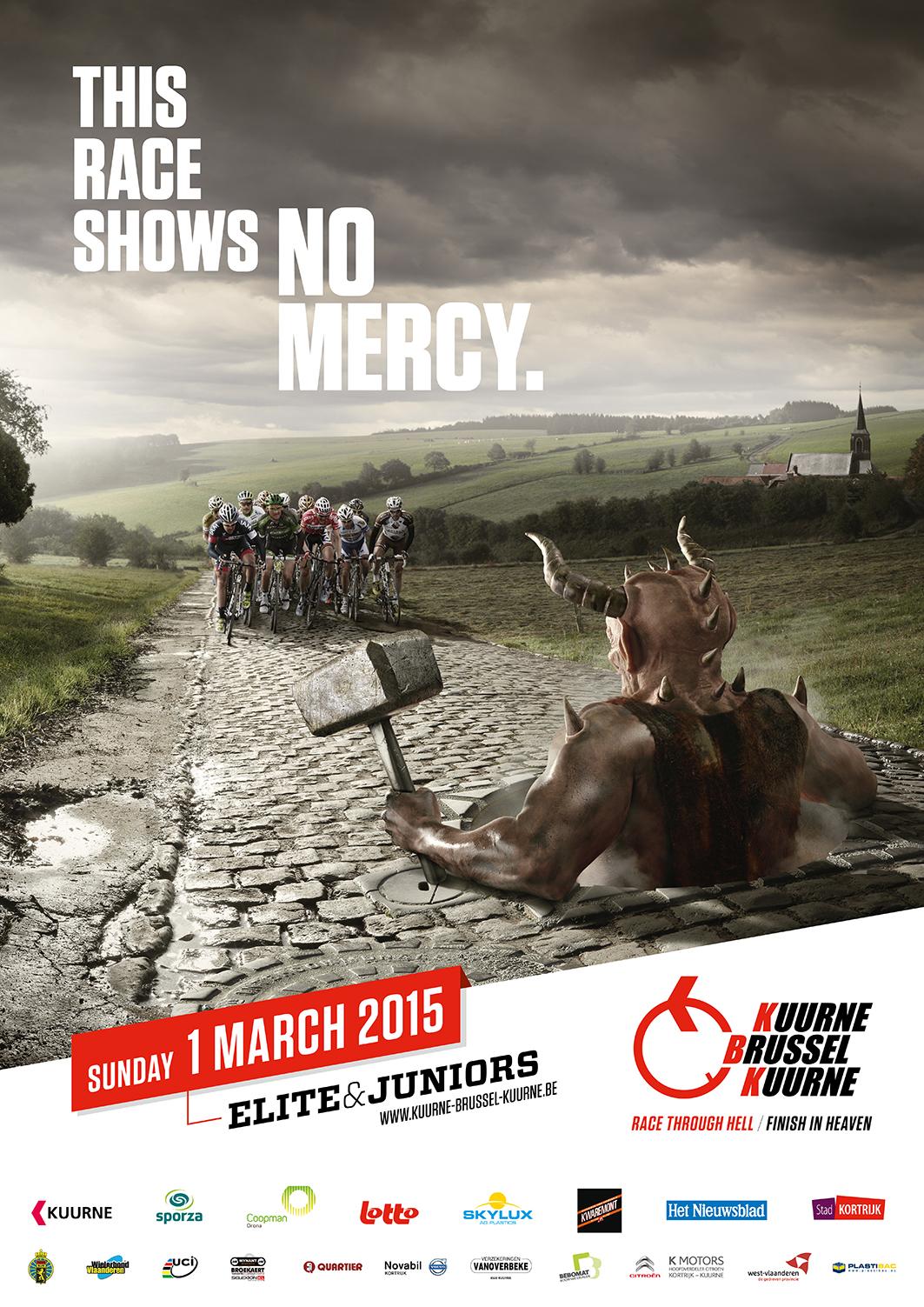 Boonen pushing the pace again with 50.6km to go. Cards reshuffled. A new front group

- Tom Boonen (EQS) Zdenek Štybar (EQS) Maarten Wynants (TLJ) Philippe Gilbert (BMC) Sep Vanmarcke (TLJ) Mark Cavendish (EQS) Yves Lampaert (EQS) Kris Boeckmans (LTS) Alexander Kristoff (KAT) Scott Thwaites (BOA) Ralf Matzka (BOA) Jempy Drücker (BMC) Alexander Maes (SKT) Marcel Sieberg (LTS) Tom Van Asbroeck (TLJ) Frederik Backaert (WGG)
Jimmy Engoulvent (EUC) Thomas Vaubourzeix (VER) and Xandro Meurisse (SKT).
Team Qhubeka missed and the split and is leading the chase

, but also Team Sky is pulling and finally

only Boeckmans is left on the road. All back together with 34 km to go, two laps of the final circuit.

Katusha sets the pace, then Etixx and Sky.
Teams are organising trains

. Stannard is working hard, for Viviani this time.

But from behind Gilbert attacks: 4 km to go.

He can make it. He keeps going, open mouth.

LottoNLJumbo reacts, the chase is furious. And successful. And it's a bunch sprint. And it's a great Mark Cavendish winning again, on Kristoff and Viviani.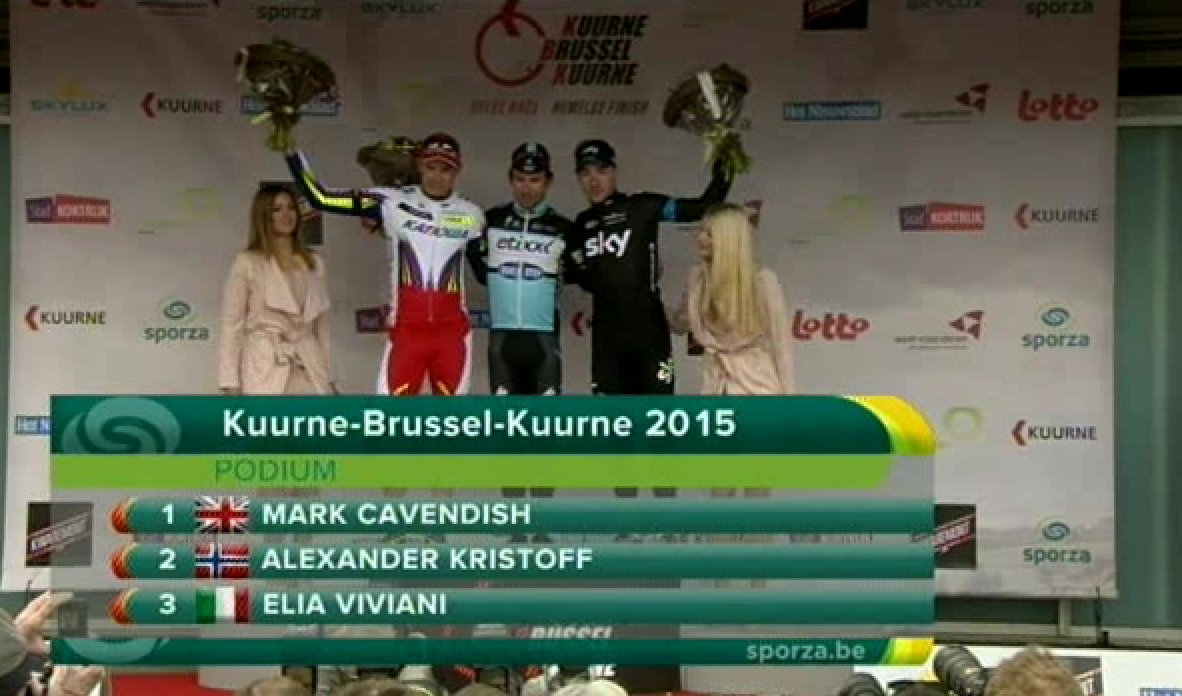 Much ado about nothing. But Mark Cavendish,

the fat fast man, climbed all those climbs in the front group and never missed the right move.

Chapeau!
MORE TO COME
Mark Cavendish:
"I'm not a bad bike rider and I'm in by far the strongest team. You saw that yesterday too. Ok, it was a bit of a fuck up in the end but it was still a big show of strength by the team yesterday and it was the same today. After being caught, to be able to change the tables and commit 100 percent to the sprint was great you know.
Yesterday I was sat on my bed watching it so I can't really talk about it.
I won't lie, I was a little bit nervous going down to dinner but we had a good atmosphere. Ok, it wasn't nice what happened yesterday but everybody turned their head towards the next goal, which was today.
Tom's won here three times but he said this morning on the bus, 'Yeah, I'll do the lead-out for Cav for it.' It could have been easy for him to want to go for his fourth but he committed to the sprint on behalf of the team and tried to guarantee the win as best we could. It was nice.
I'm happy to beat Kristoff, he's one of the best riders in the world right now. He's had super form and I'm happy to have won in the first showing against him this year.
It wasn't easy, fucking hell, it was Kuurne-Brussel-Kuurne. It was hard all day you know. It wasn't easy but I had great support and I was able to sprint for the win."
Source
http://www.cyclingnews.com/news/cavendish-turns-around-etixx-quickstep-with-kuurne-brussel-kuurne-victory
"I am super happy to win here in Kuurne. Raced it two times and won it two times. Especially after the unfortunate result of yesterday, it was nice to get a win today on the Classics Opening Weekend. The lads were super good. They committed 100 percent to me the whole day. We had a strong team here and they looked after me. Even in the front group that formed after the Oude Kwaremont, there were 19 guys there and we had five of our riders present. I think we're one of the strongest teams and this shows the strength and depth of Etixx - Quick-Step. You saw it yesterday too. I mean, sure they didn't win, but it was still an incredible display of strength by the team. So, we did the same today and to be caught, and flip the table so everyone then became 100 percent committed to the sprint, it was great. Tom's won here three times, but he said on the bus this morning that he'd be my leadout today. It could have been easy for him to want to go for his fourth win. But to commit for the sake of the team, and do what we had to do to win a race here is nice. Everyone turned their eyes to today and it was a good atmosphere from before the race all the way to the finish line. As for the sprint, it was far from easy against guys like Kristoff and Viviani. Kristoff is one of the best sprinters in the world and he is in super form. I'm proud to get a victory in my first sprint against him this year. It was hard all day and it wasn't easy in the sprint. But I had great support from Etixx - Quick-Step and I'm happy to finish the job for the team. I think we've had a dozen wins now, and this is already a fifth of what we had last year for the entire season. I'm happy that I've contributed six of them, including my overall victory in Dubai. Everything is going well and I'm super motivated with this kind of support from Etixx - Quick-Step. Now I go next to South Africa for Cape Argus to represent Etixx - Quick-Step, and our partner Klein Costantia. It will be nice to go down there, see our owner Mr. Zdenek Bakala, and also support the charity action of MAD Charity. I will then come directly back for Tirreno-Adriatico. I am very happy with my form and we will see what happens next."
Source:
http://www.etixx-quickstep.com/en/news/show/kuurne-brussel-kuurne-cavendish-makes-his-mark-wins-belgian-classic/2110#Xq9DoRclWc265Keo.99
Elia Viviani:
"There was a lot of action on the Kwaremont and with me and Ian up front it was a good move.
I thought it would be okay if it went to the finish. Okay Cav and Kristoff were there but with 19 riders it is more simple if it ends in a sprint. When I saw the group coming back I knew we had to think only about the final sprint. We came to the front early with the whole team. It's a Belgian race on narrow roads so we thought maybe it's better to stay up front.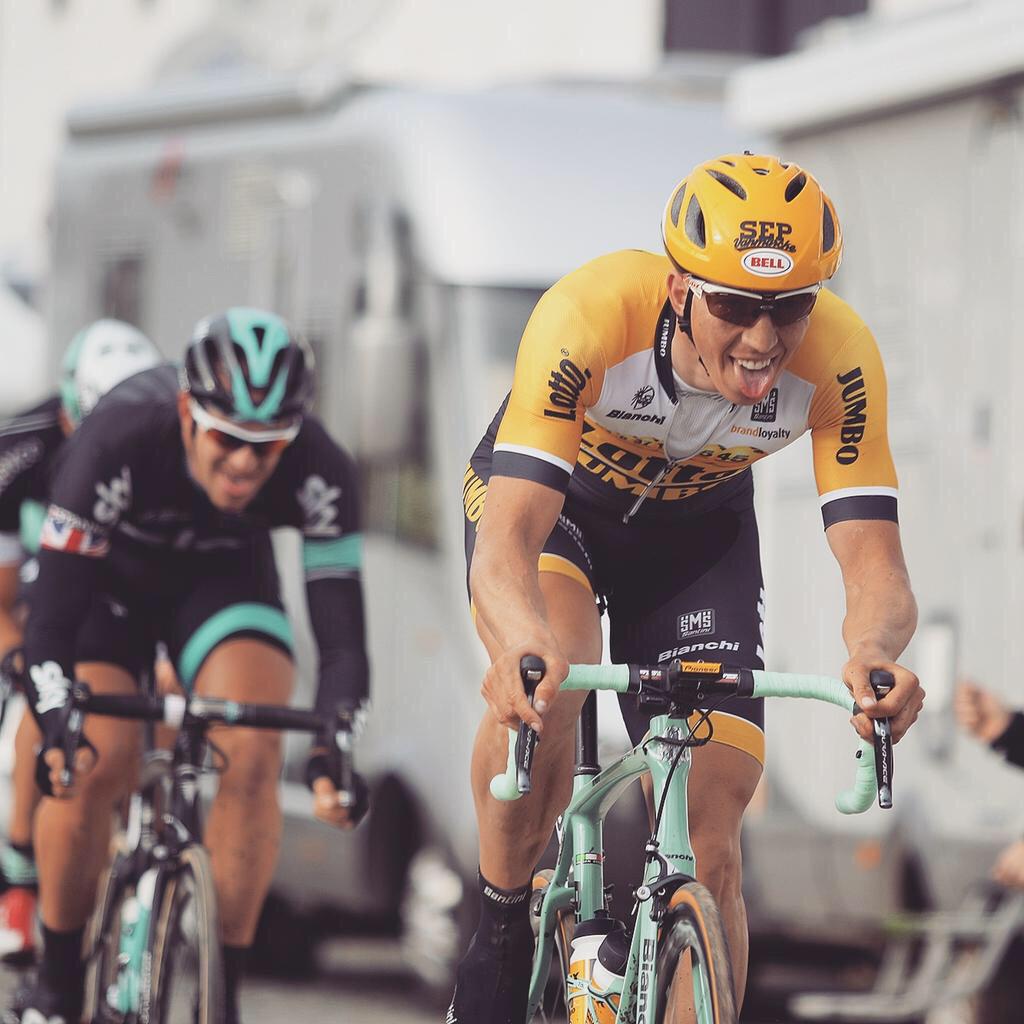 We lost some positions in the last corner and I needed to come from behind. I made it to the sprint and when I got there I thought maybe I'd go straight away as there was just 150 metres to go. But I was on the wrong side because there was a lot of wind coming from the right. I came from behind so I had good speed but when Cav started his sprint he took some metres and in the final 50m I knew I was going to the finish line but not for the win.
I am really happy with my condition after two weeks on the track. The road legs are good. We did 200km today in a strong Belgian race. I really like this event and the Belgian races. I finished third and I came from 20 positions back. I think it bodes well for the coming weeks. I have a big focus on Tirreno and the sprints there before Gent-Wevelgem. I want to try and come back and beat Cav."
Source:
http://www.teamsky.com/teamsky/home/article/26987#xo7Op8W7A8MXp5UB.99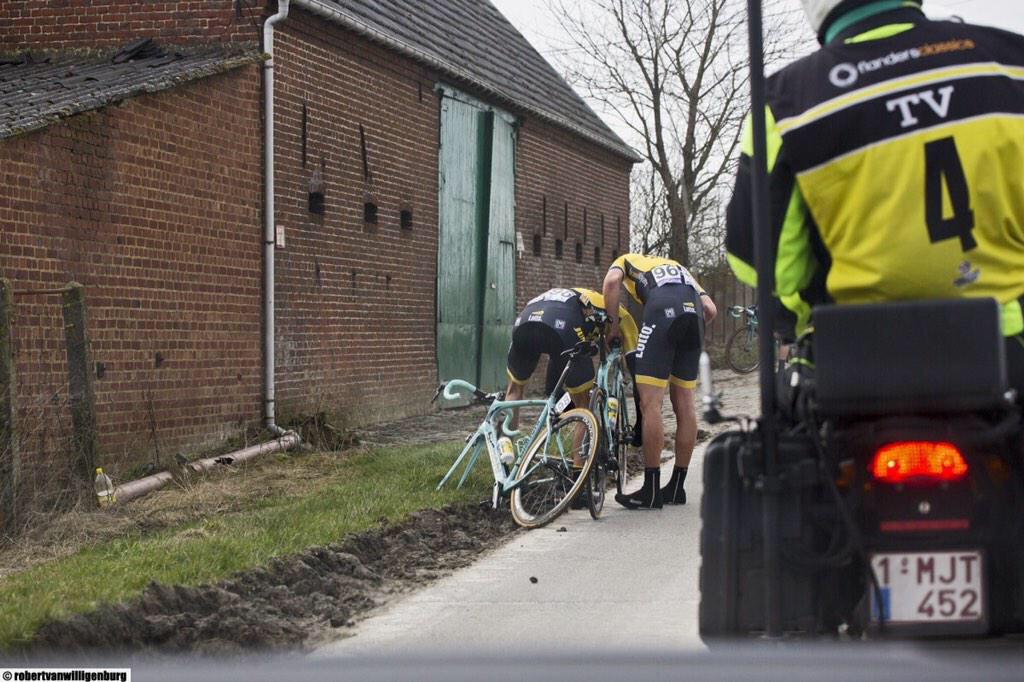 Sep Vanmarcke:
"So.... Mixed feelings after this belgian openingweekend. Great feeling, but not the results that I wanted! #nexttime.
"Again, teammates were important this weekend! Some work was on tv, lots wasn't! #thanks"
"After the first round, I saw that there wasn't enough side wind for an attack in the last kilometres. But I'm happy with the fact that I proved to be in good condition, in general. Today, I was a little bit worse than yesterday, but still good enough. It's no surprise that I am not at my best after a hard day like yesterday. Everyone has that problem, so I was able to show off at the Oude Kwaremont."
Tom Van Asbroeck:
"The last round was a true team effort.
All of them kept me out of the wind. I had a quick chat with Sep and he told me that he was going to give it all for me. That was just perfect. I was at the right place at the right time. I made a little mistake myself when I lost Robert's slipstream. I had to pay for it in the end, the fourth place was the highest I could reach today."
1
Mark Cavendish (GBr) Etixx - Quick-Step
2
Alexander Kristoff (Nor) Team Katusha
3
Elia Viviani (Ita) Team Sky
4
Tom Van Asbroeck (Bel) Team LottoNL-Jumbo
5
Daniele Colli (Ita) Nippo - Vini Fantini
6
Jean-Pierre Drucker (Lux) BMC Racing Team
7
Jens Debusschere (Bel) Lotto Soudal
8
Kristian Sbaragli (Ita) MTN - Qhubeka
9
Raymond Kreder (Ned) Team Roompot
10
Matteo Pelucchi (Ita) IAM Cycling