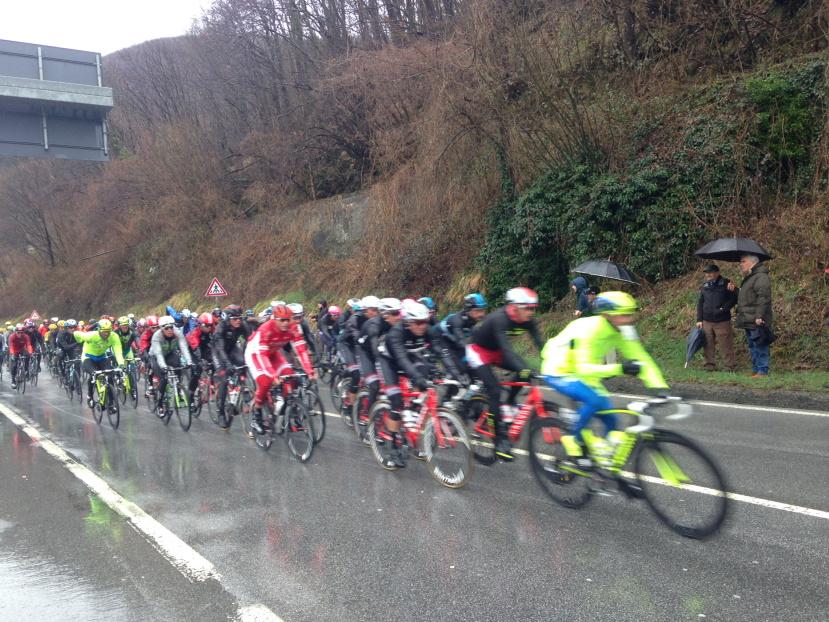 La Primavera, and raining

. As usual, as always. A classic Milano-San Remo weather. The classic

early start from a cold wet Milano, and the early break-away

- Molana, Barta, Person, Tjallingii, Frapporti, Pirazzi, Kurek, Bono, Pauwels, Berard and Dall'Antonia. Immediately 1', almost 7' on Passo del Turchino. Heading to the sun,

still in the rain.
This year the classic is back to its

classic route

and I'm glad, because there is no need to change a classic: 'classic' is what's always now.
Tail wind on the coast

helps the break to stay away. 70 km to go the gap is still 4' and the

sun is finally shining.

A beautiful

sea, dark blue and white, green hills, big buildings risen up disorderly

, everywhere. Wet roads.
60 km to go the gap is 3'20", the peloton led by Ettixx and Katusha is approaching the

Capi

(Mele, Cervo and Berta). Team Sky is moving up, so Tinkoff and Trek. Everybody want to stay in front and

nervousness

causes a small crash. Jacopo Gurnieri fell but he's back on bike.
Capo Cervo. The break-away starts loosing time. On the way to Capo Berta the gap is only 1'53".
The front group has split on the Capo Berta. Four leaders are left: Bérard, Bono, Pauwels and Pirazzi.

A big crash in the descent

, several riders went straight against a stone wall. Jul Jensen's face is ful of blood.
Team Sky is leading, Puccio crashes and Luke Rowe gets a meter with Thomas and Swift on his wheel.

Bono is the last man on the road.
Cipressa

: 8 riders are chasing, including the 3 Sky's and riders dropped from the break. The peloton is coming back. BMC Dillier joins,

Stybar attacks, Van Avermaet follow. The dance are officially open. More crashes in the descent

including also Demare who abandones on a mechamical problem.
25 km to go Bono is caught

. The peloton is compact but on a long line, while

Team Sky keeps pulling

, by Nordhaug this time.

BMC is also very active

.
The pace is heigh and some sprinters are in trouble, like Kristoff, Bouhanni, Cavendish and Lobato, others definitely no, like Greipel and Sagan.
Descent: Pozzato is leading. Gallopin goes in front and hits first via Aurelia, but

suddenly Oss attacks and Thomas respond. 16 km to go, they aproach the Poggio,

Oss pulling, Thomas on the wheel. The Welsh waits, then starts collaborating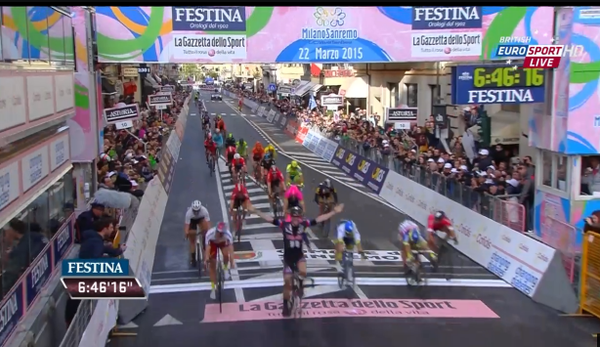 The duo is on the Poggio: 3.7 km long, 3.7% average gradient, 8% max. Kristoff and Cavendish managed to come back to the front, escorted by Ettix and Katusha. Greipel is a bit in trouble. Gap is small, about 10''.

7 km to go Thomas goes solo!

Meanwhile Swift can stay confortably in the group, saving energy for the finish.
Attacks arrive.

Van Avermaet bridges to Thomas, Felline, Sagan and Stybar joins.

It's a fluid situation, 20 riders in front. Fast descent. A bad crash again

: Gilbert, Stybar, Kwiatkowski and Ciolek are down. Race over for them.
A large front group goes fast toward via Roma

. Thomas and Swift are there, like Sagan, Cancellara, Kristoff, Degenkolb...
Via Roma: Degenkolb wins with a very long sprint.
John Degenkolb:
"I still can't believe it. Today was amazing. It was really fast on the Poggio and I had to dig in and suffer there but my shape was good and the hard work over the past weeks and months paid off here.
I managed to make it into a good position over the top of the Poggio and avoid the crashes and then in the final two kilometres it was just fighting for position and relying on instinct. Everything came together today.
The whole team team were great today in keeping me out of the wind and making it as easy as possible from it. Then at the end Tom [Dumoulin] did a great job in getting me into position for the Poggio. I'm really proud of the result today."
Alexander Kristoff:
"I think I started too early, maybe I needed to wait 50 meters later to start my sprint, but I had no other solution because I was in first position. Luca was really great today and he did impressive work on the Poggio and later in the final. I could not ask more from him. Honestly in one moment I thought I could win, but John was too fast in the end and I could not answer. I was on the limit. The finish was on a small uphill and in the end I was too tired.
The team was really great today. I thank all of the guys, and of course Luca. It was a hard day. I did not feel like I did last year but anyway I was still strong. On the Cipressa was a hard moment for me but the team supported me well. Later on the Poggio Luca went in front and provided me the rhythm I needed to get past those feelings. Of course I am a little bit disappointed but it is normal since I was very close to the win. But maybe later I will be happy, because it is 2nd place in Milano–Sanremo".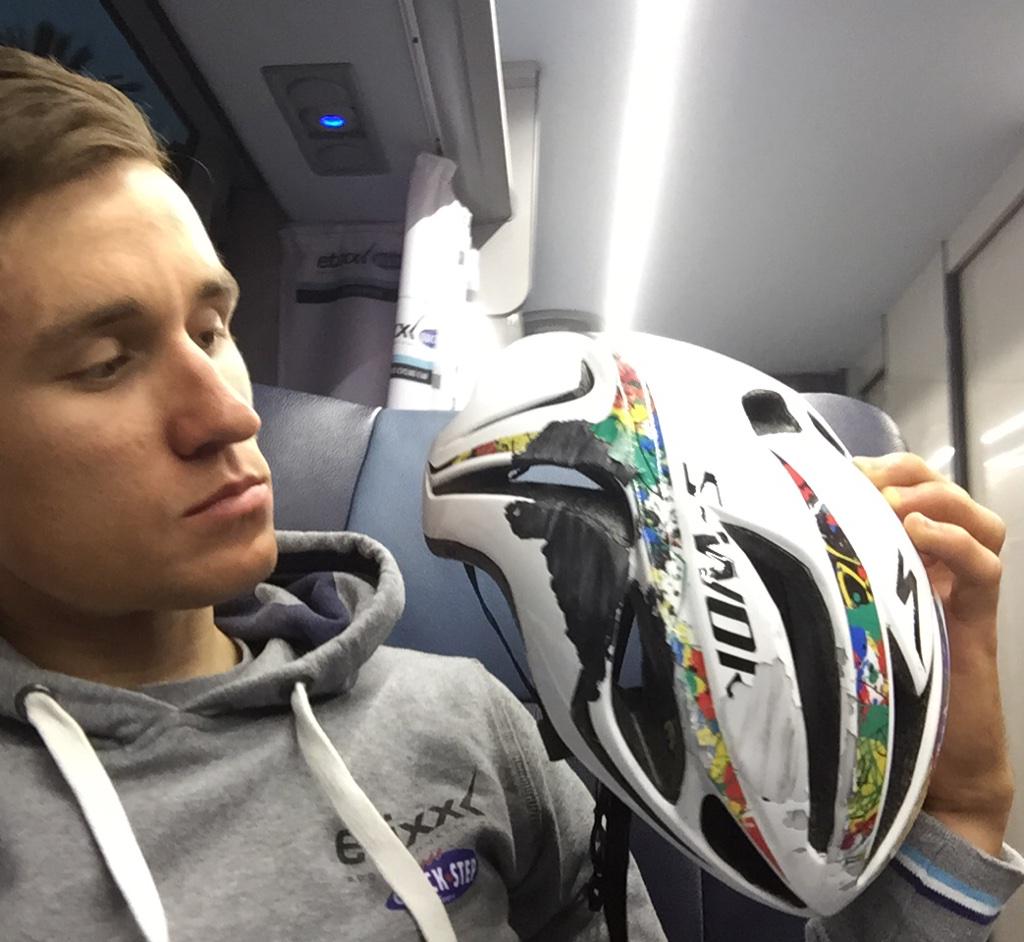 Michael Matthews:
"It was a pretty cold and wet day today but we did what we had to do. The ORICA-GreenEDGE team supported me really well.
As you could see on the Cipressa and Poggio climbs I had really good legs today so I am a little bit disappointed in the final.
I guess I have got to believe that it's Milano-Sanremo and it's my first attempt at going for a result here, so I have to be positive about that. I'm really thankful for the team in believing in me and helping me deliver this result."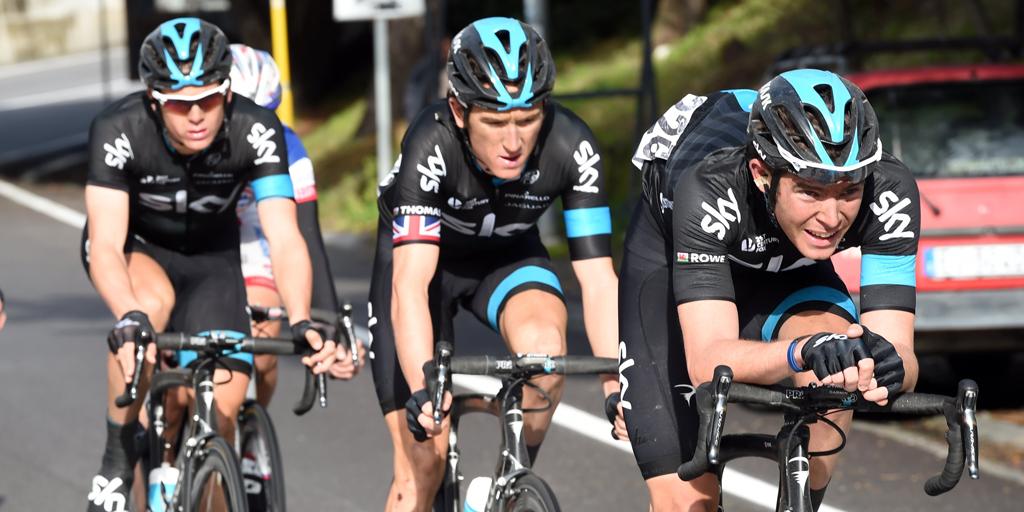 Michał Kwiatkowski:
"Always wear your helmet! This one save my life! All fine;)"
Roy Curvers:
"
That was awesome! Our Wetkampftier @johndegenkolb wins Milano-SanRemo! Goosebumps for half an hour! #proud "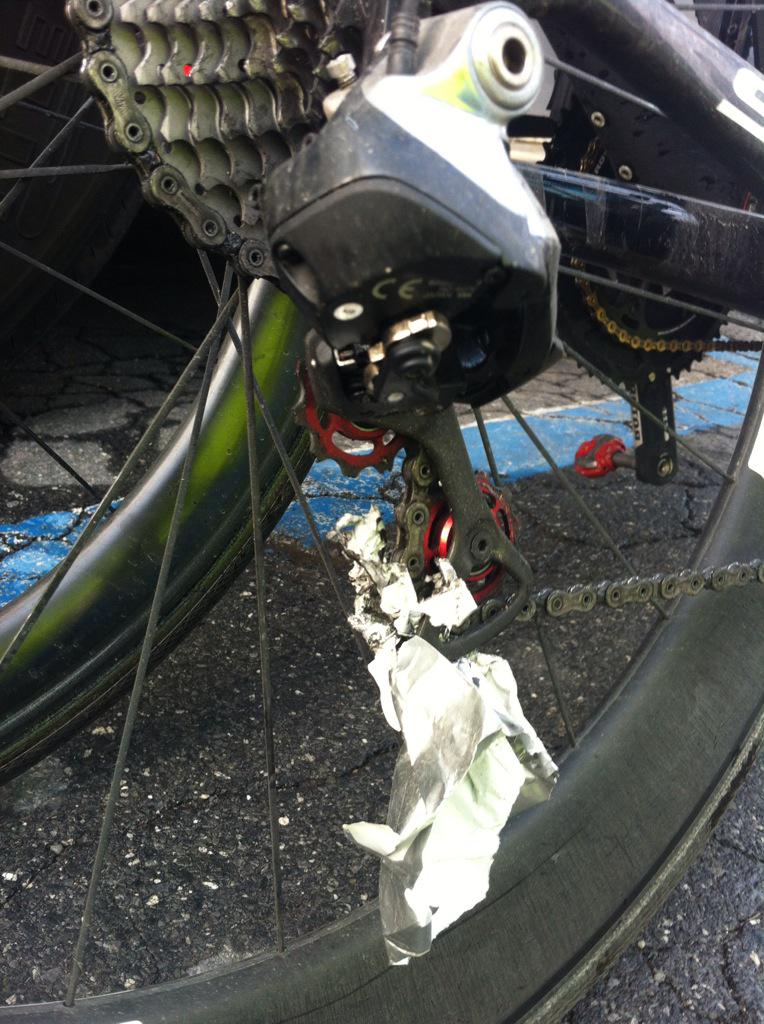 EBH bike :(
Edvald Boasson Hagen:
"It was really cold in the start but it got better after the Turchino. I managed to be up there in 10th place. I didn't do a great sprint but I was happy to still secure a top 10. Serge did a really good job to be up in the front and it helped us in not having to chase from behind. It was a pity our team was affected by so many crashes, it maybe would have been a better day if this did not happen."
Fabian Cancellara:
"If you look ahead of me there are six world-class sprinters, and I am the first non-traditional sprinter, in a way. I don't have the absolute instinct to find the right spot and to know when you can feel when someone is coming, and I got a little bit locked in on the right side. I made a mistake there and it's disappointing because I had good legs.
I was in a really good place with 500 meters to go but then the riders came from the left side and closed me, and like professional sprinters they would never open the door again, and that was my own luck.
I checked out who was behind me, and it was not right, and the moment was gone in a milli-second to make a late attack. This race is always the most tactical of the entire year, there are tons of possibilities, and maybe I waited too long in the sprint, or….there are more questions than answers.
I was also lucky I didn't crash because Philippe Gilbert crashed just in front of me in a corner and I almost went down. Like I said you need a lot of luck and tactics to come together at the end."
Koen de Kort:
"We did it, we won a monument. I can't bloody believe it. @johndegenkolb you ripper!"
Geraint Thomas:
"I was supposed to wait until the Poggio but when I saw Oss go you could see how strong BMC were and it was kind of just instinct to follow. I could have waited but it was just in the heat of the moment you just race.
I just knew that they (BMC) were strong so if we had a guy up there then we didn't have to ride behind and that is always better.
It was hard. I went and I tried to give it everything but I knew the boys behind. I knew when the likes of Van Avermaet and Sagan attacks in the last k that they're going to be doing over 700 watts and they're going to close the gap pretty quick. You have to try. I wasn't thinking about that (the win) I was just thinking about getting to the top and then if you've got a gap then you start thinking about the descent and then you start thinking about the finish.
It was a good day really, we committed to the plan, unfortunate about the crash just after Capo Berta when Puccio came down but we just kept rolling. It was kind of good for me and Swift, we had a bit of an easy ride.
I just felt really average all day and then I just went on that climb. In the finish I just tried to keep the pace high because I could see it was all strung out. I saw that Swifty was about seventh or eighth coming off that descent, I saw him give me a nod so I just rode as long and as hard as I could but I was pretty nailed by then.
Hopefully I can make use of it. I was really disappointed in Paris-Nice, I was proper gutted. It still hurts when people bring it up now. That crash was a really stupid crash, I've done that corner 100 times so that was annoying. Hopefully these next three weeks we can get something now."
Team Sky DS Dario Cioni:
"The guys rode really well as a team. Ben was a little disappointed for the final result. He felt good all race but didn't find the space he needed in the sprint at the end. That's how sprints go. You need to make split-second decisions and sometimes it works out, sometimes it doesn't.
If you take into cosideration that we lost Puccio and Ian who were important guys in the race to a crash we found ourselves in a good position. If luck had gone his way G could have potentially been in a position to take the win. If (Luca) Paolini hadn't committed fully to go and catch him. But it was a really good ride from G and all the guys. We just missed the final part in the sprint.
It was not ideal to lose two guys ahead of the Cipressa.
Luke did a really good job pulling and getting both Swifty and G onto the Cipressa in a good position. The fact they didn't have to fight to be at the front helped set them up well - especially G. One thing I was really happy with was the fact that we made a plan in the morning and we executed it pretty well. We decided we didn't want to have to pull early so that we could commit everything in the last 40km. That's what we did."
Chad Haga:
"An unforgettable memory: rolling across the finish line at #MSR, my first Monument, with the knowledge that I contributed to the victory."
Mark Cevendish:
"I didn't feel good at all, but the team put me in good position through all the climbs, I just fought and fought, just to have a chance but then with a kilometre and a half to go on the Cipressa, the same thing as at Tirreno happened: my chain came off.
It was on the flat bit of the Cipressa, you shouldn't ever be dropped on the Cipressa but my chain came off on the outside like in Tirreno, like it happened to Tom (Boonen) and a few guys this year.
I wasn't able to close the gap before the top of the Cipressa, so I sat there doing 650-700 watts for five kilometres, just to keep a twenty-metre gap. I got back on the descent, but it just cooked me. I was on my limit after that. You can't afford that on the top of Cipressa when you are a sprinter. It just cooked me. I wasn't able to keep moving up.
It wasn't that I was getting dropped, but you need to keep moving up and keep fighting for position, and I just didn't have the energy to keep doing it, to keep doing those little accelerations on the Poggio, so every corner I was losing a couple of positions. It just put me too far back.
It just kind of went to shit a bit at the end. Both the lads [who crashed] are all right, but it wasn't nice. I spotted them out of the corner of my eye when I was coming back on the Poggio. At least everyone is safe and well.
Degenkolb has been battling and close for a while, it's nice that he has a win here."
Michal Kwiatkowski:
"Let's hope tomorrow morning when I wake up from bed I won't feel anything. But as of now I am feeling OK and I have to be happy about that. Bad luck today, especially that both of us were on the ground. The race looks different than what it could have been if that didn't happen. We did it perfectly today, my teammates did a great job putting us into good position. For the first time at Milano-Sanremo I was there on the Poggio. We felt really comfortable. It was still a big group. When I heard Cavendish was no longer with us, I knew we both still felt good and who knows what can happen in this kind of race. Maybe we could try an attack or make the sprint ourselves. But again, bad luck, and not much I can do in this situation other than feel happy with my condition and that the crash was not worse."
Zdenek Stybar:
"Today I was really unluckyI crashed twice. The first time I crashed on the downhill of the Capo Berta when other riders went down in front of me and I couldn't avoid them. But I was fortunately able to get up and ride immediately. Then I crashed for the second time on the descent of the Poggio when someone crashed in front of Kwiato and I. At that point my race was over. It's a pity because despite the first crash, the idea was to ride to the end of the downhill of the Poggio and see what we could have done. I had good legs today and it's a shame I couldn't get to the finish and we couldn't play all our cards, even if because arriving in Via Roma after 300 kilometers of riding the sprint is always strange and anything can happen. But OK, that's cycling. I have a few scratches on my knee and ribs, but nothing serious. So after today we just need to turn the page and see what we can do at the next races."
Paul Martens
"Hoped for a top10, but actually i'm satisfied how it went,because i'm an Anti-rain rider:-)congrats to @johndegenkolb ,happy for him."
Peter Sagan:
"It was a tough race, also due to the rain. But at least the weather was better than last year and in the final part of the race, the roads dried and the sun came out. I would like once again to thank my teammates because they worked really hard during the race. But at the end, although I was feeling very well and in form, I think I made a mistake, when I approached the final sprint too far down in the pack.
I was too far down after the last corners, which meant that I had to overtake too many to be successful at the end. However, now I focus on the Cobbled Classics ahead and I must admit that I feel well and in good form. We will see how the next races play out".
MORE TO COME
1

John Degenkolb (Ger) Team Giant-Alpecin
2
Alexander Kristoff (Nor) Team Katusha
3
Michael Matthews (Aus) Orica GreenEdge
4
Peter Sagan (Svk) Tinkoff-Saxo
5

Niccolo Bonifazio (Ita) Lampre-Merida
6
Nacer Bouhanni (Fra) Cofidis, Solutions Credits
7

Fabian Cancellara (Swi) Trek Factory Racing
8
Davide Cimolai (Ita) Lampre-Merida
9

Tony Gallopin (Fra) Lotto Soudal
10
Edvald Boasson Hagen (Nor) MTN - Qhubeka
11
Jurgen Roelandts (Bel) Lotto Soudal
12
Matti Breschel (Den) Tinkoff Saxo
13

Ben Swift (GBr) Team Sky
14
Sebastian Langeveld (Ned) Team Cannondale - Garmin
15
Tim Wellens (Bel) Lotto Soudal
16
Grega Bole (Slo) Ccc Sprandi Polkowice
17
Paul Martens (Ger) Team Lotto NL - Jumbo
18

Sonny Colbrelli (Ita) Bardiani CSF
19

Greg Van Avermaet (Bel) BMC Racing Team
20
Aleja Valverde Belmonte (Spa) Movistar Team
21
Michele Scarponi (Ita) Astana Pro Team
22
Maciej Paterski (Pol) Ccc Sprandi Polkowice
23

Sylvain Chavanel (Fra) IAM Cycling
24
Jon Izaguirre Insausti (Spa) Movistar Team
25

Tom Dumoulin (Ned) Team Giant - Alpecin
26
Fabio Felline (Ita) Trek Factory Racing
27
Rinaldo Nocentini (Ita) Ag2r La Mondiale
0:00:06
28
Nathan Haas (Aus) Team Cannondale - Garmin
29
Roman Kreuziger (Cze) Tinkoff Saxo
0:00:09
30
Luca Paolini (Ita) Team Katusha
0:00:11
31

Geraint Thomas (GBr) Team Sky

0:00:12
32
Mathieu Ladagnous (Fra) FDJ
0:00:23
33
Laurent Pichon (Fra) FDJ
34

Yoann Offredo (Fra) FDJ
35
Daryl Impey (RSA) Orica Greenedge
36
Rein Janse Van Rensburg (RSA) MTN - Qhubeka
37
Simon Yates (GBr) Orica Greenedge
38
Silvan Dillier (Swi) BMC Racing Team
39
Bram Tankink (Ned) Team Lotto NL - Jumbo
40
Ramunas Navardauskas (Ltu) Team Cannondale - Garmin
41
Filippo Pozzato (Ita) Lampre - Merida
42
Manuel Quinziato (Ita) BMC Racing Team
43

Oscar Gatto (Ita) Androni Giocattoli
44
Jan Bakelandts (Bel) Ag2r La Mondiale
45

Vincenzo Nibali (Ita) Astana Pro Team
46

Mark Cavendish (GBr) Etixx - Quick-Step
47

Andre' Greipel (Ger) Lotto Soudal
48
Matteo Montaguti (Ita) Ag2r La Mondiale
0:00:51
49
Jelle Vanendert (Bel) Lotto Soudal
0:00:56
50

Daniel Oss (Ita) BMC Racing Team

0:01:18
51
Lars Boom (Ned) Astana Pro Team
52
Jose Rodolfo Serpa Perez (Col) Lampre - Merida
53
Franco Pellizotti (Ita) Androni Giocattoli
0:02:38
54
Cyril Lemoine (Fra) Cofidis, Solutions Credits
0:02:52
55

Philippe Gilbert (Bel) BMC Racing Team

0:03:00
56

Zdenek Stybar (Cze) Etixx - Quick-Step
57
Alexey Lutsenko (Kaz) Astana Pro Team
58
Borut Bozic (Slo) Astana Pro Team
59

Gerald Ciolek (Ger) MTN - Qhubeka

0:03:38
60
Marco Haller (Aut) Team Katusha
0:04:38
61
Gregory Rast (Swi) Trek Factory Racing
62
Mathew Hayman (Aus) Orica Greenedge
63
Adam Hansen (Aus) Lotto Soudal
64
Julian Arredondo Moreno (Col) Trek Factory Racing
65
Sergey Lagutin (Rus) Team Katusha
66
Alessandro De Marchi (Ita) BMC Racing Team
0:04:41
67

Michal Kwiatkowski (Pol) Etixx - Quick-Step

0:04:56
68
Julien Vermote (Bel) Etixx - Quick-Step
69
Koen De Kort (Ned) Team Giant - Alpecin
0:04:59
70
Zico Waeytens (Bel) Team Giant - Alpecin
71
Kristian Sbaragli (Ita) MTN - Qhubeka
72
Giovanni Visconti (Ita) Movistar Team
73
Alexandr Kolobnev (Rus) Team Katusha
74
Danilo Wyss (Swi) BMC Racing Team
75
Florian Senechal (Fra) Cofidis, Solutions Credits
76
Jérome Pineau (Fra) IAM Cycling
77
Andriy Grivko (Ukr) Astana Pro Team
78
Sam Bennett (Irl) Bora - Argon 18
79

Matthew Harley Goss (Aus) MTN - Qhubeka
80

Heinrich Haussler (Aus) IAM Cycling
81
Jose Joaquin Rojas Gil (Spa) Movistar Team
82
Manuele Mori (Ita) Lampre - Merida
83
Marco Bandiera (Ita) Androni Giocattoli
84

Giacomo Nizzolo (Ita) Trek Factory Racing
85

Juan Jo Lobato Del Valle (Spa) Movistar Team
86
Michal Golas (Pol) Etixx - Quick-Step
87
Branislau Samoilau (Blr) Ccc Sprandi Polkowice
88
Bartlomiej Matysiak (Pol) Ccc Sprandi Polkowice
89
Cristiano Salerno (Ita) Bora - Argon 18
90
Adriano Malori (Ita) Movistar Team
91
Bert Jan Lindeman (Ned) Team Lotto NL - Jumbo
92
Jacopo Guarnieri (Ita) Team Katusha
93
Axel Maximiliano Richeze (Arg) Lampre - Merida
94
Dmitry Kozonchuk (Rus) Team Katusha
95
Lasse Norman Hansen (Den) Team Cannondale - Garmin
96
Enrico Battaglin (Ita) Bardiani CSF
97
Simon Clarke (Aus) Orica Greenedge
98
Bartosz Huzarski (Pol) Bora - Argon 18
99
Javier Megias Leal (Spa) Team Novo Nordisk
100
Jacobus Venter (RSA) MTN - Qhubeka
101
Aleksejs Saramotins (Lat) IAM Cycling
0:06:30
102
Juan Pablo Valencia (Col) Colombia
0:07:08
103
Luca Chirico (Ita) Bardiani CSF
104
Roy Curvers (Ned) Team Giant - Alpecin
105
Lars Petter Nordhaug (Nor) Team Sky
106
Zakkari Dempster (Aus) Bora - Argon 18
107
Carlos Julian Quintero (Col) Colombia
108
Jack Bauer (NZl) Team Cannondale - Garmin
109
Bjorn Thurau (Ger) Bora - Argon 18
0:08:27
110

Moreno Hofland (Ned) Team Lotto NL - Jumbo

0:08:57
111
Samuel Dumoulin (Fra) Ag2r La Mondiale
112
Matteo Bono (Ita) Lampre - Merida
113
Thomas Leezer (Ned) Team Lotto NL - Jumbo
114
Maarten Tjallingii (Ned) Team Lotto NL - Jumbo
115
Vicente Reynes Mimo (Spa) IAM Cycling
116
Marcel Sieberg (Ger) Lotto Soudal
117
Simone Stortoni (Ita) Androni Giocattoli
118
Brayan St Ramirez Chacon (Col) Colombia
119
Edoardo Zardini (Ita) Bardiani CSF
0:11:30
120

Mark Renshaw (Aus) Etixx - Quick-Step
121
Jan Barta (Cze) Bora - Argon 18
122
Fabio Sabatini (Ita) Etixx - Quick-Step
123
Manuele Boaro (Ita) Tinkoff Saxo
124
Cesare Benedetti (Ita) Bora - Argon 18
125
Maciej Bodnar (Pol) Tinkoff Saxo
126
Serghei Tvetcov (Rom) Androni Giocattoli
0:11:37
127
Arnaud Demare (Fra) FDJ
128
Benoit Vaugrenard (Fra) FDJ
129
Christophe Laporte (Fra) Cofidis, Solutions Credits
130

Luke Rowe (GBr) Team Sky
131
Hayden Roulston (NZl) Trek Factory Racing
132
Jonas Vangenechten (Bel) IAM Cycling
133
Jasha Sutterlin (Ger) Movistar Team
134
Adrian Kurek (Pol) Ccc Sprandi Polkowice
135
Julien Berard (Fra) Ag2r La Mondiale
136
William Bonnet (Fra) FDJ
137

Moreno Moser (Ita) Team Cannondale - Garmin
138
Stijn Vandenbergh (Bel) Etixx - Quick-Step
0:14:58
139

Andrea Guardini (Ita) Astana Pro Team
140
Ruslan Tleubayev (Kaz) Astana Pro Team
141
Paolo Simion (Ita) Bardiani CSF
142
Christian Delle Stelle (Ita) Ccc Sprandi Polkowice
143
Charles Planet (Fra) Team Novo Nordisk
144
Robert Wagner (Ger) Team Lotto NL - Jumbo
145
Johan Le Bon (Fra) FDJ
146
Joonas Henttala (Fin) Team Novo Nordisk
147
Rick Flens (Ned) Team Lotto NL - Jumbo
148
Matteo Tosatto (Ita) Tinkoff Saxo
149
Bert De Backer (Bel) Team Giant - Alpecin
150
Jaroslaw Marycz (Pol) Ccc Sprandi Polkowice
151
Albert Timmer (Ned) Team Giant - Alpecin
152
Chad Haga (USA) Team Giant - Alpecin
153
Tomasz Kiendys (Pol) Ccc Sprandi Polkowice
154
Edwin Avila Vanegas (Col) Colombia
155
Miguel Angel Rubiano Chavez (Col) Colombia
156

Johan Vansummeren (Bel) Ag2r La Mondiale
157
Steven Cummings (GBr) MTN - Qhubeka
158

Alex Dowsett (GBr) Movistar Team
159
Kevin De Mesmaeker (Bel) Team Novo Nordisk
160
Sébastien Chavanel (Fra) FDJ
0:20:41