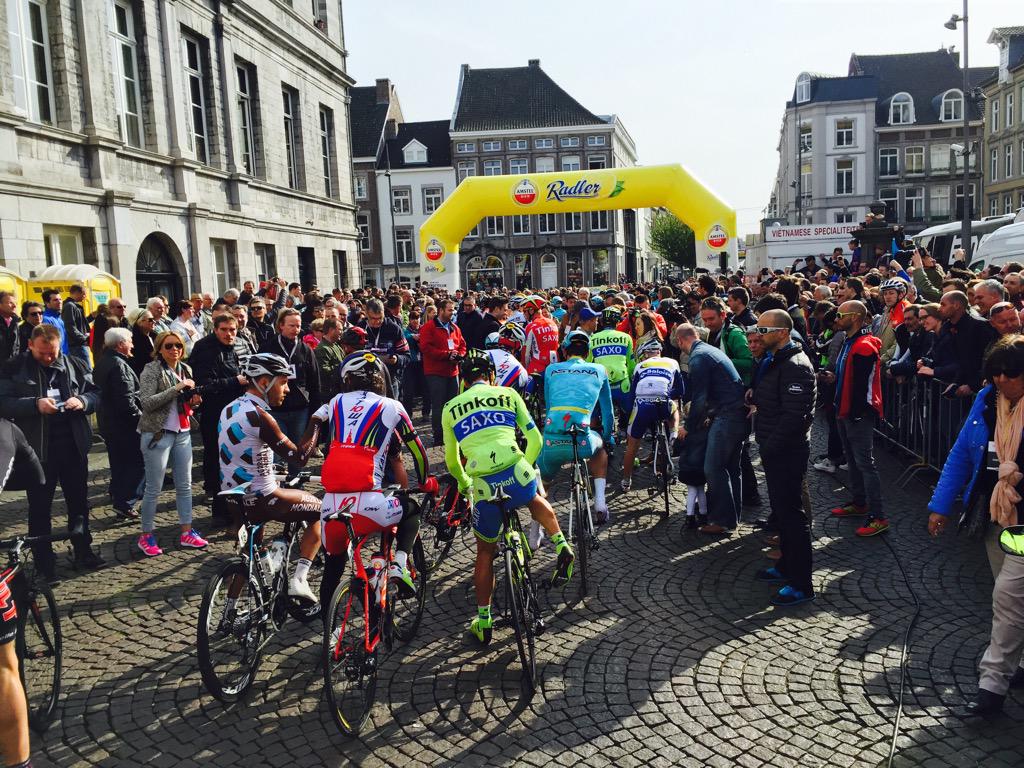 Start in Maastricht
I'm

annoyed

. Forced to watch

Rai Sport Ciclismo

I have to listen to hours of

support and indulgence toward dopers

.
They don't talk about the race but prefer to praise

Rebellin and Ulissi

, to enforce Nibali claims for

Team Astana

against the UCI President Cookson and even defend

Van Avermaet

who's facing a request for 2 years bann for frequentation with a banned doctor.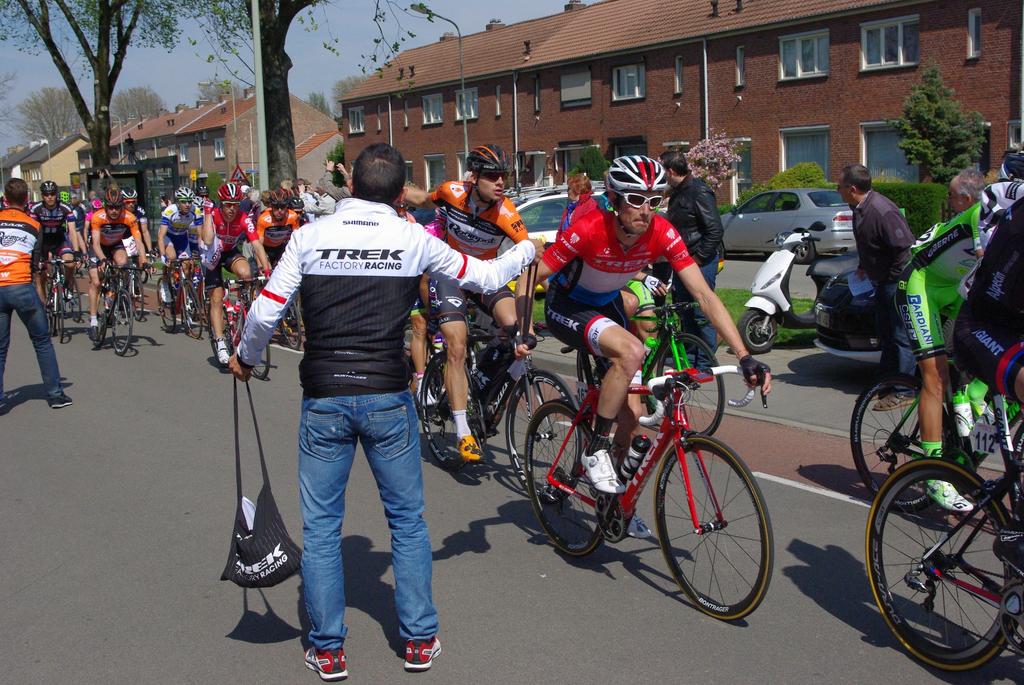 Feed zone
Naming

ex dopers like Valverde

they accurately avoid to say anything about their past. Bravo! great job!
I was already annoyed yesterday counting dopers in the start list - there are also

Kreuziger, Frank Schleck, Gilbert and even Schumacher!!!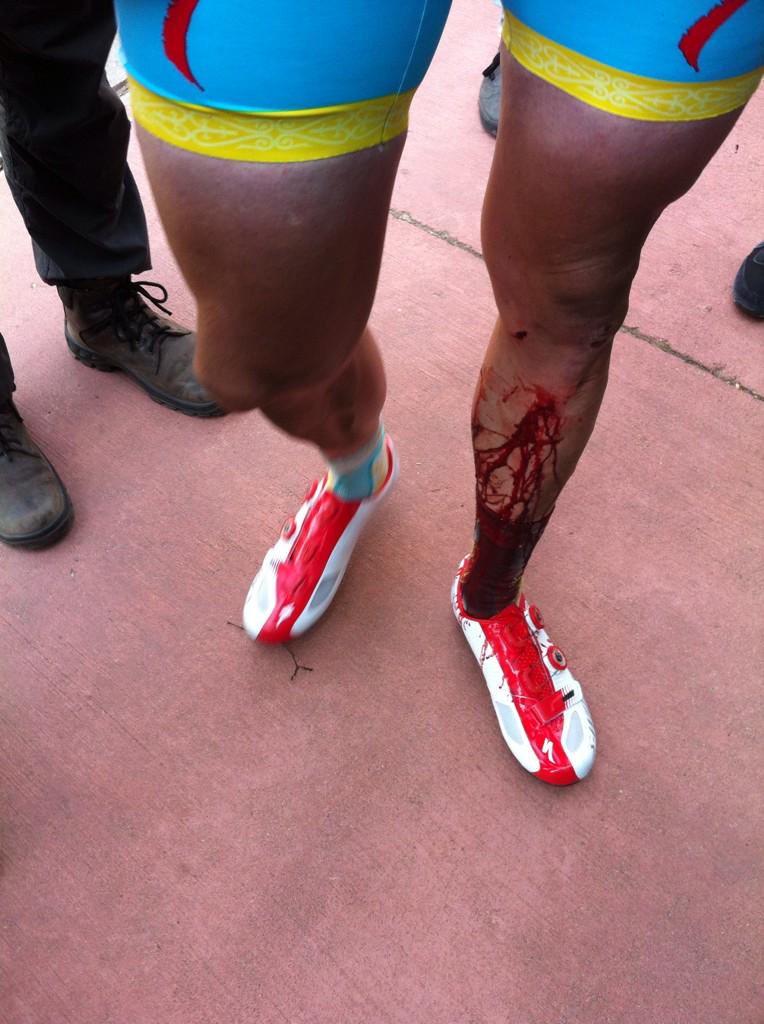 Race over for Westra
About Gilber Sporza reports BMC didn't extend contract with Gilbert's personal soigneur Dirk Leenaert last year (via Velofact). Not a good signal for young clean riders. In my opinion teams with such riders in their roster shouldn't be invited to inportant races.
Anyway,

back to the race

. You now I have never been watching the Amstel live - the Iceland volcano prevented me once. I have been in Maastricht and Valkemburg for the Worlds though. It was a windy cold day. Today it's

sunny

instead and looks nice. As always

a huge crowd

at the start and a huge crowd at the

finish

, that isn't

anymore atop the climb but slightly further

. You know I don't like but that's it.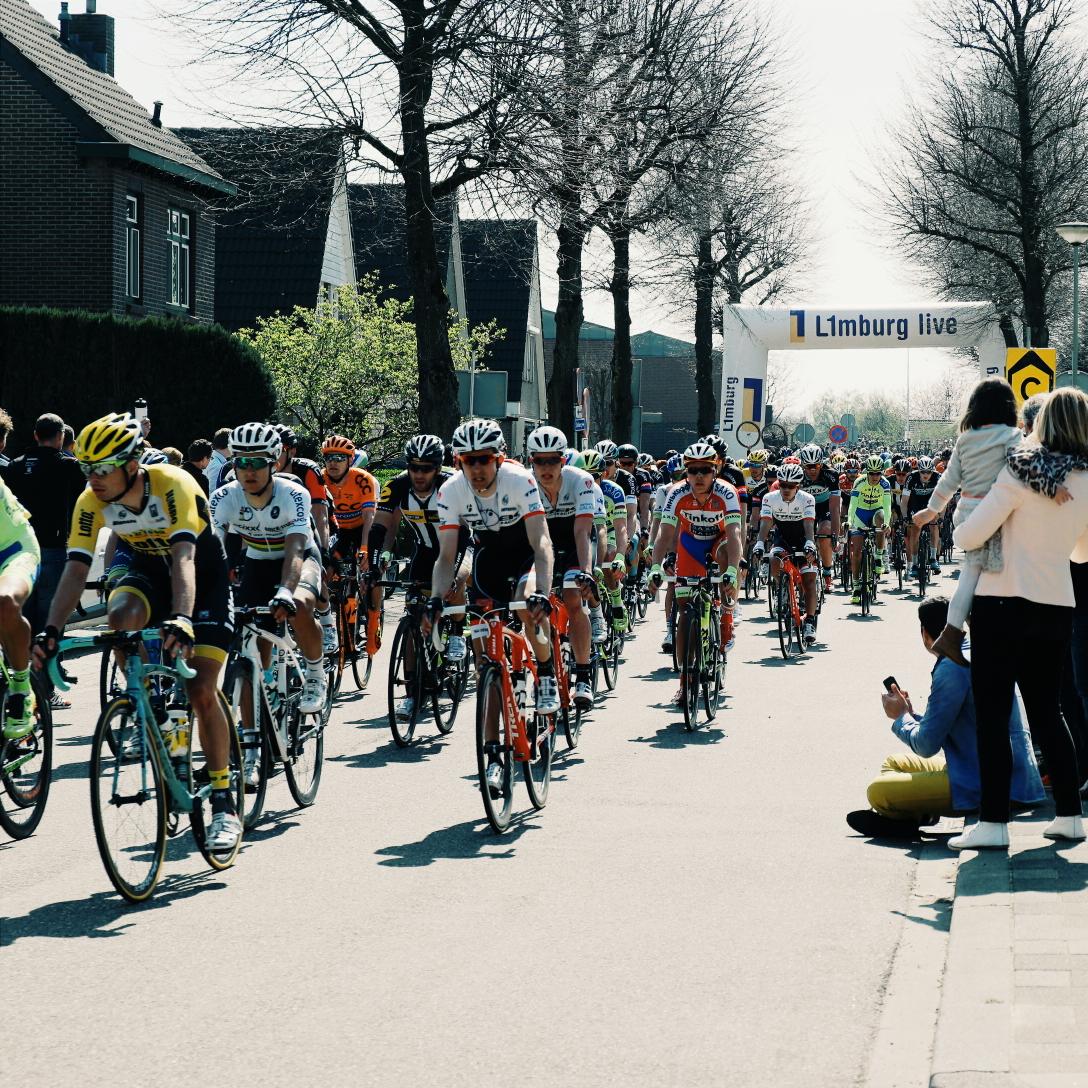 34 hills to climb including 4 ascents of the Cauberg

. 28 km to go a

break

goes away;

De Vreese, Polanc, Roosen, Gerdemann, Van Zyl

and

M.Terpstra.

They got a maximum lead of 11 minutes. Jelle

Vanendert

crashes, then his brother Dennis, both back on bike. Christophe

Riblon

instead is forced to abandon.

Nibali

got a flat tyre and had to chase. 100 km to go the gap is at 6'50''.

Break-away and peloton climbed twice the Cauberg already and it seems that the showdown is going to be here at the last passage

.
Team Movistar

and

Orica-GreenEdge

are leading the chase.

Westra

crashes and quites. 57 km to go, the gap is down to 2'01".
Quite

boring

race so far: the peloton is controlling and nothing happen. Quite

nervous and dangerous

down there: a car drives straight toward the approaching peloton, riders ride up and down sidewalks and bikelanes, somebody even picks a fight at the back when the peloton slows down on a cote...
Three leaders left after the Gulpenerberg: De Vreese, Gerdemann and Polanc.

48 km to go.
Break over 35 km to go. Eyserbosweg

: riders attack from the peloton and a new break-away forms. So now we have
Four
riders in front - Simon Clarke, Tanner, Polanc and De Vreese - and a small group chasing, including Kelderman, Caruso, Rosa, Nibali, Martin.
WOW!

Wilco Kelderman

goes straight into a field and does some cyclocross!!

Keutenberg

: De Vreese gets dropped. Simon Clarke and David Tanner lead, the chasing group is at 16", the peloton at 57".

Crauso crashes in a corner and brings down Rosa

. Nibali, T. Martin and Howes join the leaders.

Nibali tries to attack, asks mates to collaborate but in vain

. In the peloton many teams are seriously chasing now. Gap is only 36'' 24 km to go. Heading to the

Cauberg for the third time

: 900m, 7% average, 13% max.

Nibali sets the pace, the peloton is coming

. Howes gets dropped. Only 15'' 19 km to go, last lap.
Geulhemmerberg

: Nibali attacks again, Clark and Martin on his wheel. But

Tony Martin says no

: he can't collaborate. 14 km to go

Clarke goes solo

. 9 flat km now.

Nibali

and

Martin

get

caught

13 km to go.

Clarke keeps going

. Not the first time he's solo off the road.
Bemelerberg: all back together 8 km to go. Fuglsang and van Avermaet attacks

but the BMC rider doesn't share the work and keeps watching behind.

Caught

4 km to go. BMC is strictly controlling. Now ORICA-GE takes the lead.

Teams fight for positions.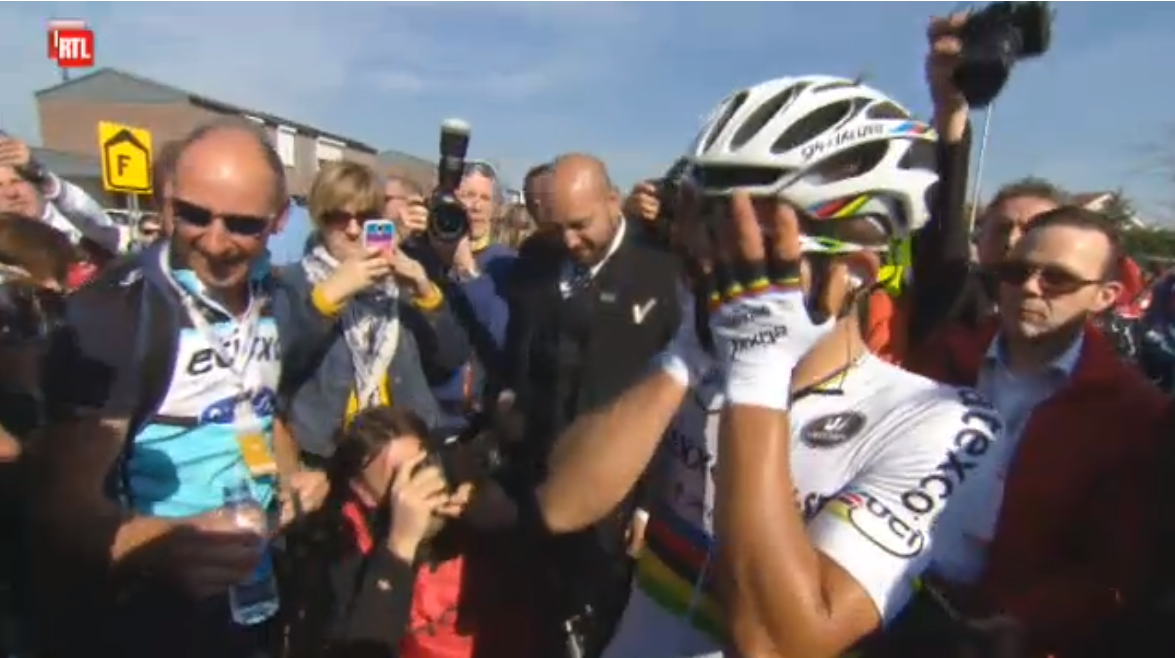 Last time up the Cauberg. Hermans attacks,

Patersky responds, then Caruso.

Gilbert in counter, Matthews resists and they top the climb together

.

Riders try to bridge

. Valverde succeeds. Kwiatkowski is chasing with Caruso and Gasparotto. There are Fusglang, Slagter, Kreuziger, Costa, van Avermaet, Nordhaug...
It's a small group sprint and Michal Kwiatkowski wins.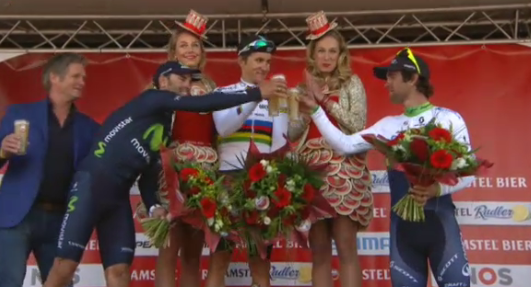 MORE TO COME:
Michal Kwiatkowski:
(source Cyclingnews)
"Experience is really important in such races especially and you cannot try doing the same effort on the Cauberg in training because you need to ride 250 kilometres at that speed to learn how to manage your acceleration on the climb.
I was not really directly on Gilbert's wheel, I was more behind him compared to last year when I launched my effort on the Cauberg and I paid for it on the top. It was a better idea not to be excited and have some energy left for the sprint so I could be fresher for the last metres.
I cannot describe my emotions, it's really great and I really want to enjoy it. I was really pushing for it from the start of the season. I was close in Paris-Nice and in Algarve and the classics. It's not an easy thing to do and it's an amazing day to win a classic that I was aiming for.
Everyone is playing a little but I think that was dangerous for everyone having Tony Martin and Vincenzo Nibali in a breakaway that could have been successful. But I think that Movistar and Tinkoff missed it and they wanted to push it to chase it down. BMC were also pushing a lot on the last lap but I think that it's possible. It's always dangerous when you have Tony Martin with 10 seconds in front.
I always put pressure on myself there is no pressure from the team. The first part of this season was really successful and the team can be happy with the second places in Flanders and Roubaix. It proves that we were trying to win the races. We were just putting the dot on the i here. I think that the whole team can be happy."
(Source Etixx-QS Press Release)
"This was a great day for me, the hard work paid off. I'm really thankful that my teammates were so amazing today. I was always in the top 20 or 25 positions. I could relax the whole day. We had Tony in the important breakaway and that was crucial for me. Of course I was suffering as well in a race with so many climbs. The second-to-last time up the Cauberg I said to Gianni Meersman 'you know, I'm not feeling so good today.' But he said to me straight away that everyone is suffering with 34 climbs at this race and I have to make it. That gave me a lot of motivation before the last time up the Cauberg. I'm really thankful they believed in me until the last moment. In cycling you never know what to expect from those around you. You might look around and feel like no one is suffering but you, but you don't know the true situation until the last important acceleration. For the sprint I was able to sit in the slipstream and breathe a little bit, and that was important to recover from the effort on the Cauberg. I was able to get some energy back to go full gas in the select group sprint and win Amstel Gold Race. It's an amazing race here, with a difficult race from start to finish and so many fans of cycling on each climb. It's really special to get this win at the opening race of the Ardennes Classics. Etixx - Quick-Step had a really strong first part of the season leading up to today. We had some bad luck with riders like Tom Boonen being injured before the Cobbled Classics. But we still tried to go for the win as we had many other cards to play. In cycling if you don't go for it, you're never going to get the victory. The whole team was happy about the podium at Tour of Flanders and Paris-Roubaix because we tried our best at those races. Today we had the same kind of effort and I am now at the top of the podium. We got the success we were trying so hard for. For sure, winning Amstel Gold Race in the Rainbow Jersey means a lot to both me and the team, and it is another example of how strong we are as a collective. I built up really well for this race, and winning here, which was my goal, I cannot describe my emotions. It's really big for me at this point in my career. For sure I will celebrate with my teammates tonight. They were key to helping me get this win. Then, we look next to the rest of the Ardennes Classics with great morale."
Michael Matthews:
"For my first time attempting the final at Amstel, I have to be happy with the result. I'm happy with the way I rode, I left everything out there. It's just unfortunate that it wasn't for the victory.
I went quite deep to follow Gilbert on the climb and I used a lot of energy trying to stay with him. I thought going over the climb we were quite clear of everyone else but the bunch had a few too many guys and were able to come back to us.
I was hoping it was going to be just Gilbert and I in the sprint because I was quite confident in that situation but in the final sprint I just had nothing left and it was just a grovel."
Alejandro Valverde:
"I think you can't ask for a better result after what I did today; taking 2nd place, into a more open finish than the one on top of the Cauberg, with a field sprint like today's and after all the hard work by the team… we did everything we could. The incident wasn't a puncture, but a broken gear. An MTN rider got the radius of his front wheel into my rear one and I had to stop and take the spare bike. It's true that the race was really on already at that point, but with my team-mates, it wasn't a problem at all.
I think I came into the Cauberg in good position, but after sprinting away from the turn, everyone stopped and I got boxed in. I was arguing to myself, 'why again, why this always happens to me,' but fortunately and even though I saw Gilbert opening a really big gap with his attacked, I had good legs and as soon as I saw a gap, I jumped and could reach him well. I did really think about keeping the effort and leaving Gilbert and Matthews behind when I caught them, and I accelerated in that moment, hoping that they'd look to each other, but there was no gap for me. I think I was one of the strongest today, I took 2nd, came really close, fought as usual… I think we must stay happy with that.
For me, Liège is the race out of the three where I think I stand more chances, the one that suits me best, but of course we mustn't rule anything out for Wednesday. The new climb [Cherave] with 5km to go should change the race and make the peloton ride faster and become a bit smaller at the end. I think there are many, many riders in similar form, I didn't see anyone standing out - the battle will be close, as well on Wednesday as on Sunday."
Michael Valgren:
"Thank you @tinkoff_saxo boys!!! Sorry I started to far back on cauberg! Legs felt good!"
"I had good legs and my sensations were better than they have been for a while. So today is naturally a source of motivation for me, as it's a big improvement from last year. The team rode really well for Roman and me and in terms of the effort made, I think we can be satisfied".
Paul Martens:
"My team mates did an awesome job today,i'm really thankful for that,but my body flicked me again.Cramping again,nearly fell of my bike!"
"The team did that perfectly. We were at the right place on every main point in the race and everyone was able to keep me in position perfectly.
It went smoothly for six hours and 25 minutes, it's just that in the last three kilometres, I suffered cramps. That was a big disappointment for me.
The Amstel Gold Race is my favourite race and this was the first time that I was the front man of the team. You're extra disappointed when you don't finish the way you want to. Especially since this was the best Amstel Gold Race we ever rode as a team."
Bauke Mollema:
"It was hard, fast, and you know it's hard to escape at the end because so many teams want to keep it together for the last 2-3 kilometers. I missed explosiveness to be there at the end and in this race you absolutely need that.
I recovered well between the climbs, which tells me my shape is really good, but on the Keuterberg I could tell I lacked power. The crash in Basque did not help, and perhaps it's a result of that.
After my crash maybe I trained a bit differently this week. I missed that explosiveness and in this race you have to be very, very explosive. I'm very confident for next week (Fleche Wallone and LBL) because the climbs are longer and for the whole year I have done better on the longer climbs. But still, I hope to find the explosivity back because I will need that next week too.
The problem was I was too far back when I started the Cauberg for the last time. It was a big, big mistake. After that - finished."
Fabio Felline:
"It was difficult for me to get to the front, and by the time I made my way forward the group was split. I want to ask everyone to excuse my performance, it was a big opportunity to make a good result today, and at the finale I missed this opportunity."
Kristian Sbaragli:
"The legs were good today but I just missed the first group that went on the Cauberg by a handful of seconds. I am happy with how I felt though and the team were great in helping me today. While I am happy with my performance I want to come back to this race and fight for the victory."
Johann van Zyl:
"My goal for the day was to get into the break. It took a bit longer for the break to go than usual, I think I followed at least 15 attacks before the break got away. Once we were away I was happy to be in front and obviously to achieve the goal that I set myself for the day. My next goal was to try and win the most aggressive trophy but in the final there were three guys who were just a bit stronger than I was. In general though I think the team raced well, Kristian also got a top 20 so it was a good day in the office."
Timo Roosen:
"It was good for me to be in that leading group," he said. "There was a lot of wind, which made it extra tough. In the bunch, there is a real high pace on the climbs and between them it's a little bit easier. You're able to save more energy when you're in the breakaway."
Wilco Kelderman:
"I felt really good.
I was looking forward to this race a lot. I was waiting for the moment to attack. With the Dutch crowd on the climbs, it almost feels like a world championship for us.
I knew that there would be gravel, but I wasn't thinking about it because of my adrenaline. I felt my wheel slipping away so I was forced to go straight into the field. Otherwise, I would've fallen."
Tony Gallopin:
"I have mixed feelings. Top ten was my minimum goal. The sixth place isn't a bad result, but it could have been better. At first I wasn't positioned well, but thanks to a strong effort of Jürgen Roelandts I could come to the front at the beginning of the Cauberg. Five hundred metres before the finish I lost some energy due to the wind. When Kwiatkowski passed me by I didn't have any power left to react and to conquer a podium place. It was the first time I played a role in the final here, that's encouraging for the future."
Tim Wellens:
"I'm disappointed I wasn't good enough to follow the best on the Cauberg and I didn't get to the finish with the first group. At the bottom of the last climb I was positioned well and when Ben Hermans attacked I tried to bridge. I soon felt a top result wasn't possible. The next races are different, so I won't make a drama of this."
Roman Kreuziger:
"Amstel is a race that I personally like and it was nice to be there in the final. When you have four weeks without racing, it's nice to get a confirmation that the shape is good. You never know how you are in Amstel, but I felt pretty good and I really look forward to the next two races in the Ardennes. Now, in my vision, the most important is to recover and rest before Fleche Wallone and Liège-Bastogne-Liège.
I had a puncture going into the final part of the race at a critical time but my teammates brought me back quickly. I was there in the final group after Cauberg but against guys like Valverde and Kwiatkowski it's difficult. Valgren was a bit too far back at the bottom of Cauberg, but he can become the guy that can win a race like this. It's important that he raced as co-leader in order to get experience from a difficult race like this".
1

Michal Kwiatkowski (Pol) Etixx - Quick-Step

2

Alejandro Valverde (Spa) Movistar Team

3

Michael Matthews (Aus) Orica GreenEdge

4

Rui Costa (Por) Lampre-Merida

5

Tony Gallopin (Fra) Lotto Soudal

6

Greg Van Avermaet (Bel) BMC Racing Team

7

Julian Alaphilippe (Fra) Etixx - Quick-Step

8

Enrico Gasparotto (Ita) Wanty - Groupe Gobert

9

Maciej Paterski (Pol) CCC Sprandi Polkowice

10

Philippe Gilbert (Bel) BMC Racing Team

11

Daniel Moreno Fernandez (Spa) Team Katusha

12

Rinaldo Nocentini (Ita) AG2R La Mondiale

13

Giampaolo Caruso (Ita) Team Katusha

14

Roman Kreuziger (Cze) Tinkoff-Saxo

15

Daniel Martin (Irl) Cannondale-Garmin Pro Cycling Team

16

Lars Petter Nordhaug (Nor) Team Sky

17

Jakob Fuglsang (Den) Astana Pro Team

18

Ben Hermans (Bel) BMC Racing Team

0:00:03

19

Tim Wellens (Bel) Lotto Soudal

0:00:18

20

Kristian Sbaragli (Ita) MTN - Qhubeka

21

Maurits Lammertink (Ned) Team Roompot

22

Michael Valgren (Den) Tinkoff-Saxo

23

Bob Jungels (Lux) Trek Factory Racing

24

Jan Bakelants (Bel) AG2R La Mondiale

25

Aleksei Tcatevich (Rus) Team Katusha

26

Tom Dumoulin (Ned) Team Giant-Alpecin

27

Paul Martens (Ger) Team LottoNL-Jumbo

28

Björn Leukemans (Bel) Wanty - Groupe Gobert

29

Davide Rebellin (Ita) CCC Sprandi Polkowice

30

Fabio Felline (Ita) Trek Factory Racing

31

Samuel Sanchez Gonzalez (Spa) BMC Racing Team

32

Joaquin Rodriguez Oliver (Spa) Team Katusha

33

Sergio Luis Henao Montoya (Col) Team Sky

34

Jelle Vanendert (Bel) Lotto Soudal

35

Martin Elmiger (Swi) IAM Cycling

36

Tom Jelte Slagter (Ned) Cannondale-Garmin Pro Cycling Team

0:00:26

37

Rasmus Guldhammer (Den) Cult Energy Pro Cycling

38

Nathan Haas (Aus) Cannondale-Garmin Pro Cycling Team

39

Georg Preidler (Aut) Team Giant-Alpecin

40

Damiano Cunego (Ita) Nippo - Vini Fantini

41

Mirko Selvaggi (Ita) Wanty - Groupe Gobert

42

Arthur Vichot (Fra) FDJ.fr

43

Floris De Tier (Bel) Topsport Vlaanderen - Baloise

0:00:52

44

Chris Anker Sörensen (Den) Tinkoff-Saxo

45

Carlos Alberto Betancur Gomez (Col) AG2R La Mondiale

46

Serge Pauwels (Bel) MTN - Qhubeka

47

Giovanni Visconti (Ita) Movistar Team

48

Jose Joaquin Rojas Gil (Spa) Movistar Team

49

Diego Ulissi (Ita) Lampre-Merida

50

Petr Vakoc (Cze) Etixx - Quick-Step

51

Matteo Montaguti (Ita) AG2R La Mondiale

52

Manuele Boaro (Ita) Tinkoff-Saxo

53

Rafael Valls Ferri (Spa) Lampre-Merida

54

Alexis Vuillermoz (Fra) AG2R La Mondiale

55

Bauke Mollema (Ned) Trek Factory Racing

56

Frank Schleck (Lux) Trek Factory Racing

57

Diego Rosa (Ita) Astana Pro Team

58

Gorka Izaguirre Insausti (Spa) Movistar Team

59

Andriy Grivko (Ukr) Astana Pro Team

60

Robert Kiserlovski (Cro) Tinkoff-Saxo

61

Michel Kreder (Ned) Team Roompot

62

Wilco Kelderman (Ned) Team LottoNL-Jumbo

63

Luis Leon Sanchez Gil (Spa) Astana Pro Team

64

Dylan Teuns (Bel) BMC Racing Team

0:00:59

65

Vincenzo Nibali (Ita) Astana Pro Team

0:01:20

66

Jurgen Roelandts (Bel) Lotto Soudal

0:01:32

67

Daryl Impey (RSA) Orica GreenEdge

68

Pieter Weening (Ned) Orica GreenEdge

69

Michael Albasini (Swi) Orica GreenEdge

70

Simon Gerrans (Aus) Orica GreenEdge

71

Vasil Kiryienka (Blr) Team Sky

72

Warren Barguil (Fra) Team Giant-Alpecin

73

Gianni Meersman (Bel) Etixx - Quick-Step

0:01:40

74

Alberto Losada Alguacil (Spa) Team Katusha

0:02:14

75

David Tanner (Aus) IAM Cycling

76

Simon Clarke (Aus) Orica GreenEdge

0:02:21

77

Tony Martin (Ger) Etixx - Quick-Step

0:04:27

78

Silvan Dillier (Swi) BMC Racing Team

0:04:53

79

Sylvain Chavanel (Fra) IAM Cycling

0:04:56

80

Tosh Van Der Sande (Bel) Lotto Soudal

0:05:47

81

Marek Rutkiewicz (Pol) CCC Sprandi Polkowice

82

Thomas Sprengers (Bel) Topsport Vlaanderen - Baloise

0:06:42

83

Marinus Cornelis Minnaard (Ned) Wanty - Groupe Gobert

84

Pieter Jacobs (Bel) Topsport Vlaanderen - Baloise

85

Mikael Cherel (Fra) AG2R La Mondiale

86

Marc Demaar (Ned) Team Roompot

87

Edward Theuns (Bel) Topsport Vlaanderen - Baloise

88

Huub Duyn (Ned) Team Roompot

89

Damiano Caruso (Ita) BMC Racing Team

90

Bartlomiej Matysiak (Pol) CCC Sprandi Polkowice

91

Johnny Hoogerland (Ned) Team Roompot

0:06:47

92

Oliver Naesen (Bel) Topsport Vlaanderen - Baloise

93

Laurens De Vreese (Bel) Astana Pro Team

94

Dmitrii Kozonchuk (Rus) Team Katusha

95

Preben Van Hecke (Bel) Topsport Vlaanderen - Baloise

96

Daniele Colli (Ita) Nippo - Vini Fantini

97

Michal Golas (Pol) Etixx - Quick-Step

98

Julien Vermote (Bel) Etixx - Quick-Step

99

Sergey Lagutin (Rus) Team Katusha

100

Julian David Arredondo Moreno (Col) Trek Factory Racing

101

Kristijan Durasek (Cro) Lampre-Merida

102

Grega Bole (Slo) CCC Sprandi Polkowice

103

Jan Polanc (Slo) Lampre-Merida

104

Ivan Rovny (Rus) Tinkoff-Saxo

105

Kévin Reza (Fra) FDJ.fr

106

Benoît Vaugrenard (Fra) FDJ.fr

107

Sonny Colbrelli (Ita) Bardiani CSF

108

Enrico Battaglin (Ita) Bardiani CSF

109

Manuele Mori (Ita) Lampre-Merida

110

Sebastian Langeveld (Ned) Cannondale-Garmin Pro Cycling Team

111

Enrico Barbin (Ita) Bardiani CSF

112

Alex Howes (USA) Cannondale-Garmin Pro Cycling Team

113

Ramunas Navardauskas (Ltu) Cannondale-Garmin Pro Cycling Team

114

Fabian Wegmann (Ger) Cult Energy Pro Cycling

0:07:56

115

Tiago Machado (Por) Team Katusha

116

Stig Broeckx (Bel) Lotto Soudal

0:08:59

117

Sjoerd Van Ginneken (Ned) Team Roompot

118

Jaroslaw Marycz (Pol) CCC Sprandi Polkowice

119

Branislau Samoilau (Blr) CCC Sprandi Polkowice

120

Youcef Reguigui (Alg) MTN - Qhubeka

121

Yannick Eijssen (Bel) Wanty - Groupe Gobert

122

Francis De Greef (Bel) Wanty - Groupe Gobert

123

Pim Ligthart (Ned) Lotto Soudal

124

Laurent Pichon (Fra) FDJ.fr

125

Marcus Burghardt (Ger) BMC Racing Team

0:09:59

126

Edoardo Zardini (Ita) Bardiani CSF

0:10:48

127

Bram Tankink (Ned) Team LottoNL-Jumbo

0:12:21

128

Pier Paolo De Negri (Ita) Nippo - Vini Fantini

0:13:47

129

Jacques Janse Van Rensburg (RSA) MTN - Qhubeka

DNF

Ben Gastauer (Lux) AG2R La Mondiale

DNF

Christophe Riblon (Fra) AG2R La Mondiale

DNF

William Bonnet (Fra) FDJ.fr

DNF

Olivier Le Gac (Fra) FDJ.fr

DNF

Anthony Roux (Fra) FDJ.fr

DNF

Jussi Veikkanen (Fin) FDJ.fr

DNF

Lars Boom (Ned) Astana Pro Team

DNF

Lieuwe Westra (Ned) Astana Pro Team

DNF

Stijn Vandenbergh (Bel) Etixx - Quick-Step

DNF

Reto Hollenstein (Swi) IAM Cycling

DNF

Vicente Reynes Mimo (Spa) IAM Cycling

DNF

Aleksejs Saramotins (Lat) IAM Cycling

DNF

Matteo Bono (Ita) Lampre-Merida

DNF

Valerio Conti (Ita) Lampre-Merida

DNF

Dennis Vanendert (Bel) Lotto Soudal

DNF

Jasha Sütterlin (Ger) Movistar Team

DNF

Imanol Erviti (Spa) Movistar Team

DNF

José Herrada Lopez (Spa) Movistar Team

DNF

Rory Sutherland (Aus) Movistar Team

DNF

Mathew Hayman (Aus) Orica GreenEdge

DNF

Christian Meier (Can) Orica GreenEdge

DNF

Alberto Bettiol (Ita) Cannondale-Garmin Pro Cycling Team

DNF

Matej Mohoric (Slo) Cannondale-Garmin Pro Cycling Team

DNF

Roy Curvers (Ned) Team Giant-Alpecin

DNF

Koen De Kort (Ned) Team Giant-Alpecin

DNF

Thierry Hupond (Fra) Team Giant-Alpecin

DNF

Albert Timmer (Ned) Team Giant-Alpecin

DNF

Zico Waeytens (Bel) Team Giant-Alpecin

DNF

Thomas Leezer (Ned) Team LottoNL-Jumbo

DNF

Bertjan Lindeman (Ned) Team LottoNL-Jumbo

DNF

Timo Roosen (Ned) Team LottoNL-Jumbo

DNF

Nick Van Der Lijke (Ned) Team LottoNL-Jumbo

DNF

Jos Van Emden (Ned) Team LottoNL-Jumbo

DNF

Nathan Earle (Aus) Team Sky

DNF

Peter Kennaugh (GBr) Team Sky

DNF

Philip Deignan (Irl) Team Sky

DNF

Xabier Zandio Echaide (Spa) Team Sky

DNF

Wouter Poels (Ned) Team Sky

DNF

Jesper Hansen (Den) Tinkoff-Saxo

DNF

Evgeny Petrov (Rus) Tinkoff-Saxo

DNF

Fumiyuki Beppu (Jpn) Trek Factory Racing

DNF

Laurent Didier (Lux) Trek Factory Racing

DNF

Calvin Watson (Aus) Trek Factory Racing

DNF

Simone Andreetta (Ita) Bardiani CSF

DNF

Nicola Boem (Ita) Bardiani CSF

DNF

Andrea Piechele (Ita) Bardiani CSF

DNF

Stefano Pirazzi (Ita) Bardiani CSF

DNF

Stefan Schumacher (Ger) CCC Sprandi Polkowice

DNF

Russell Downing (GBr) Cult Energy Pro Cycling

DNF

Linus Gerdemann (Ger) Cult Energy Pro Cycling

D

NF

Alex Kirsch (Lux) Cult Energy Pro Cycling

DNF

Christian Mager (Ger) Cult Energy Pro Cycling

DNF

Michael Reihs (Den) Cult Energy Pro Cycling

DNF

Troels Ronning Vinther (Den) Cult Energy Pro Cycling

DNF

Matthew Harley Goss (Aus) MTN - Qhubeka

DNF

Johann Van Zyl (RSA) MTN - Qhubeka

DNF

Songezo Jim (RSA) MTN - Qhubeka

DNF

Daniel Teklehaimanot (Eri) MTN - Qhubeka

DNF

Giacomo Berlato (Ita) Nippo - Vini Fantini

DNF

Iuri Filosi (Ita) Nippo - Vini Fantini

DNF

Alessandro Malaguti (Ita) Nippo - Vini Fantini

DNF

Riccardo Stacchiotti (Ita) Nippo - Vini Fantini

DNF

Genki Yamamoto (Jpn) Nippo - Vini Fantini

DNF

Reinier Honig (Ned) Team Roompot

DNF

Mike Terpstra (Ned) Team Roompot

DNF

Tim Declercq (Bel) Topsport Vlaanderen - Baloise

DNF

Arthur Van Overberghe (Bel) Topsport Vlaanderen - Baloise

DNF

Marco Marcato (Ita) Wanty - Groupe Gobert

DNF

Jan Ghyselinck (Bel) Wanty - Groupe Gobert

DNS

Dries Devenyns (Bel) IAM Cycling

DNS

Thomas Degand (Bel) IAM Cycling