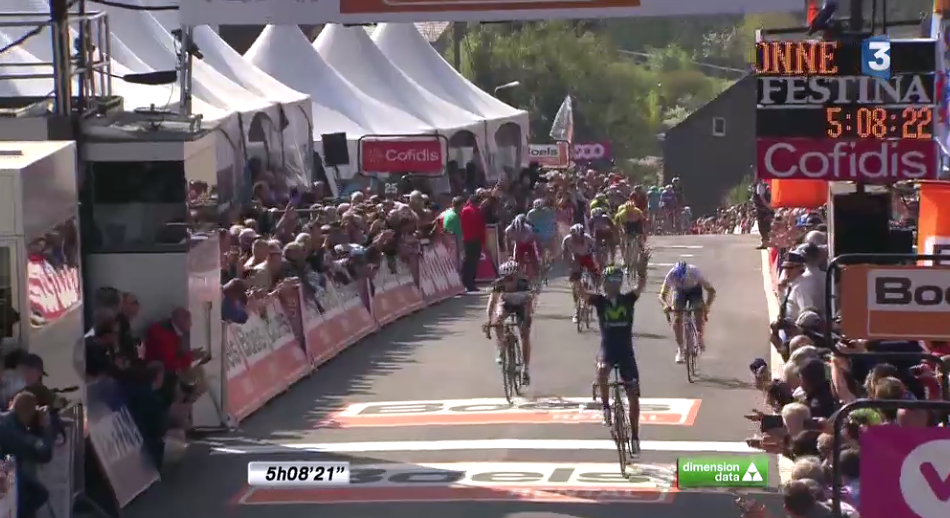 It's my favourite Ardennes Classic:

short, straight, shocking

with its

super steep

finish in Huy. The Mur to be climbed three times.

It's all about Huy

, as they say.

And I climbed it once, yes I did... on foot!

it was hard even that way. The atmosphere was hot, warmed by beer and cycling fans excitement. The temperature was cold instead: it was a gray day, fortunately dry. Andy Schleck was working for his brother Frank but it didn't work that well.

It was 2010.

The year before,

2009, in my personal Andy Schleck's Palmares I have a victory scored here

: Andy got defeated only by the doper Davide Rebellin. By the way Davide Rebellin is still racing in these Ardennes Classics while Andy Schleck retired... Second behind Di Luca, second behind Rebellin, second behind Contador, second behind Gilbert...

you get fed up even without two serious crashes...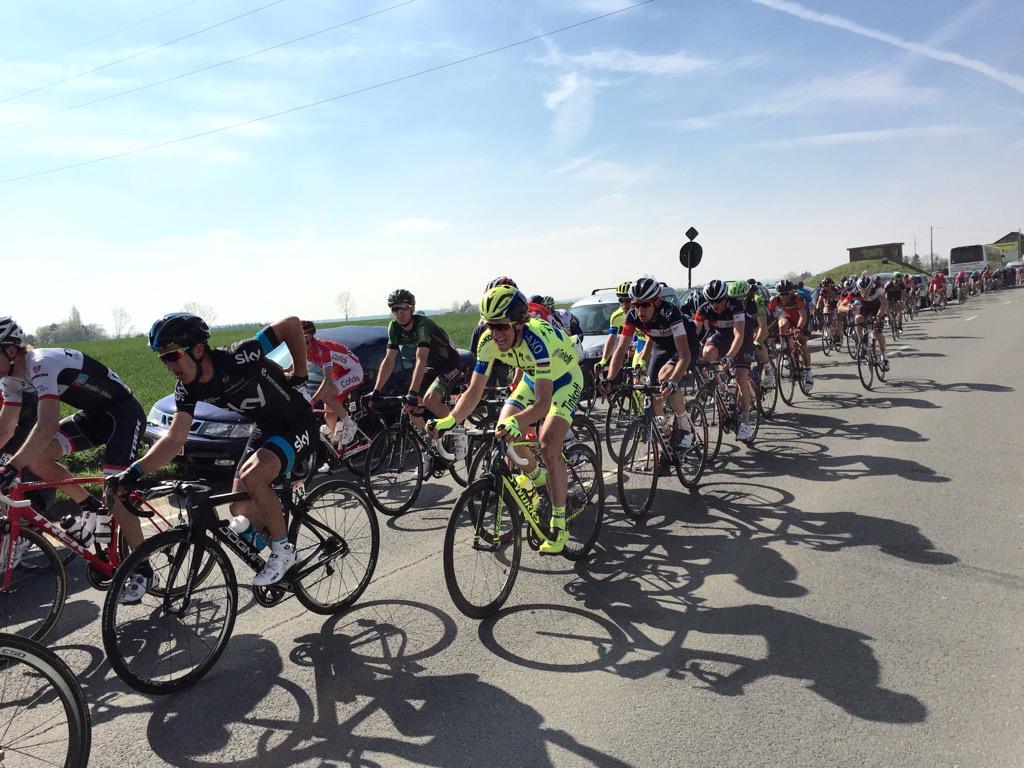 Anyway the weather is good this year in the Fleche, sunny and warm,

spring in full swing like in 2011

when I went watching my second Liège and Andy Schleck retired in the Fleche due to pollen allergy:

the ground was yellow with pollen

in the small railstation on my way to the press conference in Francorchamp.
On its way it's also the race, toward Huy, thinking of it with eagerness, fear or desire.

There is

a break-away

including good climbers like Thomas De Gendt (Lotto Soudal), Mike Teunissen (Team LottoNL-Jumbo), Brice Feillu (Bretagne-Séché Environnement), Jérôme Baugnies (Wanty - Groupe Gobert), Reinier Honig (Team Roompot), Daniele Ratto (UnitedHealthcare Pro Cycling), and Pieter Vanspeybrouck. They had 2'55 after 18km and now, after almost 30 the gap is 7'35".
They think of Huy but it isn't the only hill to climb - just the steeppest and the last one -

The Côte des 36 Tournants

(2.9 km, 4.8% average gradient) is the first one, after 19 km. The second one is the

Côte de Bellaire

, after 91 km.

Nothing yet, absoluting nothing. Beautiful, sweet, green and blue Belgian landscape.
Côte de Bohissau

(2.4 km, 5.5% average) then the first passage on the Mur de Huy. Aproacing it

a big crash: Tiago Machado

(Katusha) touches wheels with Martin and brought him down with him. Many riders fell or had to stop. Bike change for

Dan Martin

and back to the bunch.
Next hill is the

Côte d'Ereffe

: 2.1 km long and 5% average.
Anna Van Der Breggen
(Rabobank Liv) wins solo the female Fleche

but we can see it only on recorded image, few minutes later and after a large vocal protest on the net. What a

shame

again!
59.3km to go the gap is down to 4'51" for the break-away.

Côte de Bellaire again

: 1 km long and 6.3% average gradient.

Homig and Teunissen lose the wheels.

Team Sky is pulling the peloton. Michal Kwiatkowski is also spotted in front.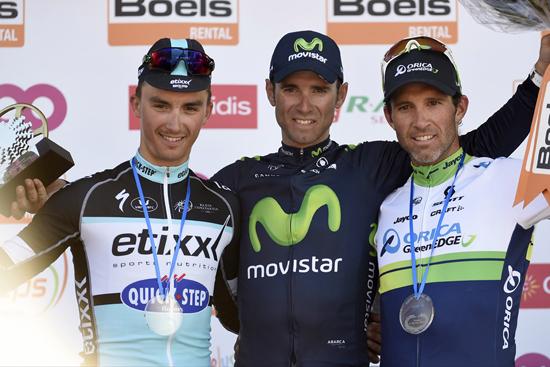 Heading to the 7th climb of the day - the

2nd ascent of the Côte de Bohissau

: 2.4 km long, 5.5% average -

another crash brings down Gilbert

(BMC), Jones (UnitedHealthcare),

Jungels and Arredondo

(Trek). The Belgian looks bad, tries to get back on bike but finally stops: race over for him. Jones gets straight on the team car. Bob Jungels retires too but slowly rides to the finish. Arredondo retired too.
45 km to go Homig and Teunissen get caught. Another crash and several riders are spotted into a ditch: Nordhaug, Moinard, Poels, Roux... Second ascent of the Mur de Huy, another crash again: Jelle Vanendert

sits on the sidewalk waiting for the team car while Alexey

Tsatevich

(Katusha) looks in pain. Both had to stop. On the Mur: in front Pieter

Vanspeybroeck gets dropped and Baugnies takes the lead

, behind the first attacks with

Luis Leon Sanchez and Giovanni Visconti who gain a gap and bridge to Daniele Ratto.

Their advantage is a slight 21''.
29 km to go, three hills to climb: Côte d'Ereffe, Côte de Cherave and Mur de Huy for the last time
19 km to go Ratto dropped. Sanchez setting the pace,

Van Garderen attacks from the peloton.
16.7km to go, gap 22". Visconti and Sanchez are the only two ahead, van Garderen trying to bridge with Vervaeke and Baugnies. Bougnis dropped 13 km to go.

All caught excluded Visconti and Sanchez.
12 km to go another crash!

including also Chris

Froome

(Sky) who looks bad, still he's riding. Samuel Sanchez (BMC), Bryan

Coquard

(Europcar) and

three IAM

Cycling riders also went down.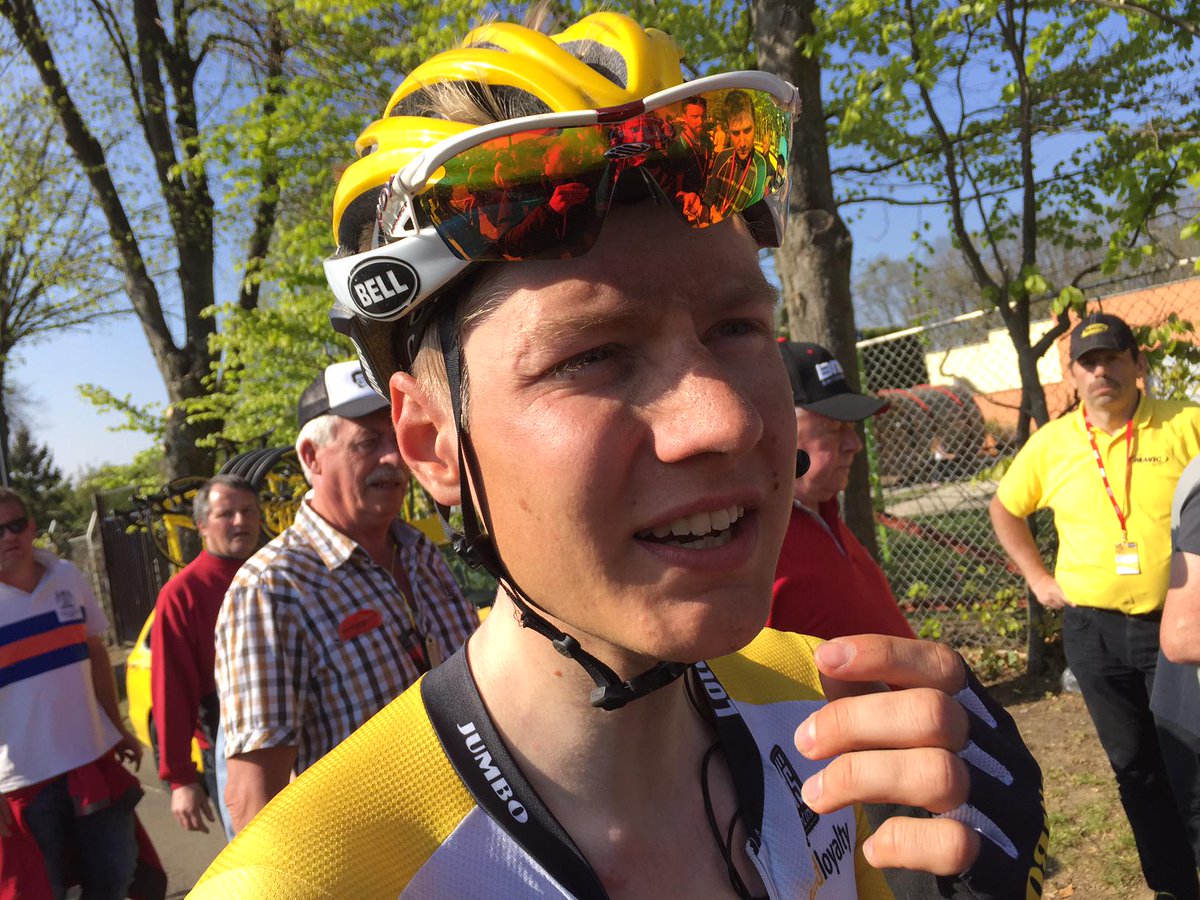 Côte de Cherave

: 1.3 km long with an average gradient of 8.1%.

It's new in the race, meant to make it harder and less predictable.

6 km to go and the race explodes:

Nibali

attacks,

Kreuziger

responds, then Tim

Wellens gets a gap

and only

Caruso follows.

Top and fast descent. 2 km to go Caruso caught.
Mur de Huy: Wellens caught. Nobody attacks and Valverde wins in a bunch sprint.
NOT A WINNER THAT I LIKE.
Alejandro Valverde:
"It was really a very hard day, with lots of crashes and lots of tension. I can't remember such a tense day for a long time. It was a very hard climb, a good climb for me. I controlled the race a lot: I had Visconti in the break and then I decided to keep the rhythm steady and up the pace at the end. At 200 metres to go, I knew I was going to win, because I had the spark to give it a bit more."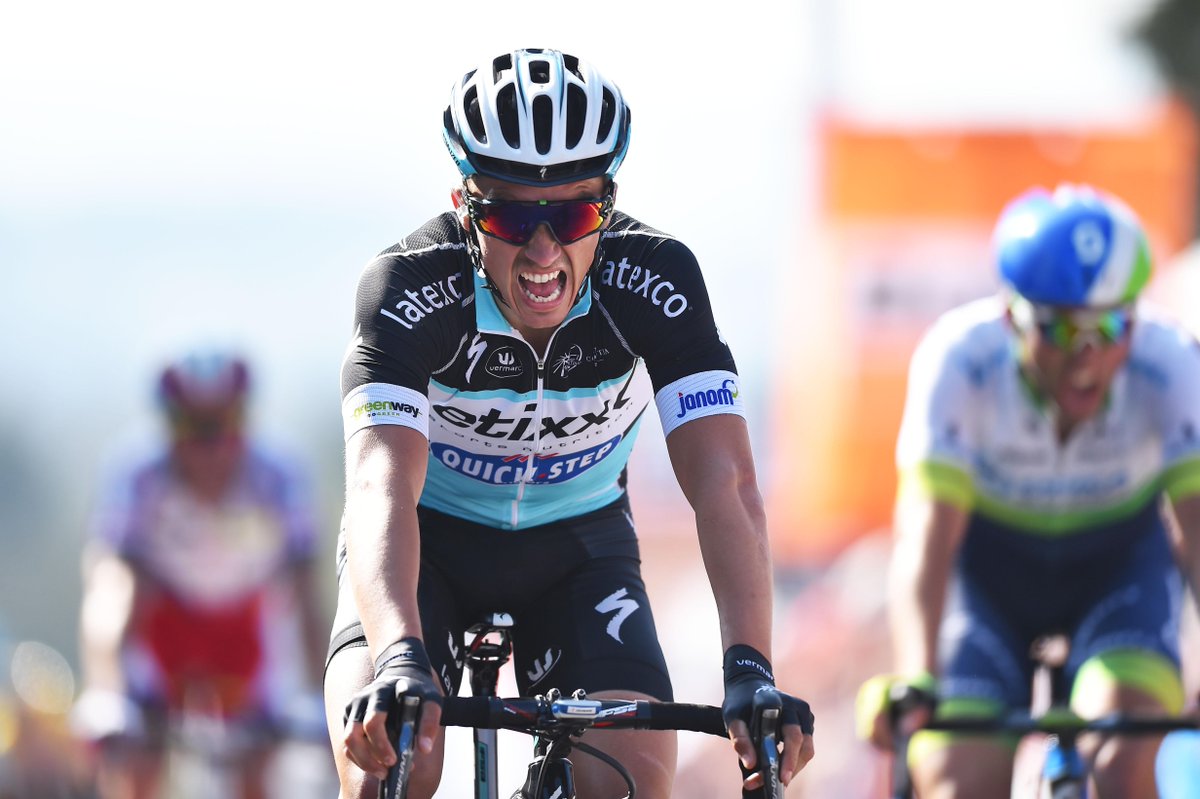 Julian Alaphilippe:
"This is my first time racing Flèche and I had never done the Mur de Huy before. I'm surprised and happy about my 2nd place after a strong team performance today. My goal was to help Michal Kwiatkowski be in the top positions before the Mur de Huy. The Côte de Cherave created a tense finale. A lot of riders wanted to attack there. My job was to follow the attacks in support of Michal. A big bunch showed up on the Mur de Huy, which was a different scenario compared to previous years. As a team we did a great job surrounding Michal and controlling the attacks of the day. On the Mur de Huy I found myself very well positioned at the front. I had great legs on the climb and the nature of the Mur de Huy makes it difficult to contest the finale if you are not in front. So my Sport Director told me to just go for the victory as I was in great position with good condition. I did everything I could, but I saw Alejandro Valverde was in front and on this steep climb there was just no way to close the gap. He deserved the victory today. I'm still a young rider trying to gain experience and am happy that I can be there to both help my teammate, and also try if there is an opportunity for myself in the finale. One day I'd like to try and win these kinds of races, which I love. I will carry on and keep learning from both my teammates and the peloton around me. Now we will focus on Liege-Bastogne-Liege. It's another race I've never done before, so I am curious about it. I will see the parcours for the first time on Friday during recon and I am super excited. I hope to play an important role in the team strategy to help Michal in the front so the team can be able to contest the finish."
Michal Kwiatkowski:
"Today the team did a great job to put me in front the entire day, but unfortunately I couldn't finish really well. Probably I paid a little bit for all the emotions after the victory of Amstel Gold Race. It was really a big moment, and the emotions that followed it had a big impact on me. I think mentally I'm still adjusting to what I accomplished. In any case the team found a way to be on the podium with a strong Alaphilippe. He had a strong performance and it was only his first time. He closed all the attacks on the second-to-last climb. He did a great job for me and in the final he still found the legs to contest the race. He was 2nd, so we are very proud of him. We are doing really well as a team and we hope to finish the Ardennes Classics with a top finish at Liege-Bastogne-Liege."
Michael Albasini:
"The Mur de Huy is a climb that suits me. This race is also my chance to go for a result because at Amstel (Gold) Race and Liege, I am mostly there as a teammate for Simon Gerrans or Michael Matthews.
As my chance, I have to be good today.
Valverde is one of the strongest guys in this kind of finish. You never know (if you can beat him), you always have to try. I was closer than ever maybe, but it still wasn't possible today."
Wilco Kelderman:
"Short and steep climbs suit me.
It's nice to have them racing again after some injuries. They've had some setbacks, but they're fit again. I think we're heading in the right direction with the team. Everything will fall into place again.
Unfortunately, Tom Leezer crashed hard. That was quite a shock."
Robert Gesink:
"I'm happy to be back, I'm feeling like a cyclist again.
This was all I could do today after a long period without races, but I'm happy with my level. The hard work paid off. My knee feels good, but I still miss some power. My knee feels good, but I still miss some power.
During the first kilometres, when the side-winds split the pack, I wasn't able to keep the wheel of the rider in front of me. That's never happened to me before as professional. I'm quite tough, though, and when the rest of the riders were weakened, I was able to follow."
Paul Martens:
"I closely survived the first 3crashes and then the last one in the final was unavoidable.So dangerous today,but that's cycling nowadays.
I don't have to much pain,so Liege is not in danger.Good to see W1lco Kelderman was top10 today,team spirit was superb again."
Jelle Vanendert:
"Just as in the Amstel Gold Race I hit my right elbow. It's never good when you crash two times in a few days, but there's not too much damage. I had a good feeling in the race and was always riding in front on the climbs. I was convinced it was possible to set a good result, unfortunately I crashed."
Thomas De Gendt:
"I was one of the riders in the team who had to try to join a breakaway, so the teams of the favourites had to work. The composition of the front group was good. I was happy Jérôme Baugnies was one of the escapees as well, he goes all the way. The cooperation went smoothly and we had a maximal lead of eight minutes. On the climbs it was obvious which riders were the strongest in front. We were left with five after the second ascent of the Côte de Bellaire. Later, that group fell apart and Sánchez and Visconti bridged to the front. When I noticed Louis had jumped away from the peloton I decided to wait and help him."
Tim Wellens:
"The plan was that I should attack on the Côte de Cherave or just before and Jelle Vanendert would wait until the last ascent of the Mur de Huy. It was a pity that Jelle had to leave the race. I decided to stick to the plan because I can't compete with the explosive riders in the peloton. I know the course really well, the descent of the Côte de Cherave suits me. It went well until the first part of the Mur de Huy, but with 900 metres to go I felt my legs got weaker; 300 metres further I was reeled in. This attempt wasn't intended to show myself, but I aimed for the victory. It gives me confidence for Liège-Bastogne-Liège that I was in a position in which it was possible to win. I often train on the course of the Flèche Wallonne and it's no far from my home town Sint-Truiden. Many fans came to support me along the route, that was great."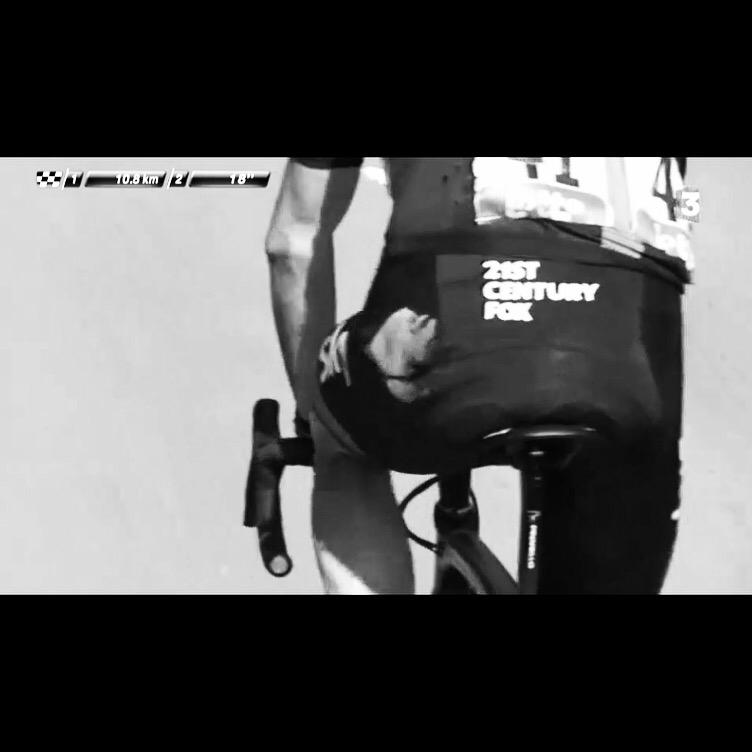 Chris Froome:
"#HappyEarthDay unfortunately I chose to eat some of it today... C'est la vie! #FlecheWalllonne"
Bob Jungels:
"First of all I was feeling really, really good today. I had nice legs and we were about to start the climb where I wanted to attack. I think I was in the top 10 when it happened. [Philippe] Gilbert was just in front of me and I flew over him.
It's always a super, super nervous race, and I think today was special because it was easy in the bunch because everything was controlled so everyone was fresh. In the end you can't blame anyone [for the crash], but sometimes there are a few riders that take too much risk. We were going pretty fast so I am lucky to escape with just scrapes and bruises. Everything is good - I will be ready for Sunday."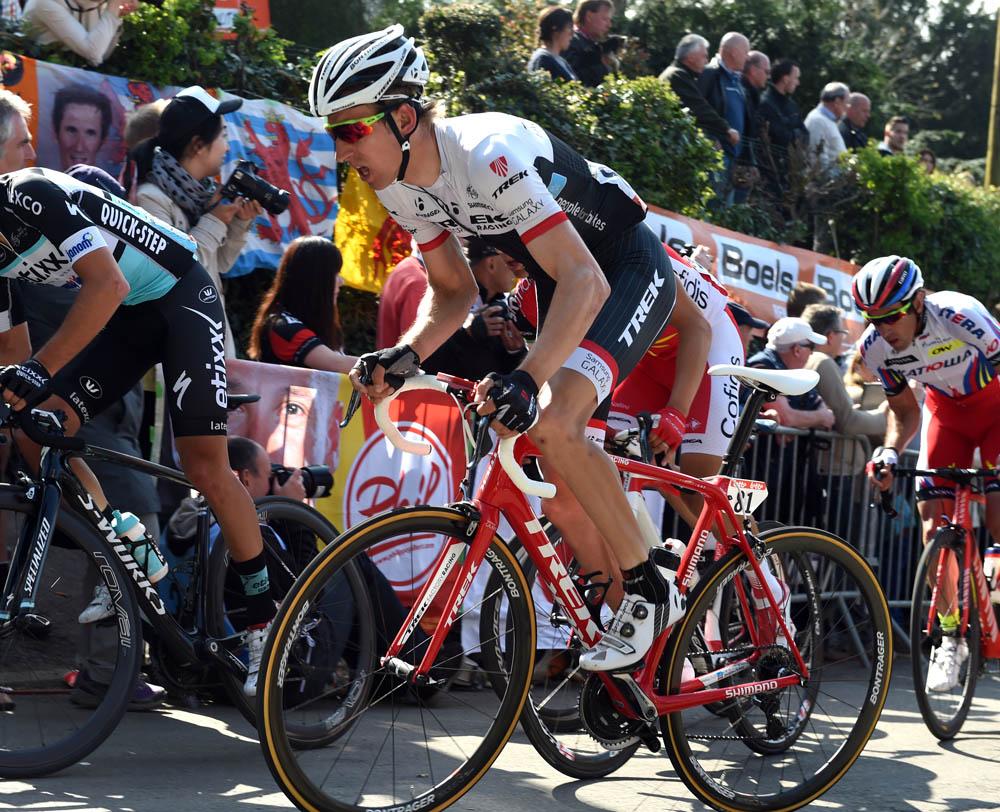 Bauke Mollema:
"This race is always stressful and so many bad roads and everyone is always waiting for the last climb. This new climb made it harder in the final, and I liked it. Fabio [Felline] did such a great job to bring me in perfect position for the second to last climb - and also again for the last climb - but then I screwed it up on the bottom. I got caught behind the guys from the break going backwards and I wanted to pass on the right, but it wasn't possible, and I had to brake and I lost maybe 30 places there. It was my mistake.
I had good legs, and in this race it is so important to have a good position in the last 500 meters, and yeah, [on the Côte de Cherave] is where it went wrong today. But the good thing is I felt better than I did in Amstel Gold Race, so for Sunday I hope to make it up for this week."
RESULTS
1 Alejandro

Valverde

(Spa) Movistar Team

2 Julian Alaphilippe (Fra) Etixx - Quick-Step

3 Michael Albasini (Swi) Orica GreenEdge

4 Joaquim Rodriguez (Spa) Team Katusha

5 Daniel Moreno Fernandez (Spa) Team Katusha

6 Alexis Vuillermoz (Fra) AG2R La Mondiale 7 Sergio Luis Henao (Col) Team Sky

8 Jakob Fuglsang (Den) Astana Pro Team

9 Tom Jelte Slagter (Ned) Cannondale-Garmin Pro Cycling Team

10 Wilco Kelderman (Ned) Team LottoNL-Jumbo

11

Roman

Kreuziger

(Cze) Tinkoff-Saxo

0:00:08

12

Rinaldo Nocentini (Ita) AG2R La Mondiale

0:00:10

13

Dylan Teuns (Bel) BMC Racing Team

14

Pierre

Rolland

(Fra) Team Europcar

0:00:13

15

Enrico Gasparotto (Ita) Wanty - Groupe Gobert

16

Jonathan Hivert (Fra) Bretagne-Séché Environnement

0:00:16

17

Mathias Frank (Swi) IAM Cycling

18

Michele

Scarponi

(Ita) Astana Pro Team

19

Bauke Mollema (Ned) Trek Factory Racing

0:00:19

20

Vincenzo Nibali (Ita) Astana Pro Team

21

Julien Simon (Fra) Cofidis, Solutions Credits

22

Steve Morabito (Swi) FDJ.fr

23

Ben Hermans (Bel) BMC Racing Team

0:00:22

24

Sébastien Reichenbach (Swi) IAM Cycling

0:00:23

25

Robert Gesink (Ned) Team LottoNL-Jumbo

26

Warren Barguil (Fra) Team Giant-Alpecin

27

Nicolas Roche (Irl) Team Sky

28

Rui Costa (Por) Lampre-Merida

0:00:28

29

Rudy Molard (Fra) Cofidis, Solutions Credits

0:00:30

30

Fabio Felline (Ita) Trek Factory Racing

0:00:36

31

Tim Wellens (Bel) Lotto Soudal

32

Robert Kiserlovski (Cro) Tinkoff-Saxo

33

Michal Kwiatkowski (Pol) Etixx - Quick-Step

0:00:38

34

Gianluca Brambilla (Ita) Etixx - Quick-Step

0:00:42

35

Davide Formolo (Ita) Cannondale-Garmin Pro Cycling Team

0:00:43

36

Michel Kreder (Ned) Team Roompot

0:00:51

37

Georg Preidler (Aut) Team Giant-Alpecin

0:00:53

38

Jose Joaquin Rojas (Spa) Movistar Team

39

Serge Pauwels (Bel) MTN - Qhubeka

0:00:57

40

Jan Bakelants (Bel) AG2R La Mondiale

0:01:09

41

Giovanni Visconti (Ita) Movistar Team

0:01:16

42

Rafael Valls Ferri (Spa) Lampre-Merida

0:01:19

43

Floris De Tier (Bel) Topsport Vlaanderen - Baloise

0:01:32

44

Gorka Izagirre (Spa) Movistar Team

0:01:37

45

Esteban Chaves (Col) Orica GreenEdge

0:01:39

46

Giampaolo Caruso (Ita) Team Katusha

0:01:47

47

Marco Minnaard (Ned) Wanty - Groupe Gobert

0:01:54

48

Luis Angel Mate (Spa) Cofidis, Solutions Credits

49

Francis De Greef (Bel) Wanty - Groupe Gobert

50

Diego

Ulissi

(Ita) Lampre-Merida

51

Huub Duijn (Ned) Team Roompot

52

Victor Campenaerts (Bel) Topsport Vlaanderen - Baloise

0:02:00

53

Brent Bookwalter (USA) BMC Racing Team

0:02:01

54

Luis Leon Sanchez (Spa) Astana Pro Team

0:02:02

55

Pierrick Fedrigo (Fra) Bretagne-Séché Environnement

0:02:05

56

Carlos Betancur (Col) AG2R La Mondiale

57

Stéphane Rossetto (Fra) Cofidis, Solutions Credits

58

Frank Schleck (Lux) Trek Factory Racing

59

Larry Warbasse (USA) IAM Cycling

60

Jan Polanc (Slo) Lampre-Merida

61

Marco Canola (Ita) UnitedHealthcare Pro Cycling

62

Simon Yates (GBr) Orica GreenEdge

63

Mikael Cherel (Fra) AG2R La Mondiale

64

Kristian Sbaragli (Ita) MTN - Qhubeka

0:02:12

65

Marc De Maar (Ned) Team Roompot

66

Bart De Clercq (Bel) Lotto Soudal

0:02:16

67

Yukiya Arashiro (Jpn) Team Europcar

68

Sander Armee (Bel) Lotto Soudal

69

Jacques Janse Van Rensburg (RSA) MTN - Qhubeka

0:02:19

70

Maurits Lammertink (Ned) Team Roompot

71

Eduardo Sepulveda (Arg) Bretagne-Séché Environnement

0:02:22

72

Stephen Cummings (GBr) MTN - Qhubeka

0:02:27

73

Thomas Sprengers (Bel) Topsport Vlaanderen - Baloise

74

Florian Vachon (Fra) Bretagne-Séché Environnement

75

José Herrada (Spa) Movistar Team

0:02:43

76

Nairo Quintana (Col) Movistar Team

77

Alberto Losada Alguacil (Spa) Team Katusha

78

Mirko Selvaggi (Ita) Wanty - Groupe Gobert

0:02:50

79

Andriy Grivko (Ukr) Astana Pro Team

0:02:56

80

Tiago Machado (Por) Team Katusha

0:03:29

81

Manuele Boaro (Ita) Tinkoff-Saxo

0:03:33

82

Rafal Majka (Pol) Tinkoff-Saxo

83

Yannick Eijssen (Bel) Wanty - Groupe Gobert

84

Chris Anker Sörensen (Den) Tinkoff-Saxo

0:03:45

85

Johnny Hoogerland (Ned) Team Roompot

0:03:58

86

Pieter Jacobs (Bel) Topsport Vlaanderen - Baloise

0:04:03

87

Louis Vervaeke (Bel) Lotto Soudal

0:04:46

88

Arthur Vichot (Fra) FDJ.fr

0:04:49

89

Ben Gastauer (Lux) AG2R La Mondiale

0:05:44

90

Manuele Mori (Ita) Lampre-Merida

0:05:47

91

Valerio Conti (Ita) Lampre-Merida

92

Tony Martin (Ger) Etixx - Quick-Step

93

Vasil Kiryienka (Blr) Team Sky

94

Pieter Weening (Ned) Orica GreenEdge

0:05:50

95

Caleb Fairly (USA) Team Giant-Alpecin

96

Benoît Vaugrenard (Fra) FDJ.fr

0:05:53

97

Nathan Haas (Aus) Cannondale-Garmin Pro Cycling Team

0:06:24

98

Jose Rodolfo Serpa (Col) Lampre-Merida

99

Thomas De Gendt (Bel) Lotto Soudal

0:07:11

100

Michal Golas (Pol) Etixx - Quick-Step

101

Laurens Ten Dam (Ned) Team LottoNL-Jumbo

0:07:19

102

Tejay Van Garderen (USA) BMC Racing Team

0:07:59

103

Samuel Sanchez (Spa) BMC Racing Team

104

Paul Martens (Ger) Team LottoNL-Jumbo

0:08:03

105

Sergey Lagutin (Rus) Team Katusha

106

Maxime Bouet (Fra) Etixx - Quick-Step

107

Matthieu Boulo (Fra) Bretagne-Séché Environnement

108

Bryan Coquard (Fra) Team Europcar

109

Pieter Serry (Bel) Etixx - Quick-Step

110

Youcef Reguigui (Alg) MTN - Qhubeka

0:08:08

111

Alex Howes (USA) Cannondale-Garmin Pro Cycling Team

112

Alessandro Vanotti (Ita) Astana Pro Team

0:08:17

113

Laurent Didier (Lux) Trek Factory Racing

0:08:22

114

Jérôme Baugnies (Bel) Wanty - Groupe Gobert

0:08:46

115

Mike Terpstra (Ned) Team Roompot

0:09:10

116

Armindo Fonseca (Fra) Bretagne-Séché Environnement

0:09:40

117

Brice Feillu (Fra) Bretagne-Séché Environnement

118

Danilo Wyss (Swi) BMC Racing Team

119

Preben Van Hecke (Bel) Topsport Vlaanderen - Baloise

120

Patrick Schelling (Swi) IAM Cycling

121

Pieter Vanspeybrouck (Bel) Topsport Vlaanderen - Baloise

0:09:52

122

Petr Vakoc (Cze) Etixx - Quick-Step

0:10:57

123

Christopher Froome (GBr) Team Sky

0:12:19

124

Angelo Tulik (Fra) Team Europcar

0:13:18

125

Johannes Fröhlinger (Ger) Team Giant-Alpecin

0:13:20

126

Fumiyuki Beppu (Jpn) Trek Factory Racing

127

Bryan Nauleau (Fra) Team Europcar

0:13:28

128

Songezo Jim (RSA) MTN - Qhubeka

0:13:42

129

Davide Frattini (Ita) UnitedHealthcare Pro Cycling

0:13:51

130

Daniele Ratto (Ita) UnitedHealthcare Pro Cycling

0:14:27

131

Frederico Zurlo (Ita) UnitedHealthcare

132

Mike Teunissen (Ned) Team LottoNL-Jumbo

0:17:46

133

Reinier Honig (Ned) Team Roompot

0:18:02

DNF

Imanol Erviti (Spa) Movistar Team

DNF

Ramunas Navardauskas (Ltu) Cannondale-Garmin Pro Cycling Team

DNF

Matej Mohoric (Slo) Cannondale-Garmin Pro Cycling Team

DNF

Benjamin King (USA) Cannondale-Garmin Pro Cycling Team

DNF

Rein Taaramae (Est) Astana Pro Team

DNF

Philip Deignan (Irl) Team Sky

DNF

Daniel Martin (Irl) Cannondale-Garmin Pro Cycling Team

DNF

Dmitrii Kozonchuk (Rus) Team Katusha

DNF

Lars Petter Nordhaug (Nor) Team Sky

DNF

Wouter Poels (Ned) Team Sky

DNF

Philippe Gilbert (Bel) BMC Racing Team

DNF

Rory Sutherland (Aus) Movistar Team

DNF

Amaël Moinard (Fra) BMC Racing Team

DNF

Peter Kennaugh (GBr) Team Sky

DNF

Romain Hardy (Fra) Cofidis, Solutions Credits

DNF

Laurent Pichon (Fra) FDJ.fr

DNF

Kévin Reza (Fra) FDJ.fr

DNF

Anthony Roux (Fra) FDJ.fr

DNF

Jussi Veikkanen (Fin) FDJ.fr

DNF

Clement Chevrier (Fra) IAM Cycling

DNF

Jonathan Fumeaux (Swi) IAM Cycling

DNF

Pirmin Lang (Swi) IAM Cycling

DNF

Jarlinson Pantano (Col) IAM Cycling

DNF

Arthur Van Overberghe (Bel) Topsport Vlaanderen - Baloise

DNF

Otto Vergaerde (Bel) Topsport Vlaanderen - Baloise

DNF

Jérôme Cousin (Fra) Team Europcar

DNF

Nicolas Edet (Fra) Cofidis, Solutions Credits

DNF

Cheng Ji (Chn) Team Giant-Alpecin

DNF

Clément Venturini (Fra) Cofidis, Solutions Credits

DNF

Simone Antonini (Ita) Wanty - Groupe Gobert

DNF

Boris Dron (Bel) Wanty - Groupe Gobert

DNF

Andreas Stauff (Ger) MTN - Qhubeka

DNF

Jay Robert Thomson (RSA) MTN - Qhubeka

DNF

Pierre-Luc Perichon (Fra) Bretagne-Séché Environnement

DNF

Jesper Asselman (Ned) Team Roompot

DNF

Alessandro Bazzana (Ita) UnitedHealthcare Pro Cycling

DNF

Lucas Euser (USA) UnitedHealthcare Pro Cycling

DNF

Christopher Jones (USA) UnitedHealthcare Pro Cycling

DNF

Kiel Reijnen (USA) UnitedHealthcare Pro Cycling

DNF

Yohan Bagot (Fra) Cofidis, Solutions Credits

DNF

Perrig Quemeneur (Fra) Team Europcar

DNF

Evgeny Petrov (Rus) Tinkoff-Saxo

DNF

Ivan Rovny (Rus) Tinkoff-Saxo

DNF

Michael Valgren Andersen (Den) Tinkoff-Saxo

DNF

Julian Arredondo (Col) Trek Factory Racing

DNF

Bob Jungels (Lux) Trek Factory Racing

DNF

Calvin Watson (Aus) Trek Factory Racing

DNF

Matteo Bono (Ita) Lampre-Merida

DNF

Sébastien Minard (Fra) AG2R La Mondiale

DNF

Matteo Montaguti (Ita) AG2R La Mondiale

DNF

Jelle Vanendert (Bel) Lotto Soudal

DNF

Pim Ligthart (Ned) Lotto Soudal

DNF

Olivier Le Gac (Fra) FDJ.fr

DNF

Romain Guillemois (Fra) Team Europcar

DNF

Fredrik Ludvigsson (Swe) Team Giant-Alpecin

DNF

Thomas Leezer (Ned) Team LottoNL-Jumbo

DNF

Bertjan Lindeman (Ned) Team LottoNL-Jumbo

DNF

Nick Van Der Lijke (Ned) Team LottoNL-Jumbo

DNF

Simon Clarke (Aus) Orica GreenEdge