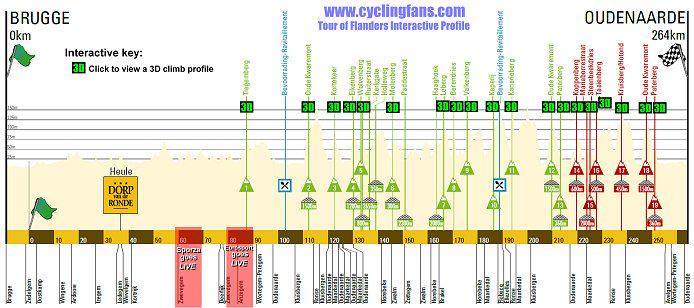 The Ronde. The Holy Easter of Cycling. The feeling of

greatness

, the

crowd

of the important moments.

A beautiful sunny windy day. Spring time in the Fladers.
19 hills waiting, like a rosary

: Tiegemberg, Oude Kwaremont, Kortekeer, Eikenberg, Wolvenberg, Molenberg, Leberg, Berendries, Valkenberg, Kaperij, Kanarieberg, Oude Kwaremont, Paterberg, Koppenberg, Steenbeekdries, Taaienberg, Kruisberg, Oude Kwaremont and Paterberg.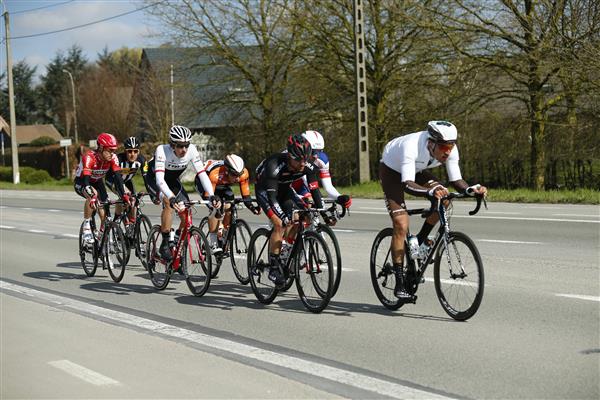 Cobblestones in

Ruiterstraat 800m, Kerkgate 2650m, Holleweg 350 m, Paddestraat 2300 m, Haaghoek 2000 m and Mariaborrestraat 2000 m.
The start from Gent. Five leaders

got 1': Matthew Brammeier (MTN – Qhubeka), Jesse Sergent (Trek Factory Racing), Damien Gaudin (AG2R La Mondiale) Ralf Matzka (Bora), Dylan Groenewegen (Team Roompot).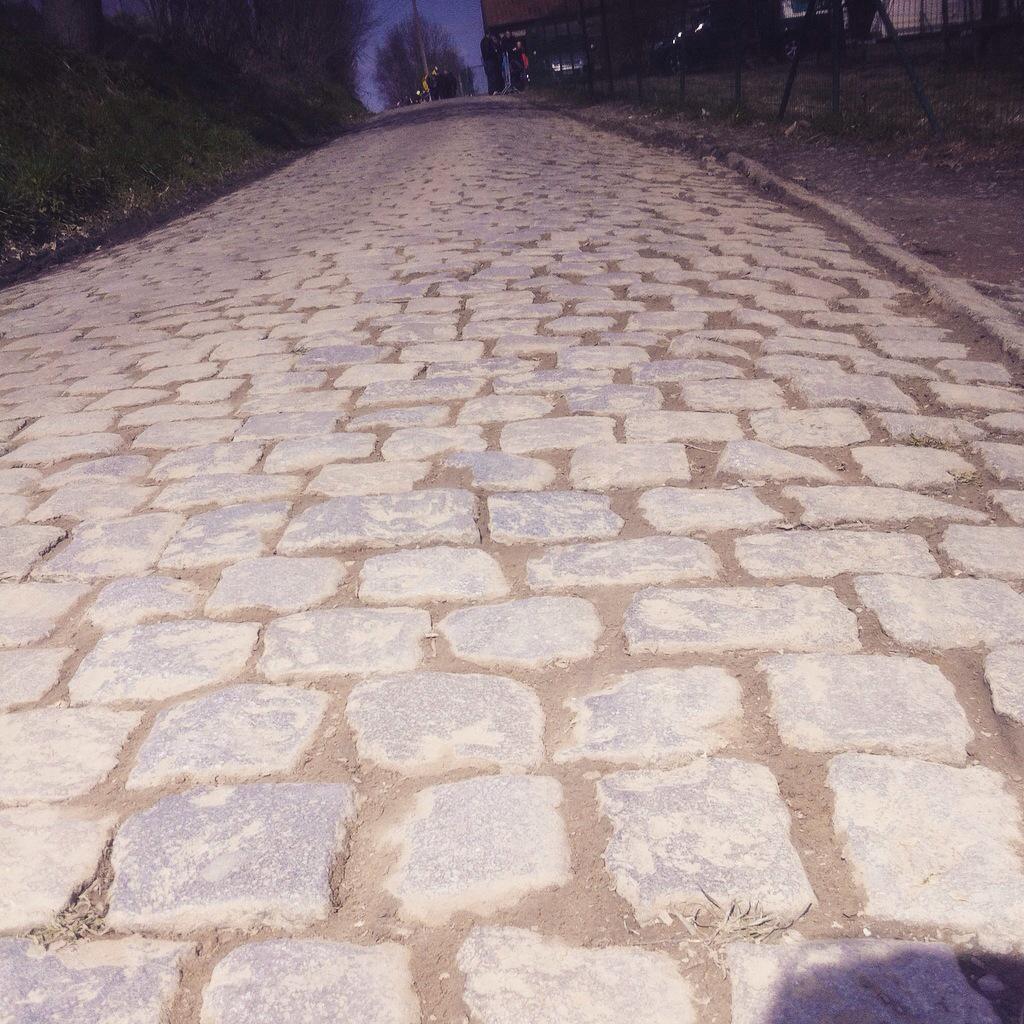 Lars Bak and Marco Frapporti joins and after 48 km the peloton is at 3'32".
The gap keeps growing, after 57 km the gap is 6'50".

Team Sky, Katusha and Etixx keep the front.
Approaching the Oude Kwaremont, Bradley Wiggins

crashes.

He's back on a spare bike but his left knees is bleeding. He stop again, change again his bike and fight to come back to the front. It takes a while, but it's there pulling with all his mates.
133 km to go Preben Van Hecke gets off chasing solo but is quickly caught by the peloton. The break-away's advantage is 6'17".
Many riders get flat tyres

, including Paolini who keeps the back of the peloton.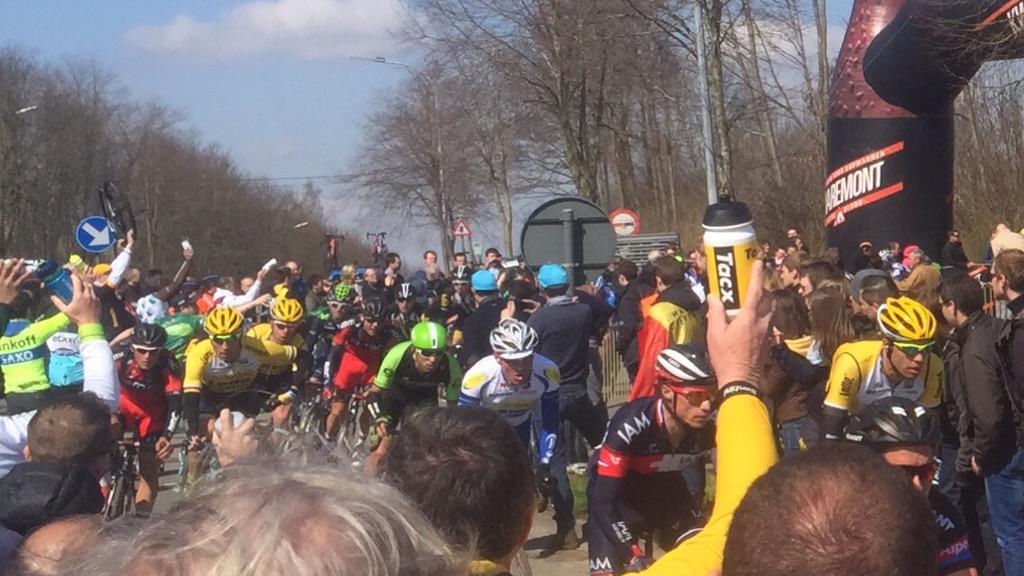 Matt Brammeier takes a small lead on the cobbles at Kerkgate, Damien Gaudin is trying to bridge. But they go anywhere.
Greipel attacks on the Mollemberg, top riders respond. The pace goes up. The gap goes down
: 3'50'' 116 km to go. Over the top, Greipel attacks again and puts
the peloton in a long line.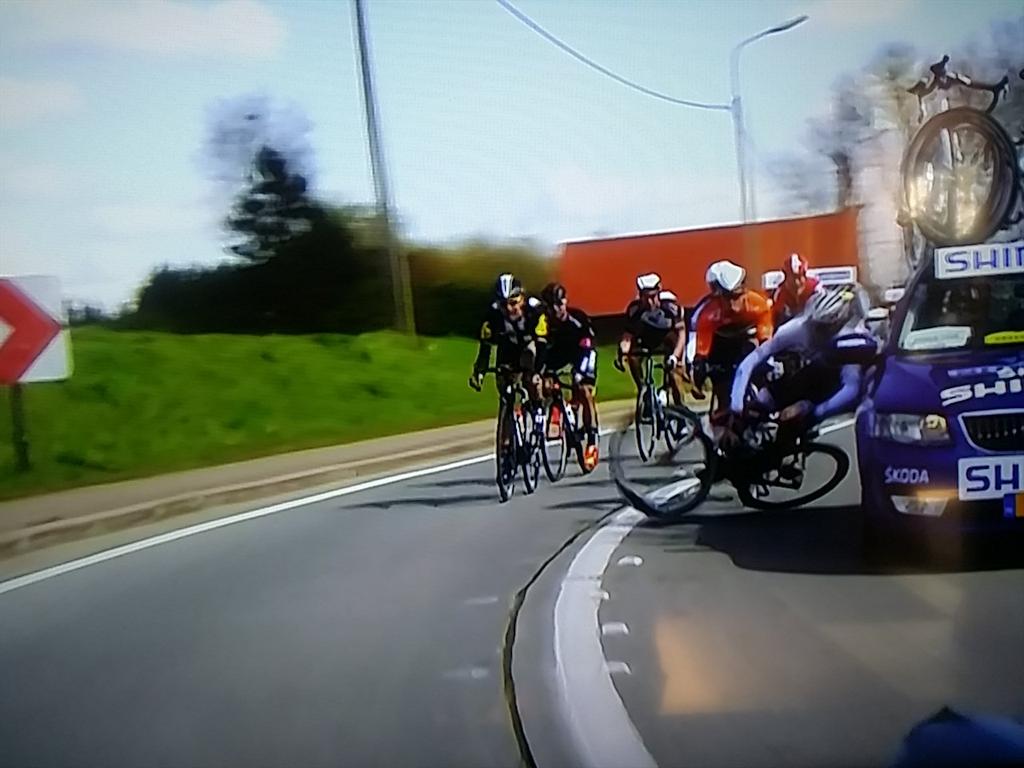 Time for Sagan to change a flat tyre, while

Youcef Reguigui crashes on the pavé and looks very bad. Riders are forced to pass on the grass.
Incredible: Jesse Sergent just got knocked off his bike by a neutral support vehicle.
Thought goes to Jonny Hoogerland in the Tour de France. It's something you really wouldn't see! Seargent is siting on the back of the medical car, he seems ok but shocked.
So

only five riders are left

in the break-away: Matthew Brammeier, Damien Gaudin, Ralf Matzka, Dylan Groenewegen, Lars Ytting Bak. Gap is 3'33''.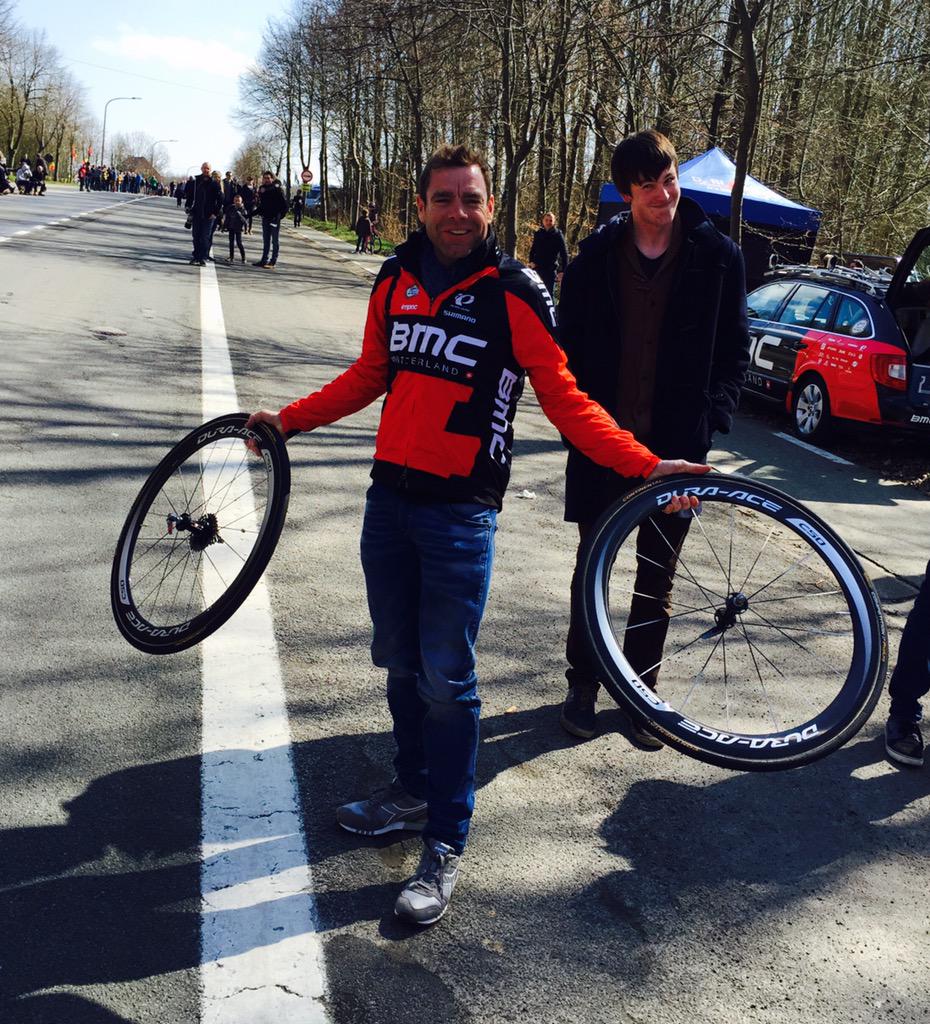 Meanwhile in the women race Elisa Longoborghini takes a splendid solo victory.

But nobody show it.
78 km to go another crash between cars: the neutral assistence car hit the FDJ team car and Sebastien Chavanel goes down! As a conquence he'll abandone. WTF!
Lars Bak attacks on the Kaperij, Gaudin on his wheel. They get a gap.
75 km to go. Riders try to get off the peloton - Docker, Juul-Jensen and Van Lerberghe - Team Sky still leading and controlling. The leading duo is on the

Kanarienberg

.
Riders try to bridge, attacks follow attacks from the head of the peloton. Jempy Drucker crashed.
11 riders got a slight gap

on the main peloton: Van Keirsbulck, Greipel, Dillier, Docker, Juul Jensen, Vanspeybrouck, Selvaggi, Thurau, Lobaro, Martinez and Broeckx.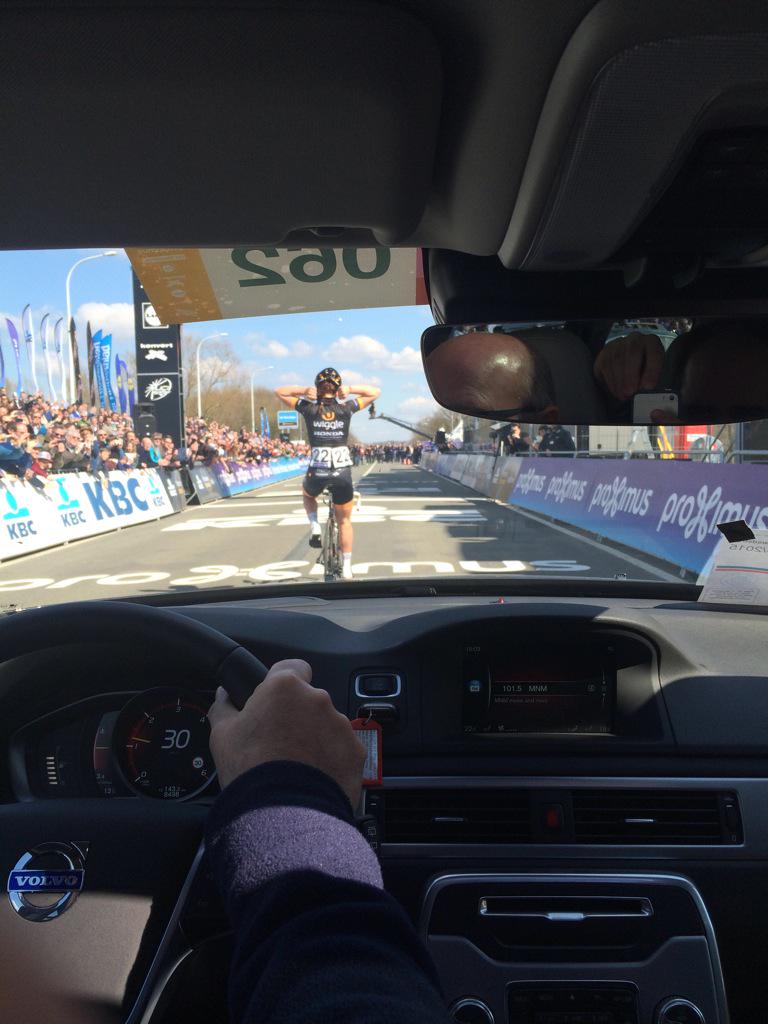 But aproaching the

Oude Kwaremont for the second time

, the peloton has caught the counter-attackers, Team Sky is leading the chase of the

two riders left in front, with only 1'.

55km to go, this paved climb is 2.2 km long, 4% average, 11.6 % max. They are going to do it three times.

The peloton explodes

, many attacks, may try to bridge. Fluid situation and

riders alla over the road.
Only 37'' for the leading duo that will be probably caught on the

Paterberg

: only 360 metres long, but very steep: 12.9% average and 20.3% max.

Bak is caught, Gaudin resists.
The race is on full swing.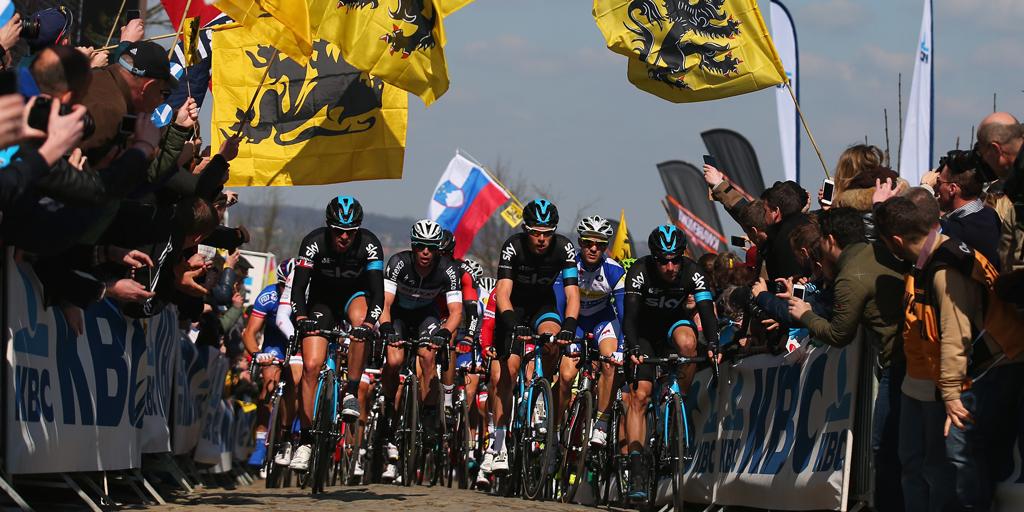 On the way to the

Koppenberg

: horrible pavé, 600 m, 11.6% average and 22% max.

Greipel attacks

again and hits first the cobbles.
Note that there are

no cars behind, blocked by a commercial arc that fell on the race

. The news comes that Jessee Sergeant broke his left collarbone.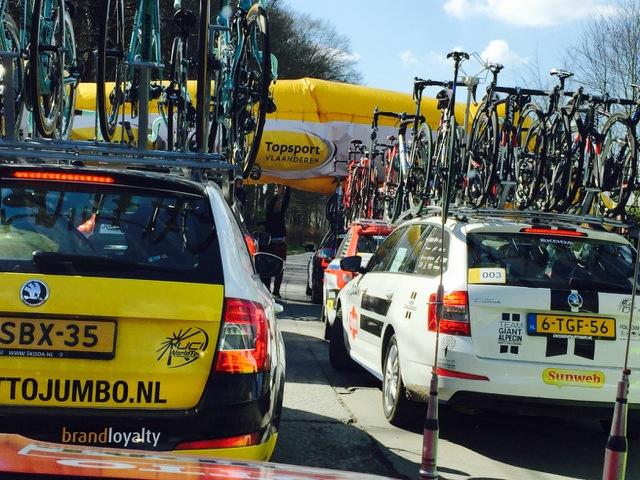 Big selection on the Koppenberg as

Devolder attacks and jumps on Greipel's wheel

. A new break-away forms.

Lutsenko

is on the attack on the cobbles of the

Mariaborrestraat

(2000 m),

Greipel and Chavanel

follow. Finally we see again the Jury's car.
Hard to report the chaos

.
Demare

got a flat tyre, a mate gives him his bike and he manages to come back to the front group: chapeau!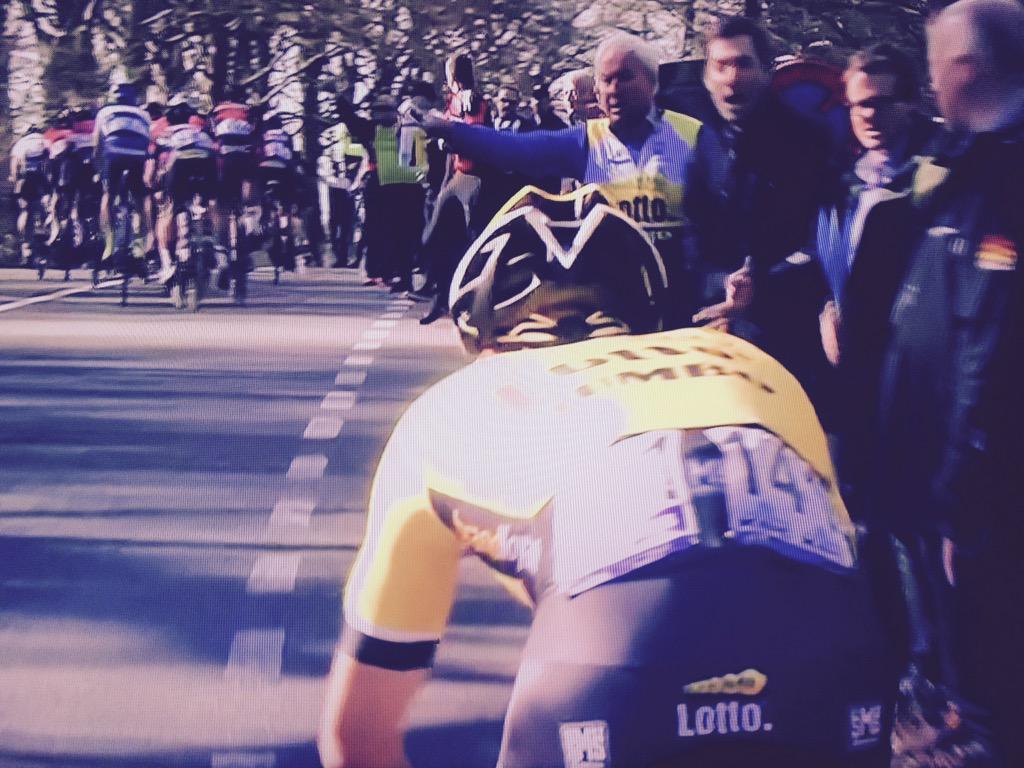 Chavanel and Greipel caught. Taienberg.

Lutsenko has got 28''.

Van Avermaet attacks, Rowe plays the stopper

. Oliveira and Drucker bridged to Lutsenko but the peloton don't let them go.
30 km to go: Kruisberg:2.5 km, 5% average, 9% max.

Sep Vanmarcke

had got

dropped

and is now doing a big effort to come back.
26 km to go

Niki Terpstra and Alexander Kristoff go

. Only Team Sky is chasing. The gap grows.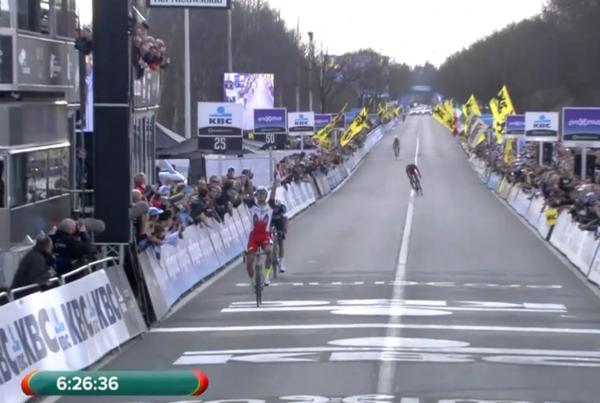 Last passage on the

Oude Kwaremont: Thomas attacks with Stybar

. No way, the peloton is close and the leaders already far. 3 km to the

Paterberg

, Van Avermaet attacks, Stybar responds. No way. 27" advantage for Kristoff and Terpstra.
Last climb:

Van Avermaet attacks again, Sagan follows. They chase together Terpstra and Kristoff

. 8.2 km to go the two leaders have got only 17'', 27'' on the main group. Many riders are trying to bridge.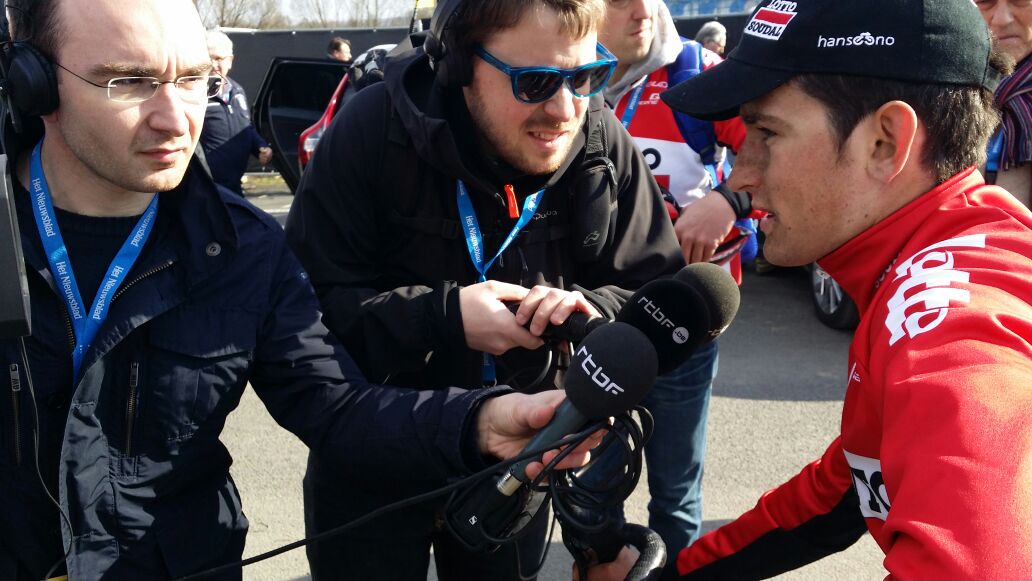 Neo pro Tiesj Benoot!
Now it's all traight and Terpstra is no more collaborating.

Of course, Kristoff is way faster. Still they risk to lose all.
Last km, and

Kristoff wins

. Van Avermaet 3rd. Bravo Tiesj Benoot, 5t.
Alexander Kristoff:
"As a young kid I always dreamed of winning in Flanders and now the dream has come true, - said Katusha rider Alexander Kristoff at the conclusion of his brilliant win in Sunday's Ronde van Vlaanderen. Coming under the 1 km to go banner, Kristoff was in the lead with only Niki Terpstra on the wheel. A ramp-up of speed with 50 meters to go and Alexander Kristoff took his second win of a cycling monument after his 2014 victory in Milano – Sanremo. Kristoff is the first Norwegian to win the Tour of Flanders.
I was a little bit nervous at the end when Niki stopped working. I was afraid the group behind us would catch us, so I just kept up a high speed. I knew if I kept a good speed, but not 100%, that I could still do a good sprint. This has been a great week; it really could not be better, - said Alexander Kristoff, referring to his three stage wins and overall victory in last week's 3 Days of De Panne.
I knew to follow Niki when he went. Once we got away we worked well together and I convinced him to work with me to the finish, knowing the worst he would get was second place. He tried to drop me on the Kwaremont and I was suffering there, but I'm actually quite good in these cobbled climbs. I felt I had him under control on the Paterberg, but in truth you never know. I didn't let him go because I knew he was strong. I'm happy I managed to go with him and no one came up behind us. I'm a fast finisher so I'm happy I could win. And I am really happy I could bring this victory to the team on the birthday of Mr. Makarov!"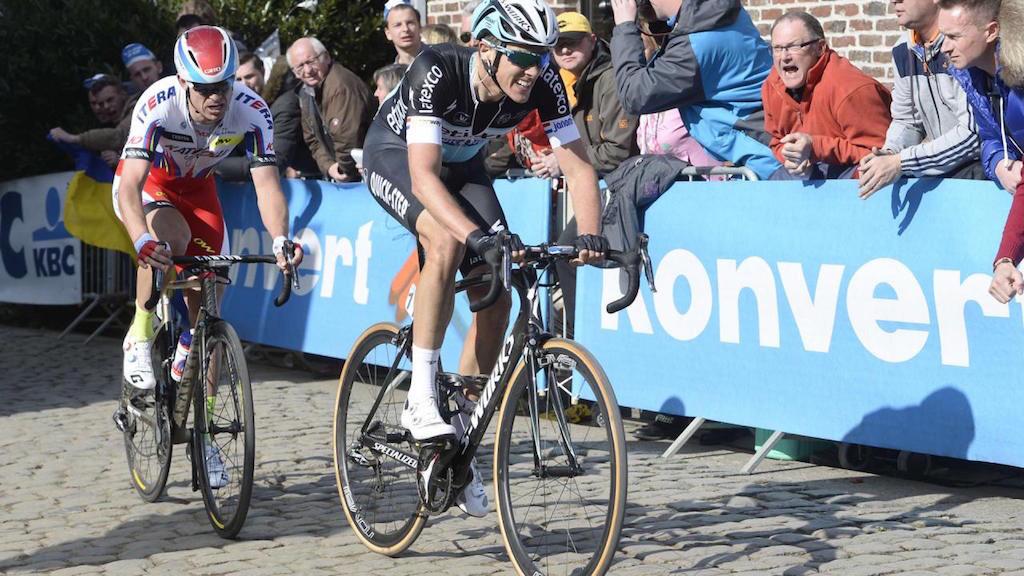 Niki Terpstra:
"I thought it was a good breakaway partner.

He's a fast rider for sure, but when we went away we still had three climbs to do. So I thought it was possible for me. I hoped to attack there and do something. But on the climbs he was super strong.

On the Paterberg he set such a good pace that I could hardly even pass him. He showed his strength in the last weeks and it was true again today. In the last 10 kilometers when he was still there, there wasn't much left to do. In the last 3 kilometers I stayed on his wheel because everyone knows how fast he is in the sprint. I hoped he was too tired to have a perfect sprint at that point. But even then, I came next to him when I launched my sprint, he accelerated, and then showed he was the best guy on the roads today. He deserved the victory. I have to be happy with my 2nd place. It's a big result in a big Monument. Of course I've had too many 2nd places and my goal is to win, but considering the situation I am satisfied and am excited for next week at Paris-Roubaix. I'm showing my shape is very good and I am so proud that I will be wearing the No. 1 on my jersey as the defending winner. We will see what can happen next Sunday."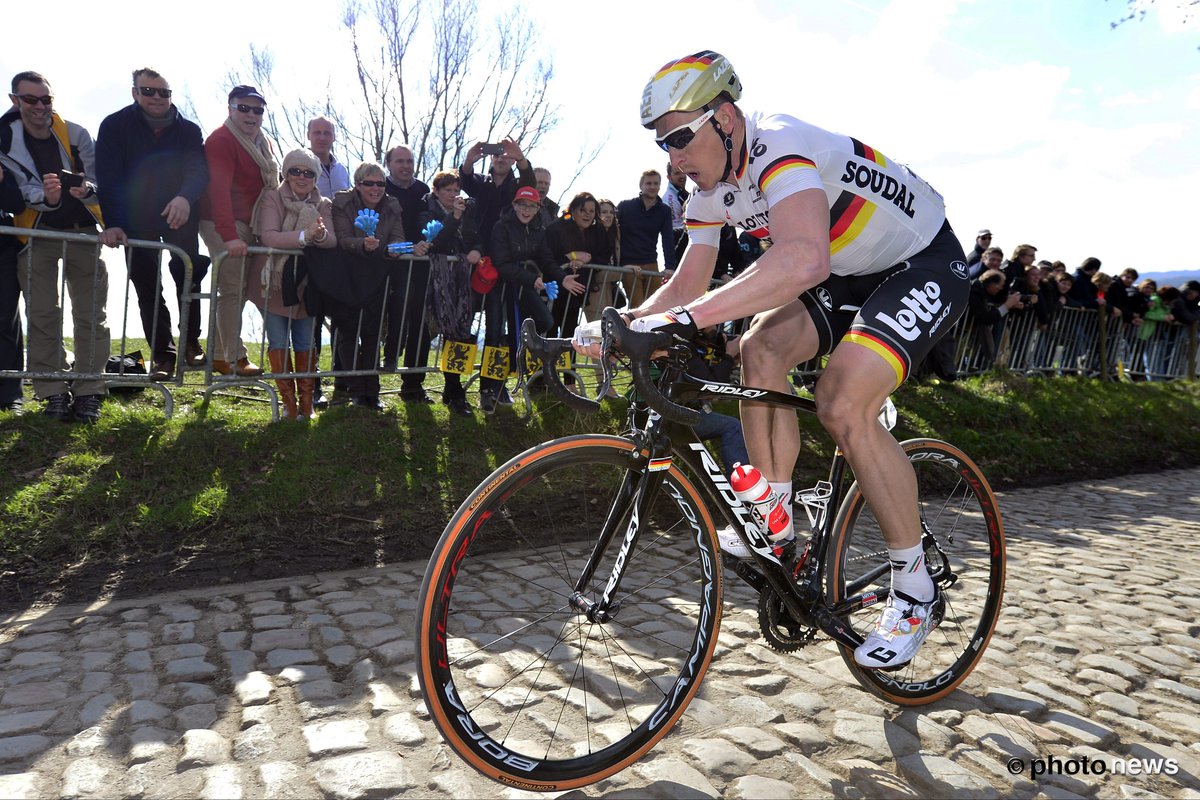 Zdenek Stybar:
"It's difficult to say how the loss of my teeth affected my performance, but it's really not nice to deal with it in such a big race. I was distracted by it and didn't know what to do. It happened before the second trip up the Kwaremont. Because it's a bridge, it was moving, so I took it out. It's not the best feeling to ride without teeth. But anyway, as for my race, I felt pretty good. On the Kwaremont chasing behind Niki we rode away with Thomas, but the gap just wasn't big enough. Niki was in front of us and it would be dangerous to bring him back. I sat on the wheel of Thomas, and then before the Paterberg I almost closed all the gaps forming between the riders, and it maybe cost me the power I could have used to be with Van Avermaet and Sagan when they went away on the Paterberg. But that is also part of teamwork for Niki ahead. I think my shape was good. But it was an odd race. With my teeth, and all the bizarre crashes happening, it was truly strange. But De Ronde I really think is the most beautiful race in the world, between the parcours and such a big public that truly loves this race. Now I look next to Paris-Roubaix, another race I am so passionate about."
Greg Van Avermaet:
"In the end, I am happy I am on the podium. I had the legs to win, I think. I was feeling really good the whole day. I tried to make the race hard and when they went, there were were still some teams to control the race, so I didn't have to go. In the end, we didn't see them back anymore. I was just hoping they would wait for me a little bit because Kristoff is so much faster than Terpstra in the sprint and last year they didn't want to ride with me when I was with Stijn Vanderdenbergh," Van Avermaet said. "So I was hoping today I could come back. But I couldn't make it anymore."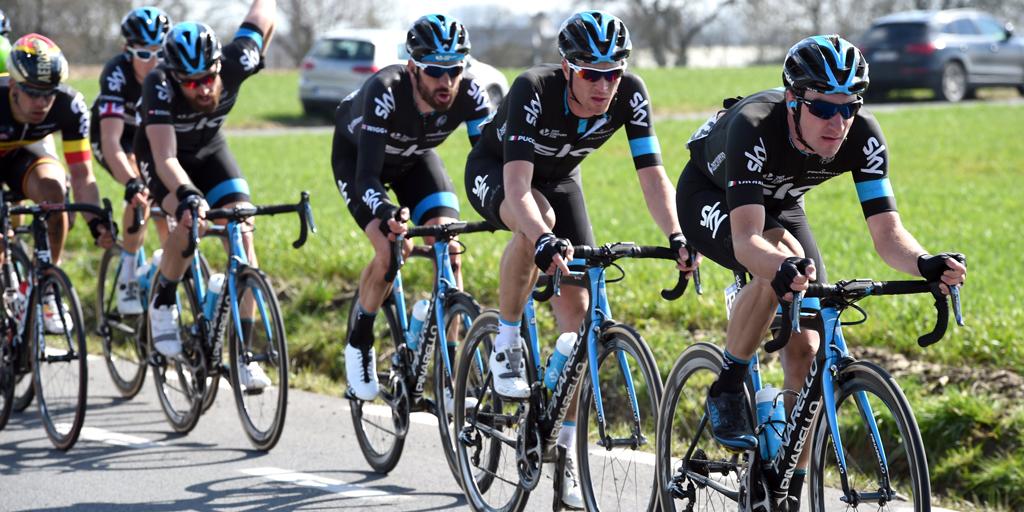 Geraint Thomas:
"It's Flanders and it's obviously a hard race. I just lacked that punch which I had last week on the Kwaremont.
I had to have a go as the boys road so well all day for me.

I just didn't quite have the legs at the end.

When you're feeling a bit average it feels like everyone is following you. Once I was in that group behind nobody would work together.

Everyone was a leader in there and it was just attack after attack.
Everyone in the team committed. We were in a good position all the time and stayed out of trouble. I couldn't have asked for me. It's just a shame I couldn't get a result for them but that's the way bike racing goes I guess."
Luke Rowe:
"Whenever you speak about the

classics it's always about unpredictability.

Chatting to G on the bus he openly admitted he didn't have the best day. Physically sometimes your legs aren't there and today was one of those days. But I think we can hold our heads high. We went out there, we had a plan, we executed it but it didn't quite come off. That's life.
I was happy with how I rode. I was there until pretty much the end. That was the plan, to try and take it onto the Kwaremont for the last time. There were only 20-25 guys left, so to be in an elite group like that is quite satisfying on a personal note - but I was just doing my job."
Stijn Devolder:
"I felt very good, and we knew that Kristoff was the big favorite. When he attacked on the Kruisberg I could easily follow him, but I wanted to play the game and wait to the other favorites to close the gap, because I also don't want to go to the finish with Kristoff.
I was planning to counter after they caught them back, but then we didn't…towards the finish it was a tactical game, everyone was looking at each other, and jumping and jumping…I jumped my butt off to follow, and

at the end I was cramping.

You can only be truly happy with the win, but I felt I did a good race, I did the best I could."
Jesse Sergent:
"I don't even really know what happened. I was taking a pull and the road curved to the left and a car was coming and the next moment I was on the ground. Straight away I knew that I wasn't going to be getting back on the bike. I am pretty disappointed.
Once I got up I realized it was the neutral support car trying to pass on the inside, I am not sure why, but it hit my handlebars and my arm or something and I had no chance to control the bike. It was also on a bit of a downhill section so we were going quite fast."
Sep Vanmarcke:
"I had a little dip at the Taaienberg and tried to return afterwards. If they had hesitated a little bit more, I probably would have been able to return. Maarten Wynants did everything to make my chase a successful one. I tried to complete our performance, but it wasn't enough.

The gap was not more than 30 metres at one moment.

That's cycling. I want to forget this as soon as possible and look forward to Paris-Roubaix."
Jürgen Roelandts:
"In the first part of the race I could hide really well in the bunch. Marcel Sieberg was my guide. On the second ascent of the Oude Kwaremont I kept an eye on all movements and I reached the top in the first part of the peloton. After the Koppenberg Lotto Soudal had three riders in the first group.
On the Kruisberg there was an acceleration of Tiesj. Next it were Kristoff and Terpstra who attacked. I was boxed in at that moment. Afterwards the gap was too big to make the jump on the second part of the climb, on the Hotond. I was afraid I wouldn't make it if I did. André pulled at the front of the group and also one Sky rider chased. I had hoped also Astana and BMC would help.
Tiesj and I did well on the third ascent of the Oude Kwaremont. I had a difficult moment on the Paterberg. Sagan and Van Avermaet created a gap there. The differences between the three groups fluctuated. Tiesj and I had agreed to attack or respond to attacks in turn. Eventually Tiesj got away with three kilometres to go."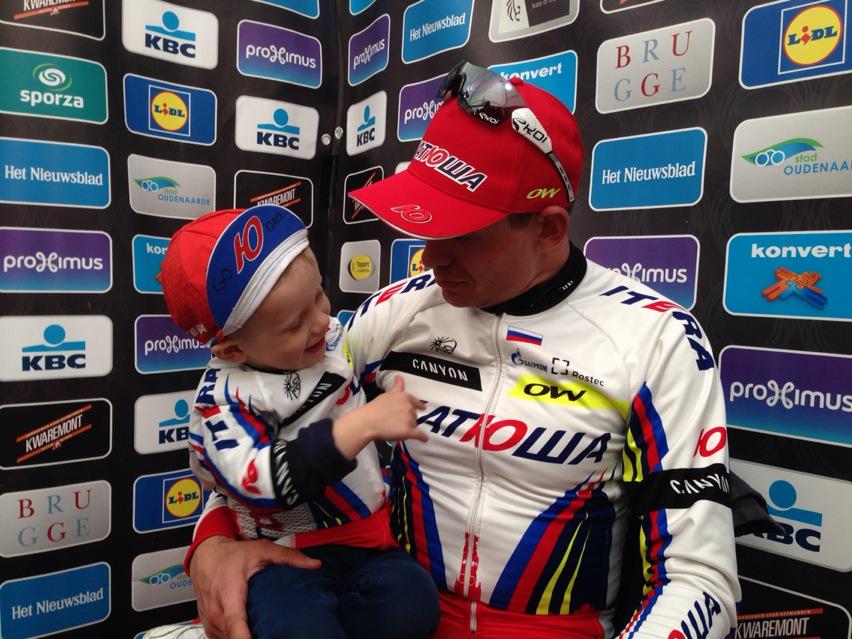 Tiesj Benoot:
"I'm really happy with this result, it's a surprise. In Dwars door Vlaanderen and E3 Harelbeke I already surprised myself, but I hadn't expected this at all. The team gave me the task to respond to moves of the second-line favourites from the Taaienberg on. I already thought that was ambitious, but I felt really strong. On the Kruisberg I even accelerated. Kristoff and Terpstra attacked afterwards, it was impossible to bridge to them.
At the end I jumped away and only Lars Boom joined me. He took over and together we rode to the finish where I beat him for the fifth place. This race is a monument and close to my home. Of course I dream about it. That I am fifth at my debut is really special. Next Sunday I'll start in Paris-Roubaix and then I'll take some rest. Afterwards the team and I will decide about my race programme for the rest of this season."
1

Alexander Kristoff (Nor) Team Katusha

6:26:32
2

Niki Terpstra (Ned) Etixx - Quick-Step
3

Greg Van Avermaet (Bel) BMC Racing Team

0:00:07
4

Peter Sagan (Svk) Tinkoff-Saxo

0:00:16
5

Tiesj Benoot (Bel) Lotto Soudal

0:00:36
6

Lars Boom (Ned) Astana Pro Team
7

John Degenkolb (Ger) Team Giant-Alpecin

0:00:49
8

Jurgen Roelandts (Bel) Lotto Soudal
9

Zdenek Stybar (Cze) Etixx - Quick-Step
10

Martin Elmiger (Swi) IAM Cycling
11
Daniel Oss (Ita) BMC Racing Team
12
Filippo Pozzato (Ita) Lampre-Merida
13

Stijn Devolder (Bel) Trek Factory Racing
14

Geraint Thomas (GBr) Team Sky
15
André Greipel (Ger) Lotto Soudal
0:02:28
16
Marcus Burghardt (Ger) BMC Racing Team
17
Laurens De Vreese (Bel) Astana Pro Team
18

Marco Marcato (Ita) Wanty - Groupe Gobert
19
Jens Keukeleire (Bel) Orica GreenEdge
20
Nelson Santos Simoes Oliveira (Por) Lampre-Merida
0:02:34
21
Dries Devenyns (Bel) IAM Cycling
0:03:02
22

Alexey Lutsenko (Kaz) Astana Pro Team

0:03:11
23
Arnaud Demare (Fra) FDJ.fr
0:03:23
24
Yves Lampaert (Bel) Etixx - Quick-Step
25

Jens Debusschere (Bel) Lotto Soudal
26
Heinrich Haussler (Aus) IAM Cycling
27
Bjorn Leukemans (Bel) Wanty - Groupe Gobert
28

Jean-Pierre Drucker (Lux) BMC Racing Team
29
Grégory Rast (Swi) Trek Factory Racing
30

Yoann Offredo (Fra) FDJ.fr
31
Zico Waeytens (Bel) Team Giant-Alpecin
32
Jasper Stuyven (Bel) Trek Factory Racing
33
Viacheslav Kuznetsov (Rus) Team Katusha
34
Jose Joaquin Rojas Gil (Spa) Movistar Team
35
Oliver Naesen (Bel) Topsport Vlaanderen - Baloise
36
Borut Bozic (Slo) Astana Pro Team
37
Dylan Van Baarle (Ned) Cannondale-Garmin Pro Cycling Team
38
Andriy Grivko (Ukr) Astana Pro Team
39
Mathew Hayman (Aus) Orica GreenEdge
40
Paul Voss (Ger) Bora-Argon 18
41
Andreas Schillinger (Ger) Bora-Argon 18
42
Koen De Kort (Ned) Team Giant-Alpecin
43
Luke Durbridge (Aus) Orica GreenEdge
44
Davide Cimolai (Ita) Lampre-Merida
45
Sylvain Chavanel (Fra) IAM Cycling
46
Guillaume Van Keirsbulck (Bel) Etixx - Quick-Step
47
Oscar Gatto (Ita) Androni Giocattoli
48
Marco Haller (Aut) Team Katusha
49
Manuel Quinziato (Ita) BMC Racing Team
50
Luke Rowe (GBr) Team Sky
51
Stijn Vandenbergh (Bel) Etixx - Quick-Step
52
Luca Paolini (Ita) Team Katusha
0:03:29
53

Sep Vanmarcke (Bel) Team LottoNL-Jumbo
54
Sebastian Langeveld (Ned) Cannondale-Garmin Pro Cycling Team
0:03:35
55
Francisco José Ventoso Alberdi (Spa) Movistar Team
0:06:36
56
Jack Bauer (NZl) Cannondale-Garmin Pro Cycling Team
57
Ian Stannard (GBr) Team Sky
58
Tyler Farrar (USA) MTN - Qhubeka
0:07:08
59
Ramon Sinkeldam (Ned) Team Giant-Alpecin
60
Dmitriy Gruzdev (Kaz) Astana Pro Team
61
Silvan Dillier (Swi) BMC Racing Team
62
Marcel Sieberg (Ger) Lotto Soudal
63
Mickael Delage (Fra) FDJ.fr
64
Scott Thwaites (GBr) Bora-Argon 18
65
Hayden Roulston (NZl) Trek Factory Racing
66
Wesley Kreder (Ned) Team Roompot
67
Reinardt Janse Van Rensburg (RSA) MTN - Qhubeka
68
Marco Bandiera (Ita) Androni Giocattoli
69
Tom Van Asbroeck (Bel) Team LottoNL-Jumbo
70
Johnny Hoogerland (Ned) Team Roompot
71
Thomas Leezer (Ned) Team LottoNL-Jumbo
72
Maarten Wynants (Bel) Team LottoNL-Jumbo
73
Matti Breschel (Den) Tinkoff-Saxo
74
Giovanni Bernaudeau (Fra) Team Europcar
0:07:32
75
Jarl Salomein (Bel) Topsport Vlaanderen - Baloise
0:09:17
76
Mirko Selvaggi (Ita) Wanty - Groupe Gobert
77
Alexander Porsev (Rus) Team Katusha
78
Aleksei Tcatevich (Rus) Team Katusha
79
Tim Kerkhof (Ned) Team Roompot
80
Sven Erik Bystrøm (Nor) Team Katusha
81
Roy Curvers (Ned) Team Giant-Alpecin
82
Nikias Arndt (Ger) Team Giant-Alpecin
83
Iljo Keisse (Bel) Etixx - Quick-Step
84
Jasha Sütterlin (Ger) Movistar Team
85
Yohann Gene (Fra) Team Europcar
86
Klaas Lodewyck (Bel) BMC Racing Team
87
Bradley Wiggins (GBr) Team Sky
88
Matteo Trentin (Ita) Etixx - Quick-Step
89
Sébastien Minard (Fra) AG2R La Mondiale
90
Florian Senechal (Fra) Cofidis, Solutions Credits
91
Edward Theuns (Bel) Topsport Vlaanderen - Baloise
0:10:27
92
Bert De Backer (Bel) Team Giant-Alpecin
93
Alan Marangoni (Ita) Cannondale-Garmin Pro Cycling Team
94
Hugo Houle (Can) AG2R La Mondiale
95
Kristijan Koren (Slo) Cannondale-Garmin Pro Cycling Team
96
Christopher Juul Jensen (Den) Tinkoff-Saxo
97
Nikolas Maes (Bel) Etixx - Quick-Step
98
Michael Schär (Swi) BMC Racing Team
99
Bernhard Eisel (Aut) Team Sky
100
Markel Irizar Aranburu (Spa) Trek Factory Racing
101
Matteo Tosatto (Ita) Tinkoff-Saxo
102
Magnus Cort Nielsen (Den) Orica GreenEdge
103
Maarten Tjallingii (Ned) Team LottoNL-Jumbo
104
Gijs Van Hoecke (Bel) Topsport Vlaanderen - Baloise
105
Johan Van Summeren (Bel) AG2R La Mondiale
106
Jelle Wallays (Bel) Topsport Vlaanderen - Baloise
107
Bert Van Lerberghe (Bel) Topsport Vlaanderen - Baloise
0:12:55
108
Preben Van Hecke (Bel) Topsport Vlaanderen - Baloise
109
Stig Broeckx (Bel) Lotto Soudal
110
Tony Hurel (Fra) Team Europcar
111
Mitchell Docker (Aus) Orica GreenEdge
112
Lasse Norman Hansen (Den) Cannondale-Garmin Pro Cycling Team
113
Ruben Zepuntke (Ger) Cannondale-Garmin Pro Cycling Team
114
Angelo Tulik (Fra) Team Europcar
115
Ruslan Tleubayev (Kaz) Astana Pro Team
116
Luka Pibernik (Slo) Lampre-Merida
117
Leigh Howard (Aus) Orica GreenEdge
118
Antoine Duchesne (Can) Team Europcar
119
Imanol Erviti Ollo (Spa) Movistar Team
120
Sjoerd Van Ginneken (Ned) Team Roompot
121
Christoph Pfingsten (Ger) Bora-Argon 18
122
Pavel Brutt (Rus) Tinkoff-Saxo
123
Damien Gaudin (Fra) AG2R La Mondiale
124
Cyril Lemoine (Fra) Cofidis, Solutions Credits
125
Sam Bewley (NZl) Orica GreenEdge
0:15:02
126
Brian Van Goethem (Ned) Team Roompot
127
Kristoffer Skjerping (Nor) Cannondale-Garmin Pro Cycling Team
128
Louis Verhelst (Bel) Cofidis, Solutions Credits
129
James Vanlandschoot (Bel) Wanty - Groupe Gobert
130
Maxat Ayazbayev (Kaz) Astana Pro Team
131
Berden De Vries (Ned) Team Roompot
132
William Bonnet (Fra) FDJ.fr
133
Frederik Backaert (Bel) Wanty - Groupe Gobert
DNF
Frederik Veuchelen (Bel) Wanty - Groupe Gobert
DNF
Dylan Groenewegen (Ned) Team Roompot
DNF
Andreas Stauff (Ger) MTN - Qhubeka
DNF
Matthew Harley Goss (Aus) MTN - Qhubeka
DNF
Jay Robert Thomson (RSA) MTN - Qhubeka
DNF
Yaroslav Popovych (Ukr) Trek Factory Racing
DNF
Ivar Slik (Ned) Team Roompot
DNF
Jimmy Engoulvent (Fra) Team Europcar
DNF
Sébastien Turgot (Fra) AG2R La Mondiale
DNF
Roy Jans (Bel) Wanty - Groupe Gobert
DNF
Quentin Jauregui (Fra) AG2R La Mondiale
DNF
Fumiyuki Beppu (Jpn) Trek Factory Racing
DNF
Alexis Gougeard (Fra) AG2R La Mondiale
DNF
Gediminas Bagdonas (Ltu) AG2R La Mondiale
DNF
Sean De Bie (Bel) Lotto Soudal
DNF
Vincent Jerome (Fra) Team Europcar
DNF
Yannick Martinez (Fra) Team Europcar
DNF
Pieter Vanspeybrouck (Bel) Topsport Vlaanderen - Baloise
DNF
Lars Ytting Bak (Den) Lotto Soudal
DNF
Jesse Sergent (NZl) Trek Factory Racing
DNF
Albert Timmer (Ned) Team Giant-Alpecin
DNF
Clément Venturini (Fra) Cofidis, Solutions Credits
DNF
Bjorn Thurau (Ger) Bora-Argon 18
DNF
Adam Blythe (GBr) Orica GreenEdge
DNF
Ralf Matzka (Ger) Bora-Argon 18
DNF
Fabio Taborre (Ita) Androni Giocattoli
DNF
Frantisek Padour (Cze) Androni Giocattoli
DNF
Alberto Nardin (Ita) Androni Giocattoli
DNF
Marco Frapporti (Ita) Androni Giocattoli
DNF
Tiziano Dall´Antonia (Ita) Androni Giocattoli
DNF
Shane Archbold (NZl) Bora-Argon 18
DNF
Simone Antonini (Ita) Wanty - Groupe Gobert
DNF
Enrique Sanz (Spa) Movistar Team
DNF
Nikolay Trusov (Rus) Tinkoff-Saxo
DNF
Jacopo Guarnieri (Ita) Team Katusha
DNF
Michael Morkov (Den) Tinkoff-Saxo
DNF
Maciej Bodnar (Pol) Tinkoff-Saxo
DNF
Elia Viviani (Ita) Team Sky
DNF
Salvatore Puccio (Ita) Team Sky
DNF
Christian Knees (Ger) Team Sky
DNF
Rick Flens (Ned) Team LottoNL-Jumbo
DNF
Bram Tankink (Ned) Team LottoNL-Jumbo
DNF
Francesco Chicchi (Ita) Androni Giocattoli
DNF
Matthias Brandle (Aut) IAM Cycling
DNF
Youcef Reguigui (Alg) MTN - Qhubeka
DNF
Gerald Ciolek (Ger) MTN - Qhubeka
DNF
Matthieu Ladagnous (Fra) FDJ.fr
DNF
Matt Brammeier (Irl) MTN - Qhubeka
DNF
Sébastien Chavanel (Fra) FDJ.fr
DNF
Marc Sarreau (Fra) FDJ.fr
DNF
Michaël Van Staeyen (Bel) Cofidis, Solutions Credits
DNF
Robert Thomas Wagner (Ger) Team LottoNL-Jumbo
DNF
Reto Hollenstein (Swi) IAM Cycling
DNF
John Gadret (Fra) Movistar Team
DNF
Vicente Reynes Mimo (Spa) IAM Cycling
DNF
David Boucher (Bel) FDJ.fr
DNF
Adrien Petit (Fra) Cofidis, Solutions Credits
DNF
Niccolo Bonifazio (Ita) Lampre-Merida
DNF
Sacha Modolo (Ita) Lampre-Merida
DNF
Maximiliano Ariel Richeze (Arg) Lampre-Merida
DNF
Gert Joeaar (Est) Cofidis, Solutions Credits
DNF
Roberto Ferrari (Ita) Lampre-Merida
DNF
Juan Jose Lobato Del Valle (Spa) Movistar Team
DNF
Dayer Uberney Quintana Rojas (Col) Movistar Team
DNF
Michael Schwarzmann (Ger) Bora-Argon 18
DNF
Roger Kluge (Ger) IAM Cycling