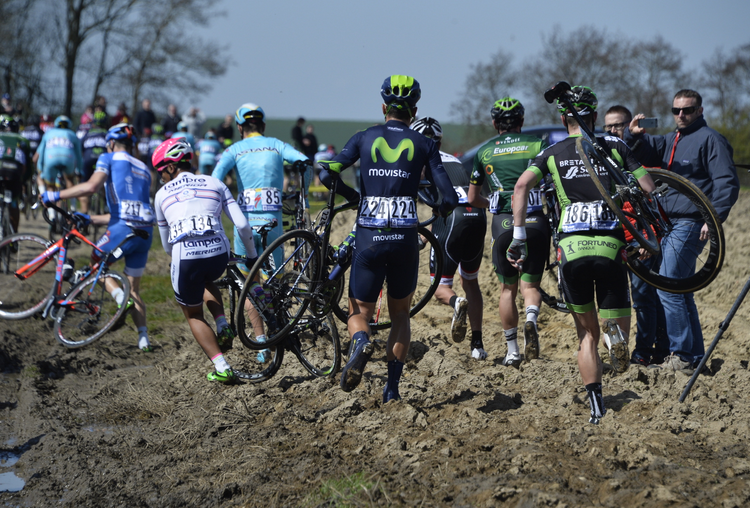 Dry. Dusty. Unusual.

Break-away:

Gougerard, Saramotins, Matza, Declercq, Rast, De Bie, Backaert, Perichon and Blythe have 20".
A bad crash involving

also Stijn

Devolder

and Gert Steegmans: both retire.
111.5 km to go, the gap is 6'28".
Sector 19: Haveluy à Wallers

(2500 m). This is the last sector before Trouée d'Arenberg.
A new crash

involving also

Westra.

Geraint Thomas gets a badtimed flat tyre and must chase at the back.
In front Sean De Bie is the first one to get dropped. Saramontis gets a slight gap.
In the peloton Sagan is back to the front with all favourites.

Archbold crashes face down on the cobbles

.
Hauser leads with Oss on his wheel.
Rowe, Stannard, Wiggins and Thomas all still there. 88.7km to go.
Aremberg has made no big selection.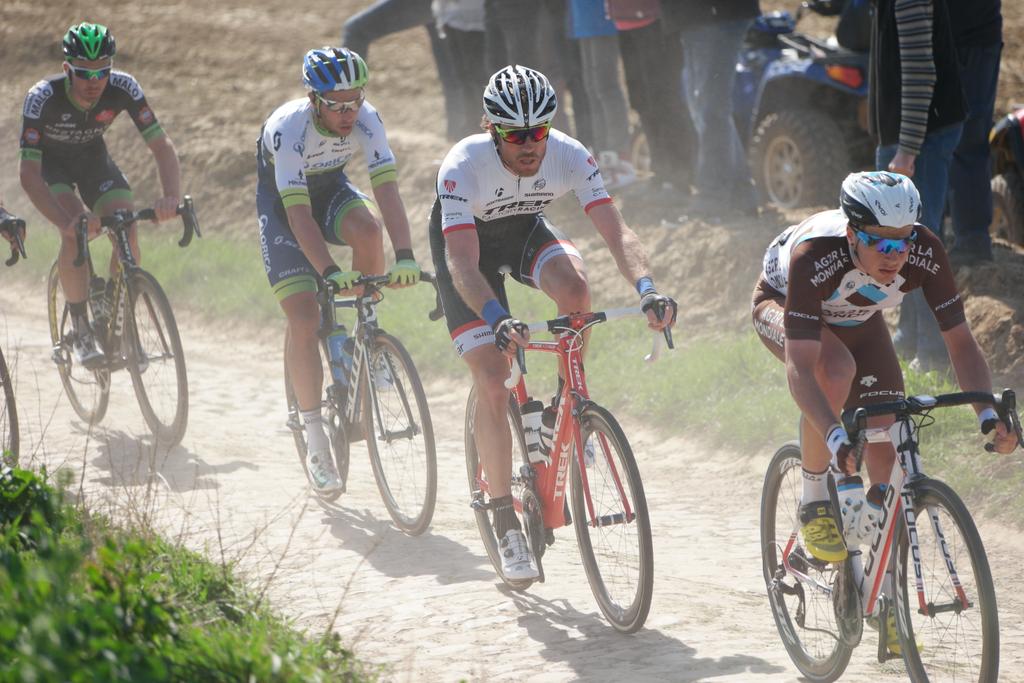 Suddenly in the open country

a level crossing is closing: riders pass anyway

till the true last second.

They only stop when the rain is there!

crazy!

The peloton split but the race director imposes the first group to slow down and wait.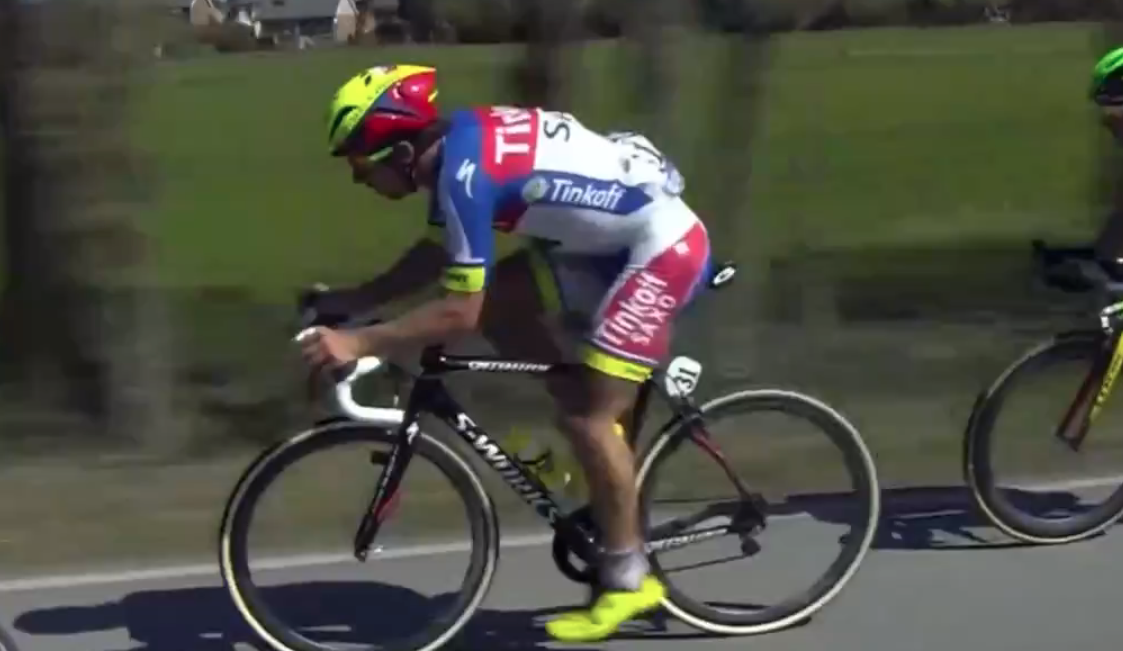 Geraint

Thomas crashes and he's forced to chase.

81.5km to go. He needed a bike change but is back on the road. Nobody wait for him. The peloton is on sector 16:

Hornaing à Wandignies (3700 m). The longest one.

Lotto Soudal is pulling to make life hard to Thomas.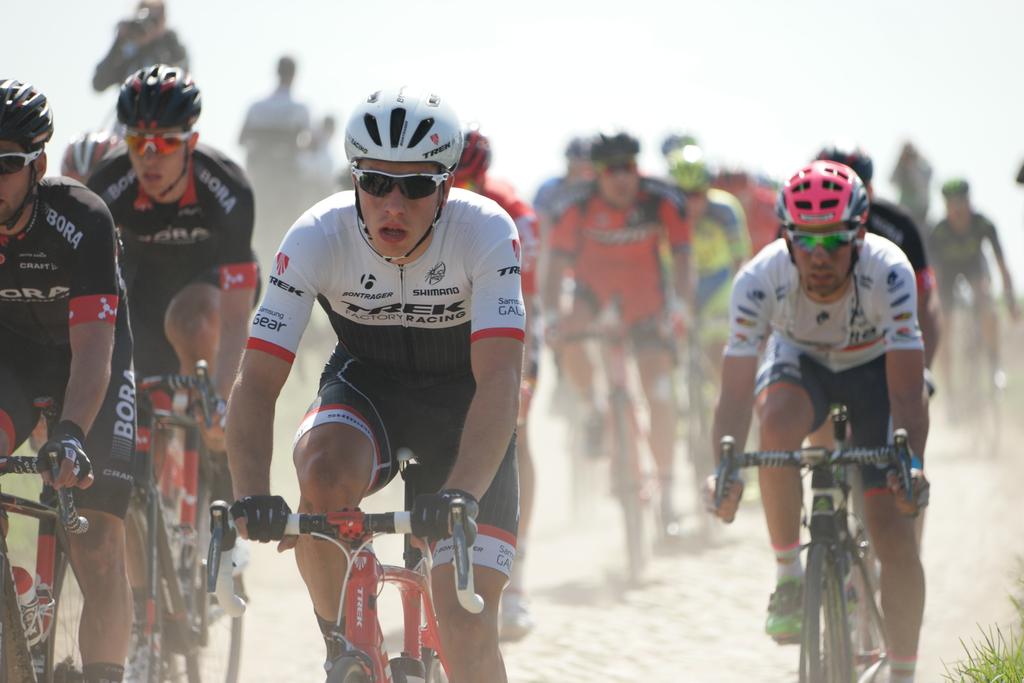 Cross wind and consequently echelons. Etixx split the peloton: Wiggins and Kristoff get left behind. Flat tyre for Pierre-Luc Périchon, one of the leaders. The second and third group have come together, 2'56" advantage left for the front group with 62 km to go.

30 riders in front

including Vanmarcke, Trentin, Terpstra, van Keirsbulck, Stannard, Stybar, Vandenbergh, Degenkolb, Sagan, Van Avermaet and Boom.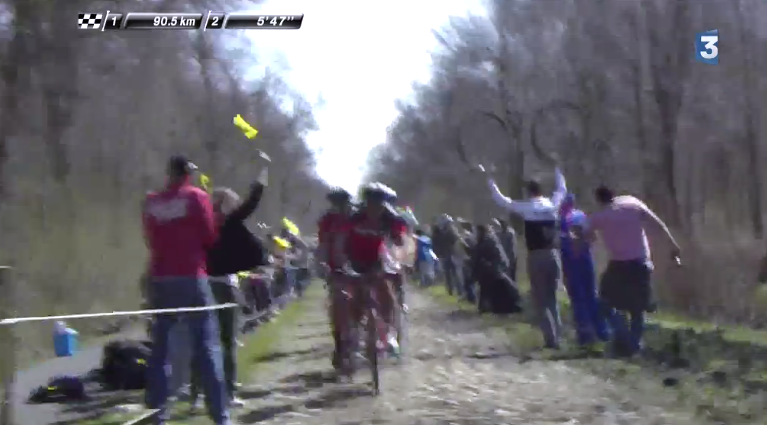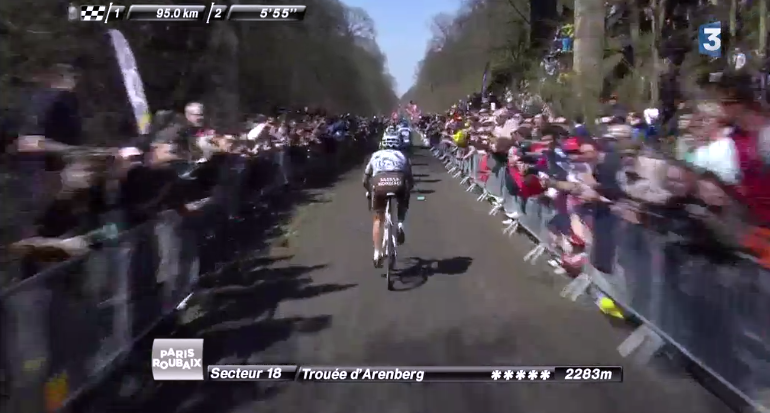 The break hits the Orchies sector

(12) but their lead is down to 2:40. The group with

Kristoff has caught the Etixx leaders

, making a bunch of at 70 riders.

First attacks from the peloton

: Greipel, Debusschere. Stig Broeckx...

They go nowhere.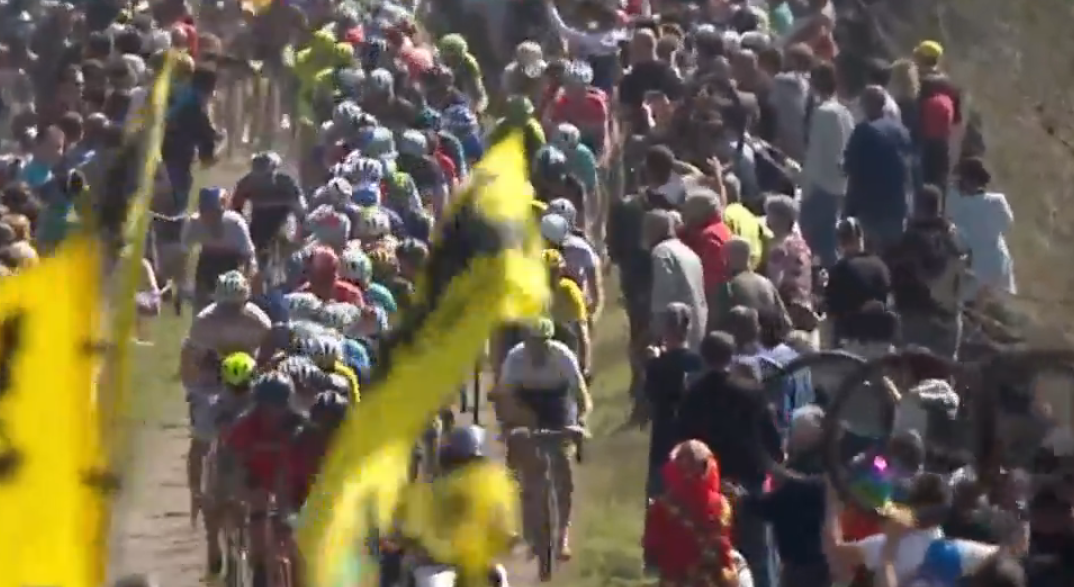 The leaders are on sector 11:

Auchy-les-Orchies à Bersée

(2700 m). Gap is 2'09". Kristoff is in front, with Terpstra and

Sagan, who suddenly attacks

. 51.1 km to go.

Stannard gets on

Sagan's wheel. Crash for Vansumeren and Breschel. Acceleration by Matteo

Trentin

with 49.5km to go, immediately stopped by Boom.

More attacks, but nothing sticking.
The break have just hit the sector

Mons-en-Pévèle

48.5km to go.

Hayman crashes

and has to chase back. Stijn

Vandenbergh (Etixx) attacks. Nobody respond. He's trying to bridge solo!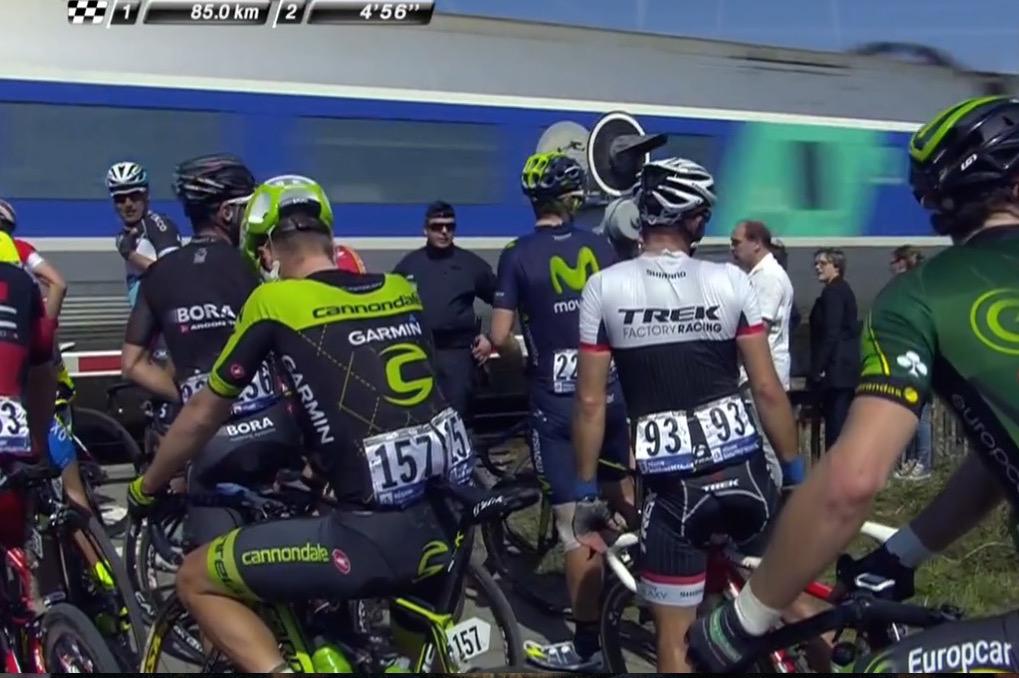 Pont-Thibaut

(sector 8).

Bak crashes, Demare gets a flat tyre.

1'14" for the leaders with 33 km to go.

Debusschere attacks, Sinkeldam, Quinziato and Wynants follow. Quickly caught.
Sector seven in

Templeuve

begins at the windmill. Wiggins attacks, joins Vandenbergh and keeps going. Debusschere bridges. Stybar tries to follow.

Is this the decisive move?
Big selection behind: a 40 riders group pulled by

Team Katusha chases down

the attackers. Sector 6:

Cysoing – Bourghelle.

The gap is down to 24" with 27 km to go. In front Declercq gets dropped.

22 km to go break over

.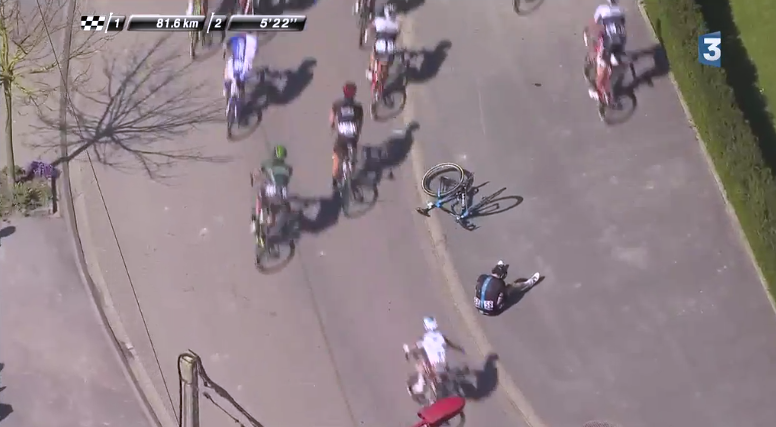 Sep Vanmarcke attacks and a small group forms in front. DAMN! Sep got a flat tyre! he tries to come back helped by his team mates. Roubaix over for him. Sadly! Sector 5,

Camphin-en-Pévèlesector.

Roelandts and Bozic get a gap. 19km to go.

Roelandts goes solo

. Marcato gets off the bunch.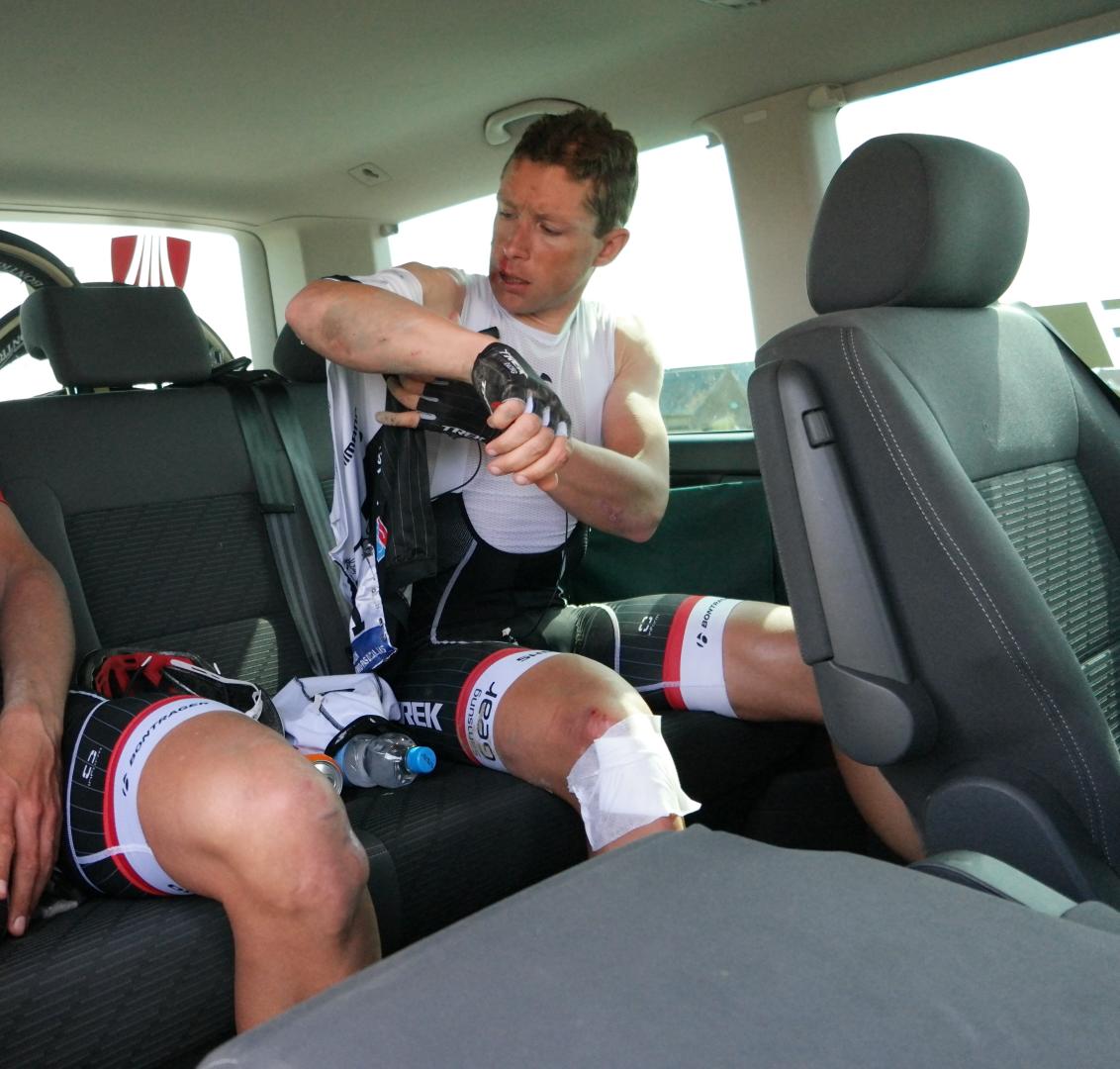 Carrefour de l'Arbre.

Vanmarcke is back and Kristoff too. Marcato caught, Team Sky forces the pace. Terpstra is there. Degenkolb too. Bozic caught.

A big group forms in front when Jens Keukeleire attacks from the chasing group and bridges to Jurgen Roelandts.

Others follow. 13 km to go, about 20 riders in front.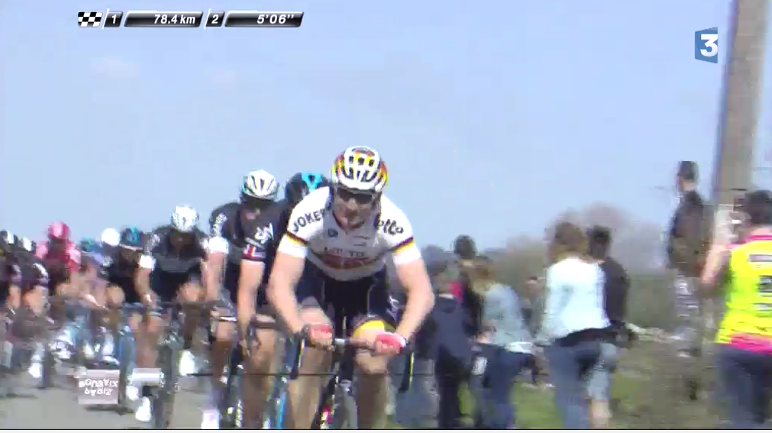 Yves Lampaert attacks,Van Avermaet on his wheel. De Backer is trying to bridge.

11km to go.

Degenkolb gets off the front group and the two Giant-Alpecin riders speed up together.

Wiggins is dropped. Roubaix over.

Now Degenkolb is chasing solo.

13" for Lampaert and Van Avermaet, 9 km to go.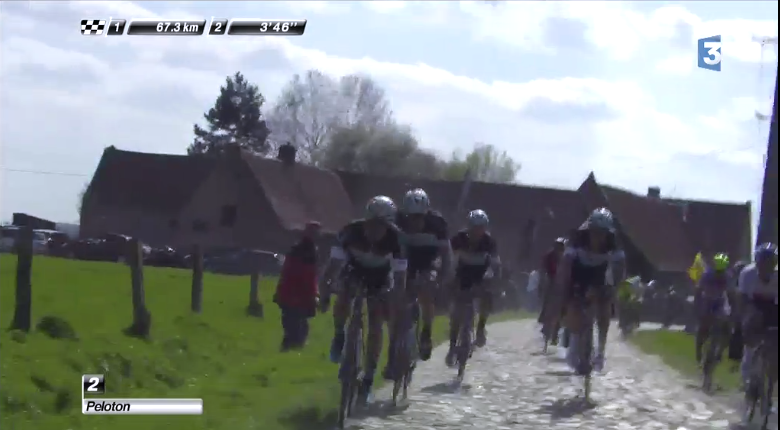 Cobbles of Hem (1400 m). Degenkolb joins the leaders

. First chasing group includes Boom, Stybar, Helmiger, Keukeleire.

Flat tyre for Sagan!

Boomer! and he throws the bike. Roubaix over.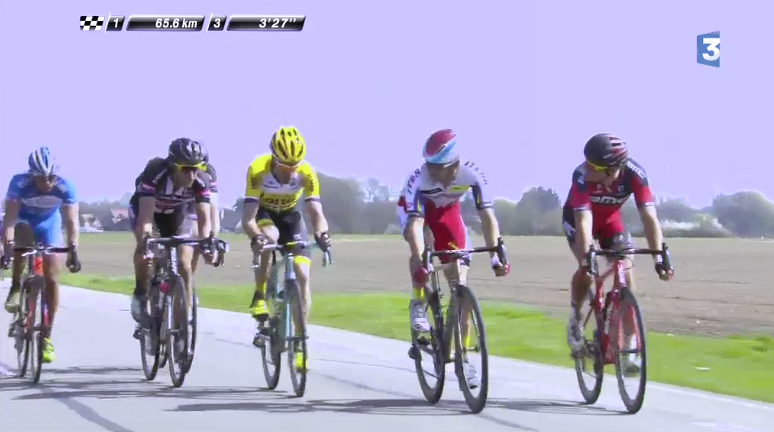 Stybar attacks and chases solo, he joins

the front group. Boom, Elmiger and Keukeleire close in, as well. 2 km to go. Last 300 m of cobbles, 7 leaders. Velodrome. Sprint. Degenkolb. John Degenkolb:

"This is unbelievable. I can't believe it, right now. I've had to work very hard for it and my team was there the whole day to hold the situation under control, until I could start my race. We knew that it was going to be hard and that a big group could go to the finish. I was in a situation that I had to go, otherwise I'd be in the same situation as last year [when he finished second behind lone winner Terpstra, ed.]. I had to invest something and I was not afraid to fail. That was the key.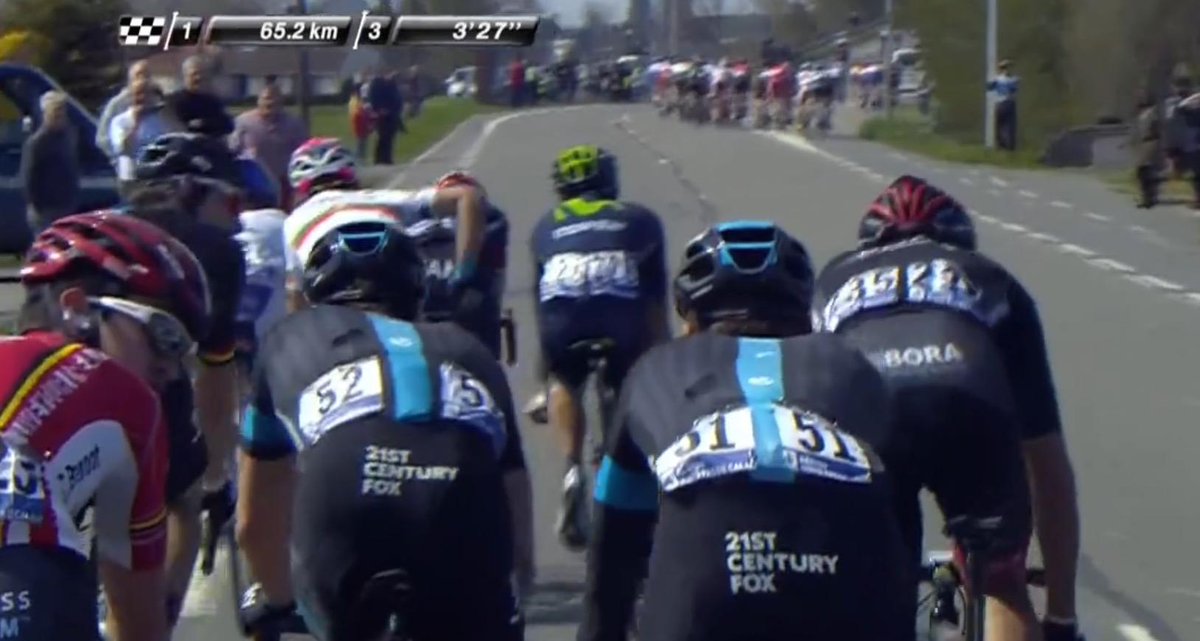 When you are probably the fastest guy, nobody wants to work with you and bring you to the finish. That's why I decided to go by myself. I think it was the right decision and at the right moment. It was really, really hard but I'm just so happy and proud."
Greg Van Avermaet:
"You always want to win the race, but I knew it would be pretty hard against Degenkolb. He is strong in these kinds of races and he was pretty strong when he came to us. He did a few good pulls and I was a little bit empty at the end. It was hard to come to the finish. I felt a little bit of energy going away in the last five kilometers and had to put out the maximum to get on the podium.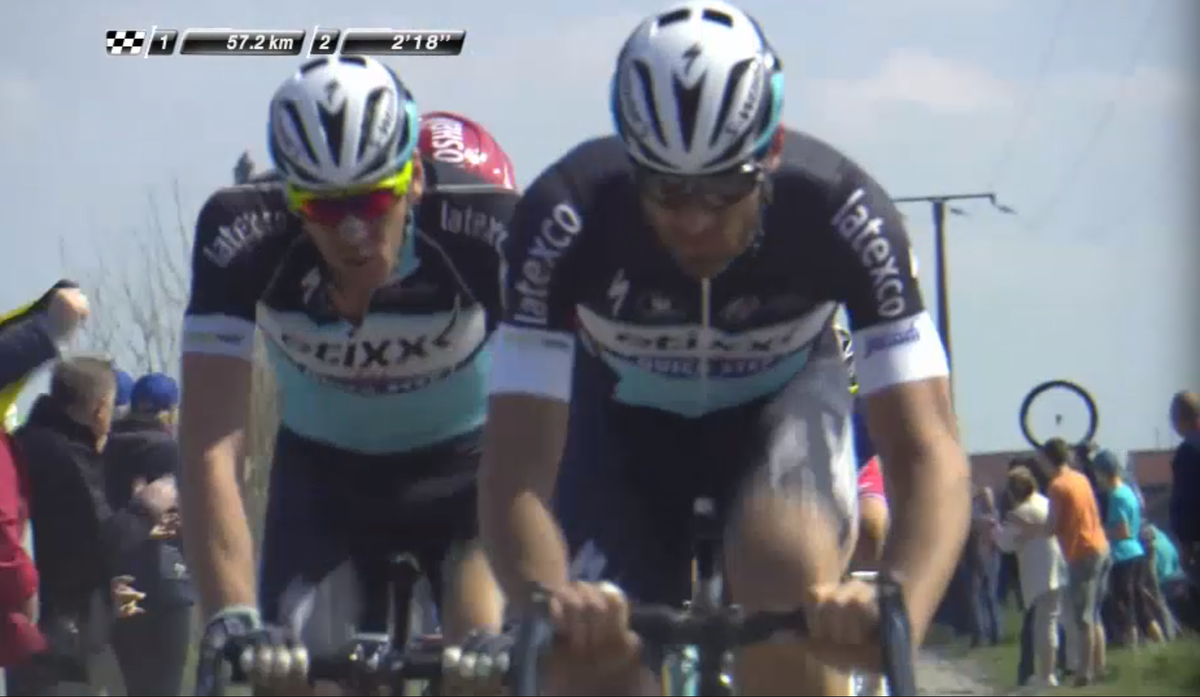 I never really had a great feeling today, Last week, I was feeling good at Flanders. Today, I had to fight against myself on the cobbles. I think I did a good attack with Yves Lampaert in the end. But we could not hold off Degenkolb and Stybar and the others. In the end it was hard to beat them in the sprint."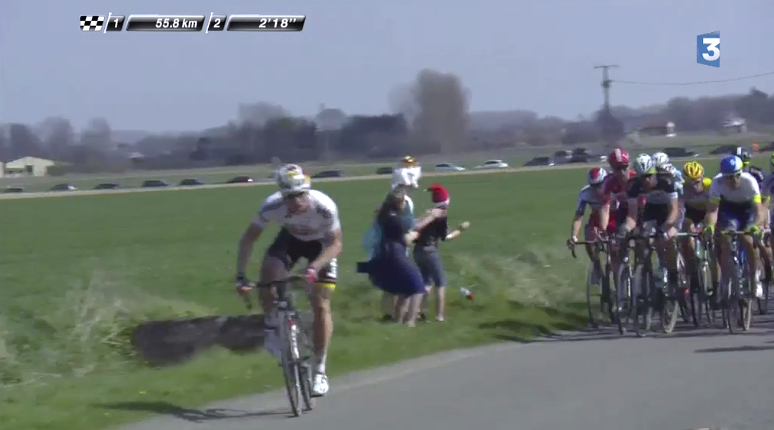 Luke Rowe:
"And on another note been a pleasure riding with this guy for the last 3 and a half years. A true gent!"
Roy Curvers:
"And it's John Degencobble from now on!"
Alexis Gougeard:
"A dream coming true!"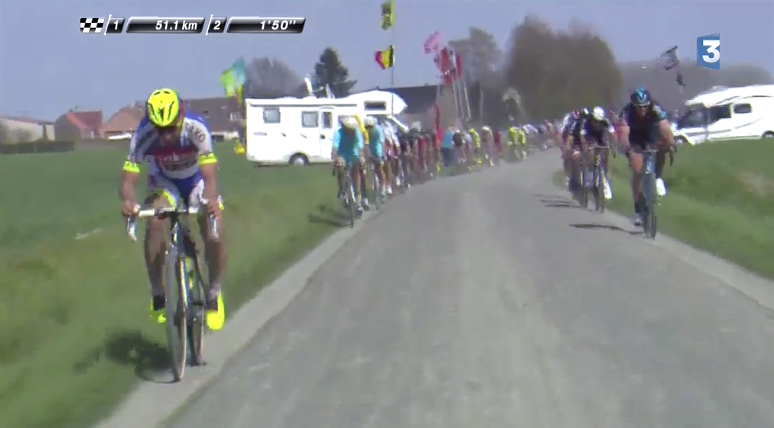 Marcel Sieberg:
"Ready for some days without my bike. Body need some rest! Congrats @johndegenkolb after 119year again a german winner"
Marco Marcato:
"Thanks for all your messages.. I gave everything today.. I show that I still can compete with the best riders 😉😉a tutta!! @TeamWantyGobert"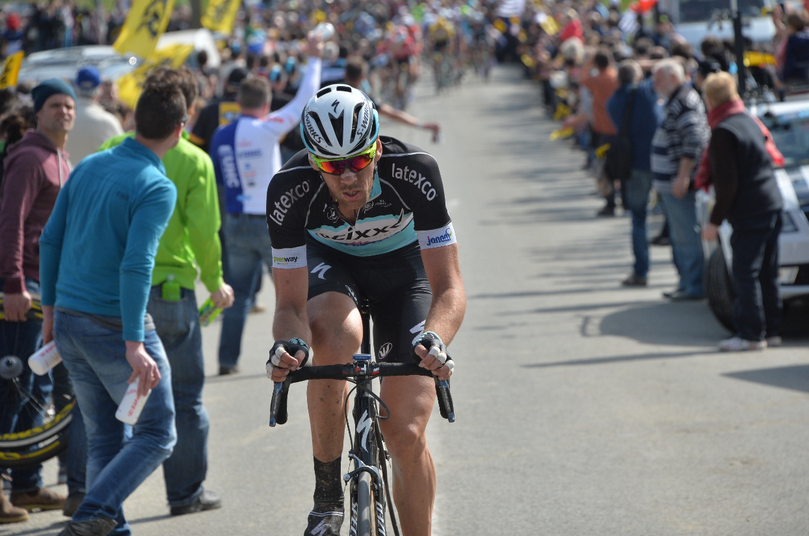 Tiesj Benoot:
"2 flats on 2 bad moments and my race was finished.. But reached the magic track in my first Paris-Roubaix. Back for more!"
Andre Greipel:
"I am blokato!!! Congrats for the best rider in the race today @johndegenkolb thanks to our staff and team for all!!!!"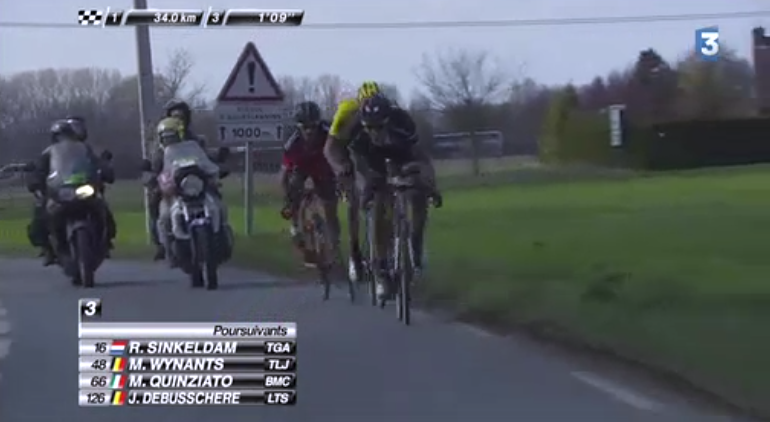 Marcel Kittel:
"Cheers to our boys that just won Paris-Roubaix! Unreal!"
Jens Keukeleire:
"They always told me it's a really amazing feeling riding into the velodrome. I have done it many times but not with the front group.
No matter how bad I felt in the final, you always have to keep believing and I tried my best but I just didn't have any legs.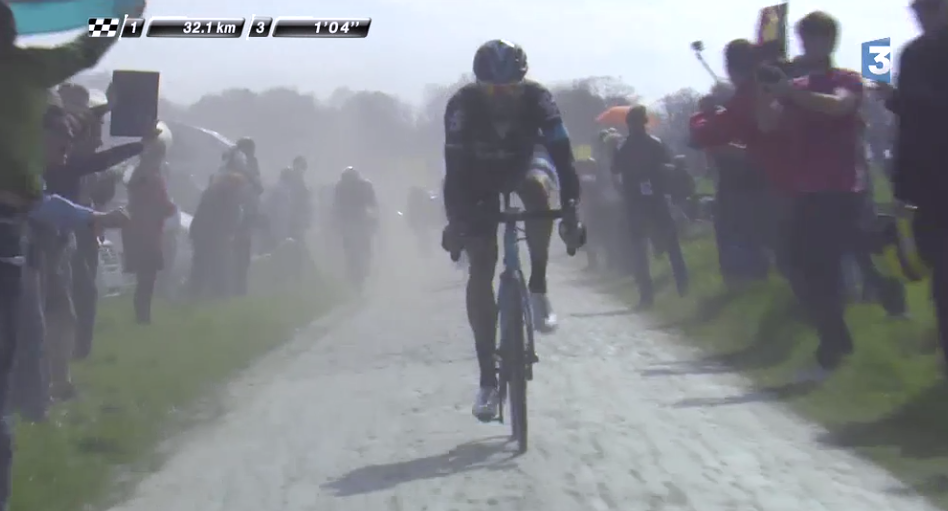 It's a pretty amazing feeling riding for the win.
I am definitely happy with the result.
Especially if you look at the race I did, I had a lot of bad luck and to be honest a couple of times I thought my race was over but I know from previous editions that you can never give up.
You always keep fighting because you never know where you'll end up and I'm still top ten.
There was a lot more wind than I expected and a lot of the sectors were a head wind of the cobble sectors and I think that is what kept it close for such a long time," Keuekeleire said.
But cobblestones are cobblestones, you have to get over them and they always hurt."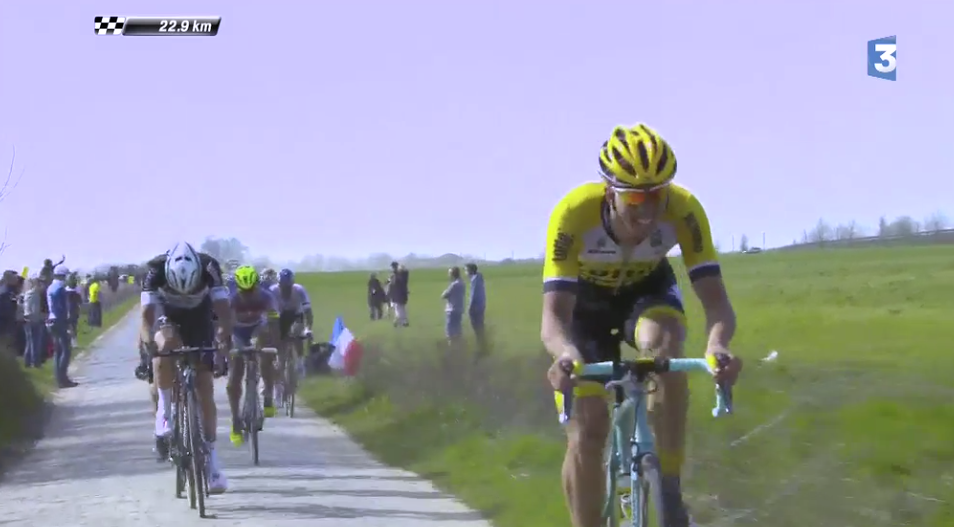 Sep Vanmarcke:
"I flatted exactly when my final started.
I'd just split up the group with an attack and felt strong. I wanted to give my everything one more time and I thought that not many would be able to go with me, but destiny decided otherwise, and not for the first time this spring.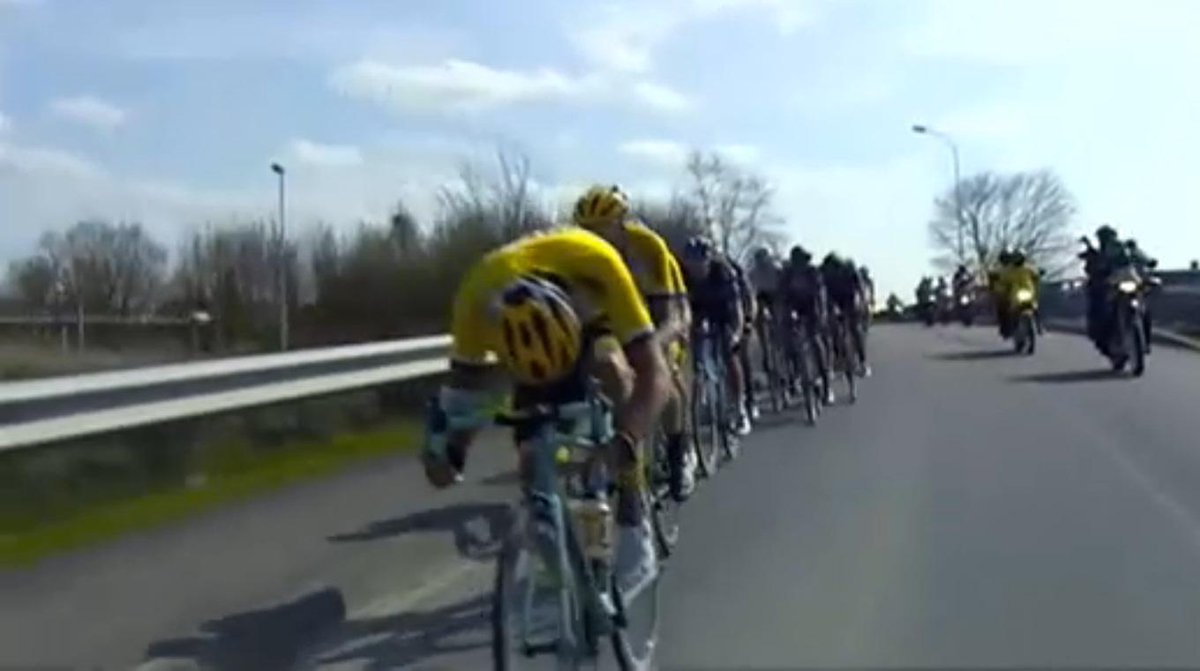 Every time when it was crunch time this spring, something happened to me. It's actually been a very annoying spring, it was a spring of bad luck. I've become stronger, but I haven't been able to show it.
The team was superb today. I was happy Tom and Maarten were there for me when I punctured. Thanks to them, I was able to reconnect with the front group, but because of the huge effort, I couldn't really do more than just chase.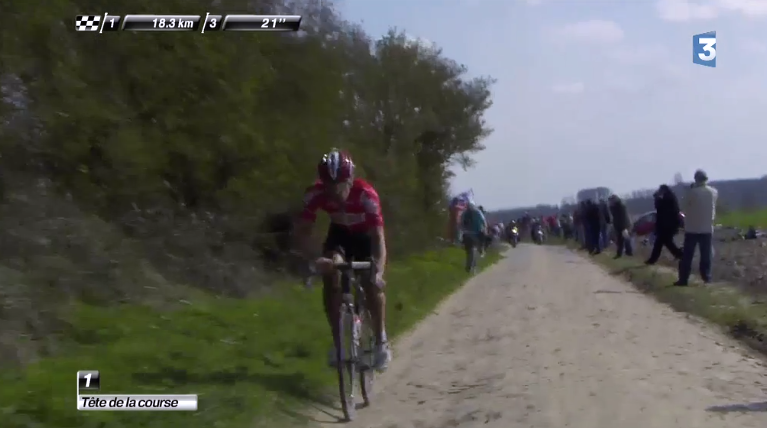 I tried to make the most of the sprint and I think there isn't much shame in finishing behind Kristoff. I left with my head held high."
Bradley Wiggins:
"I'm relieved to get it over and done with and I'm happy with how it went. The tailwind made it tough out there because it meant the racing was on all day and there was no chance to relax like we normally do after the first few sectors.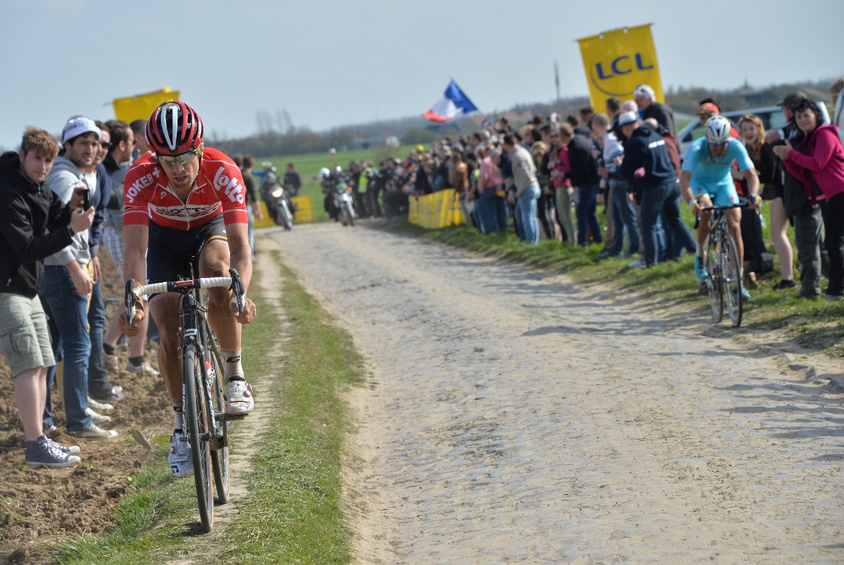 It was a tough edition but nice to be able to have a few attacks. I had my first go where I said I was going to go on the bus this morning. No-one else seemed to be expecting it there and I got myself in a pretty good position. It was unfortunate though that I got lumbered with a few riders who didn't want to work and that meant it was chased down quite quickly.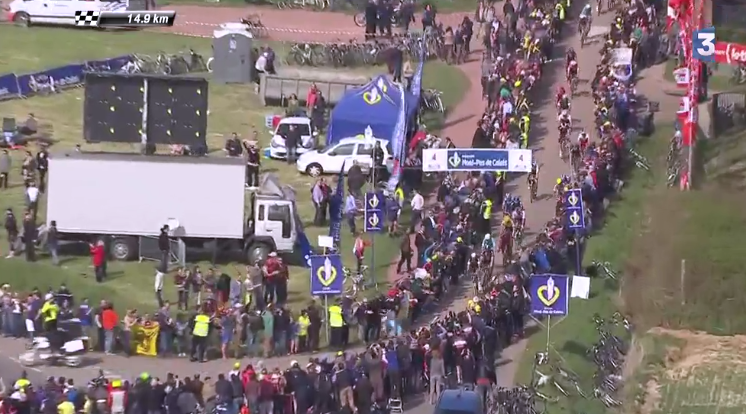 I tried on a long uphill drag with Sep Vanmarcke, but by then it's like when the Titanic's going down and everyone's hanging on for grim death, trying to get every last ounce out of themselves.
I felt like I had the legs to win, I think everybody in that group did. It could have been any one of us. When I made my attacks they said it was panic stations behind, but I think that came down to the pre-race hype when I said I was up for it. It is what it is.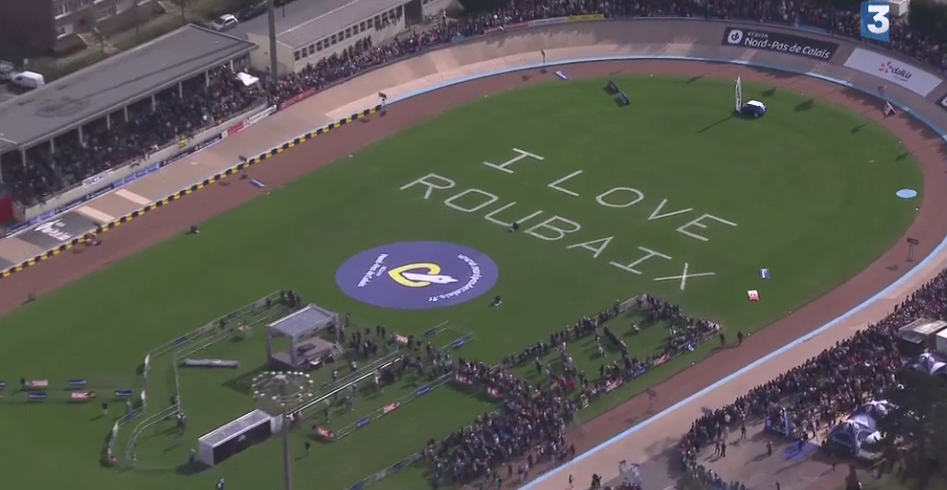 What went through my mind? Nothing when I crossed the line. When I attacked I was right up behind the motorbikes and it was like being 16 again, training in London near my house. That was nice, and I'll be able to look back in years to come and say I was leading the race at one point (laughs).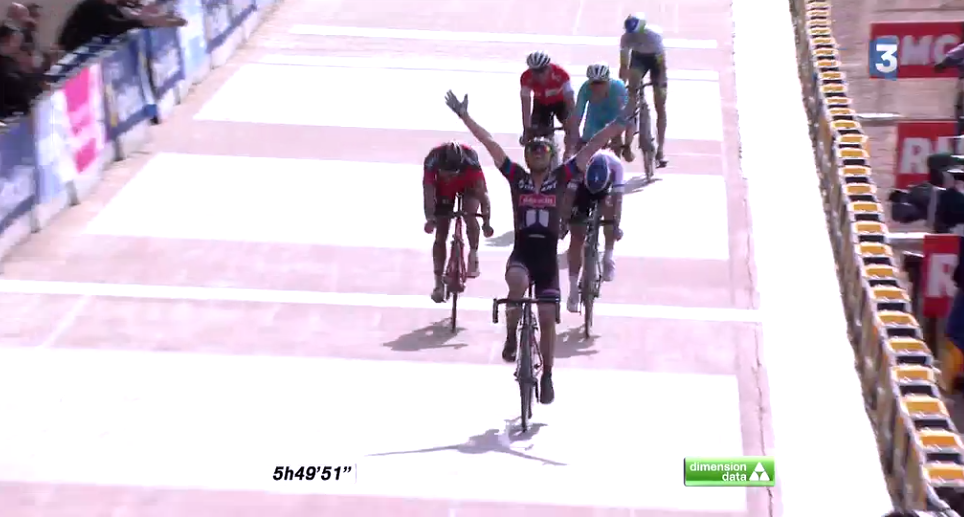 Yes, definitely, John Degenkolb was a worthy. But I felt it was a bit soft how it all panned out at the end. The result didn't go on force, like some of the classic Paris-Roubaix's. There was a lot of looking at each other in those closing stages before the sprint. That was a shame because it would have been nice to see something like [Franco] Ballerini's win in 1998. Luke [Rowe] deserves a mention, it was nice to see him up there and eighth place is a great result for him.
I'm happy. I've had a good run, and being a classics rider has been like a new job for me over the last two years – it was a hobby driven by my passion. Before the race I was trying really hard to not think about this being my last race for Team Sky. So many riders came up to me to wish me good luck and that was really nice. All these guys who you've been bashing heads with for years, never spoken to them, and they're coming up to congratulate me on my career. It's hard not to get emotional when that happens, but I got through it OK.
I said at the start, I just want a clean run today, and I got that. I didn't have one puncture, one crash. I came through it pretty well and I was pleased to finish in the top 20."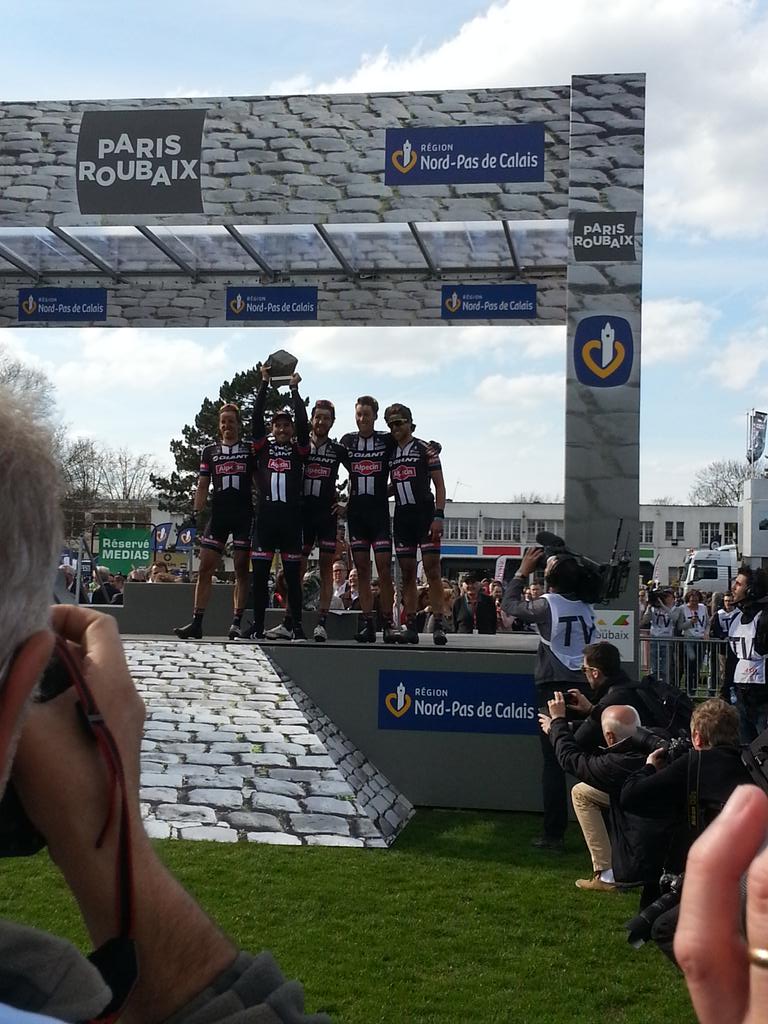 Gregory Rast:
"It was not planned for me to go in the breakaway, it was designated for five other guys on the team, but I jumped one time and I caught it! Anyhow, I was there, and I knew with nine guys that if we kept a good speed we could go far. That is what we tried. I was hoping there would be more from our team coming from behind so we could do some action in the finale.
I was not 100 percent sure we had no one coming from behind, but then when the group was there I saw there was none. It's like this - you never know what's happening in this race, if the guys had a crash, puncture or whatever. Anything and everything can happen.
They caught us the sector before the Carrefour de l'Arbre. At this moment Dirk gave me great motivation that I could stay there; it was a headwind and so I knew could stay there. Then after the Carrefour the jumps began, and groups went away. I was unable to react because I was too tired. That was it.
I tried to not be in front too much in the cobbles because sometimes the adrenaline and excitement can have you pushing too hard, so I tried to save energy here,. I was feeling really good on the road sections, and I was hoping that we could go as far as possible because the later they caught us the more chance I could stay in the front group. For sure the headwinds helped, it made it difficult to ride away even for the favorites – in the end they could not even drop a guy that was 220k in the breakaway!"
Stijn Devolder:
"We were well positioned at the front of the race going into the second section [sector 26] of cobblestones. A rider hit the brakes and literally took my back wheel off the ground. I was in terrible pain, screaming for 5-6 minutes from my calf muscle. It's very disappointing that it has to happen this way."
Jasper Stuyven:
"I punctured in sector eight and the game was on already at this point, every sector was going hard. I hit a rock pretty hard at the start of the sector and I felt immediately the back wheel going flat. Mavic [neutral support] was not there, Dirk could not get through and was blocked behind, and so I had to continue to the end of the sector. There is no way with a flat to catch back.
I chased really hard but even some "good" bottles from the car I could not get back. It was over. In one way I am disappointed, but bad luck is also part of the game, and in another way I am happy to finish the Classics with good sensations. I was comfortable on the cobblestones today. I was always there, and this shows you have the legs. I'll be back!"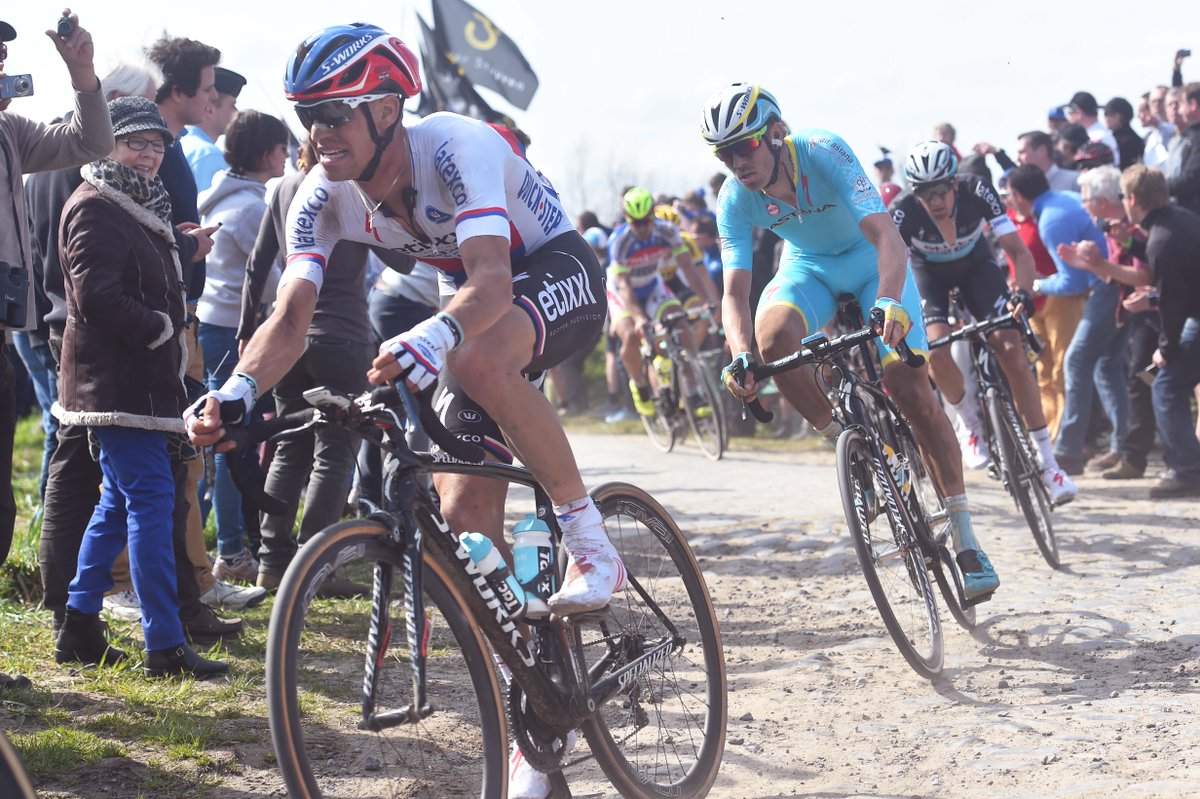 Zdenek
Stybar:
"Yves Lampaert jumped perfectly and he took Van Avermaet with him. It was a good situation for us. But when I saw John Degenkolb was going away, I thought then we had to do something. Then we had riders like Lars Boom and the others with me. So, for me, it was a good situation. I tried not to collaborate too much as my teammate was ahead, but I knew I had to make a move soon. I knew there was a little climb coming with about 2 kilometers to go, so I tried to go full gas and bridge the gap to the first group. I had already use some energy earlier in the race closing gaps, including to the Wiggins group and then these guys. Maybe I could have saved some energy if I went after the group at the same time John did, but it is what it is. I had to recover a bit when I joined the leaders because I was really giving everything. I couldn't attack in that moment, even if it was maybe the ideal tactic to beat John. Then Yves tried to jump, and he was very strong. But Degenkolb closed it down and we went into the velodrome together. Lampaert led perfectly in the velodrome. I took 2nd position going into the sprint. It was a difficult decision because I knew Degenkolb was for sure one of the fastest guys in the bunch. So it'd be hard to beat him in a sprint. But in such a hard race, including with him having to use energy bridging gaps, you never know. So I was hoping he might be tired, but everyone was really at their knees along with him. It was really down to who had anything left. He launched a very good sprint and I couldn't beat him. He was very strong and deserved the win. I think we have been very competitive in every race. When you look back at all the races where we were 2nd or top 3 or 4, we simply did our best every time. Of course this team is used to winning, but looking back and see how consistently strong we were with our best effort, I don't think we can complain too much. As for me, I am 2nd at Paris-Roubaix after being 6th and 5th. Of course in cycling I want to win. I hope to come back next year and fight for this victory, because that is what counts. Also I cannot forget about thanking my other teammates. They did such a great job today They weren't afraid to try an echelons or pull on the front. They sacrificed for us, without fear of blowing up from a full gas effort. For me, Stijn, Niki. So I have to thank them. They were perfect."
Yves Lampaert:
"In just my 2nd Paris-Roubaix participation I am in the top 10 of the race. That is really encouraging for me. As for the team, We were really strong today as a collective. We rode really full gas and we made the race hard starting from 90 kilometers to go in the feed zone. Then I was able to recover a bit. The race split up again and I wasn't in the first group until the Carrefour de l'arbre. A little bit after that we came into a small village and I attacked. The attack was instinctive, not planned. I got the feeling in the right moment and I went. I quickly got a gap, and then Van Avermaet followed me, so I was quite sure we would stay in front. But when I heard Degenkolb was coming, and he came really fast, I knew it would be difficult to win. But I didn't ride in front because Styby was coming. Then he arrived, and at 1.5km to go I tried an attack. But Degenkolb was strong and he closed the gap immediately. Then I led the sprint out for Styby, and he was 2nd. I don't know if it is disappointing. I'd consider it maybe bittersweet. I worked hard for a lot of kilometers today. I chased the original breakaway, and then I pulled before the feed zone to form an echelon, and then of course I chased back to the first group and attacked before the finale. I'd consider this my best Classics race ever. It was a strange feeling to arrive in the velodrome. To arrive at the front in a race like this isn't easy and it is such a prestigious finish in the stadium like that. I have to be happy considering where I finished, and how hard I worked to get into the top 10 today, as a Belgian rider in Paris-Roubaix."
Niki Terpstra:
"At the feed zone we were there in front and there was a crosswindWe accelerated already the section ago, actually Yves did it all alone. Then we went away with a small group, but the collaboration wasn't there with the other teams, so the group behind us came back. Every section was like that. We'd get away, but riders would come back. I tried to accelerate in the important cobbled sectors, but I couldn't get away. Yves did a good attack, and then Styby jumped from behind. That was a good situation with the team. My teammates attacked at the right time. Yves was really incredible today after doing so much work all day. I told him yesterday to just keep riding, and it's never over, and for sure it came true for him. I like his character. He really likes to race and he showed it today. As for my performance, I tried to do what I could today and am not 100 percent satisfied, but collectively it was a great race and we race as a team, not individuals. This closes out the first part of my season. I was 2nd in Omloop Het Nieuwsblad, 2nd in Gent-Wevelgem, and 2nd at Ronde van Vlaanderen. Of course this is good, but I have mixed feelings about not winning in the Classics. After winning Paris-Roubaix last year I knew it would be hard to follow-up with the same kind of success. I think I managed to follow up well, but the small bit of luck to make the difference between 1st or 2nd just wasn't there. I was good, and I even won Tour of Qatar. So while I am not completely satisfied I have shown I can always be there in the actions and can go for the win."
Stijn Vandenbergh:
"Today I felt good at the start and for the first part of the race. But in the last 30 kilometers I wasn't so good anymore. I had pain on my left hip, I think the second crash at Tour of Flanders last week caused me a bit of energy. My left hip hit the ground in that crash. Today that same area was really painful, so today I couldn't push 100 percent. But the moment I was in the breakaway I was riding in support of the team strategy. I think I did a good move for the team. The guys could sit on the wheels. As a team we did a great race. There was a lot of wind in the final. We tried to make the race hard, but people were always coming back, so it wasn't so easy with the weather conditions to make a gap or make a great action that really split up the race."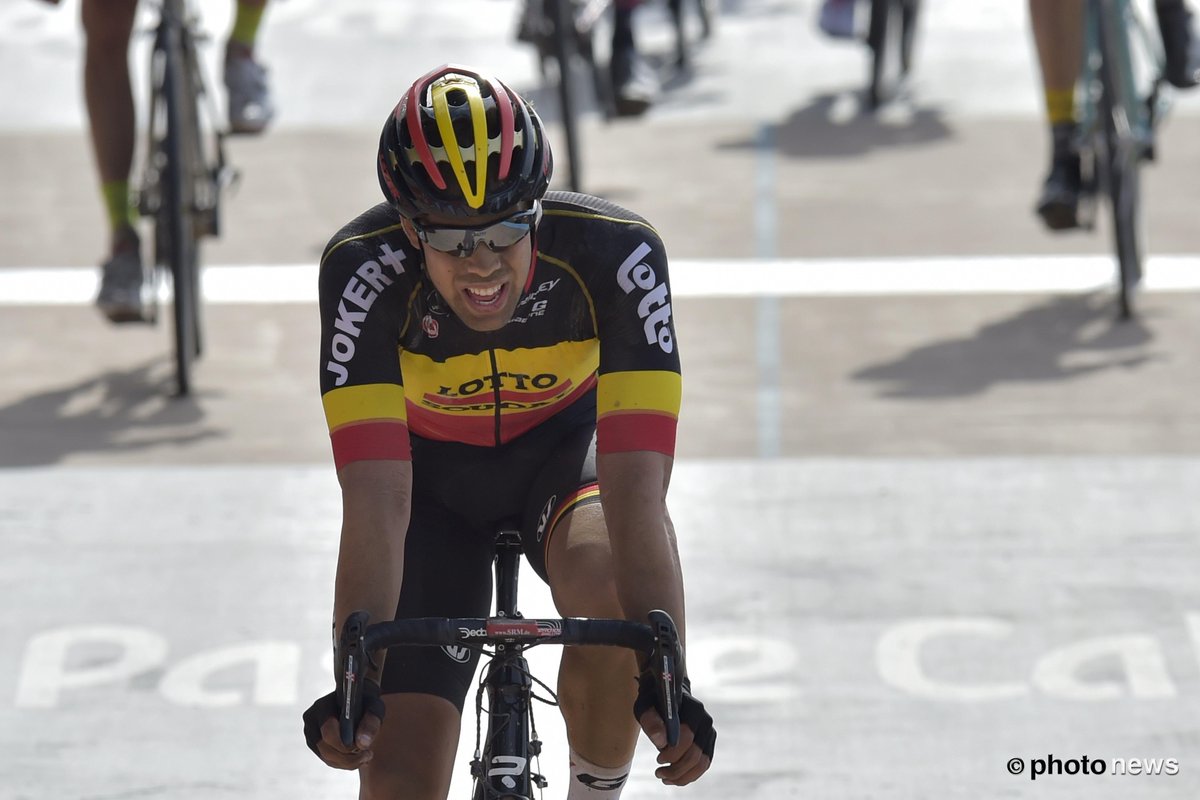 Jens Debusschere:
"The race went pretty well for me, although sometimes I was positioned too far. That's why I had to close some gaps and that cost energy. At the Forest of Wallers four riders of our team were part of the first thirty riders in the peloton. It was still a long way to go, but it was a good situation. Later I got in a group with Stybar, Vandenbergh and Wiggins, ideal for the team and me. After we got caught Jürgen attacked. Once we had covered the sector of Carrefour de l'Arbre I got in the group with Jürgen. The first seven riders in the ranking were too strong for me. Together with Luke Rowe I jumped away from the chase group. The circumstances changed all the time, I'm happy with the ninth place."
Peter Sagan:
"I think I have just use all my bad luck..show goes on".
Daniel Oss:
"Anyway amazing @BMCProTeam and great third place for @GregVanAvermaet!!!"
RESULTS
1
John Degenkolb (Ger) Team Giant-Alpecin
5:49:51
2
Zdenek Stybar (Cze) Etixx - Quick-Step
3
Greg Van Avermaet (Bel) BMC Racing Team
4
Lars Boom (Ned) Astana Pro Team
5
Martin Elmiger (Swi) IAM Cycling
6
Jens Keukeleire (Bel) Orica GreenEdge
7
Yves Lampaert (Bel) Etixx - Quick-Step
0:00:07
8
Luke Rowe (GBr) Team Sky
0:00:28
9
Jens Debusschere (Bel) Lotto Soudal
0:00:29
10
Alexander Kristoff (Nor) Team Katusha
0:00:31
11
Sep Vanmarcke (Bel) Team LottoNL-Jumbo
12
Bert De Backer (Bel) Team Giant-Alpecin
13
Aleksejs Saramotins (Lat) IAM Cycling
14
Borut Bozic (Slo) Astana Pro Team
15
Niki Terpstra (Ned) Etixx - Quick-Step
16
Andreas Schillinger (Ger) Bora-Argon 18
17
Florian Senechal (Fra) Cofidis, Solutions Credits
18
Bradley Wiggins (GBr) Team Sky
19
Björn Leukemans (Bel) Wanty - Groupe Gobert
20
Grégory Rast (Swi) Trek Factory Racing
21
Jurgen Roelandts (Bel) Lotto Soudal
22
Marco Marcato (Ita) Wanty - Groupe Gobert
23
Peter Sagan (Svk) Tinkoff-Saxo
24
Laurens De Vreese (Bel) Astana Pro Team
0:01:38
25
Frederik Backaert (Bel) Wanty - Groupe Gobert
26
Alexis Gougeard (Fra) AG2R La Mondiale
27
Ramon Sinkeldam (Ned) Team Giant-Alpecin
0:02:21
28
André Greipel (Ger) Lotto Soudal
0:02:55
29
Michael Morkov (Den) Tinkoff-Saxo
30
Tim De Troyer (Bel) Wanty - Groupe Gobert
31
Koen De Kort (Ned) Team Giant-Alpecin
32
Yoann Offredo (Fra) FDJ.fr
33
Stijn Vandenbergh (Bel) Etixx - Quick-Step
34
Manuel Quinziato (Ita) BMC Racing Team
35
Lars Ytting Bak (Den) Lotto Soudal
36
Marcel Sieberg (Ger) Lotto Soudal
0:02:58
37
Arnaud Demare (Fra) FDJ.fr
0:03:21
38
Benoit Jarrier (Fra) Bretagne-Séché Environnement
39
Tom Van Asbroeck (Bel) Team LottoNL-Jumbo
40
Yannick Martinez (Fra) Team Europcar
0:03:24
41
Tim Declercq (Bel) Topsport Vlaanderen - Baloise
42
Marcus Burghardt (Ger) BMC Racing Team
43
Dmitriy Gruzdev (Kaz) Astana Pro Team
44
Luca Paolini (Ita) Team Katusha
45
Danny Van Poppel (Ned) Trek Factory Racing
46
Sébastien Minard (Fra) AG2R La Mondiale
47
Ian Stannard (GBr) Team Sky
0:03:29
48
Marco Haller (Aut) Team Katusha
0:06:05
49
Jasper Stuyven (Bel) Trek Factory Racing
50
Viacheslav Kuznetsov (Rus) Team Katusha
51
Matteo Trentin (Ita) Etixx - Quick-Step
0:07:35
52
Maarten Wynants (Bel) Team LottoNL-Jumbo
0:07:48
53
Edward Theuns (Bel) Topsport Vlaanderen - Baloise
0:07:50
54
Tyler Farrar (USA) MTN - Qhubeka
55
Alessandro Bazzana (Ita) UnitedHealthcare Pro Cycling
56
Jimmy Engoulvent (Fra) Team Europcar
57
Oliver Naesen (Bel) Topsport Vlaanderen - Baloise
58
Jarl Salomein (Bel) Topsport Vlaanderen - Baloise
59
Frederico Zurlo (Ita) UnitedHealthcare Pro Cycling
60
Davide Frattini (Ita) UnitedHealthcare Pro Cycling
61
Nelson Oliveira (Por) Lampre-Merida
62
Guillaume Van Keirsbulck (Bel) Etixx - Quick-Step
63
Stefan Küng (Swi) BMC Racing Team
64
Imanol Erviti (Spa) Movistar Team
65
Filippo Pozzato (Ita) Lampre-Merida
66
Francisco Ventoso (Spa) Movistar Team
67
Daniel Oss (Ita) BMC Racing Team
68
Roy Curvers (Ned) Team Giant-Alpecin
69
Scott Thwaites (GBr) Bora-Argon 18
70
Alexander Porsev (Rus) Team Katusha
71
Bernhard Eisel (Aut) Team Sky
72
Kristijan Koren (Slo) Cannondale-Garmin Pro Cycling Team
73
Jean-Pierre Drucker (Lux) BMC Racing Team
74
Markel Irizar (Spa) Trek Factory Racing
75
Johan Van Summeren (Bel) AG2R La Mondiale
76
Mathew Hayman (Aus) Orica GreenEdge
77
Jack Bauer (NZl) Cannondale-Garmin Pro Cycling Team
0:07:56
78
Maciej Bodnar (Pol) Tinkoff-Saxo
79
John Gadret (Fra) Movistar Team
80
Heinrich Haussler (Aus) IAM Cycling
81
Christian Knees (Ger) Team Sky
82
William Bonnet (Fra) FDJ.fr
83
Maarten Tjallingii (Ned) Team LottoNL-Jumbo
84
Damien Gaudin (Fra) AG2R La Mondiale
0:08:13
85
Adam Blythe (GBr) Orica GreenEdge
0:08:24
86
Stig Broeckx (Bel) Lotto Soudal
0:10:53
87
Thomas Leezer (Ned) Team LottoNL-Jumbo
88
Gijs Van Hoecke (Bel) Topsport Vlaanderen - Baloise
0:11:59
89
Pavel Brutt (Rus) Tinkoff-Saxo
0:12:25
90
Roger Kluge (Ger) IAM Cycling
0:13:06
91
Mitchell Docker (Aus) Orica GreenEdge
92
Zakkari Dempster (Aus) Bora-Argon 18
93
Matteo Tosatto (Ita) Tinkoff-Saxo
0:15:21
94
Sylvain Chavanel (Fra) IAM Cycling
95
Christopher Jones (USA) UnitedHealthcare Pro Cycling
96
Ralf Matzka (Ger) Bora-Argon 18
97
Matti Breschel (Den) Tinkoff-Saxo
98
Bjorn Thurau (Ger) Bora-Argon 18
0:16:32
99
Nikolas Maes (Bel) Etixx - Quick-Step
100
Tiesj Benoot (Bel) Lotto Soudal
101
Pierre-Luc Perichon (Fra) Bretagne-Séché Environnement
0:17:16
102
Luke Durbridge (Aus) Orica GreenEdge
0:17:24
103
Rick Zabel (Ger) BMC Racing Team
104
David Boucher (Fra) FDJ.fr
105
Andrew Fenn (GBr) Team Sky
106
Michael Schwarzmann (Ger) Bora-Argon 18
107
Kevin Van Melsen (Bel) Wanty - Groupe Gobert
108
Michael Van Staeyen (Bel) Cofidis, Solutions Credits
109
Antoine Duchesne (Can) Team Europcar
110
Gert Joeaar (Est) Cofidis, Solutions Credits
0:17:27
111
Gediminas Bagdonas (Ltu) AG2R La Mondiale
112
Tom Devriendt (Bel) Wanty-Groupe Gobert
113
John Murphy (USA) UnitedHealthcare Pro Cycling
114
Christopher Juul Jensen (Den) Tinkoff-Saxo
115
Yaroslav Popovych (Ukr) Trek Factory Racing
0:17:32
116
Pieter Van Speybrouck (Bel) Topsport Vlaanderen-Baloise
117
Simone Antonini (Ita) Wanty - Groupe Gobert
0:17:34
118
Albert Timmer (Ned) Team Giant-Alpecin
119
Sébastien Turgot (Fra) AG2R La Mondiale
0:17:39
120
Robert Wagner (Ger) Team LottoNL-Jumbo
121
Matthieu Boulo (Fra) Bretagne-Séché Environnement
122
Christophe Laborie (Fra) Bretagne-Séché Environnement
123
Quentin Jauregui (Fra) AG2R La Mondiale
0:24:54
124
Reinardt Janse Van Rensburg (RSA) MTN - Qhubeka
125
Nikias Arndt (Ger) Team Giant-Alpecin
126
Sebastian Langeveld (Ned) Cannondale-Garmin Pro Cycling Team
127
Daniel Summerhill (USA) UnitedHealthcare Pro Cycling
128
Julien Morice (Fra) Team Europcar
129
Nikolay Trusov (Rus) Tinkoff-Saxo
130
Frédéric Brun (Fra) Bretagne-Séché Environnement
131
Tom Stamsnijder (Ned) Team Giant-Alpecin
0:27:12
132
Magnus Cort Nielsen (Den) Orica GreenEdge
133
Dylan Van Baarle (Ned) Cannondale-Garmin Pro Cycling Team
OTL
Sam Bewley (NZl) Orica GreenEdge
OTL
Morgan Lamoisson (Fra) Team Europcar
OTL
Daniil Fominykh (Kaz) Astana Pro Team
OTL
Tanner Putt (USA) UnitedHealthcare Pro Cycling
OTL
Iljo Keisse (Bel) Etixx - Quick-Step
OTL
Shane Archbold (NZl) Bora-Argon 18
OTL
Jay Robert Thomson (RSA) MTN - Qhubeka
DNF
Adrien Petit (Fra) Cofidis, Solutions Credits
DNF
Andreas Stauff (Ger) MTN - Qhubeka
DNF
Matthew Harley Goss (Aus) MTN - Qhubeka
DNF
Gerald Ciolek (Ger) MTN - Qhubeka
DNF
Matt Brammeier (RSA) MTN-Qhubeka
DNF
Théo Bos (Ned) MTN-Qhubeka
DNF
Yauheni Hutarovich (Blr) Bretagne-Séché Environnement
DNF
Kenneth Van Bilsen (Bel) Cofidis, Solutions Credits
DNF
Murilo Antonio Fischer (Bra) FDJ.fr
DNF
Cyril Lemoine (Fra) Cofidis, Solutions Credits
DNF
Jonas Ahlstrand (Swe) Cofidis, Solutions Credits
DNF
Ruben Zepuntke (Ger) Cannondale-Garmin Pro Cycling Team
DNF
Kristoffer Skjerping (Nor) Cannondale-Garmin Pro Cycling Team
DNF
Alan Marangoni (Ita) Cannondale-Garmin Pro Cycling Team
DNF
Clément Venturini (Fra) Cofidis, Solutions Credits
DNF
Kevin Ledanois (Fra) Bretagne-Séché Environnement
DNF
Jelle Wallays (Bel) Topsport Vlaanderen - Baloise
DNF
Stijn Steels (Bel) Topsport Vlaanderen - Baloise
DNF
Giovanni Bernaudeau (Fra) Team Europcar
DNF
Yohann Gene (Fra) Team Europcar
DNF
Vincent Jerome (Fra) Team Europcar
DNF
James Vanlandschoot (Bel) Wanty - Groupe Gobert
DNF
Jesus Herrada (Spa) Movistar Team
DNF
Adriano Malori (Ita) Movistar Team
DNF
Jose Joaquin Rojas (Spa) Movistar Team
DNF
Enrique Sanz Unzue (Spa) Movistar Team
DNF
Jasha Sütterlin (Ger) Movistar Team
DNF
Christoph Pfingsten (Ger) Bora-Argon 18
DNF
Lasse Norman Hansen (Den) Cannondale-Garmin Pro Cycling Team
DNF
Daniel Mclay (GBr) Bretagne-Séché Environnement
DNF
Stijn Devolder (Bel) Trek Factory Racing
DNF
Rüdiger Selig (Ger) Team Katusha
DNF
Gatis Smukulis (Lat) Team Katusha
DNF
Vladimir Isaychev (Rus) Team Katusha
DNF
Rick Flens (Ned) Team LottoNL-Jumbo
DNF
Bram Tankink (Ned) Team LottoNL-Jumbo
DNF
Salvatore Puccio (Ita) Team Sky
DNF
Geraint Thomas (GBr) Team Sky
DNF
Michael Schär (Swi) BMC Racing Team
DNF
Mickael Delage (Fra) FDJ.fr
DNF
Robert Förster (Ger) UnitedHealthcare Pro Cycling
DNF
Matthieu Ladagnous (Fra) FDJ.fr
DNF
Maxat Ayazbayev (Kaz) Astana Pro Team
DNF
Marc Sarreau (Fra) FDJ.fr
DNF
Lieuwe Westra (Ned) Astana Pro Team
DNF
Jonas Van Genechten (Bel) IAM Cycling
DNF
Hayden Roulston (NZl) Trek Factory Racing
DNF
Gert Steegmans (Bel) Trek Factory Racing
DNF
Jens Mouris (Ned) Orica GreenEdge
DNF
Hugo Houle (Can) AG2R La Mondiale
DNF
Sean De Bie (Bel) Lotto Soudal
DNF
Niccolo Bonifazio (Ita) Lampre-Merida
DNF
Davide Cimolai (Ita) Lampre-Merida
DNF
Chun Kai Feng (Tpe) Lampre-Merida
DNF
Manuele Mori (Ita) Lampre-Merida
DNF
Luka Pibernik (Slo) Lampre-Merida
DNF
Ariel Maximiliano RICHEZE
DNF
Matthias Brandle (Aut) IAM Cycling
DNF
Jérôme Pineau (Fra) IAM Cycling
DNF
Ruslan Tleubayev (Kaz) Astana Pro Team