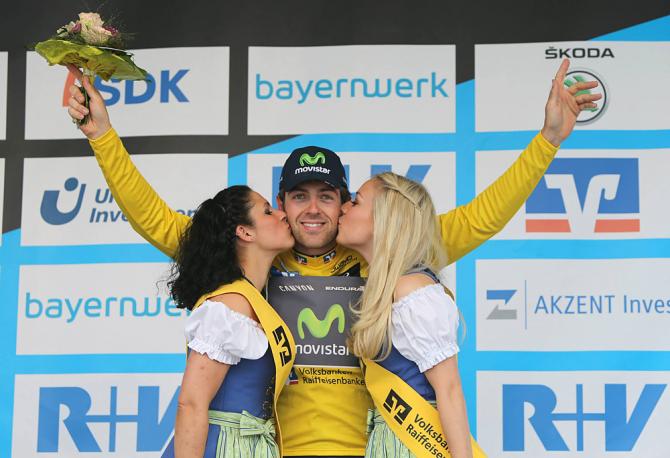 "I'm really good on losing yellow jerseys, so keeping this one makes me really happy! It was amazing to have the whole team working for me. Everyone committed at 100%, more or less from kilometer zero. We had a good plan for today by the team directors, plus Javi (Moreno) made some good calls on the road, took some good sort of decisions on how to ride so everything could go right. Really all of the guys gave their best - It was so fantastic that even inside three kilometers to go, the Movistar Team was still sending guys to the front to make sure the bunch came all together. When I crossed the finish… it was phenomenal. I barely did anything today.
These races are definitely something I wanted to aim since I came here - obviously, events with not much climbing and all flat
finishes are already good for me, but I just need to work now on making my climbing better. I can obviously do good time trials, but I need to make sure that I can stay stay close to the others on the climbs.
Getting into the Tour de France will be my next target. The adaptation to what was needed for the track made me put on two or three kilos more than I'd be normally, so I'll need to work harder on losing that. Hopefully I can make it into the Tour team, but before that, it'll be the National Championships - I would like to get my white skinsuit with the national stripes back for the TT's! I'll go to Mallorca after this for some time in the hills and the heat, and then, I believe, I'm doing the Tour de Suisse."
RESULTS
Stage 1 -
Regensburg › Waldsassen
Sam BENNETT
GC
Sam BENNETT
Stage 2
- Waldsassen › Selb
DEGENKOLB John
GC
DEGENKOLB John
Stage 3
- Selb › Ebern
BENNETT Sam
GC
BENNETT Sam
Stage 4
(ITT) - Haßfurt › Haßfurt
DOWSETT Alex
GC
DOWSETT Alex
Stage 5
- Haßfurt › Nürnberg
DEGENKOLB John
Final General Classification
DOWSETT Alex