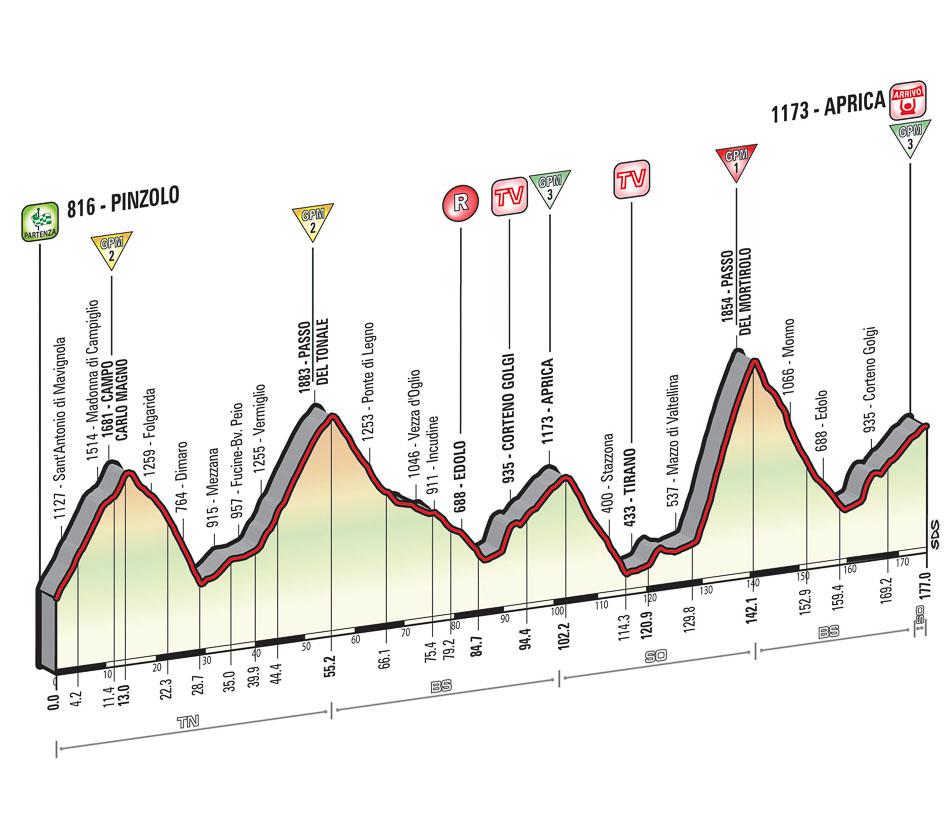 Mountains

. Many mountains. Monster mountains.

Five climbs

today:

Campo Carlo Magno

(2nd cat),

Passo del Tonale

(2nd cat),

Aprica

(3rd cat),

Mortirolo

(1st cat),

Aprica

(3rd cat).
Mortirolo is 11.9 km long, 10.9% average gradient and maximal slope of 18%.
Finish on the Aprica: 3rd cat. climb, 14 km long, average gradient 3.5%,, parts up to 15%.
4500m difference in altitude.
Rain.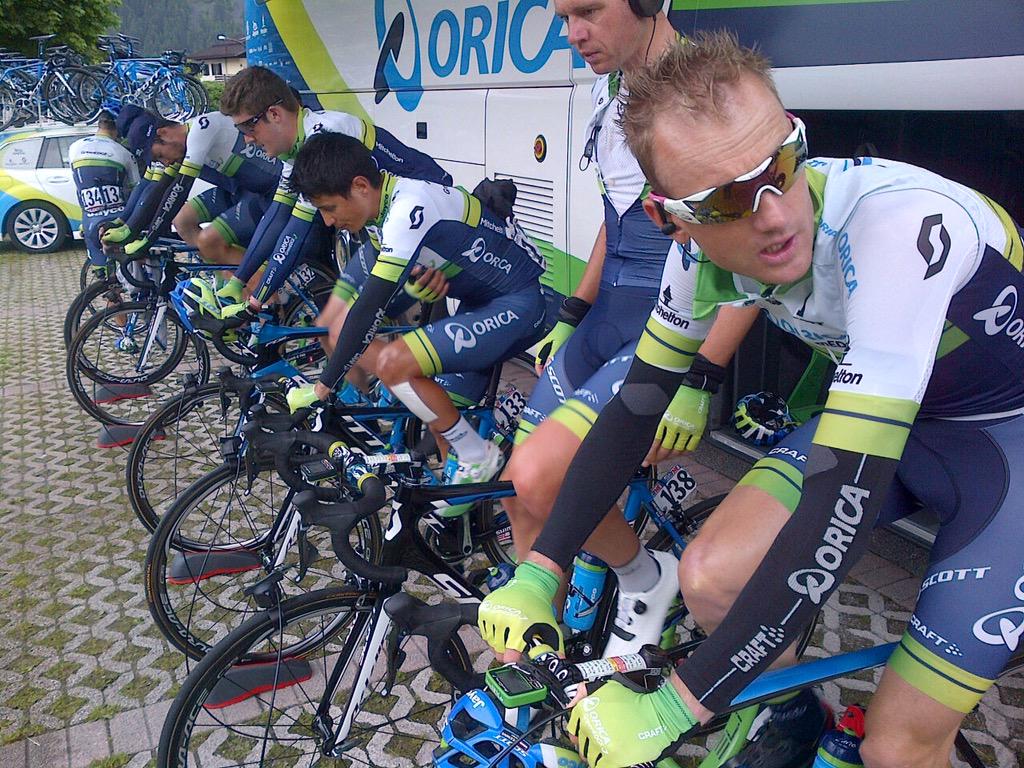 Everybody is warming up before the start and somebody is organising accordingly.
"Today is such a day where it makes sense to make a grupetto before the start. Tickets available at our team bus...FOR FREE! #survival #giro"
ELIA VIVIANI: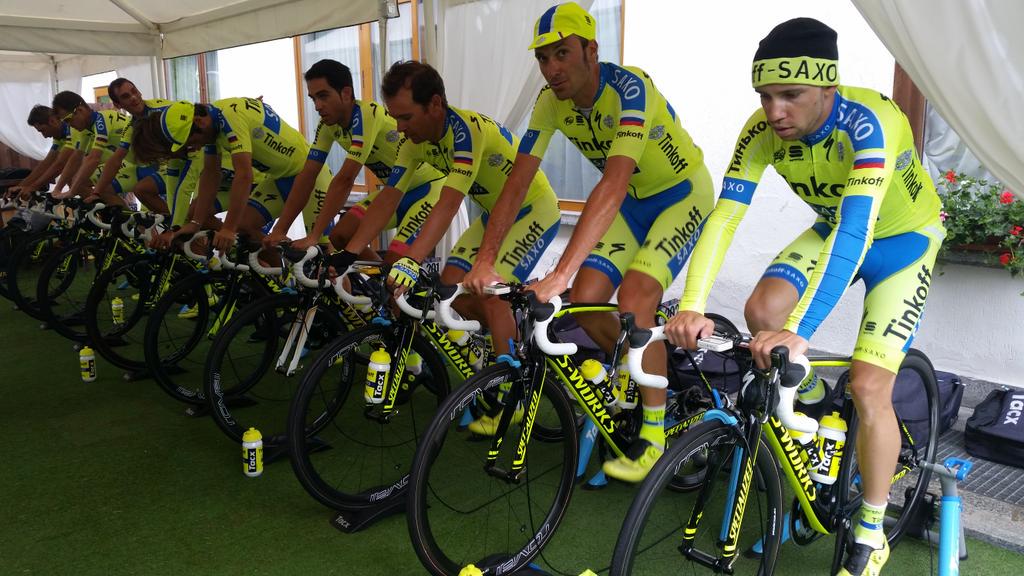 "Ok oggi si sale tantoooo 🗻🗻🗻 #giroditalia #tappadura [Today we climb a lot]"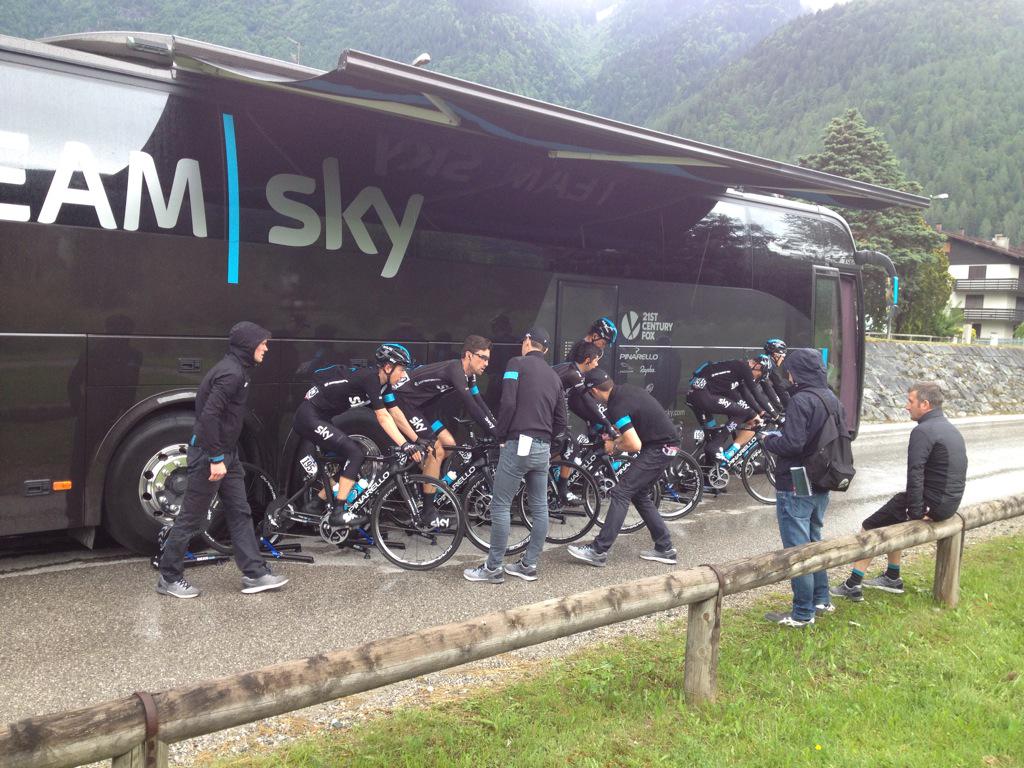 "Il mio obiettivo per la tappa di oggi????? Portare la bici all'arrivo!! e non sarà facile visto le montagne russe che devo fare [My goal today????? bringing my bike to the finish!! and it isn't going to easy given the rollercoster I have to do.]"
Moreno Hofland:
"The question of today is not if you geth dropped, but when you got dropped.. #ouch"
"Looking forward to that feeling of pure joy today when i cross the finish line in time!"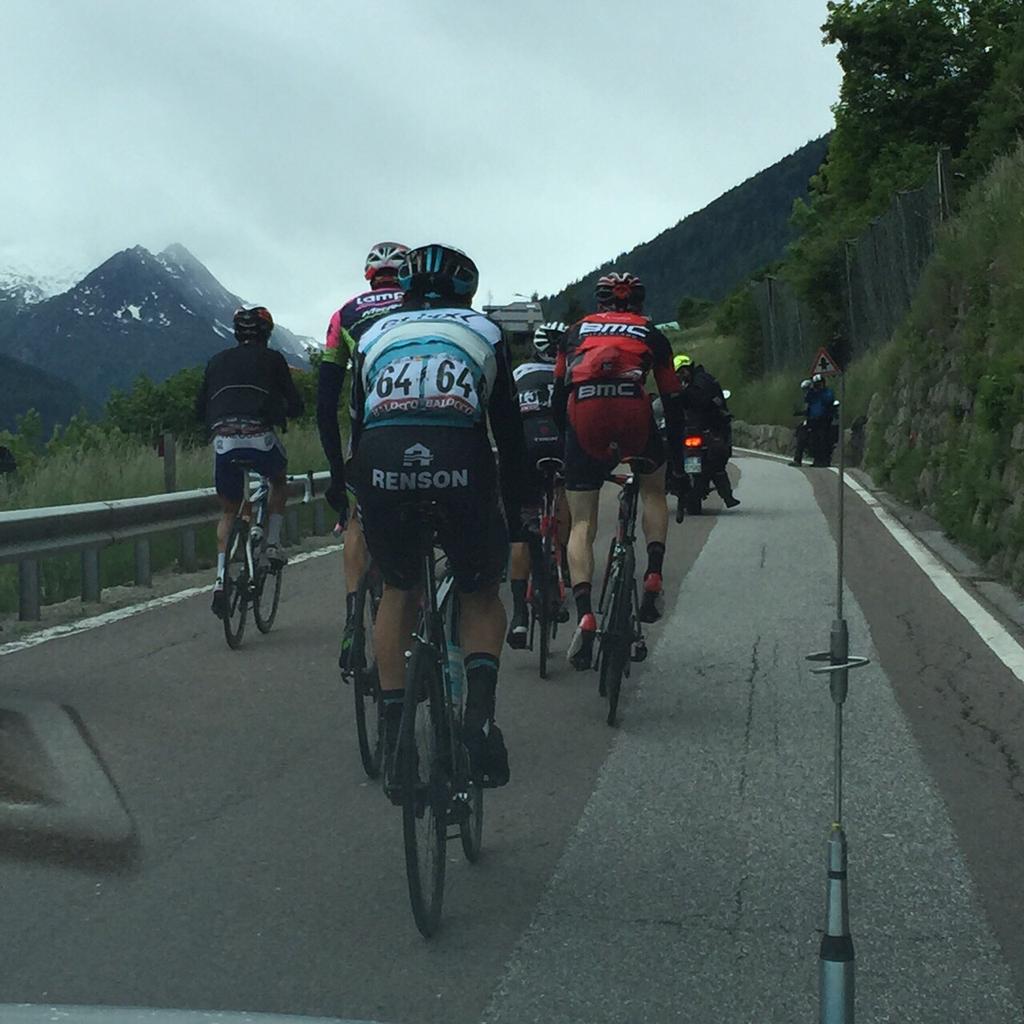 First climb and first attack

: five riders try to go - Berlato, Bouet, Domont,

Geschke

and Zardini.

Movistar must chase this back for Intxausti and they are quickly caught.

Riders already dropped, including the Red Jersey Elia Viviani.
More attacks: now it's Pirazzi and Mihaylov.
Top of the first climb.

20 riders have a small gap. Nothing to do.
Descent

:

Pellizotti and Zardini

off the front, Bookwalter and Felline bridge. After 40 km the break-away includes nine riders: Pellizotti, Zardini,

Bookwalter, Delacruz, Niemec, Fernandez, Felline, Hesjedal and Mihaylov

, at 39" there is

Armee

while the peloton is at 1'08".
As expected Sander Armée joined the leading group . Simon

Clarke is trying to bridge

too. Second climb of the day, the

Passo del Tonale

(2nd cat): 15.3 km, 6.1% average, 10% max.

In the fast, long descent Clarcke

manages to catch the break-away.
100 km to go gap is 2'03" .
Aprica for the 1st time. Gap is down to 1'30 and

Hesjedal goes solo.

Solo he crosses the KOM line in

Aprica

, chasers at 1'04", peloton pulled by Tinkoff at 2'08" .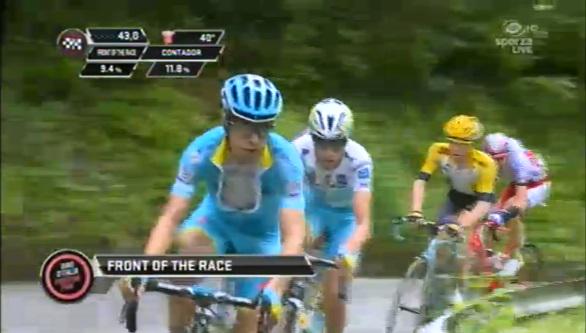 In the tricky

descent the peloton splits

and

Contador is behind while Aru is in front.

An Astana's rider fell but he's back on bike. Some Katusha's riders including

Trofimov

have escaped the Aru group and have bridged to the first chasing group.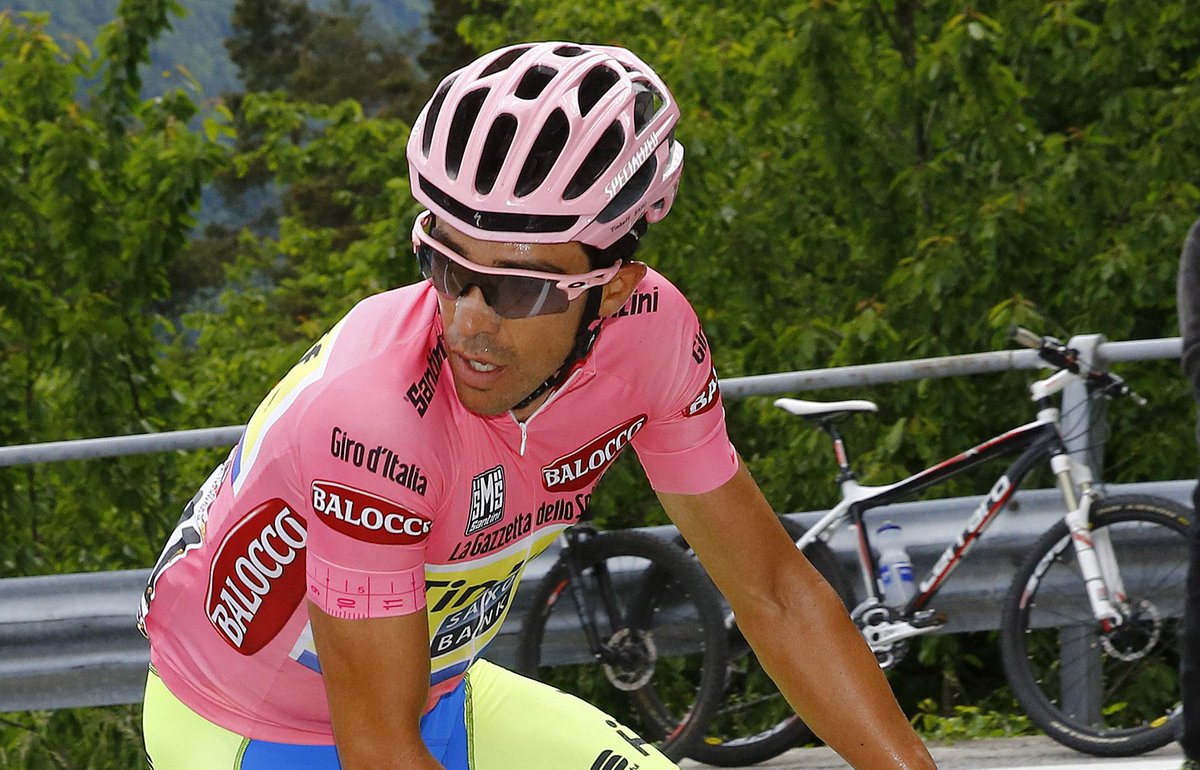 52 km to go

Aru's group joins the 1st chasing group

, Contador's group is 40'' behind. It seems that Contador had got a puncture. Once again he's left with just a team mate, Roman Kreuziger.

Hesjedal is caught

by the Aru group where Astana and Katusha set the pace.

König

and Kiryienka are are with Aru, Nieve and Henao in Contador group.

Now Contador is chasing solo quickly passing everybody

.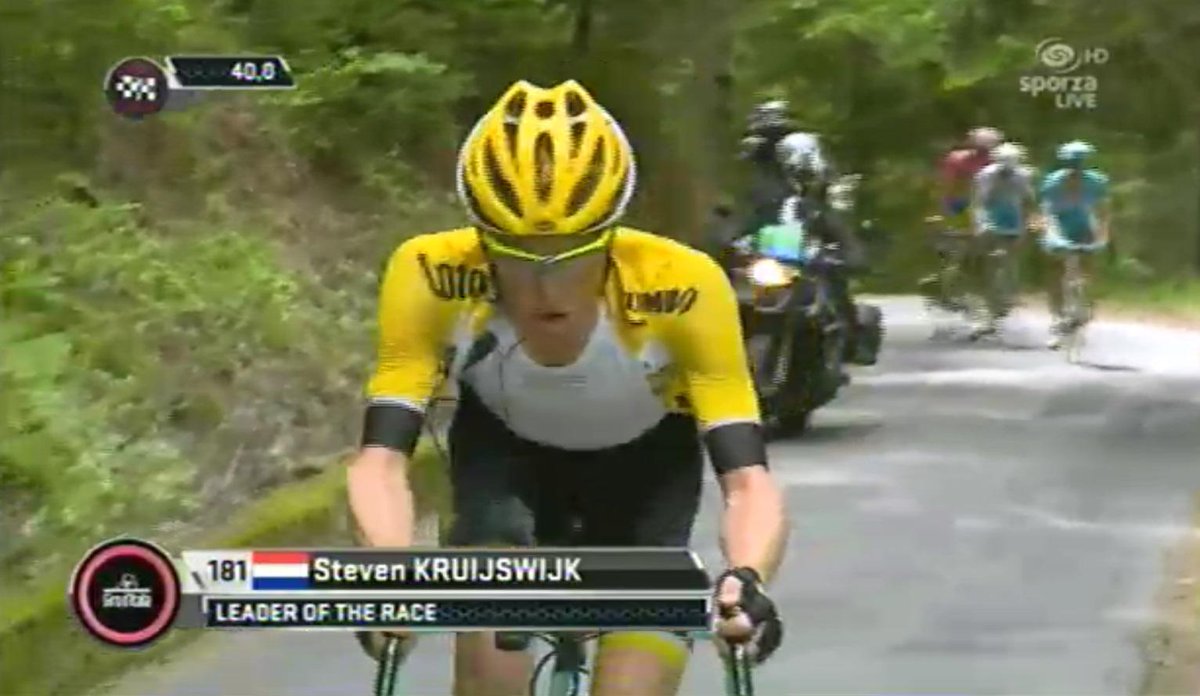 Mortirolo
: only four riders left in front: Aru, Landa, Kruijswijk and Trofimov.
Chris Froome:
"IMHO attacking the leaders jersey when he has a technical is not good sportsmanship... #Giro"
Contadpr joined Anton

and they are chasing together. In front also

Trofimov gets dropped

.

Contadot attacks again

and reaches Konig.

He doesn't stop, keeps chasing, is back to Hesjedal and Trofimov! Aru seems suffering

. Landa is still fresh but had to slow down because Aru can't follow. Contador is arriving.

Kruijswijk goes

.
Contador joins

the Astana's duo.

40 km to go Contador attacks, Landa follows and they join
Kruijswijk.
Aru is with Trofimov but when he sleeps up Aru can't follow and even

Hesjedal

passes him. 37.6km to go. In front

Kruijswijk is doing all the work

.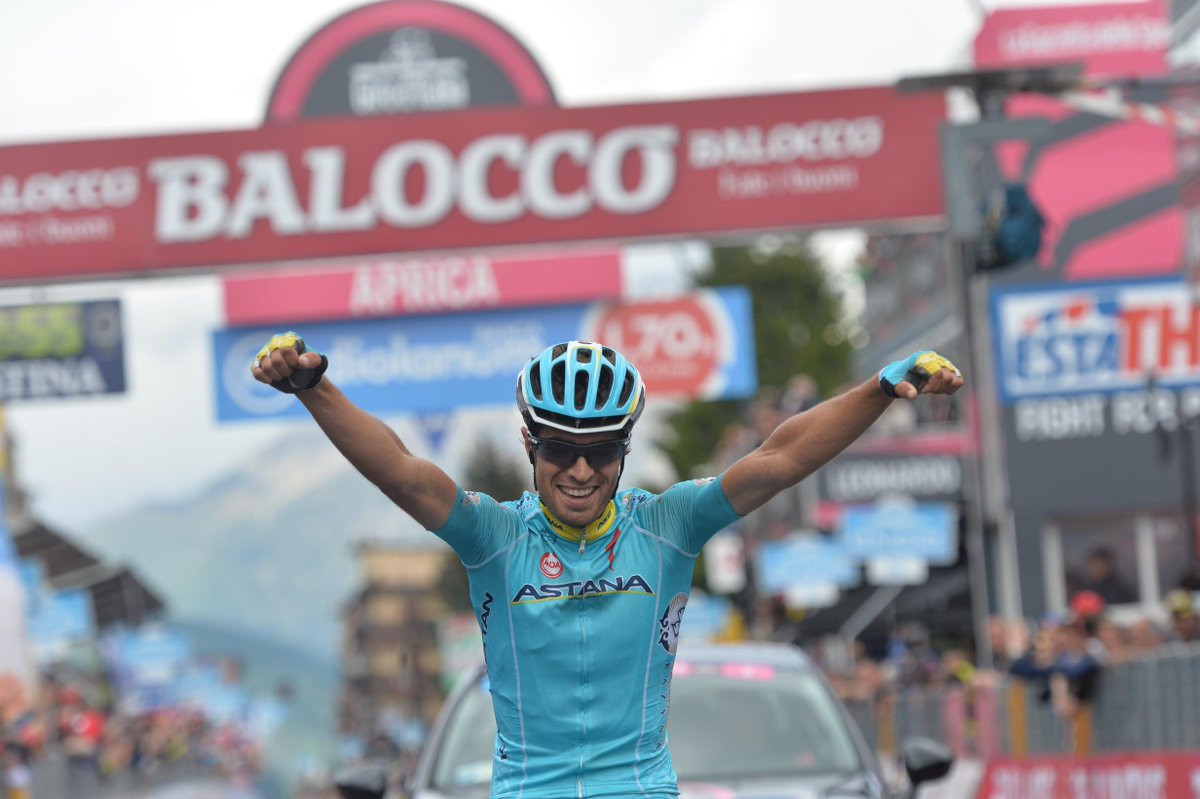 Robbie McEwen

:
".@s_kruijswijk has been the most active rider of this #giro & really deserves the stage win"
Fabio Aru

is completely

cooked

.
Kruijswijk

crosses first the

KOM line

that's also Cima Pantani.

Contador

takes the descend in front

.

Trofimov

and

Hesjedal

are the first chasers.

Aru

and

Amador

are at 1'50''. Behind,

Konig, Moinard and Betacur

. 30 km to go.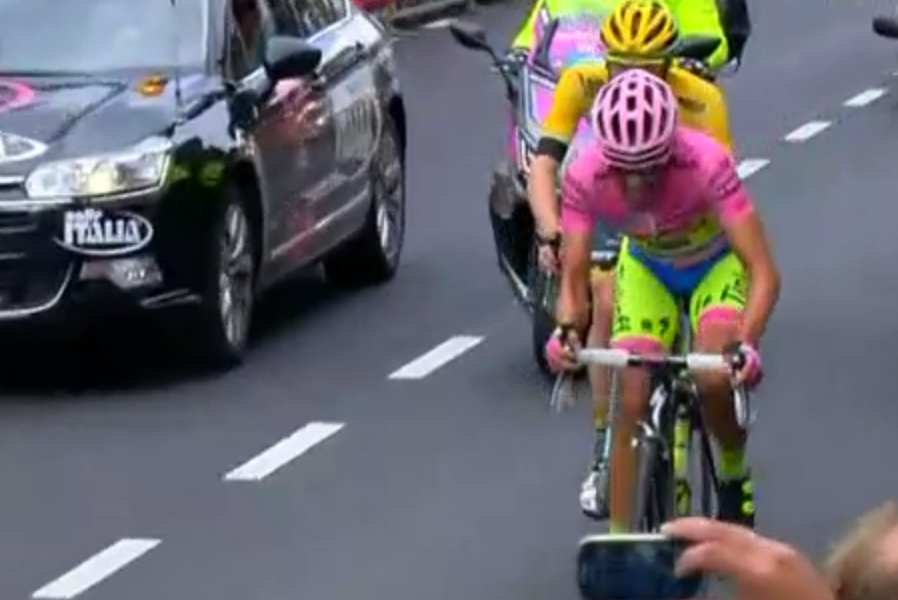 At the

end of the descent Kruijswijk talks with Contador

, then is back in front and pull.

Aru

instead

has to change his bike and Amador goes

.

Aprica

for the second time..

Amador, Hesjedal and Trofimov are re-grouping.

Aru is still chasing solo and they don't wait.. It's

raining

again.

Astana's team car

is with Aru so Landa has got no support unlike his break mates.

Only 10 km to go

the team car manages to reach the front group and to give Landa some food.

4 km to go: fight for the stage has started.

Kruijswijk attacks, Contador doesn't respond so

Landa goes

on conter and drops the company. Contador doesn't chase. Landa wins solo. Kruijswijk is 2nd with Contador 3rd.


PS

Some riders have been fined

50 Swiss Franc fine, a five-point deduction in the points competition and a 10-second time penalty in the overall classification

for holding onto cars. They are:

Leopold König (Team Sky), Jürgen Van den Broeck (Lotto-Soudal), Patrick Gretsch (AG2R-La Mondiale), Marcus Burghardt and Silvan Dillier (BMC), Bartlomiej Matysiak and Sylwester Szmyd (CCC Sprandi), Kenny Elissonde (FDJ), Chad Haga (Giant-Alpecin), Martijn Keizer (LottoNL-Jumbo), Giacomo Nizzolo and Fabio Silvestre (Trek Factory Racing). Silvestre was in the last group of riders to cross the line 40:19 behind the leaders. A fine of 100 CHF, a 10-point deduction and had 20 seconds went to Jan Polanc (Lampre-Merida), Elia Favilli, Francesco Gavazzi (Southeast) and Marco Coledan (Trek Factory Racing). Mikel Landa:

"It was a really beautiful day for me, maybe even more than the last one.

We saw that Contador had a problem and Katusha rode the group full gas and we collaborated with them. On the Mortirolo, Fabio didn't feel very good and he told me to go with Alberto and Kruijswijk. In the last kilometres I saw that they were playing a little bit for winning the stage. I tried and I didn't know I was so strong."
Alberto Contador:
"There are times when a race's plan changes and became more difficult, I like to see it as an opportunity to do something different"
"It was a very hard day, an incredible stage. I'm very proud of all my teammates because they have given 100 percent. They have been extraordinary and people forget that my team is leading the race from the start of the stage every single day. I have this jersey because of them. These are the stages that people remember.
Cycling isn't mathematics: I had a puncture on the descent, Ivan Basso gave me a wheel because he has the same gear as me, but ahead they were going at full speed, and it was impossible to close the gap immediately. On Mortirolo I was focused on keeping my speed, it was like a time trial, I couldn't lose the moral and I had to keep calm and focus on the road ahead.
It was hard for me on the final part, but I'm very happy with the time gaps now. I would have liked to help Steven Kruijswijk, but it was not to be. To Mikel Landa, I can only say: chapeau. Kruijswijk deserved the win but in cycling everybody has their interests and I respect that".
"I must admit, I had a moment of panic when my heart rate was 190 bpm on the flat section prior to starting the Mortirolo. #fullgas #teamwork".
"It's not over until it's over. I think it was a great performance of the team and I see that there has been criticism by people outside that we can't support Alberto on the climbs. But tell me any team that could have done what we did today to get him back within striking position before Mortirolo. Then, certainly, Alberto brought it on and turned a negative situation into a positive one and even extended his lead.
For me, today was certainly very tough and I spent a lot of energy on bringing Alberto back and my race was well and truly over before the start of Mortirolo, but that was the plan today. If it hadn't been us chasing in the valley, we would have been at the front setting the tempo for Alberto before the climb to put him into a good position. At the end of the day, we're still here, still fighting and we still have the pink jersey and we're going to keep fighting all the way".
Steven Kruijswijk:
"What a day! Racing from start till finish and with what kind of company!👌 Thanks @LottoJumbo_road mates for the help!"
"Did Contador call me the strongest man in the race? That's a great compliment. I have to say I felt very good. I'm very satisfied with my legs at the moment. Hopefully, I can benefit from it during the rest of the week as well.
Landa was just too strong. I already knew that before the rest day. I therefore decided to take as much time as possible in the last ten kilometres, instead of fighting for a stage win."
Fabio Aru:
"I suffered for 40km and I could have lost 20 minutes.
It honestly wasn't one of the best days of my career. I suffered a lot and I rode more with my head than my legs. I fought all the way to the line so that I didn't lose everything.
Mikel was feeling good and so it was right he got to play his cards. He won the stage and if someone is feeling better than you, team leader orders go by the way. That's only fair.
Now I just want to think about recovering for the next few days, I'm really tired, I did a huge effort. It was a kind of effort that you can only make on a bike."
Ryder Hesjedal
"Alberto chased me down by himself over the first climb. I guess that's another sign of respect. But I'm at 11 minutes, what do they think? Let the break go…
Otherwise, look what happens. Saxo just annihilates themselves. Maybe it's all good in the end, Alberto wins, but I just don't understand it. Let a break get five, six, seven, eight minutes. What's it to them? But they decide to keep it close and then it's easy for Astana to take over after sitting on the wheel… and then they inflict pain on everybody..
I was a little mad arriving at the bottom of the Mortirolo with nothing but I showed how I rode the climb that I've got good legs and that I'm not scared to go for it. I just wanted to get out front and get an advantage but I don't really know what happened. But I'm not worrying about anyone else, I'm just going out there, racing my bike and enjoying it. I think I'm getting better, I'm in my fourth week of my own Grand Tour after riding Trentino and Romandie.
I know my legs are good. I'm not scared of the Giro. So we'll see how the rest of the race goes."
David De La Cruz:
"The task of today was to enter into the breakaway. We knew there would be a few attacks in the first part of the race and we decided I could try my chance, and also be a point of reference for Rigo in case he has a good day. At the end it didn't work out, The breakaway was caught. But we tried to go for the stage today. Not only me, but also Maxime Bouet who was active in the morning on the first climb. He was unlucky because he had good legs today, but the peloton didn't let the group he was in get an advantage and turn into a breakaway. Considering me, I had a feeling that my condition is improving day-by-day. The first days were tough for me, with really high speeds and nervous stages. But I am feeling better now, in my element in the mountains. There are only a few stages to, but we will do our best to show ourselves again. We'll aim to be protagonists as a team. I hope to recover from this breakaway attempt, and in the next days we will try to show Etixx - Quick-Step at the front of the race."
Fabio Felline:
"The breakaway was not in the program. But I raced in the front in the first climb, and in the downhill I went with a good rhythm and passed Contador and made my way to the front two guys. Then all of a sudden I found myself in the break.
It was a good experience and good motivation for a day like today because there was nothing else with no sprint or anything.
It was the biggest stage of the Giro and it was nice to be present. When we started the Mortirolo we knew it was impossible because of the fighting behind between Aru and Contador. For the last bit, I took the grupetto and saved my energy to the finish."
Giacomo Nizzolo:
"My tactic was never to reach my limit, try to stay close to the limit, but never explode. Riding like this, luckily I could stay with the first group almost until Aprica. Then I dropped off a little, but I think I was only a few minutes from the main bunch up the Mortirolo and I could go as easy as possible up that with no stress.
The big grupetto caught me with 8kms to go. Now I try to start to recover, immediately looking forward to tomorrow. For sure in the last kilometers the feeling in my legs was not the best, a lot of pain, but I think this could be mental because my adrenaline is going and I am really thinking about tomorrow.
Tomorrow we go for it. My shape is good, I am feeling better every day, and all I can say is we will try 100% tomorrow."
Damiano Caruso:
"It was just like the other day – it was hard, very hard, and I was time trialing my way when I was alone. It was nice to have good help from my teammates, especially before the Mortirolo.
I will keep trying, but the gaps are starting to get big on the general classification. And there are several more hard days to come."
RESULTS
STAGE
1
Mikel Landa Meana (Spa) Astana Pro Team
5:02:53
2
Steven Kruijswijk (Ned) Team LottoNL-Jumbo
0:00:38
3
Alberto Contador (Spa) Tinkoff-Saxo
4
Yury Trofimov (Rus) Team Katusha
0:02:03
5
Andrey Amador (CRc) Movistar Team
6
Ryder Hesjedal (Can) Cannondale-Garmin Pro Cycling Team
0:02:10
7
Fabio Aru (Ita) Astana Pro Team
0:02:51
8
Damiano Caruso (Ita) BMC Racing Team
0:03:18
9
Leopold Konig (Cze) Team Sky
0:03:19
10
Carlos Betancur (Col) AG2R La Mondiale
GC
1
Alberto Contador (Spa) Tinkoff-Saxo
65:04:59
2
Mikel Landa Meana (Spa) Astana Pro Team
0:04:02
3
Fabio Aru (Ita) Astana Pro Team
0:04:52
4
Andrey Amador (CRc) Movistar Team
0:05:48
5
Yury Trofimov (Rus) Team Katusha
0:08:27
6
Leopold Konig (Cze) Team Sky
0:09:21
7
Damiano Caruso (Ita) BMC Racing Team
0:09:52
8
Steven Kruijswijk (Ned) Team LottoNL-Jumbo
0:11:40
9
Alexandre Geniez (Fra) FDJ.fr
0:12:48
10
Ryder Hesjedal (Can) Cannondale-Garmin Pro Cycling Team
0:12:49