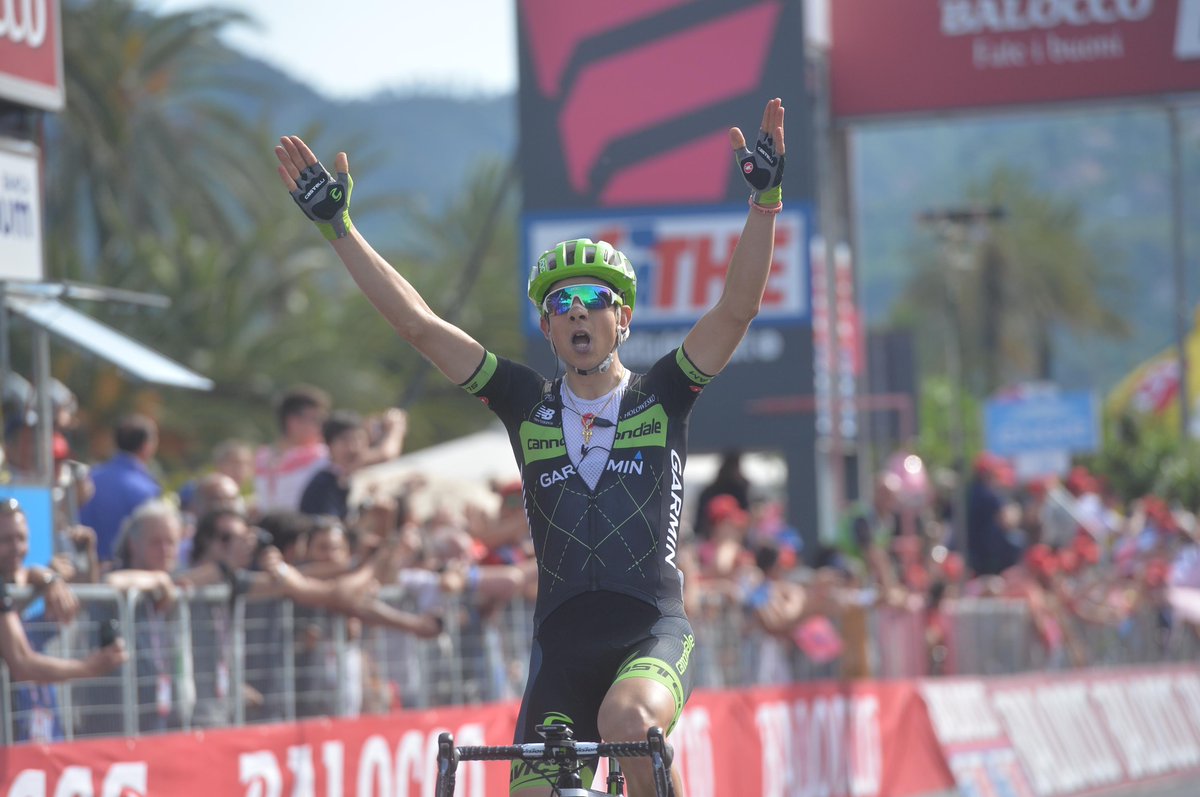 Today it's

hard to break-away!

The situation remains fluid with many attacks and several groups forming and getting caught.

Colla di Velva

(3rd cat) it's the first climb, 14.2 km with an average gradient of 3.5%. Then

Passo del Termine

(3rd
cat): 8.8 km long, 6.1% average gradient.

Team Astana is forcing the pace and many are dropped, including the Pink Jersey Bling Matthew.
In front there are Zeits, Colbrelli, Moinard, Monfort, Amador, Formolo and Puccio. The first chasers are nine including Kreuziger.

In the main peloton only 19 riders are left!

Porte has got mates

- Leopold Konig and Mikel Nieve - -

as well as Aru -

Kangert, Rosa, Landa and Tiralongo, -

and Contador - Rogers - while Rigoberto Uran is alone.

Tthen there are

Caruso, Geniez, Niemec, Van Den Broeck, Fernandez, Cunego Izagirre, Trofimov.

50km to go the first chasing group is at 21", the favourites' group at 5'50".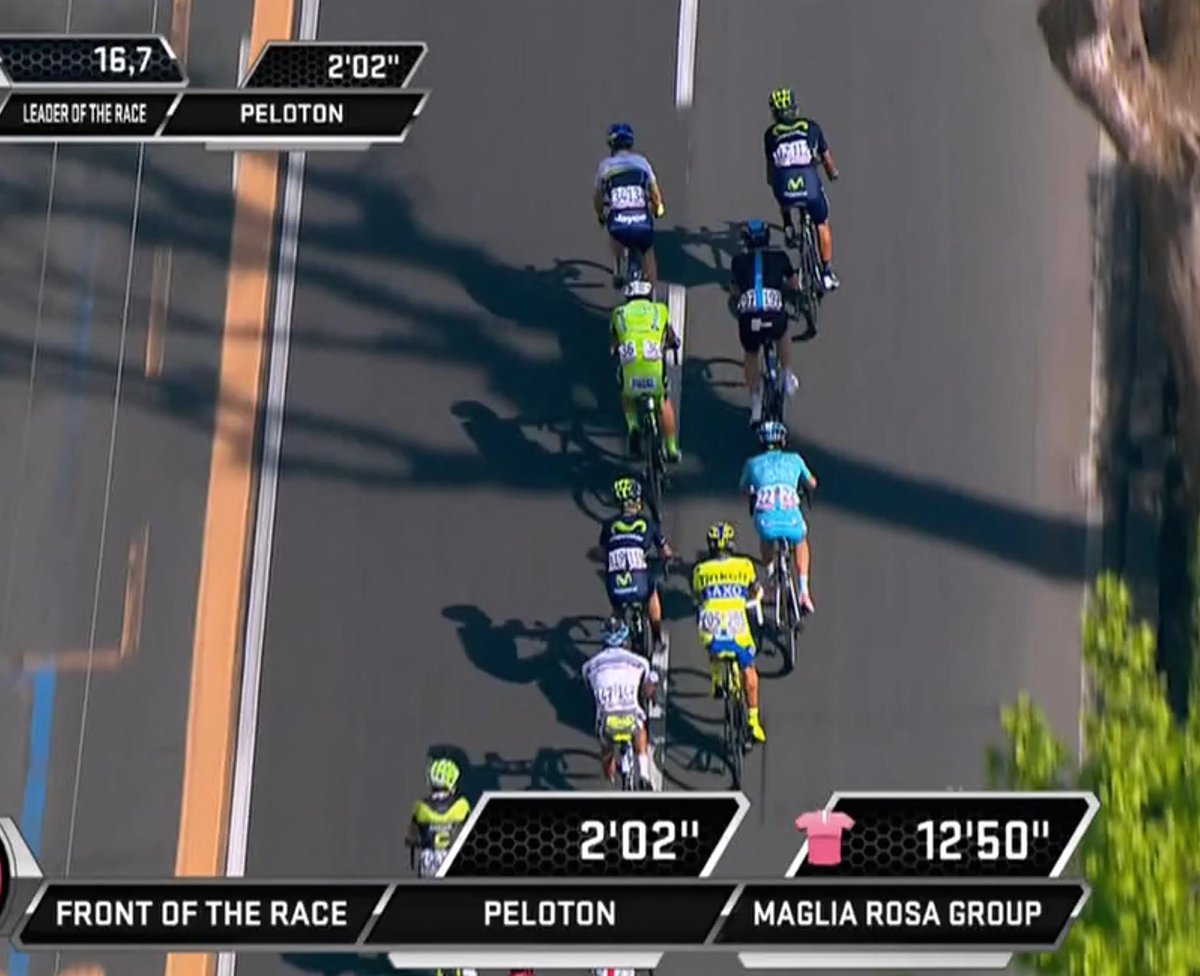 37 km to go the front group is 15 riders as the first chasers joined the leaders: Zeits, Moinard, Amador, Puccio, Monfort, Formolo, Cataldo, Colbrelli, Atapuma, Visconti, Chaves, Clarke, Monsalve, Siutsou and Kreuziger.

They have 1'40'' on

Pellizzotti, Zardini and Montaguti

, 6' on the group.
28 km to go Zeits gets dropped, probably stopped to help the team leader Aru. Gap is 3'25". 23.9km to go, gap is 2'47" .

Team Astana is furiously chasing and you can see it

.
Descent

. The riders will soon cross

the finish line for a first time

, then one 17 km lap including a 3rd cat. climb.
13 m to go

Formolo attacks trying to anticipate

.

Visconti and Moinard

follow. Biassa (3rd cat) is the last climb of the day: 3.4 km, 8.9% average, 14% max.
12 km to go

Rogers gets dropped

: Contador is alone in the favourites' group.
Davide

Formolo is called The Rock

and really he's rocking this climb!
Geniez gets dropped.

Aru attacks, Contador and Porte follow. They pass the front group at a double speed. Uran is suffering at the back.

Formolo keeps going and tops the climb. Aru joined Cataldo, while Kreuziger looks cooked.

Big gear for Formolo at the last kms. He's got guts.

Behind the chasers are back all together. Only 38'' gap.

He can do it! He does it. It's done!
Davide Formolo:
"It feels amazing to win. I'm 22-years-old, and I've dreamed of this for 22 years.
It was a really hard day because it always up and down and never flat,
The break always rode very hard except on the descents. It was a very difficult day, but I am so happy with the results for myself and the team."
Simon Clarke:
"It's a pretty special moment. You could see the emotion on the line.
I'm stoked to keep the Maglia Rosa in the team. I couldn't hold it back, keeping it at Orica-GreenEDGE. It has been an awesome start to the Giro for us.
Myself and Esteban Chaves really had to ride smart today because we had one day's breakaway already in our legs and that really takes it's toll.
During the stage we missed a few small attacks because we really had to be selective of the moves we followed to conserve as much energy as possible.
When the GC guys caught us we had managed to conserve enough that we were two of the few guys that were able to jump on the back and finish with the front group."
Gianni Meersman

- crashed in Stage 3 -
"I was lost immediately at the beginning of the stage, but I managed to come back into the peloton. However, after 80 kilometers it was impossible to continue. I had pain in my lower back and deep in my chest. In any case it was difficult to breathe and handle the bike, so I was forced to stop. Of course I am sad because we have two riders less now. First Pieter Serry, and now me. It's not nice to leave the team down two riders already after four days. But given the situation, there's nothing I can do except undergo examinations and see what is going on, and then try to recover."
Rigoberto Uran:
"It was a difficult day all day. It was really high speed. When Astana set the tempo in the last 65 kilometers I was able to sit in the wheel. All was going well, but in the last climb I suffered a bit and couldn't follow when Aru accelerated. At that point I tried to set my tempo and lose as little time as possible going into the finish. It wasn't a super day for me, but tomorrow is another day. The climb of Abetone is a different kind of climb so we will see how things go tomorrow."
Richie Porte:
"It was by far the hardest stage so far. I think Astana today were absolutely incredible. Very impressive. I think without them maybe the race was already lost. It's good it feels like the Giro has really started."
Team Sky DS Dario Cioni:
"It was a pretty busy day out there. It was actually quite hard to follow what was going on at times as we didn't always have the information quickly from race radio.
Everyone was getting a bit nervous after that start. Even the sprinters were getting quite nervous with the time cut not being that much today. It could have been a tricky situation for a lot of people.
I think it was a combination of factors that led to it being so hard. Yesterday and today were really hard stages. A lot of it is also down to the course and the really twisty roads. If it had been on straight and wide roads the selection would have been a lot less. Yesterday's stage definitely took its toll, but everyone still went hard from the word go.
Tomorrow could go one of two ways. Either everyone is tired from today and takes it a bit easier, or it's going to be another really solid and selective day."
Alberto Contador:
"It was a fast and hard day again but the team was fantastic once more. My sensations were good and I felt well on the climb – this is important. The entire team did a good job today and we saved energy as a result of having Roman in the breakaway controlling the race from the front. In the finale, I had Roman in front of me and Rogers right with me until the last climb, where we caught the group with Roman"
Fabio Aru:
"Congratulations to my team today, I think everybody saw that the ragazzi were excellent, they really did the maximum to help me, they did a great job and I have to thank them so much.
Tiralongo, Rosa, Cataldo, Rosa, Kangert, Malacarne, they were all fantastic. We looked to do what we could today but there are 17 stages to come and we have to stay alert."
It was very hot out there today and it really wasn't easy. But the team was fantastic."
RESULTS
STAGE
1. Davide Formolo
2. Simon Clarke
3. Monsalve
4. Visconti
5. Chaves
6. Aru
7 Moinard
8 Cataldo
9 Contador
10 Porte
1. Simon Clarke
2 Chaves
3 Kreuziger
4 Contador
5 Aru
6 Cataldo
7 Visconti
8 Moinard
9 Formolo
10 Porte