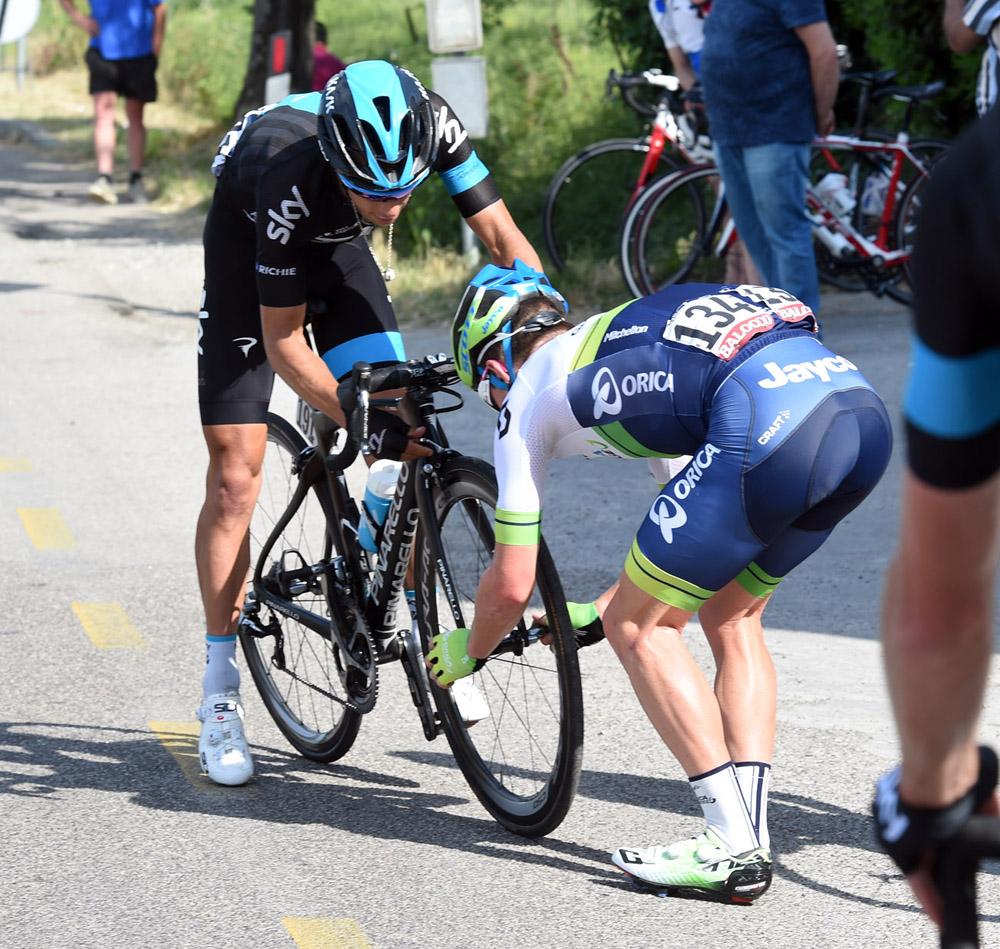 Giro Jury:
"Non-regulation assistance to a rider of another team, stage races. 200 CHF fine and 2' penalty. Riders: PORTE and CLARKE"
"The peloton was going super fast to try and catch the breakaway and get ready for a bunch sprint, and I picked up a front wheel puncture as we were going around a roundabout.

I'd gone around it on the left but my team-mates went around the other side.

I stopped, and by the time the guys had got back to me Simon (Clarke from Orica GreenEdge) had already stopped and offered me his wheel. It was a spur of the minute thing. Alberto (Contador) summed it up last night - all you are thinking about when something like that happens is 'how can I make sure I lose the least time possible'. I didn't even give it a thought that it might be breaking the rules. Everything was happening so quickly and I was just acting on adrenaline.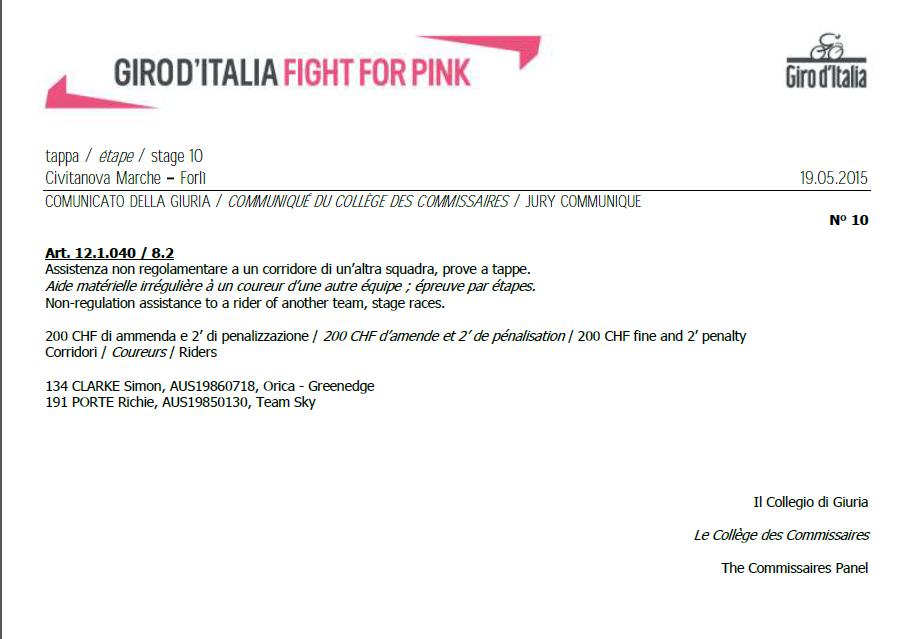 Simon's help was amazing - really great sportsmanship.

For a fellow pro from another team to help out like that - I think it shows cycling at its best. The sport has made a lot of pretty bad headlines over the years and this was a pretty special moment. Simon is a friend and he showed it yesterday for sure.
About the penalty... I think I had better watch what I say... You might have had a different answer last night! Stating the obvious -

it is frustrating but there is no point moaning or complaining.

It was a technical infringement - although that was literally the last thing on my mind when it happened. As I said, all I wanted to do was to get to the finish line as fast as possible and limit my losses.

It's pretty harsh really that Simon ended up with a two-minute penalty given he was left standing on the side of the road with just one wheel, but there you go.
I have to suck it up and we have to look forward as a team. It has been great to get so much support overnight. That means a lot. No-one should doubt how much I still want to win this race. There are still two weeks to go. It has been a great Giro so far.

There is still a lot of racing ahead, some tough stages and this has really fired the whole team up to try to get the time back

."
"It is obviously disappointing that a sporting gesture made in the heat of the moment has resulted in such a strong penalty. No one was trying to gain an unfair advantage.
This has however just strengthened our resolve and determination to fight for this race. Richie and the whole team are ready to take it on and there is a lot of this Giro left."
You can find many reactions here.
My opinion:
Many and

many rules are broken daily during races

, tours especially: riders hanging on cars, helmets off and also - YES - exchange of supplies.

That's obvious reading rider's reactions

: they know it's illegal but also that

usually there is no consequence.

Do you remember Roubaix? indead. In add... Astana racing...!
A fine would have been ok, time no, moreover because all happened so close to the finish in a flat stage!

'Home cooking'

is the world used to explain the harsh rule enforcing by the jury. And I can see it. Last year

Quintana took advantage of a messy neutralisation

on the Stelvio, and he was the organisers pick for the final victory. Organisers don't love Team Sky, and that's also well known.
I'd like so see a reaction by the whole peloton

not for Porte but for the sport,

for a fair enforcing of rules.

But they are too divided and weak to show balls.

I don't see them offering wheels each others to make things right.